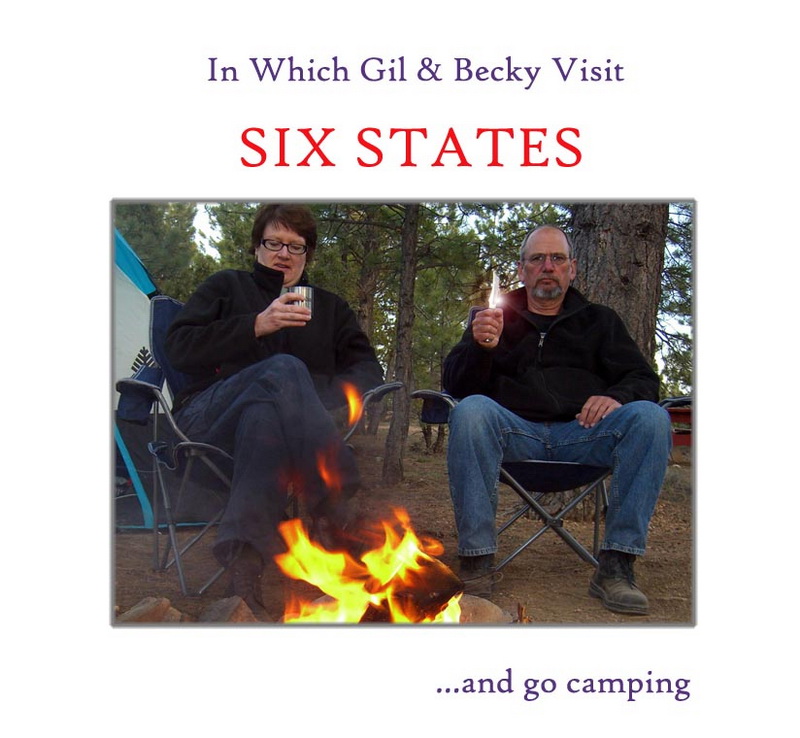 ---
First off just let me get this out of the way. This report is a monster. It's 9 pages long and contains close to 400 photographs and movies. To help you with your navigation (I don't think anyone could read this in one setting) let me give you a few links to the various pages.
Page 2 (Northwest OR), Page 3 (Joseph, OR to Calwell, ID), Page 4 (Caldwell to Northern UT), Page 5 (Northern UT to Moab, UT), Page 6 (Moab to Bryce, UT), Page 7 (Bryce to Sequoias, CA), Page 8 (Sequoias to Sacramento, CA), Page 9 (Sacramento/Home)
---
Generally Becky and I have been fortunate enough to alternate our yearly vacations between visiting Europe and seeing the good ole USA. This year we had to break the cycle. The U.S. dollar was currently so weak we felt we simply couldn't afford to travel overseas. Instead we decided to honor a pledge of several vacations back ("Gil and Becky's Great Motorcycle Adventure") and return to the beautiful canyon lands area of southern Utah.
I was lucky enough to have been able to take a motorcycle trip from here at our home in northern California down into northern Baja ("A Run For the Border") last spring but Becky, the poor dear, hadn't been able to take an extended travel vacation last year at all. We both really, really needed a road adventure.
So now in the latter part of April of 2008 we set out in our trusty, all wheel drive, nasty black Honda Element to travel the western United States for 2 1/2 weeks! We planned to start off by heading west to the other side of California, then head north and visit family in northeastern Oregon, then southeast into Idaho to visit friends, then south through Utah to Salt Lake City where we planned to start camping. Continuing south and camping all the way we hoped to visit as many of the National Parks as we could in southern Utah. The we would head over, clipping a bit of Arizona to Las Vegas, Nevada for a night. From there we were heading home up through California visiting Sequoia National Park and staying with family in Sacramento on our last day out and then on home. It would be a grand adventure..
Something like this...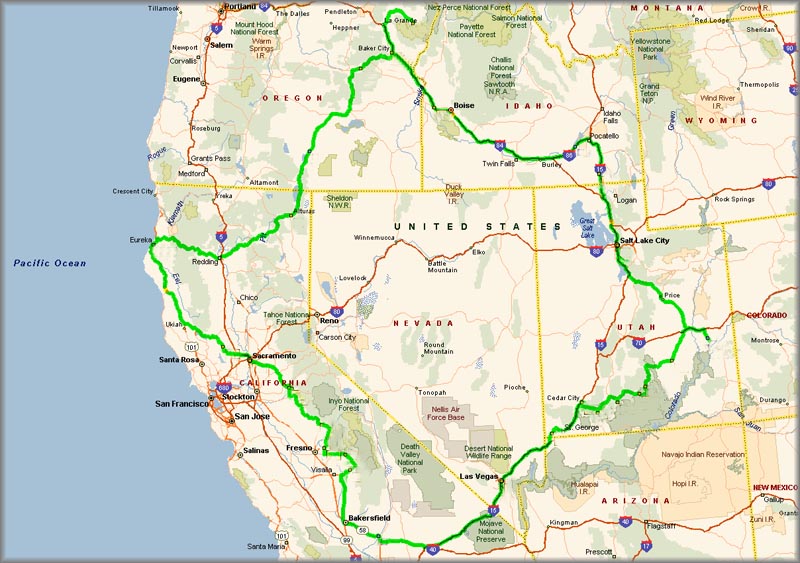 Well, first off we have to see if Becky and I remember how to camp, see if our antique camping gear still functions and see if my poor old body can take sleeping on the cold, hard ground...it has been about 15 years since we last camped. So we headed about 20 miles south of our home in Eureka, California to a lovely campground and took an overnight test drive of ourselves and our gear.
First off, the Element is stuffed right up to the windows...and this is without 2+ weeks of personal luggage and needs!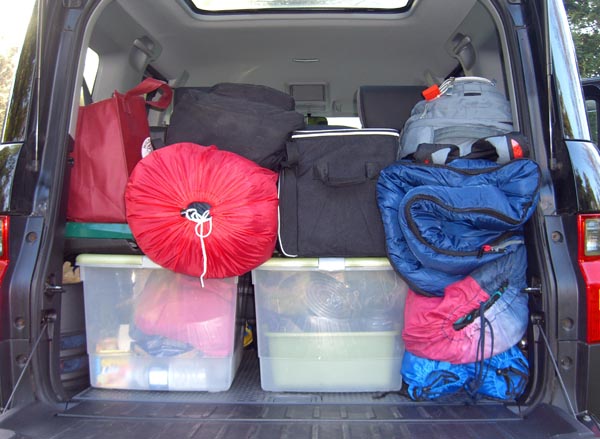 The camp turns out neat and tidy. At least we remembered how to do that much.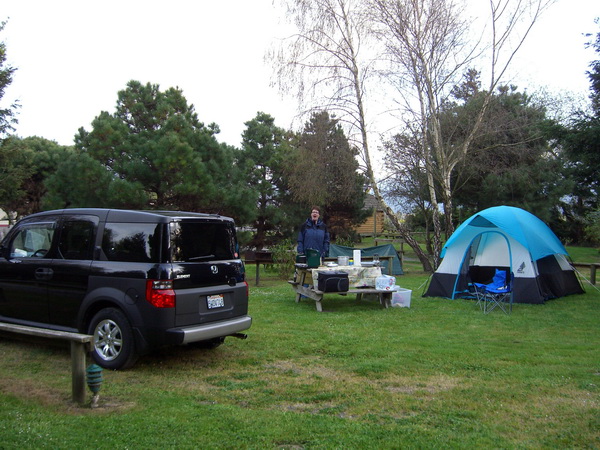 Ha! Even the old Coleman camp stove still works...and works well.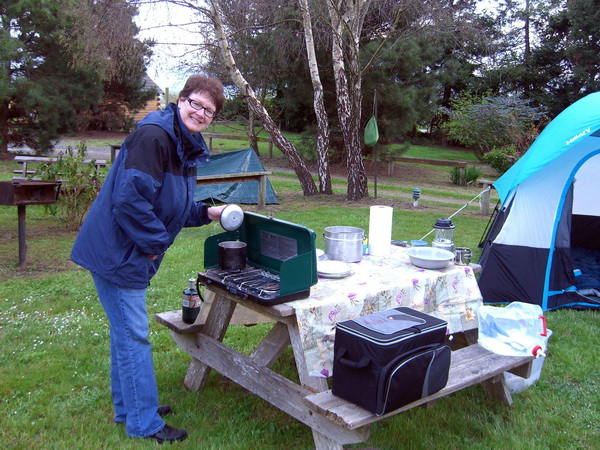 In anticipation of this trip we purchased an Ipod Nano to store all our music on. Music on! It worked out very well once we discovered how to make it work...this is the joyous moment in the tent that night when Becky finally figured it out (I still continue to struggle with it).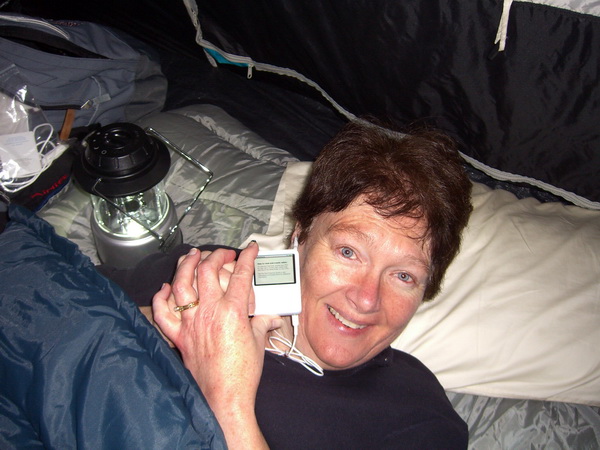 The shakedown camping trip proved a success so now we're good to go and start our trip. It starts off well enough, the redbud is in bloom, the skies sunny and the road nice and dry. Yes, we know there is supposed to be a cold front settling in and we get a bit of snow drifting from the sky as we crossed over the first summit on Hwy. 299 but we're headed east towards the arid "Upper Sonoran" deserts of northern California. No worries.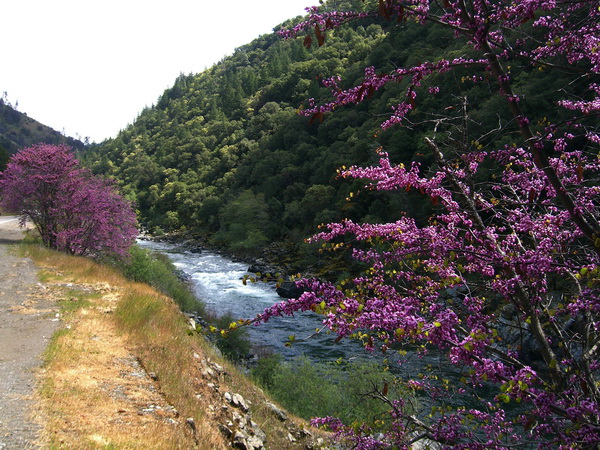 Well, things went to hell fast just east of Redding as we climbed up into the Cascade Range. We were totally glad to have a 4 wheel drive and didn't have to use the chains we'd brought along but admit that there was a bit of "white knuckle" driving until we finally reached our overnight destination of Alturas.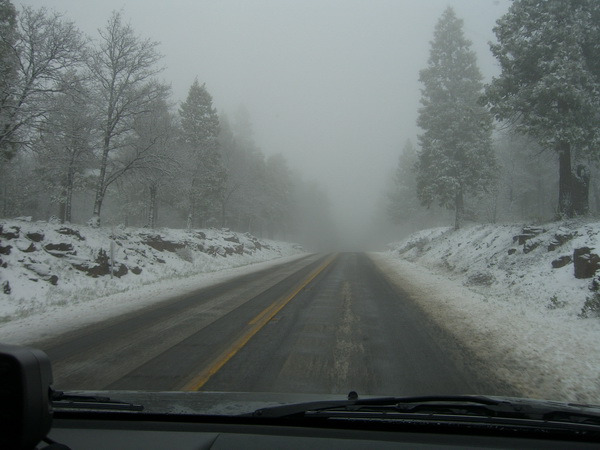 It continued to snow off and on all night long.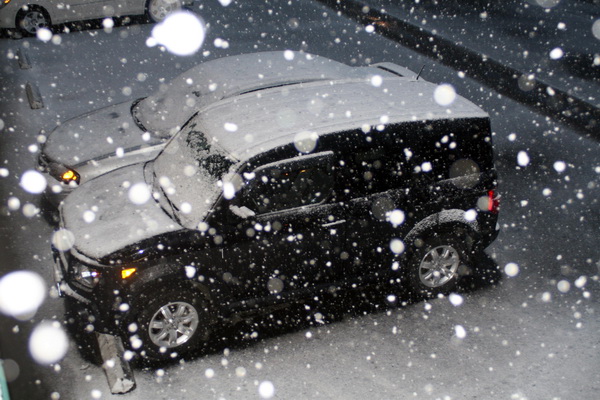 We grabbed a bit of the continental breakfast served at the motel, dusted off the Element and loaded up our gear...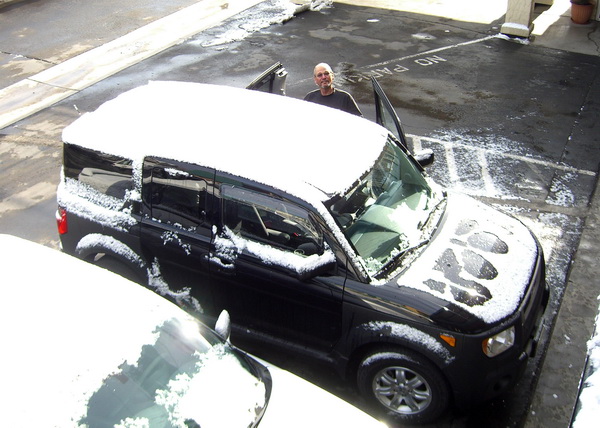 ...and headed north on Hwy. 395 towards Oregon under gray, threatening skies.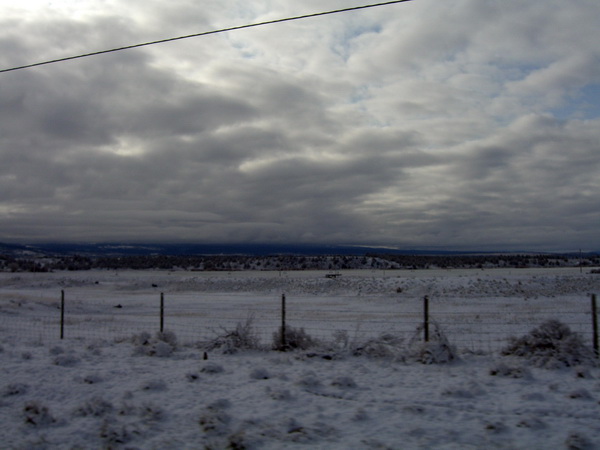 Becky thought it would be a good idea to test the Element's all-wheel drive on some back roads so we left the pavement at the southern tip of Goose Lake and traveled up its western side on gravel roads. Actually the road turned out to be in pretty good shape.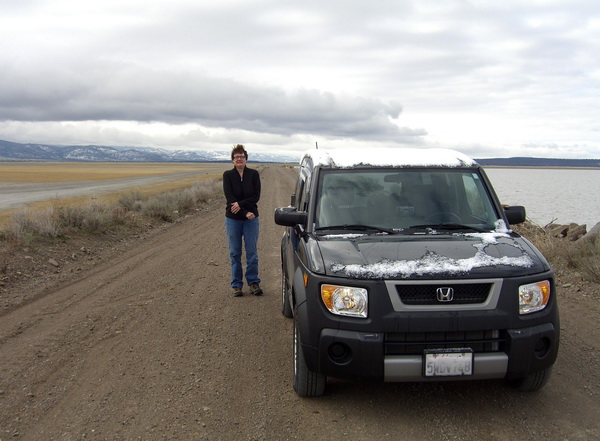 Actually this turned out to be a pretty good idea (quelle surprise! I'd figured we'd likely get stranded out in the middle of no where on an untraveled road in a snowstorm). The wildlife abounded (if that's a word). During the course of the day, beside the sandhill cranes shown here we saw; marmot, prong horned antelope, buffleheads, pinon jays, phalarope, white pelicans, shovelers, turkey vultures, eared grebe, long-billed curlew, blackbill magpie, avocet, willets...well, you get the idea. Lots of stopping.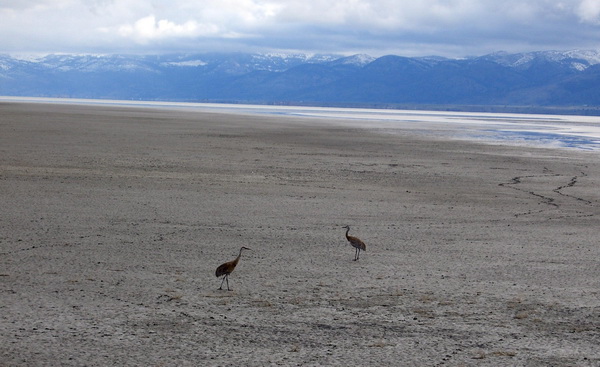 Here's a bit of how the sandhill cranes sounded...
The mountains were outrageous (sorry about the badly spliced panorama, actually it was much lovelier than the picture can show)...

...the scenery idyllic...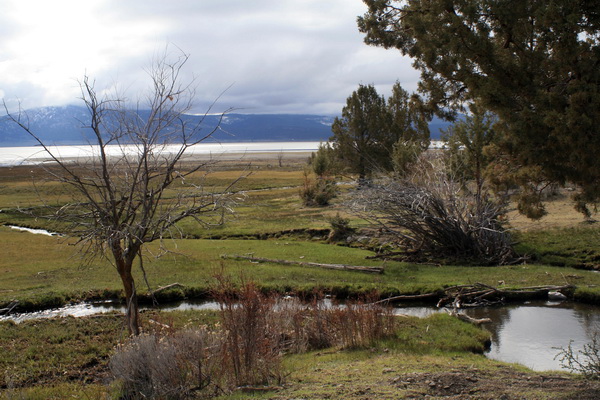 ...and filled with interesting stuff like this old abandoned farm.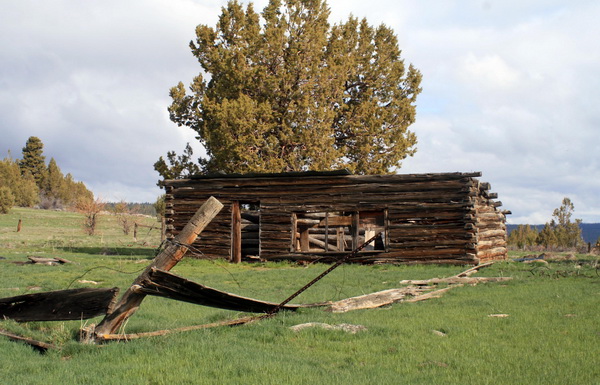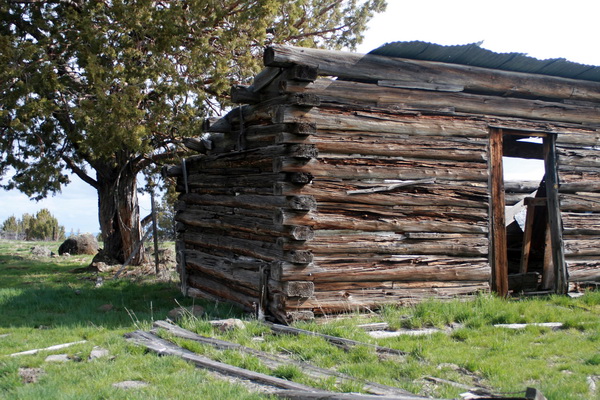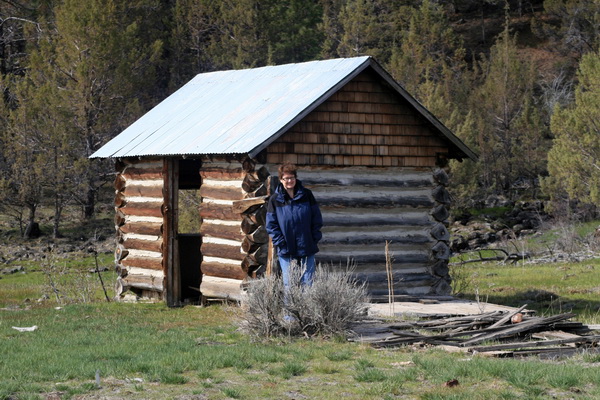 We entered Oregon somewhere on the backroads and made it back to Hwy 395 and pavement just south of Lakeview. These dogs were wonderfully well behaved and were patiently waiting for their master/mistress to come out of a store on the other side of the road.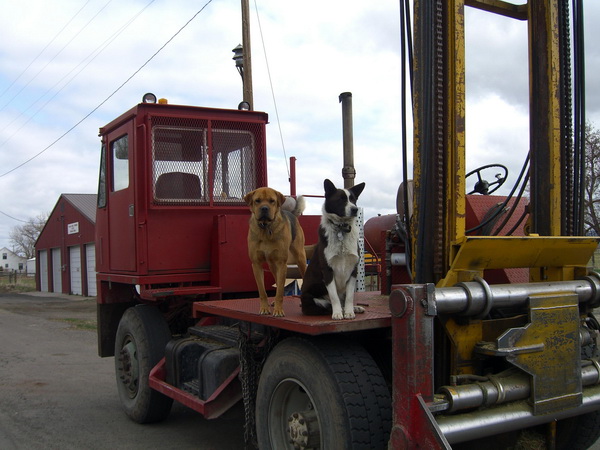 We had lunch at this diner in Lakeview. The food was decent and the atmosphere was fun. They actually had candles burning in the bathrooms much to our amazement...never seen that before.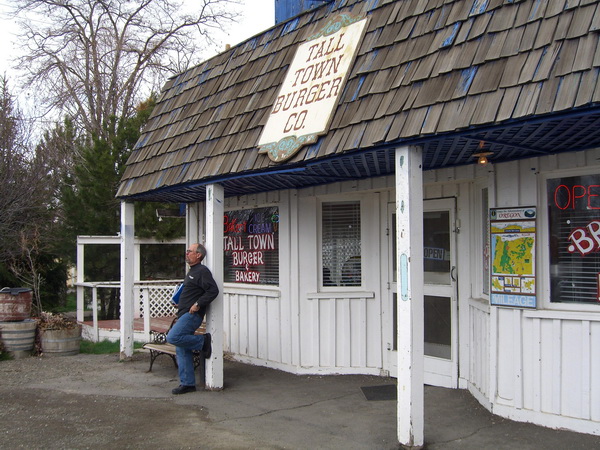 Just a couple of miles north of Lakeview is "Old Perpetual" geyser (just west of the highway at "Hunter's Hot Springs"). We'd asked a gentleman in town if it was worth seeing. "All geysers are worth seeing" was his answer. He was of course totally right, stupid question.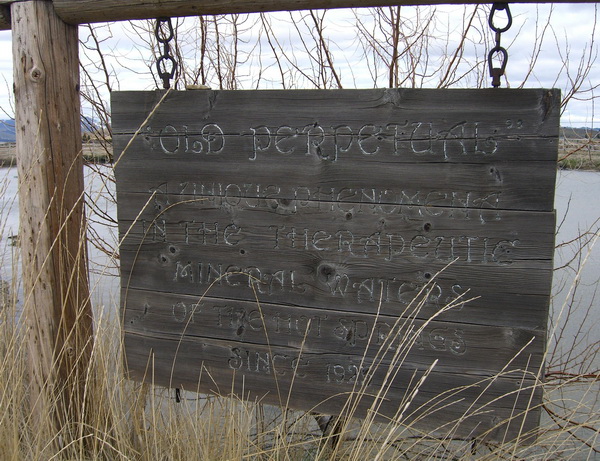 The birds love the warm water that surrounds the geyser.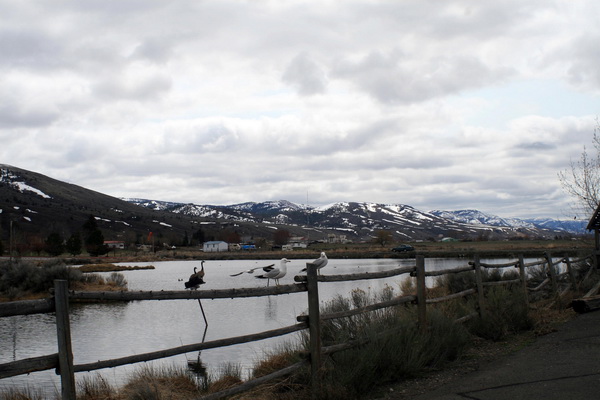 They advertise the geyser erupting every 90 seconds and sending a stream of super-hot water 60 feet into the air every 90 seconds. It does all of that. Except that it was eruping every 60 seconds or so when we visited. Even better.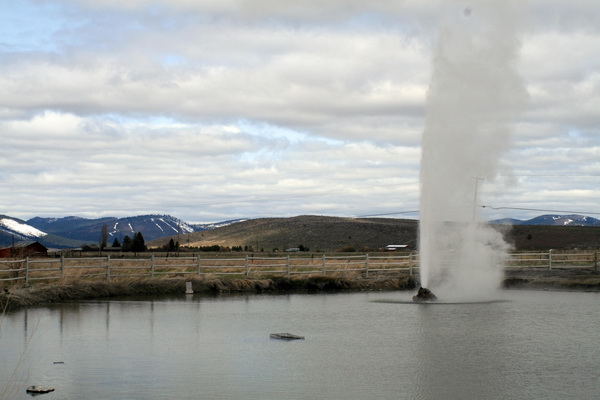 Back into the car and north past Lake Abert and the Abert Rim. Amazing leftovers from our volcanic past. The lava here is 1000 feet thick and full of upthrusting plates. These sheer rims are 1/4 mile high.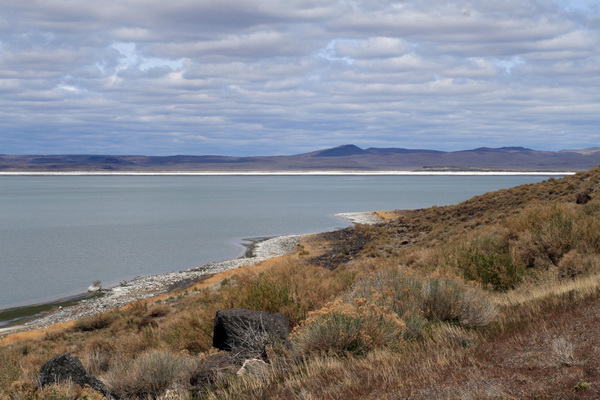 The lake has no outlet so it only loses water by evaporation, creating outrageous alkali flats like this one.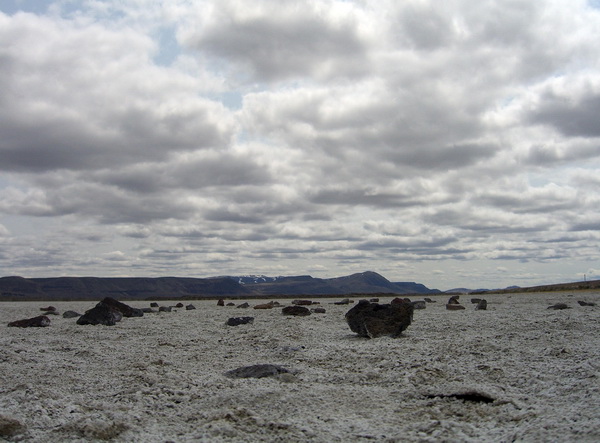 We traveled through some incredibly rugged country, sandwiched in between ancient lava flows.
Oh, here are those white pelicans I mentioned earlier.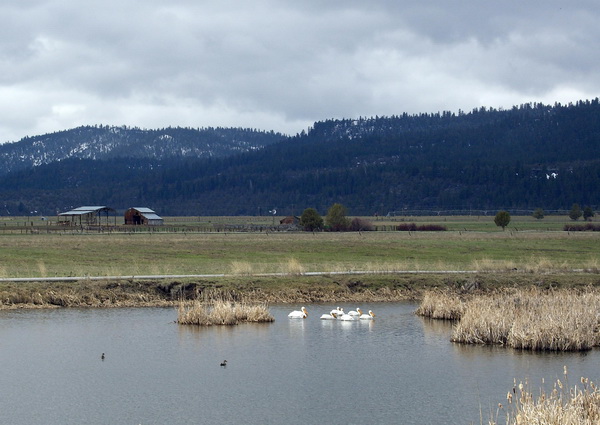 And here's that long-billed curlew.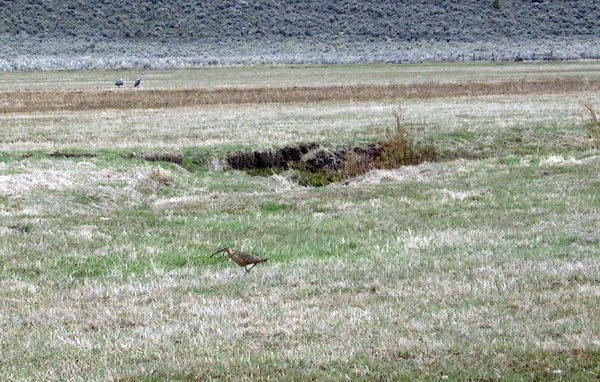 Oh yeah, here's one of two golden eagles that I forgot to mention earlier. We are unsure why this picture is black and white...it just is.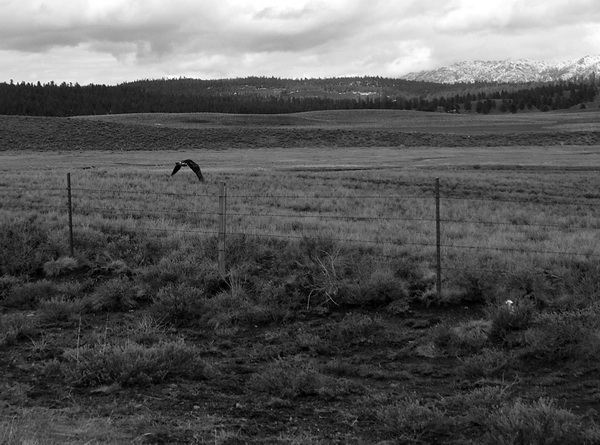 We continued up Hwy 395, through Burns to Hwy 26. We traveled through the lovely town of John Day with the intention of staying in Prairie City that night. We'd picked Prairie City as a likely place to stay from things we'd read on the internet. Mistake, there was no place available to stay there and there were no likely places ahead for hundreds of miles. So, tails between our legs, we backtracked back over to John Day and spent the night.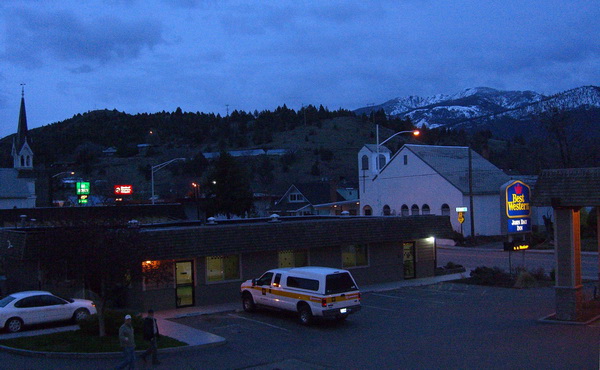 ---
Click HERE to continue on with the trip!
Click HERE to return to our homepage