---
The next morning we were up bright and early and then wandered next door to "Me and Lou's" cafe for breakfast.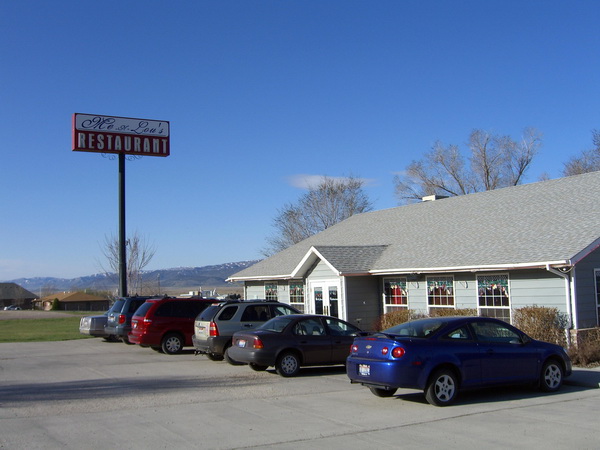 For a small town the cafe was impossibly ornate and the food outrageous. This time I ordered up the chicken-fried-steak breakfast and I admit to being a bit overwhelmed by the portion size (Becky, again surprising me, went for the carb-heavy pigs-in-a-blanket).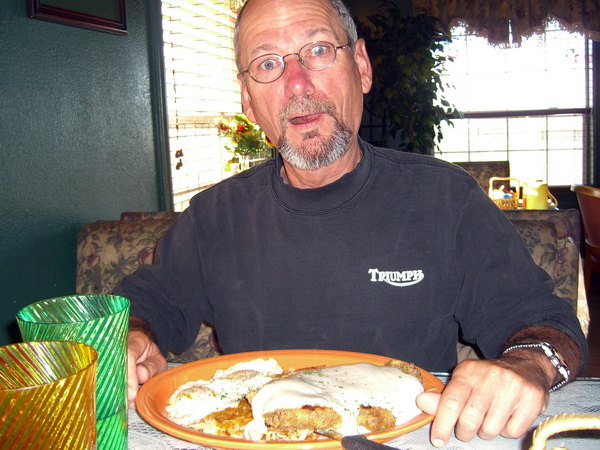 We continued our journey down Hwy 15 towards Salt Lake City. Becky had memories of her family camping in the heart of SLC when she was a child. Lo and Behold the campground still exists and we had planned on staying there, camping and so begin the "camping" segment of our trip. No way! It is still fricken' freezing out and we're going to have to motel it up...at least for now.
Becky was doing the driving so I was "deep research" via our AAA tour books and I came up with this jewel. Only two blocks from Temple Square, small and cheap. The downside...I was sick. I'm suspecting that chicken-fried-steak but have no solid evidence. Can we all say "gasto-intestinal-upset?"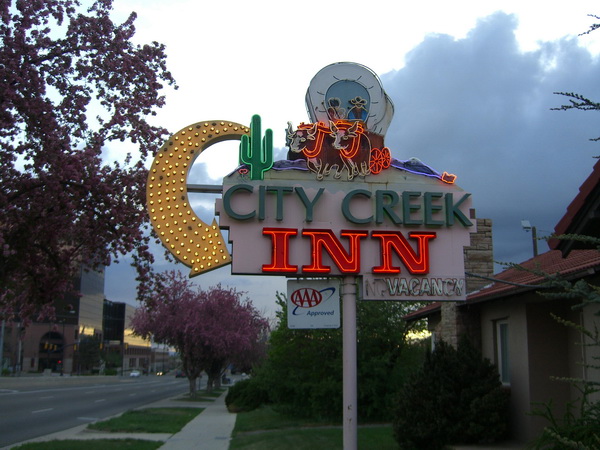 Great old neon sign...
So Becky explored the area on her own. This is the new LDS Conference center.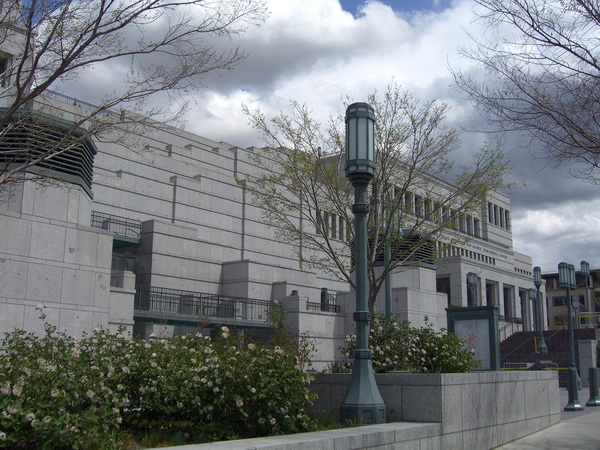 Complete with an artificial creek running along outside...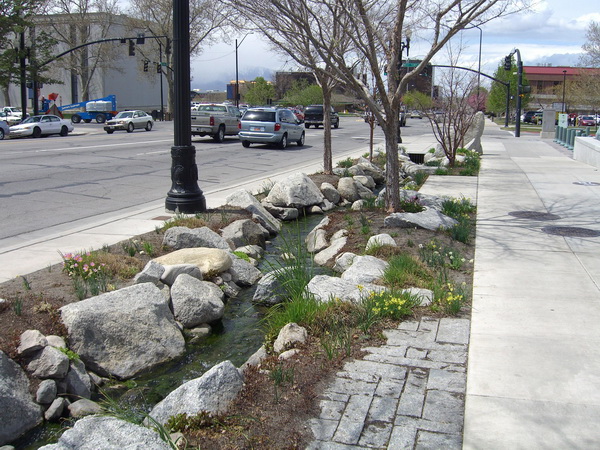 ...on the roof, fountains...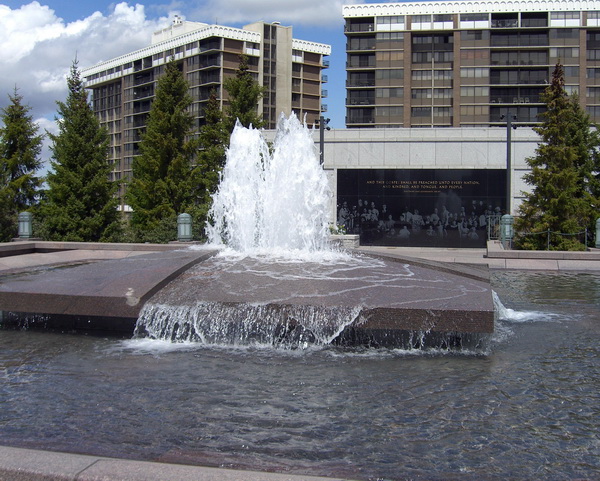 ...and a bit of the prairie.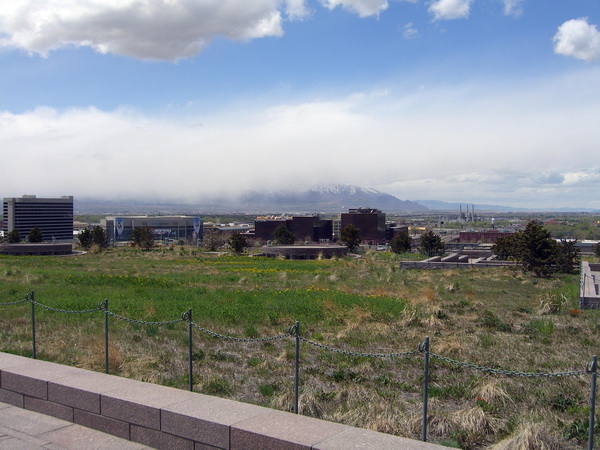 This is a view of the Utah State Capitol from the roof.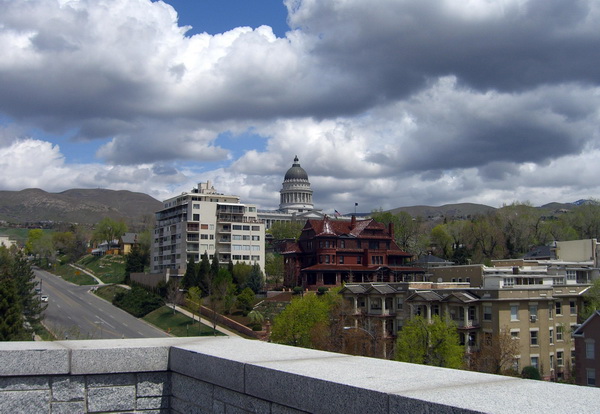 The main hall in the conference center can reportedly hold 20,000+ people (souls).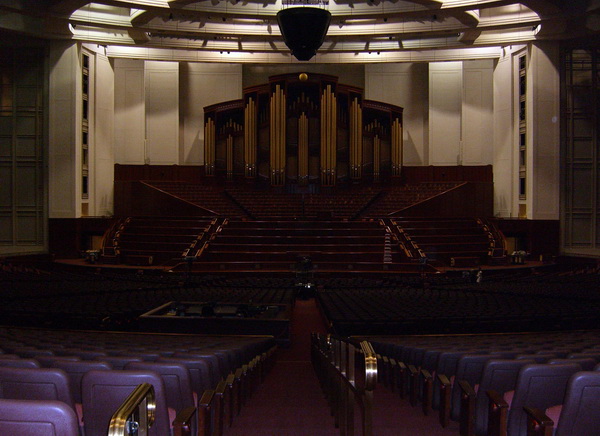 It was at about this juncture that Becky gave me a call back at the motel room. I was feeling much better and decided to join her in exploring the Temple Square.
Suddenly it's spring, flowers everywhere. The picture is of the Salt Lake Temple of course. Our kind (the non-believers) are not allowed in.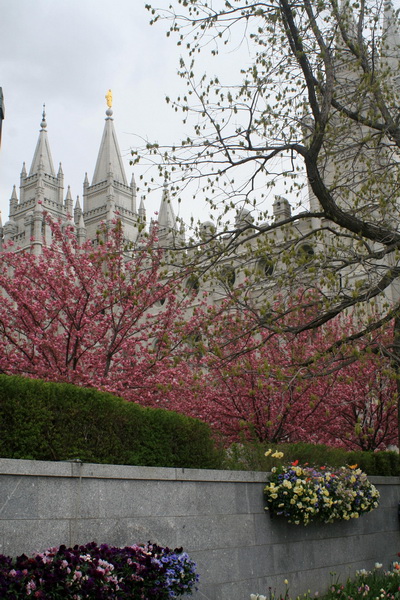 Lots of pilgrims about, some opting for more traditional dress.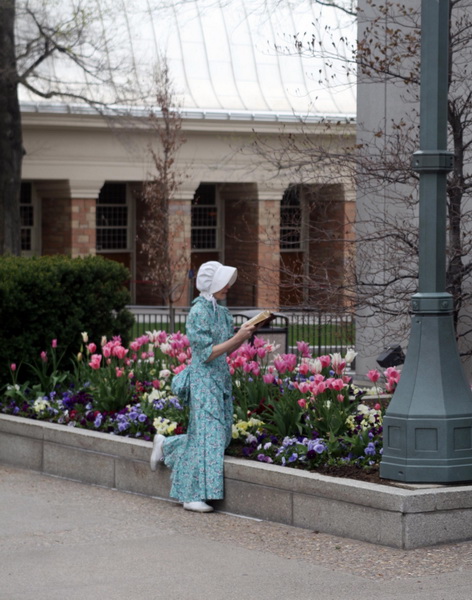 The outside of the Tabernacle.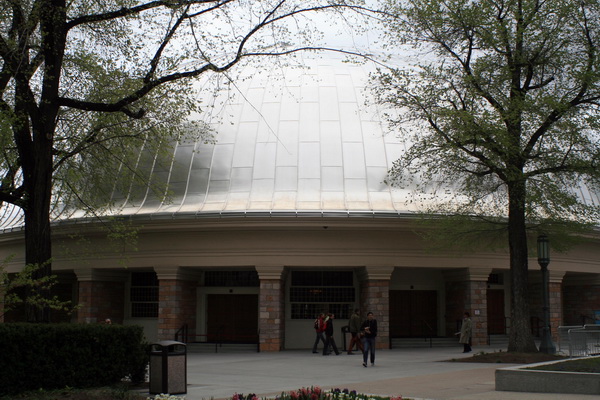 The inside, with one huge organ...and Becky peeking around the column. Hey, show some respect would ya?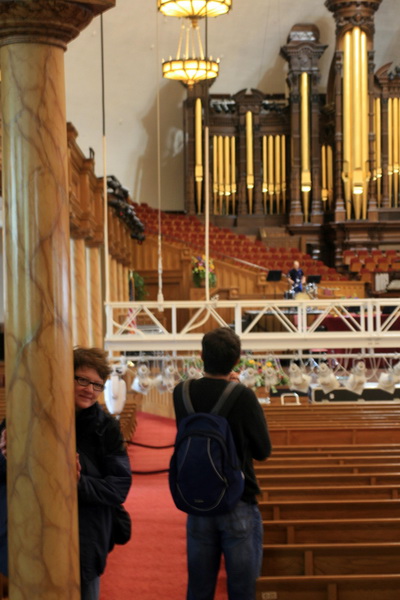 There were volunteers everywhere, tending flowers, scrubbing rocks, etc. The grounds were beautiful and immaculate.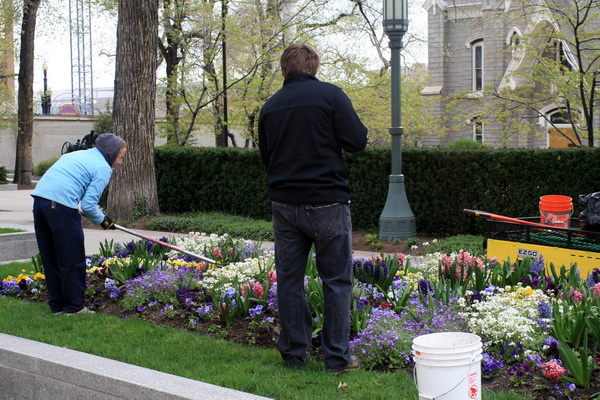 Becky was getting hungry and I felt like I could eat again (a "glutton" for punishment) so we stopped by the Lion House Pantry. The Lion House was built in 1856 and was Brigham Young's home. We had a simple, tasty meal but the real highlight for me was a bottle of Brigham Young's Sarsparilla. It was simply the best sarsparilla I've ever tasted. I can best describe it by comparing mainstream manufactured root beer to small-batch, hand made root beer. It's that kind of difference.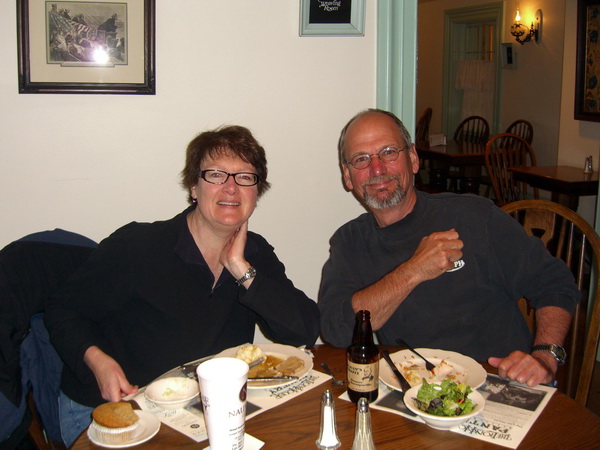 We passed a young couple getting married at the temple.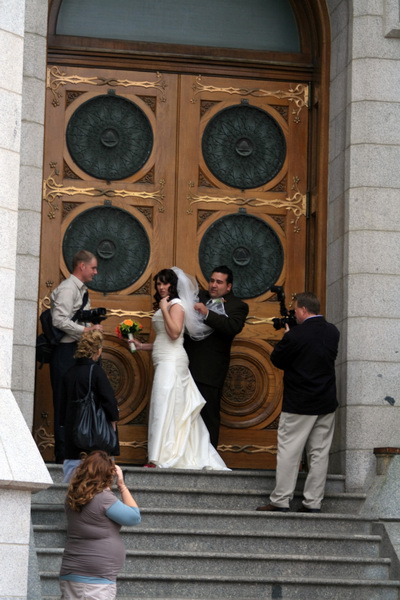 The tulip gardens were outrageous and in full bloom.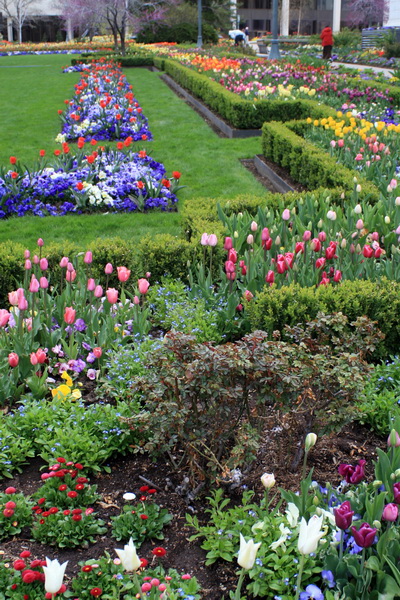 This is the top of the Eagle Gate which once marked the entrance to Brigham Young's property. It was erected in 1859 and spans 76 feet and the eagle on top weighs 4,000 lbs...or so we're told. We didn't try to hoist it.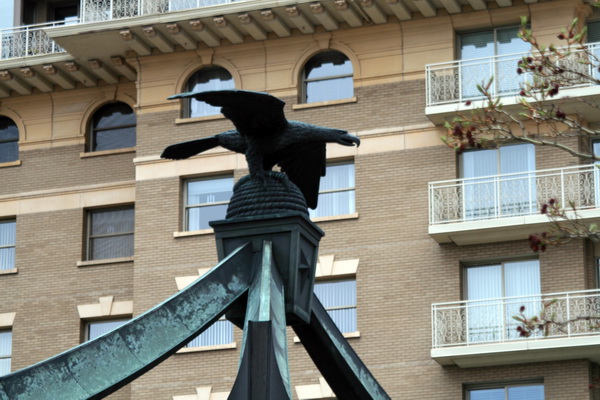 We walked back to the motel and gassed up the car for a trip out. The gas station next to the motel had the least expensive gas we saw on this trip, $3.35/gal. The Element which generally gets about 22 m.p.g. was getting 27 or 28 m.p.g. when we got away from all the additives/oxygenation in California gas.
The destination for this afternoon is the Bingham Kennecott Copper Mine...the largest open pit mine in the world and the only one that can be seen from outer space.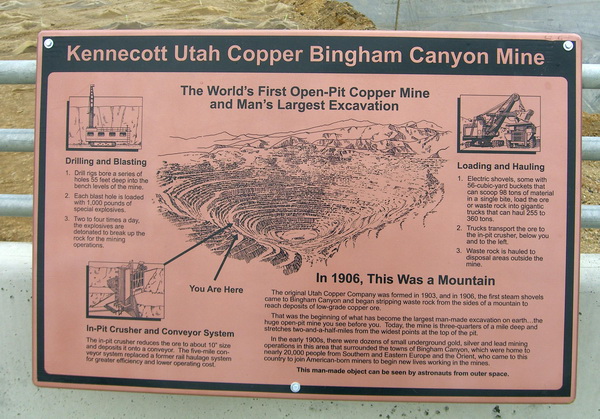 This was once an 8,000 foot mountain. Now it's a hole in the ground 3/4 of a mile deep. We were totally prepared to hate this place.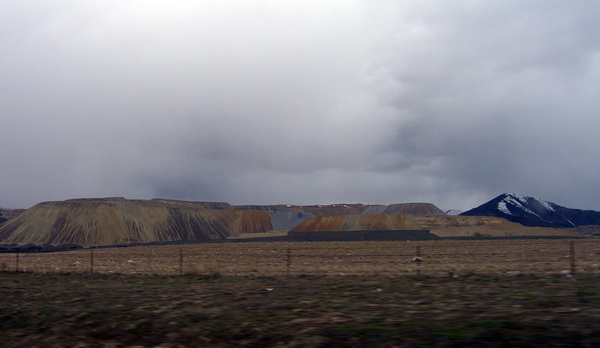 It was spitting snow on us as we reached the rim (I'm soooo glad we're not camping). The mine is mind-boggling. It's one of those things that you see with your eyes but your brain just can't process it. It's simply too much information. My camera is the same way, this picture does it no justice at all.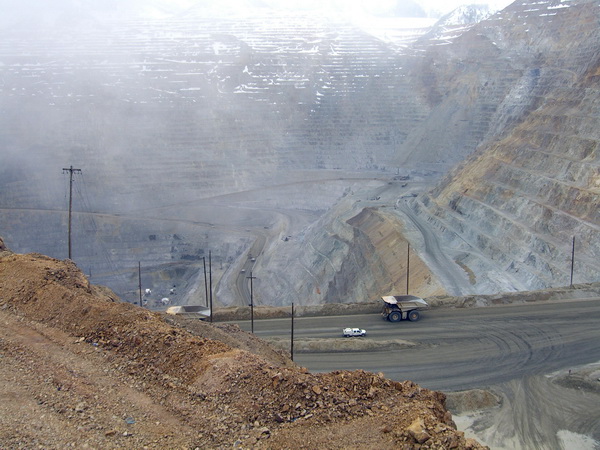 This is the wheel from a dump truck similar to the one in the previous picture.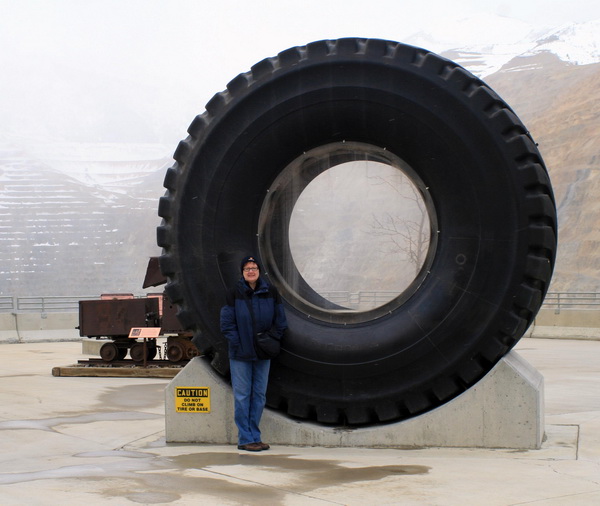 We hit the gift shop/interpretive center, checked out the informational displays and watched a movie about the history of the mine and its place in today's world. Sceptical when we arrived, we came away convinced of the necessity of mining copper and were very impressed at the steps they are taking to impact the earth as lightly as possible. Halleluiah, we had been converted.
We headed back to the motel for a good night's sleep. Tomorrow we move on (hopefully to warmer climes).
We awake to a light covering of snow (I'm glad I'm not camping) covering everything.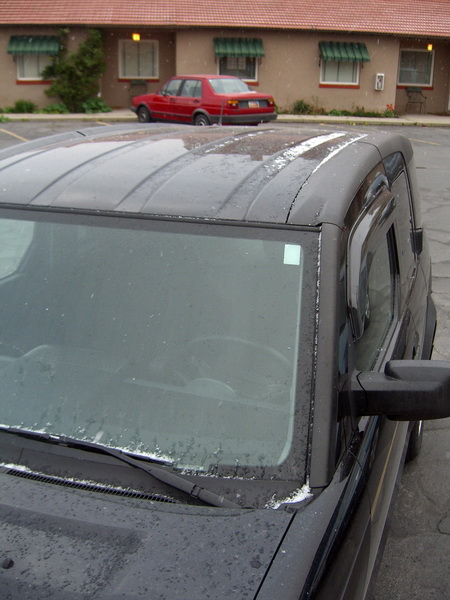 We traveled south down Hwy 15 (boring) until it intersected Hwy 6 and then headed east. We stopped for lunch under cool but clear skies in Green River. At Ben's to be specific.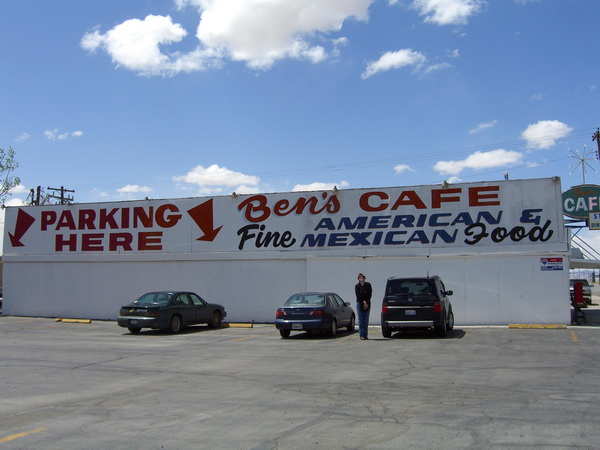 Becky had the green chili and it was amazingly good...so good I can't even remember what I had but whatever it was paled by comparison.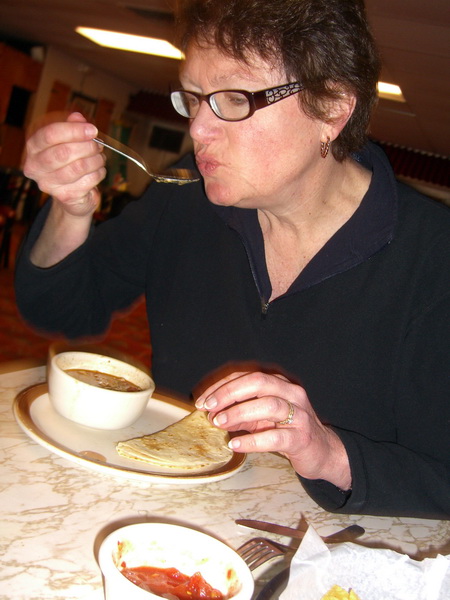 We continued on through countryside that was looking more and more like desert. We hit Hwy 191 and dropped south to Moab.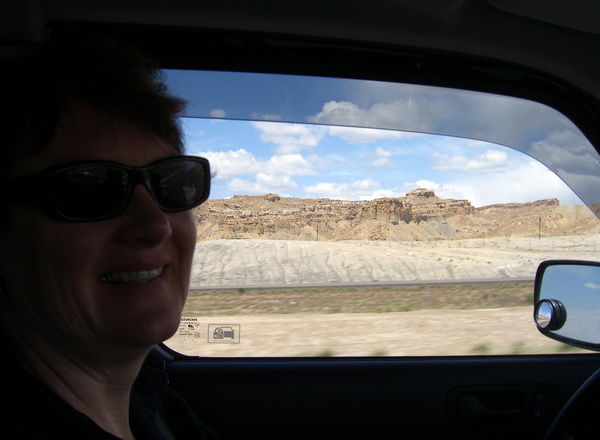 Alas, the campgrounds are full...and yikes, so are the motels! After a lot of phone calls we came up with a room at Bowen's.
We lucked out. Bowen's is a great, privately owned motel offering spacious rooms (including a kitchen) at reasonable prices. And they have wireless internet. The downside is that the room was only available for the one night and we planned to be here at least two days. After a lot more calling about we managed to score an "oversized" (read as expensive) room at the local Best Western down the street for the next night.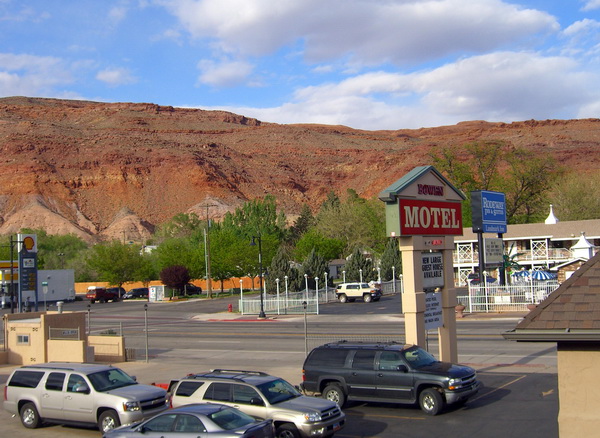 With a few hours of daylight left we thought we'd do a quick reconnaissance of Arches National Park and see what we could see from the road.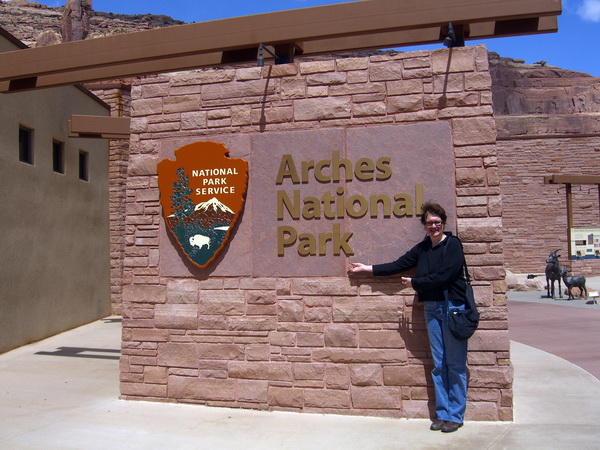 In planning this trip we both make up lists of what we'd like to see. Arches was at the top of my list and it didn't let me down. It's gorgeous! A nice map of the park can be found HERE.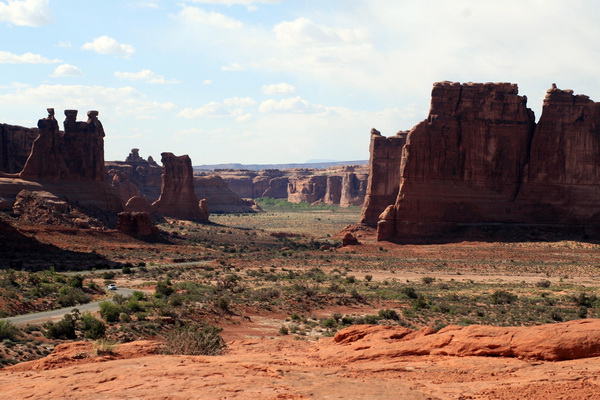 These crazy, red flowers will put your eye out they're so bright!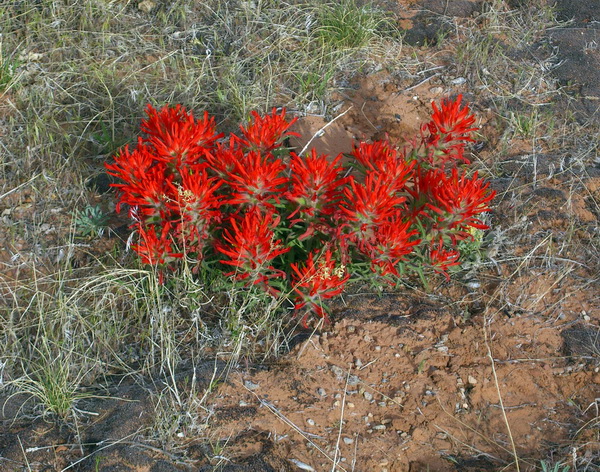 Huge rock formations abound.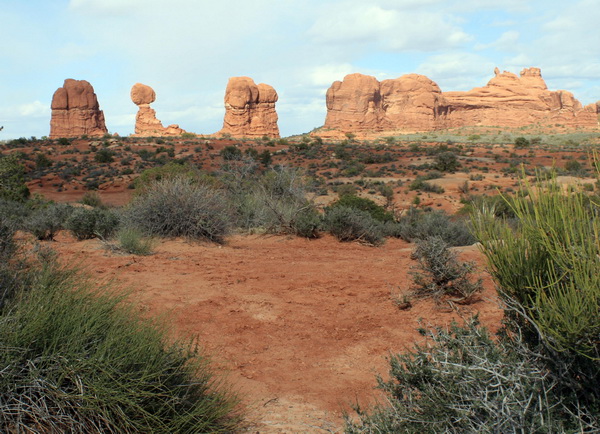 The snow in the distant mountains made for a beautiful contrast.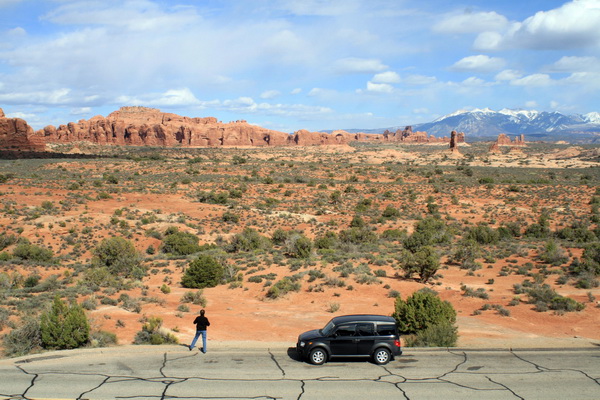 We made it all the way out to "The Windows" and decided it was time to head back to the motel and call it a night. Besides that free wifi was calling to me. Time to check email and such.
The next morning we laced up our hiking boots and loaded up our day packs to spend the day hiking around Arches.
My oh my, the things we saw! This is "Balanced Rock."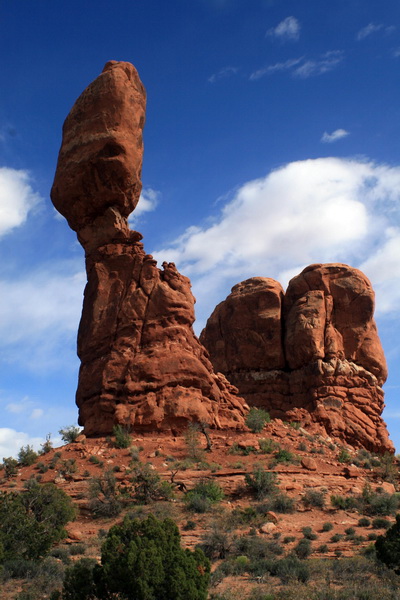 "Skyline Arch"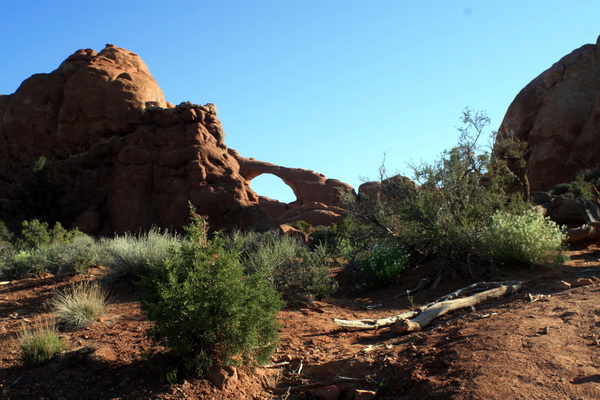 Lots of wildlife. This time it's a bunny (with glowing ears..devil?).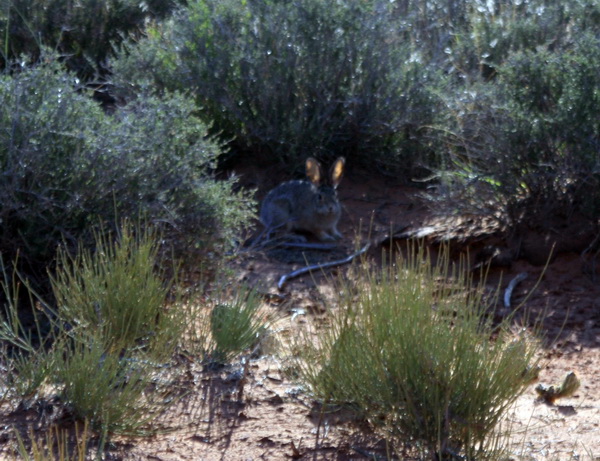 "Yet Another Arch" (actually I can't remember its name...too many arches in Arches)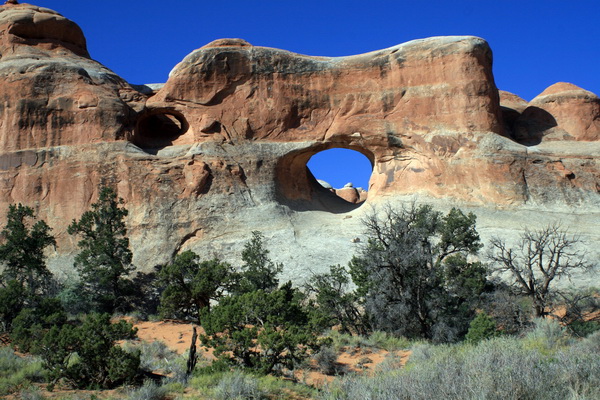 Ok, this is the real "Pine Tree Arch" (I think)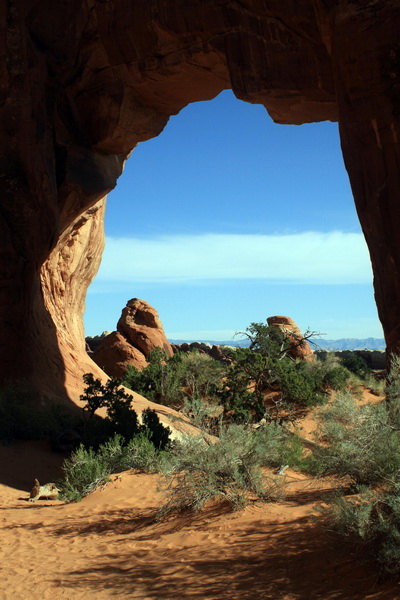 On the trail with Ranger Becky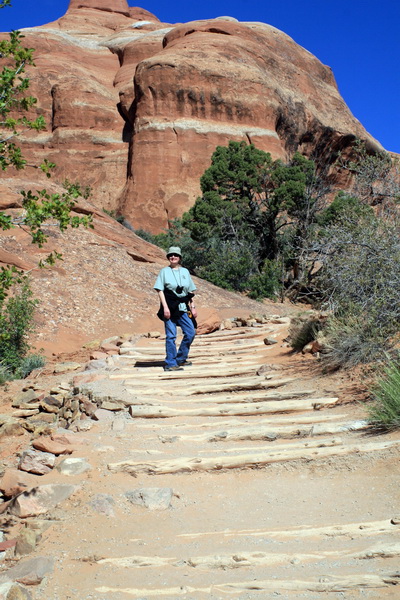 My personal favorite, "Landscape Arch"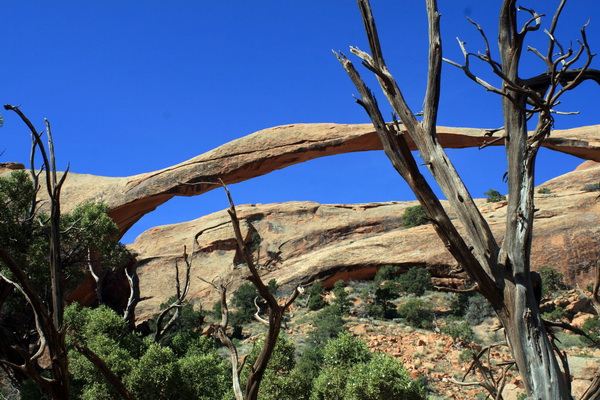 A show-off hawk framing itself in Landscape Arch.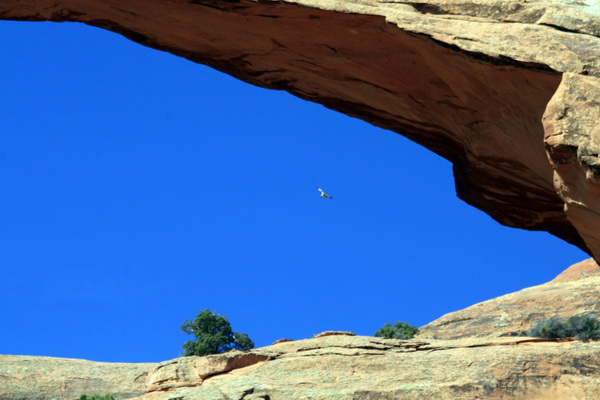 Another shot...ok, I'll stop.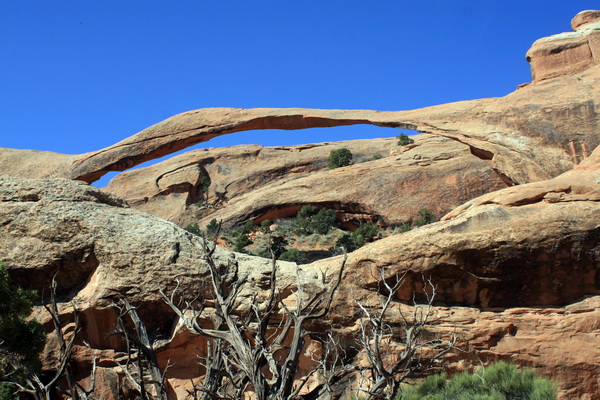 No, wait a minute, this is "Pine Tree Arch"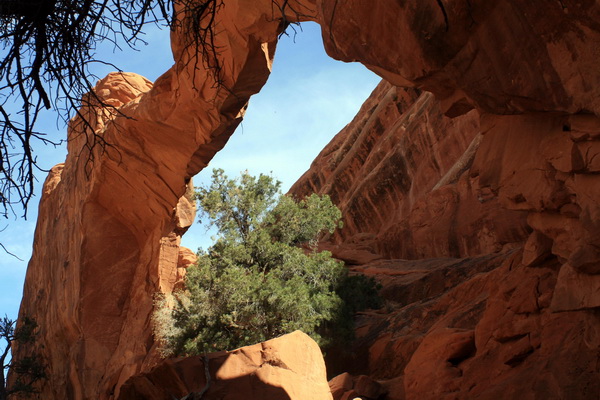 Hmmm, we seem to be running out of trail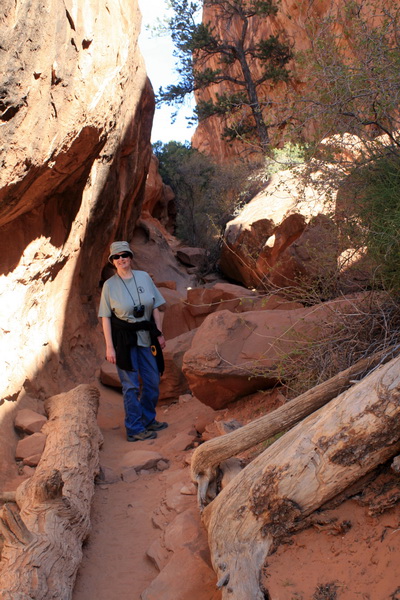 Melting walls (not really).
Actually you can see evidence of where water has eroded the land over the millennia. From what geologists have discovered this land has gone from land to water to land again something like 29 times.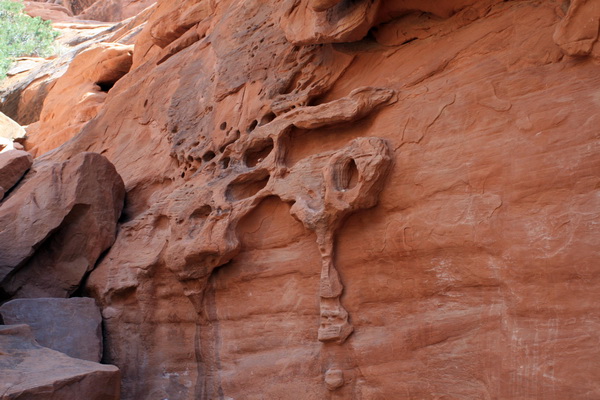 On the trail with Commando Gil and his backpack/hydration unit.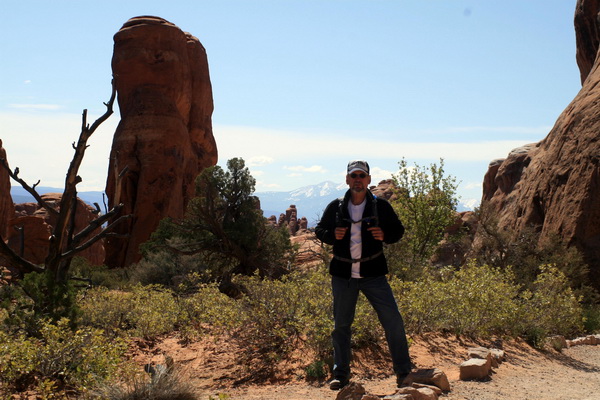 Becky settles in near the campground at the far northern end of the park for some lunch.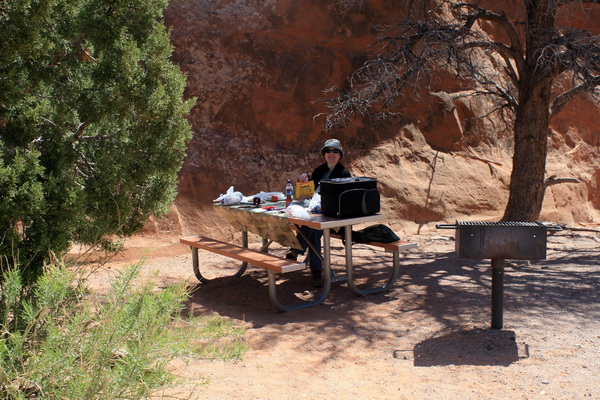 She loves this stuff so much. Tasty sandwiches, some chips, an apple and we share an icy cold beer.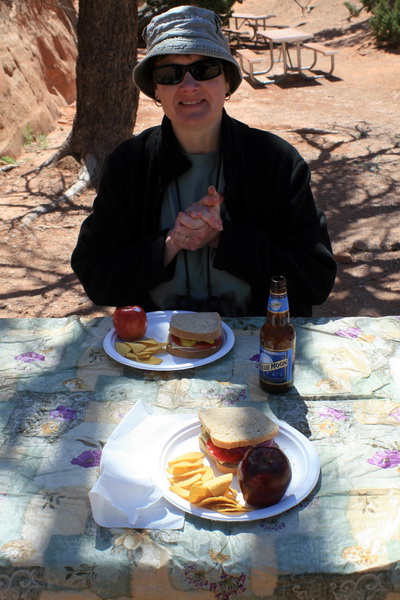 After lunch we headed out to Wolfe Ranch. The ranch was settled in the late 1800's by John Wesley Wolfe and his son. The built this tiny, one roomed cabin and lived here for a decade until his daughter came out to visit and was horrified by the conditions and convinced him to put in a floor. John moved back to Ohio in 1910 and died 3 years later at the age of 84.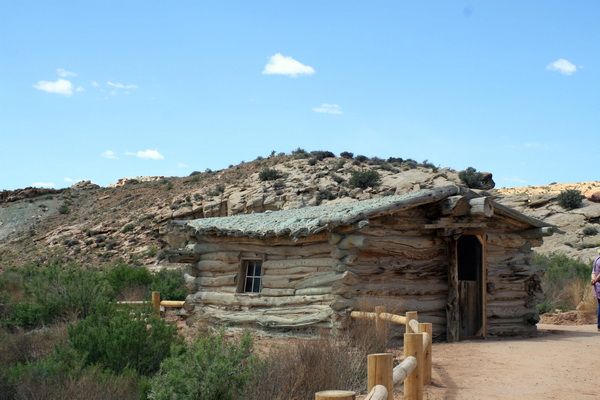 Nearby the ranch are these petroglyphs. They are so amazing they set us on a quest to find more, which we did a bit later on.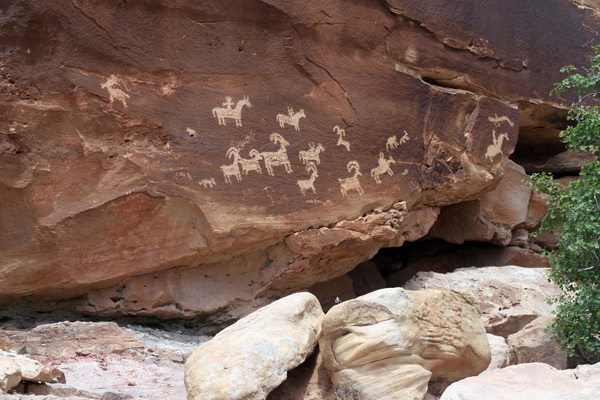 "Windows Arch"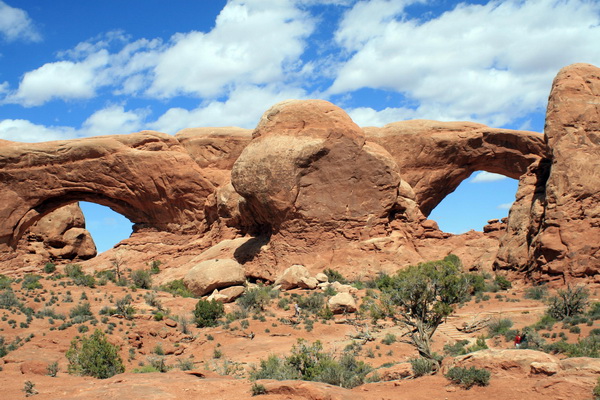 Looking straight up [yes, we're standing directly underneath it] to the top of Windows Arch...scary boulder. It could come crashing down on us at any moment...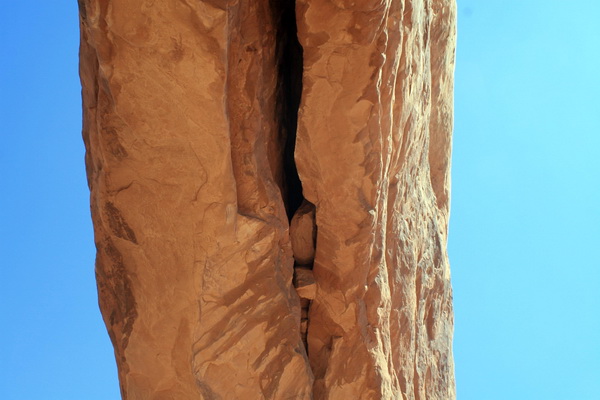 "Turret Arch"...I think this was Becky's favorite.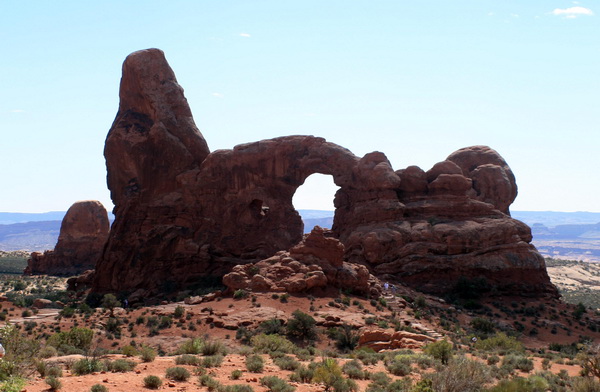 As I was walking around the "Windows" area I came across this lizard that didn't run and hide when I came upon it. Very unusual behaviour for a lizard. He simply stood there while I dug out my camera and took several pictures of him/her. As I moved to step around him he gobbled down that caterpillar. So that makes this the last, living picture of that poor little fella.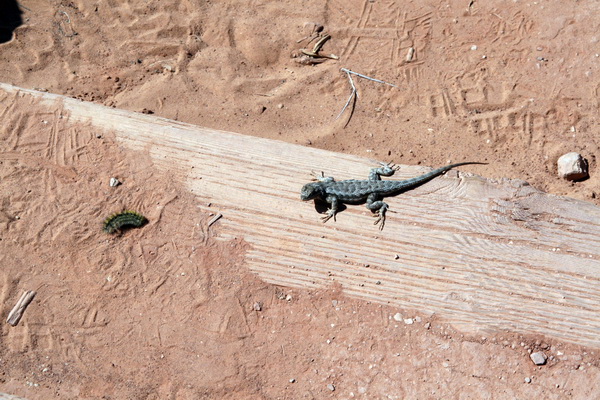 "Double Arch"...aptly named.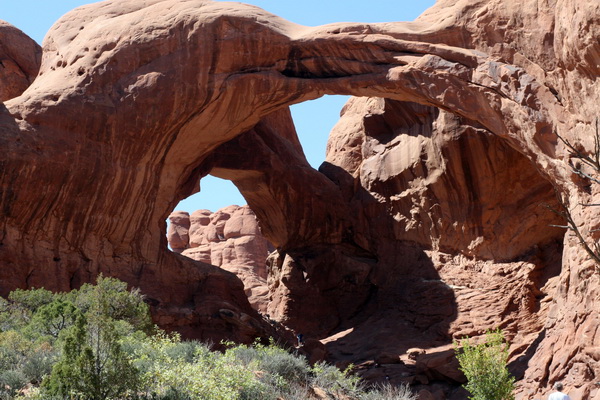 Bwanna Becky.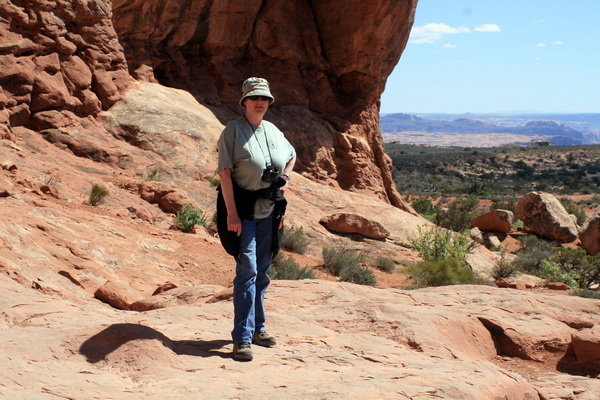 We thought we'd get off the pavement for awhile so decided to drive the 10 miles or so out to the Klondike Bluffs and sneak a peek at "Towering Arch."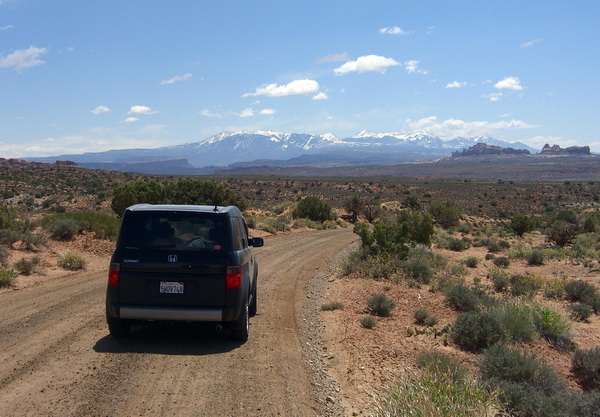 We made it to Klondike bluffs but never made it to the arch. The trail listed as "moderate to hard" was straight up and down, on your hands and knees thing. We're just not into that.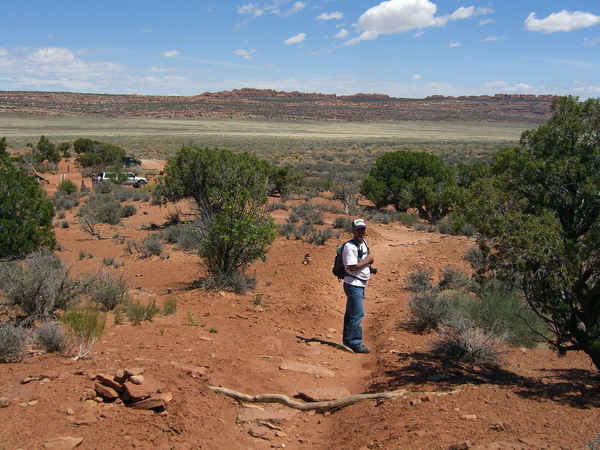 "Elephant Butte"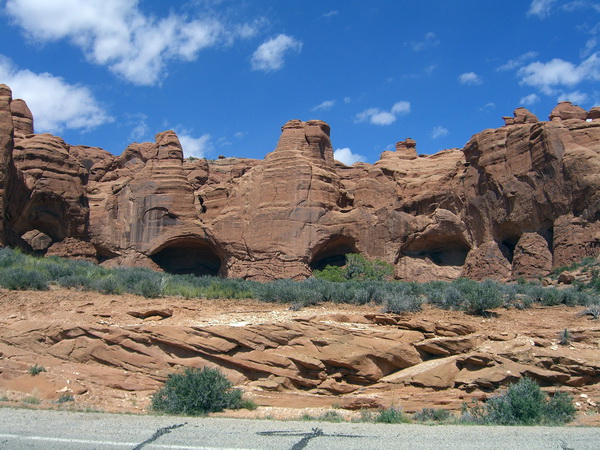 "One Too Many Arches Arch"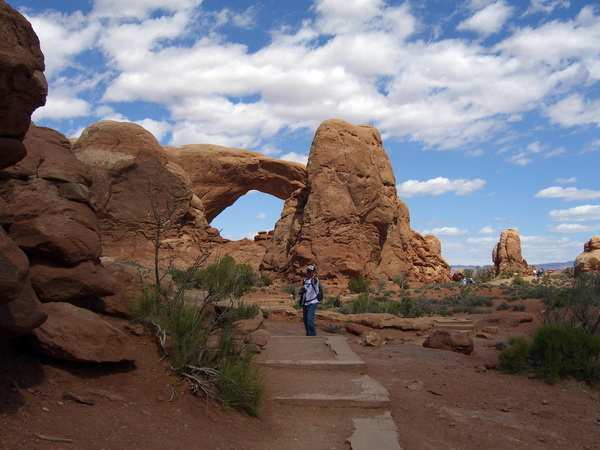 After a day to tromping around in the hills we piled back into the Element and headed back out of the park. Now we're looking for more petroglyphs.
At the visitor center they had a nifty brochure that gave the locations for many of the petroglyphs in the area. These are a bit north of Moab along the Colorado River.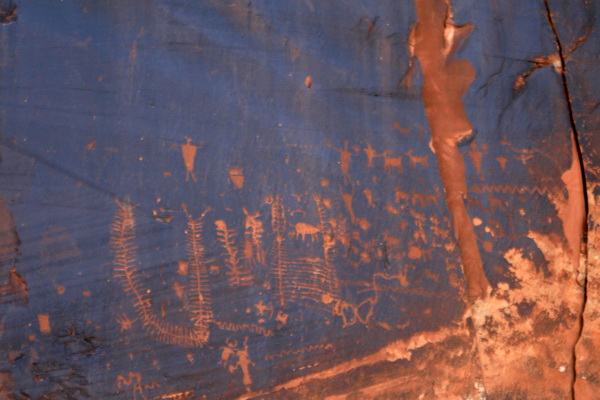 Near some of the petroglyphs we viewed, cliffs were being used for rock climbing. There were literally dozens of climbers dangling from the nearby cliffs.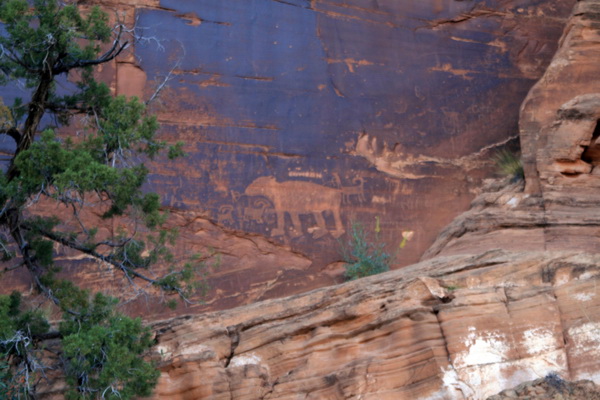 The panel extends 125 along the rock wall! It just seemed to go on and on.

"Jughandle Arch" is just down the road from the petroglyph and supposedly there are more here but we couldn't find them.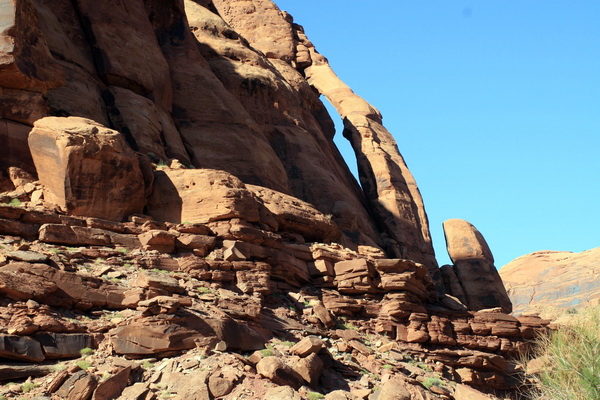 Back at the motel we ordered pizza and a salad (delicious)
It's been a long, tiring but wonderful day. Time to call it quits.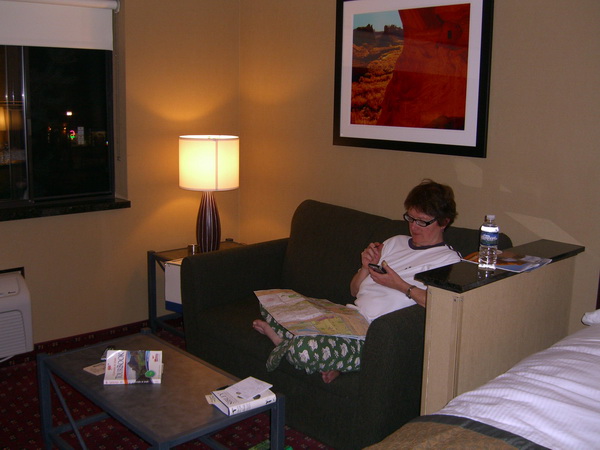 ---
Click HERE to continue on with the trip!
Click HERE to return to our homepage