---
Next morning we find a car wash and clean up the Element. It was filthy and no longer black. The car wash featured the loudest rock and roll I've ever heard....at a car wash.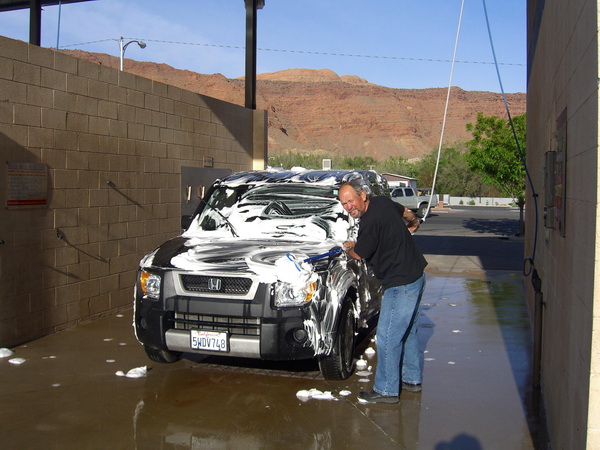 The next bit of business was to check out some more petroglyphs on our way out of town.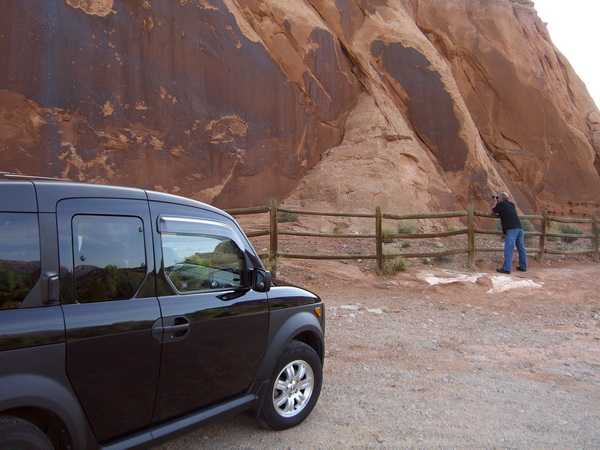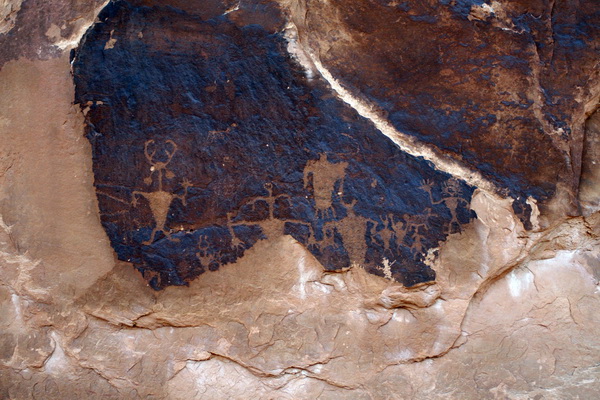 We were amused by the "Santa" glyph. A series of what look like deer pulling a sleigh.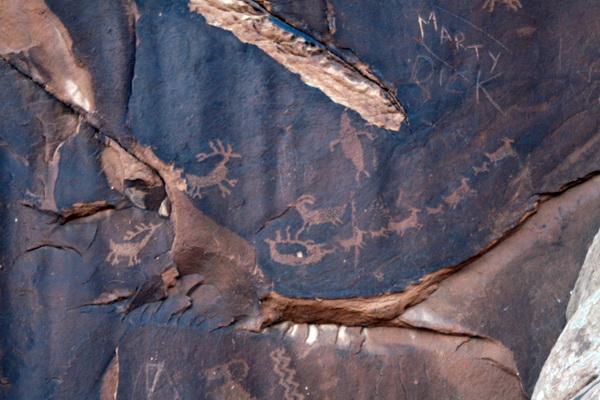 And what about this wonderful dog?!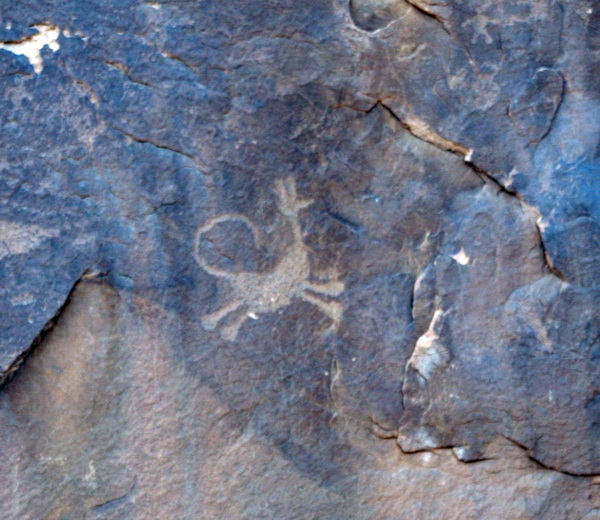 We had to do a bit of backtracking up Hwy 191 to get to Hwy 70 to get to our day's destination, Bryce Canyon. As we neared the junction of the two highways we saw a series of signs "Burma Shave" style. Something about "real good jerky" ahead. I love jerky and had to stop at this roadside stand. After a few samples I bought some of the elk and some of the buffalo. It actually was "real good."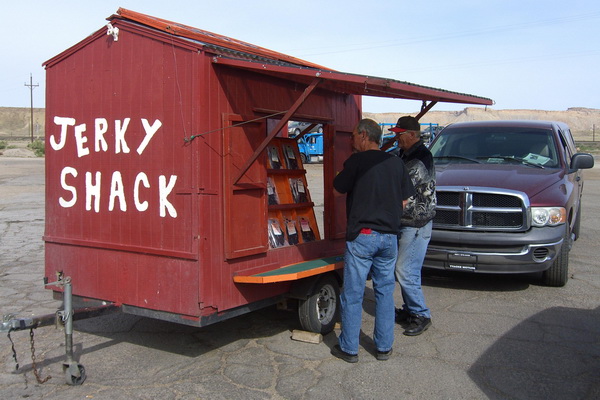 Just past Green River we headed south on Hwy 24. We passed through some pretty amazing landscape.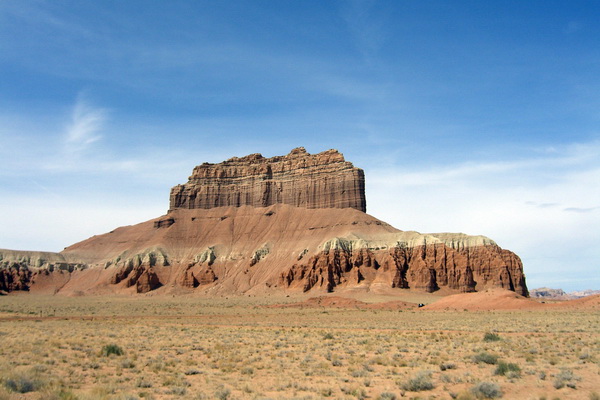 Near the thriving metropolis of Hanksville (population 197) we stopped and visited Goblin Valley State Park. (see if you can find "Gil the Goblin" in this picture)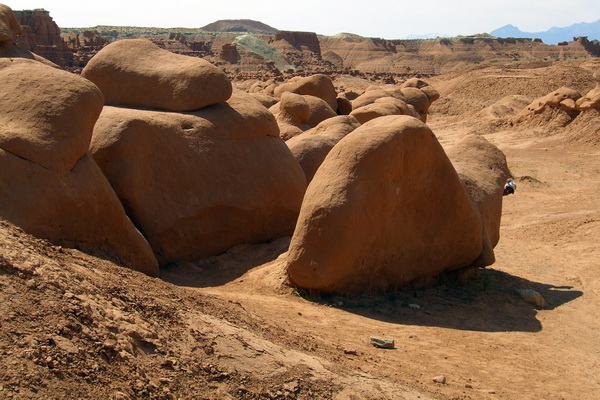 The park is small but spectacular, inhabited by these weird mushroom shaped pinnacles (goblins?) that are maybe a dozen feet high.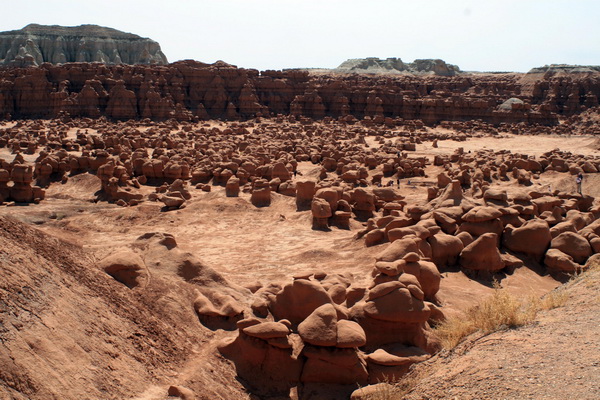 Another weird thing is that they let people climb all over them. They're made out of some sort of hardened sand and therefor they erode quite easily. It won't take too much of this activity before they will cease to exist, although we understand that new ones form, too.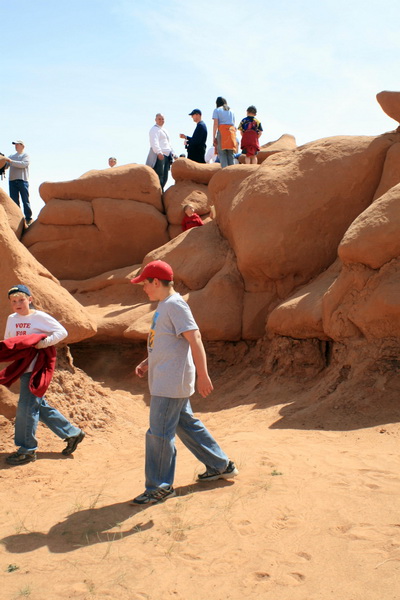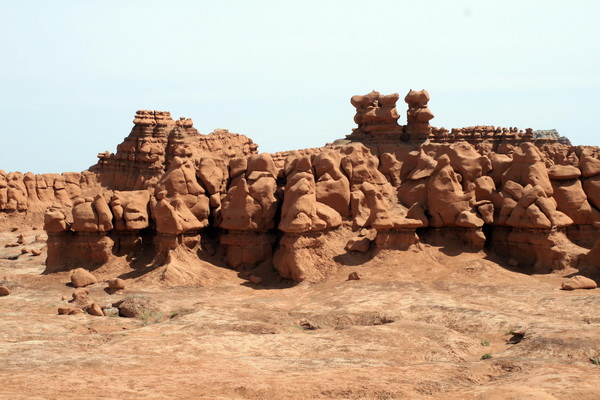 Becky and some of her goblin friends. I told you she makes friends easily.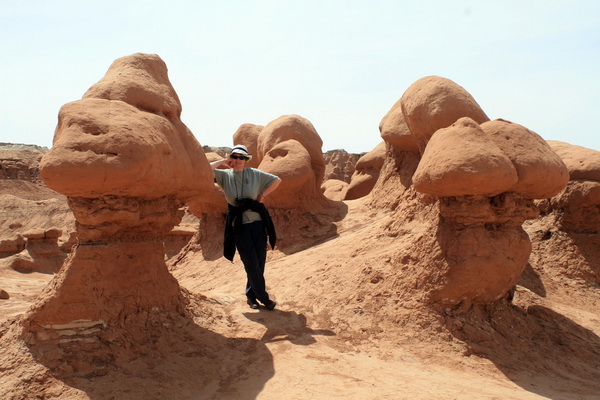 Some tenacious flowers.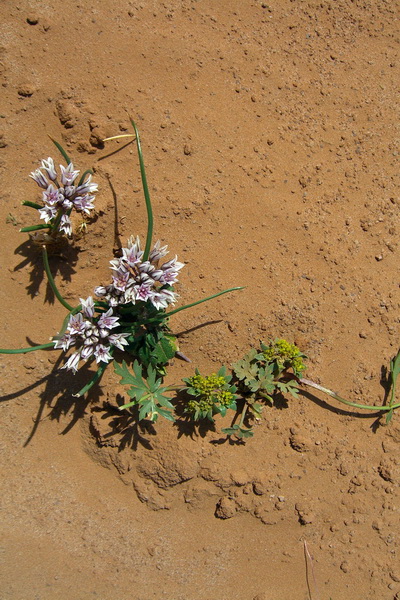 Becky was very taken with this 4 wheel drive, ice-box looking, all-terrain truck in the parking lot. It's made by a German manufacturer "Man" (in fact it has its German license plate on it). It had stickers all over it from exotic places like Dakar. Ok, so I'm impressed too.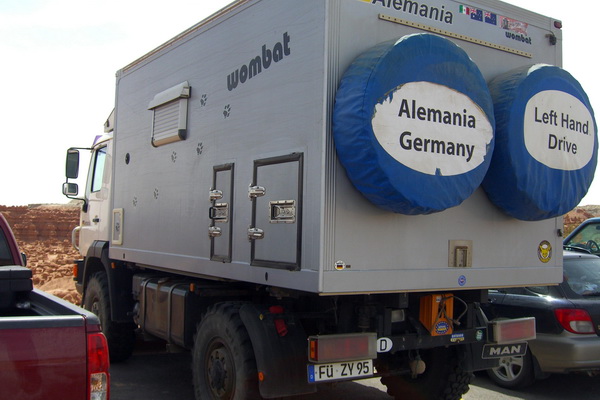 Just outside Capitol Reef National Park we stopped along the roadside to get a look at some more petroglyphs.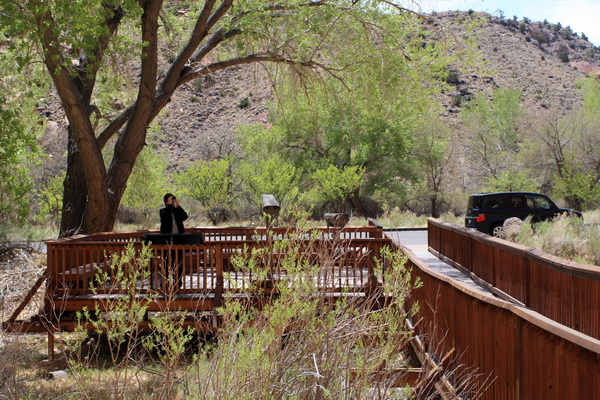 They were neat.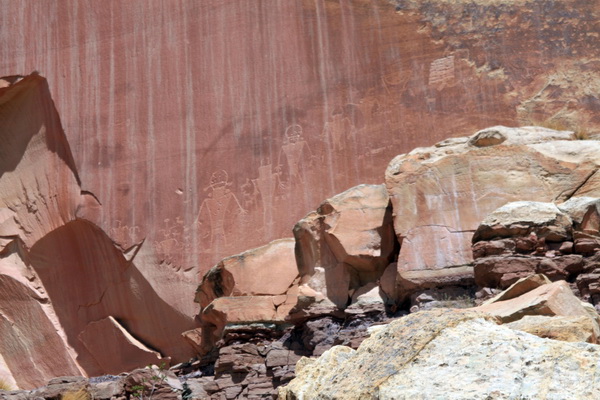 We passed through the Grand Staircase Escalante on our way.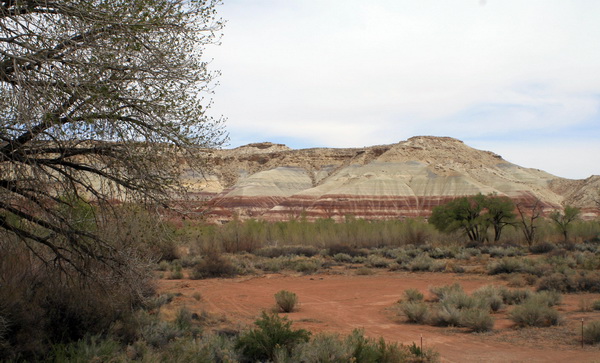 It was about time for lunch so we wheeled on in to Capital Reef National Park to a picnic area Becky had visited sometime in her "Pre-Gil" (P.G.) past.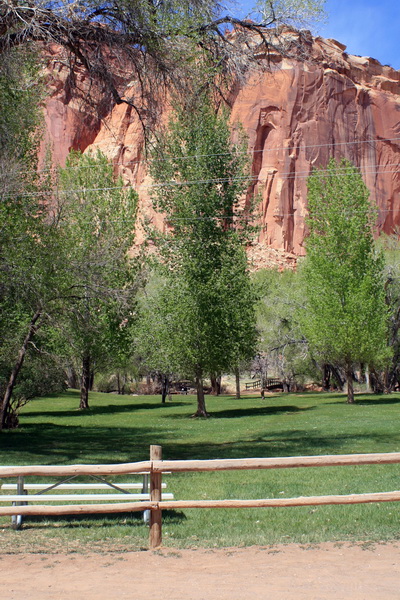 It was like a grassy green oasis in the desert...I told you she loves this stuff...and it is perfect.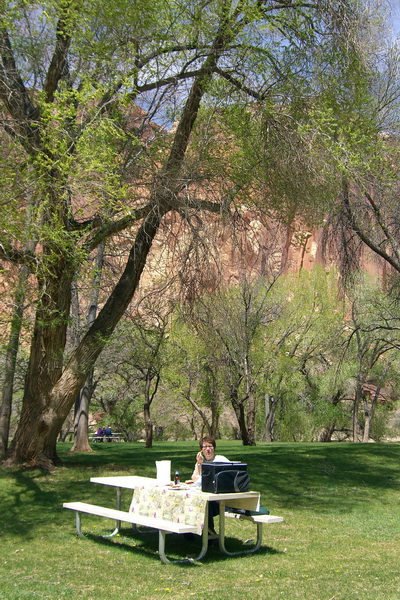 After lunch I dozed...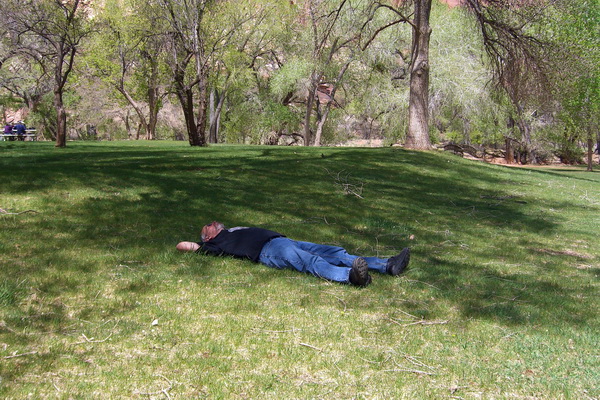 ...under this huge, old cottonwood tree. Frankly I didn't know they could get that big.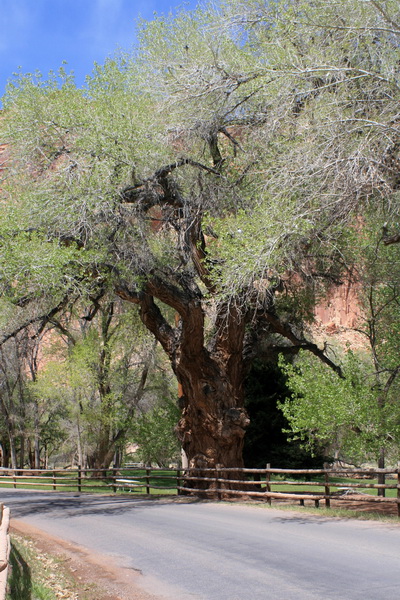 Refreshed and back on the road we turned south at the tiny town of Torrey, then dropped south on Hwy 12 and up over some very high passes, some of them 9,000+ feet (and yes, we're seeing patches of snow again).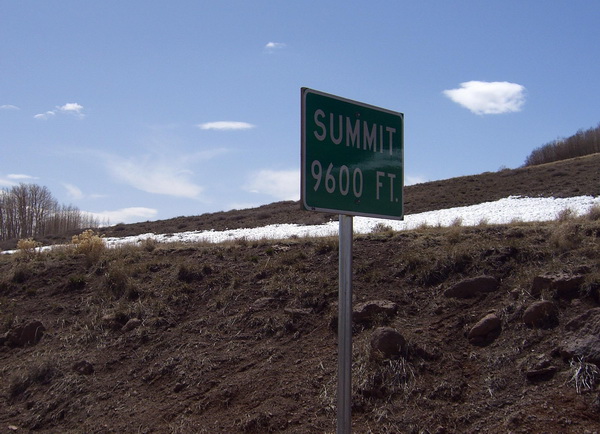 The views were spectacular.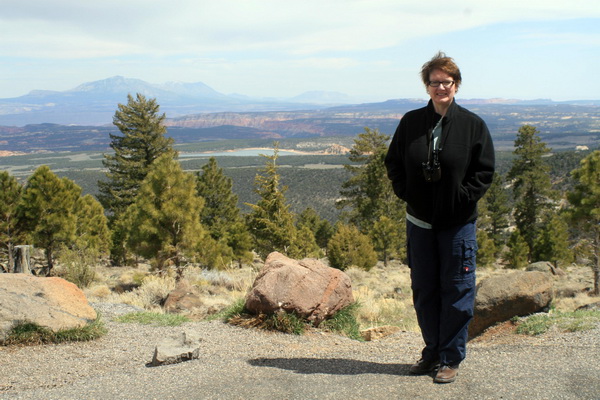 There were large sections of magical birch tree forests, something we don't see much of back home on the California coast.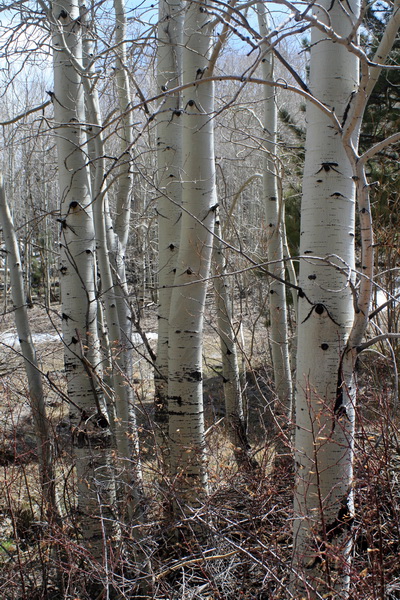 We couldn't resist hiking about in them a bit.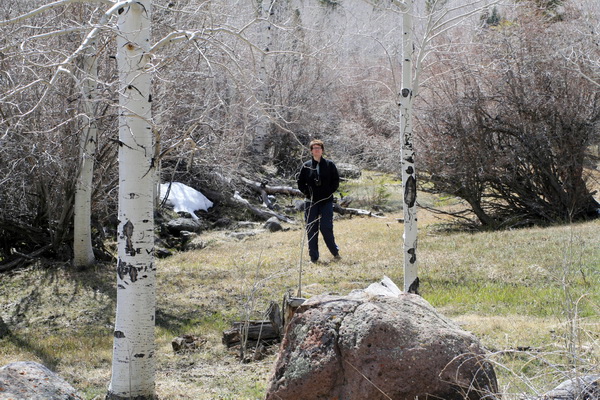 At Boulder, Utah we stopped at Anasazi State Park.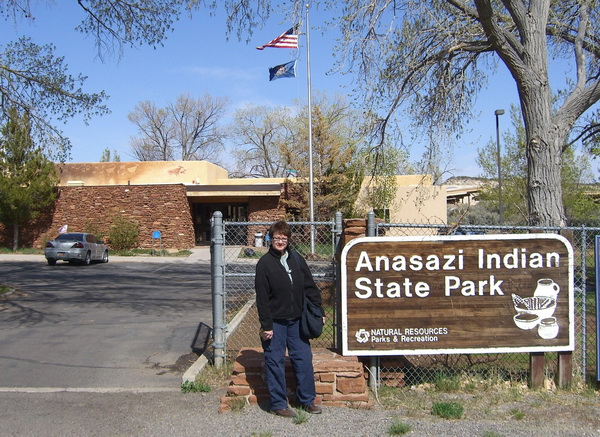 The park is an ongoing archaeological dig that is on a site that was once a large Anasazi Indian village. It is thought to have existed between around 1050 to 1200 A.D.
The building below is a reproduction of the dwellings they are finding here.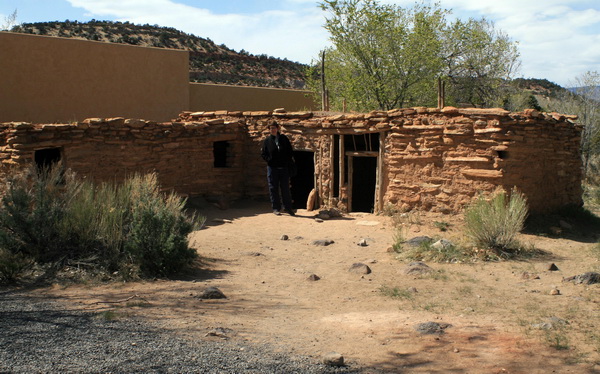 Why, here's a lovely Anasazi indian princess now!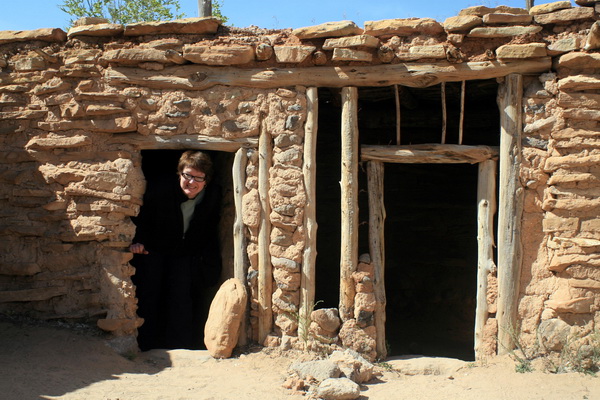 This is what's left of a series of storage rooms for grains, etc.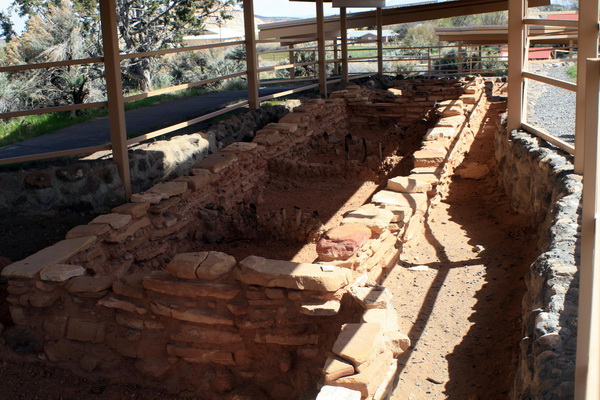 A circular home dug into the ground with a typical access through the roof. The roof access, even when there is a more conventional front door, is common to most of the houses and believed to be religious in nature.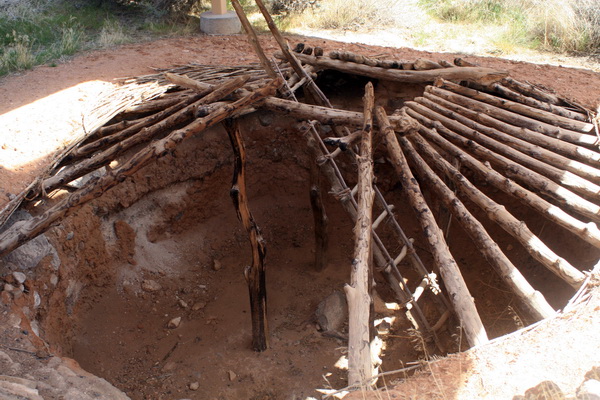 This is the sort of area the site lies in...pretty much what I'd call desert.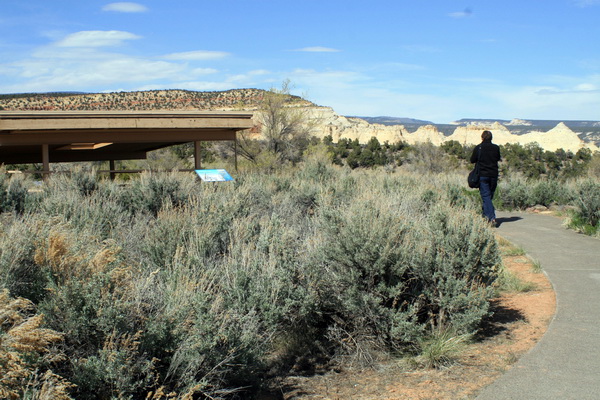 These are part of a large building broken into individual areas for living and working.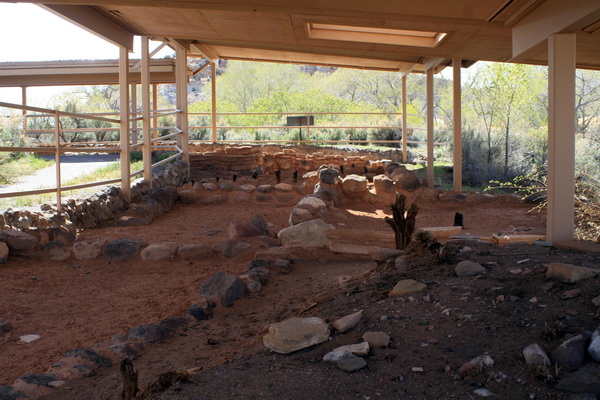 Back on Hwy 12 we passed over some pretty terrifying ridge backs. The picture doesn't do it justice. Narrow roads, sheer drop offs w/cliffs, no shouldersand no guard rails.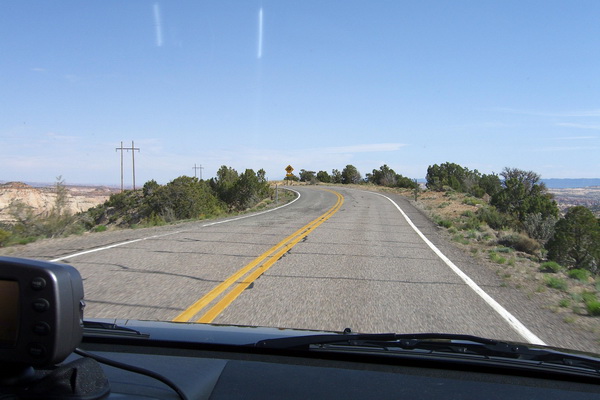 We're back down into the desert again, although a different kind of desert made up of different colors...gone is much of the red we had been seeing.
It's hot, hot, hot and in the small town of Escalante (we liked Escalante) we passed by a drive-in that had a sign advertising milkshakes! Oh my that sounded so good...slammed on the brakes, quick u-turn, got some ice cream (me=pineapple shake, Becky=swirl cone). We traveled around the block to the local park and were happy campers.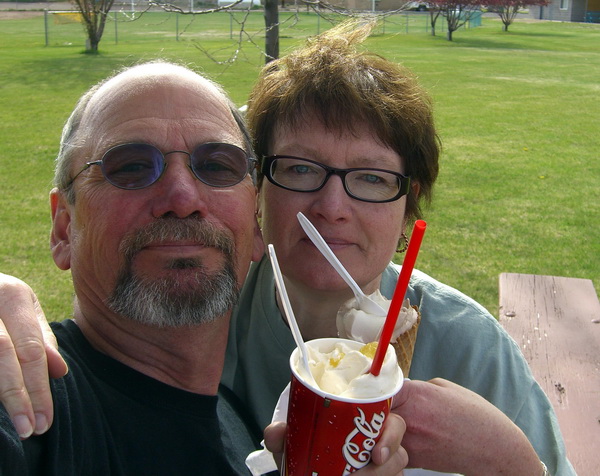 We continued westward on Hwy 12 till it intersected Hwy 63 then turned south.
Things were starting to look very Bryce Canyon-esque now.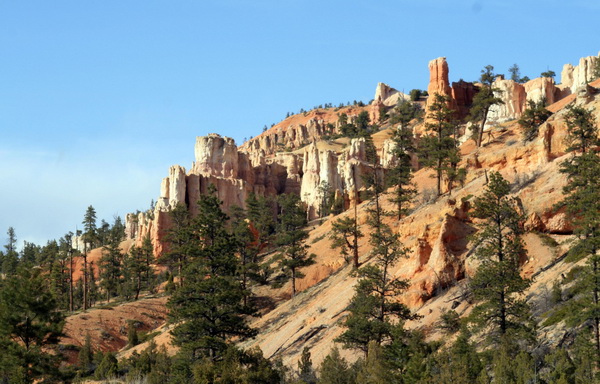 Not to be shut out at the campgrounds again, Becky had picked a likely sounding one from the Web and called ahead for reservations. We figured since we're here surrounded by dry, warm desert that it would be a good time to start our camping adventure.
What we had failed to realize is that Bryce Canyon sits at a little over 7,000 feet! As we checked in we were informed by the woman at the desk that not only were we the only fools to be tent camping here but that we were actually the first tent campers of the season. And oh, by the way the low temperature for the privious night was 13 DEGREES! I was stunned and wanted to run away.
But there nothing to do but to deal with it so we pitched camp. And it was a lovely camp.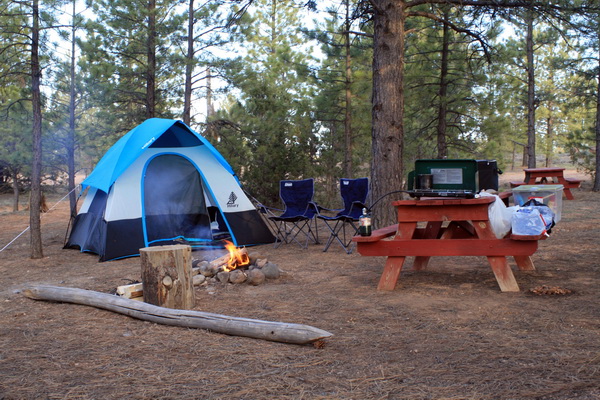 I ran over to one of the RV sites and stole some electricity to charge phones and walkie-talkies...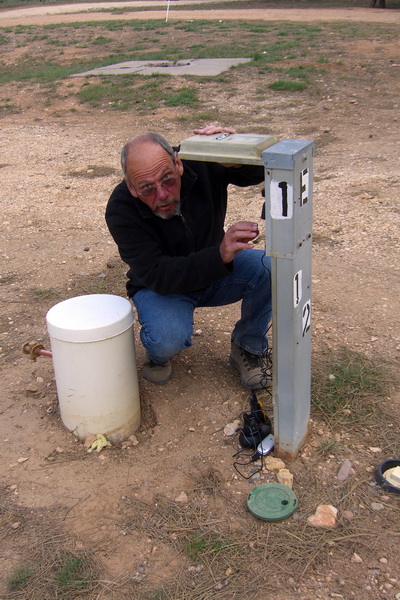 ...while Becky snuggled in with a book.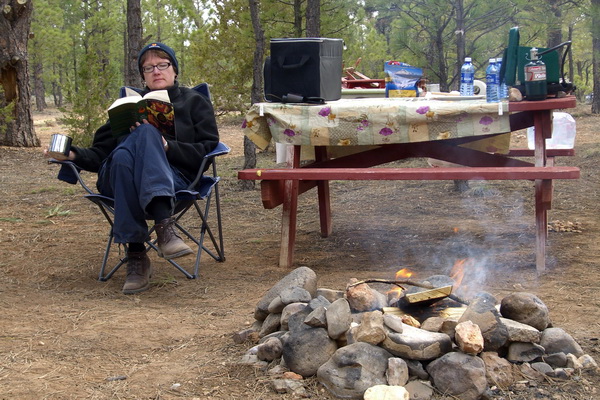 We went to bed shortly after dark and actually slept quite comfortably. The weather gave us a break and it didn't even freeze that night.
---
Click HERE to continue on with the trip!
Click HERE to return to our homepage