---
Suddenly it comes back to me that I hate getting up in the morning when it's fricken (almost) freezing outside...but I did it. And put some water on the stove and then spent about 1/2 an hour trying to find that nifty french press coffee maker that Becky had bought for me for our "camping trip"...oops, guess I forgot to bring it. So it's instant coffee. Bad taste but good, hot caffeine.
After taking hot showers (I love hot showers and will no longer camp where they don't offer one) Becky fried us up a lovely breakfast of eggs and bacon while I fashioned a device to toast some bread out of an old coathanger I'd found. I love camp breakfasts.
Afterwards we headed off to Bryce Canyon. I have no pictures of what we found there. It was like a Disneyland National Park. There were daily rodeos at the rodeo arena, there were helicopter rides, there were ATV rides, there were horseback rides, there was a dude ranch, a huge service station, gift shops...well, you get the idea. It wasn't at all what we hoped it would be and paled in comparison to the places we've been. When we found that it was going to cost us $25 to get in (we were used to a range from "free" to $7 to visit the parks we'd visited so far) we balked. Nope, not doin' it.
So we went to Plan B. We'd visit nearby Kodachrome Basin State Park instead ($7 and no amusement rides).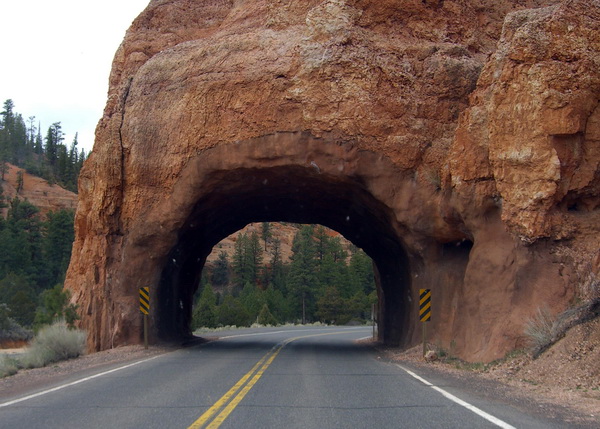 Kodachrome was so named by the National Geographic Society in 1949 because of its wonderful colors and its spectacular "sand pipes." It is believed that 65 million years ago the sand pipes were underground springs similar to those found in Yellowstone. Over time they filled with sediment which cemented them together. Whatever, there are about 70 of these massive pillars in the park (and please no "phallus" jokes here...I've resisted and so should you).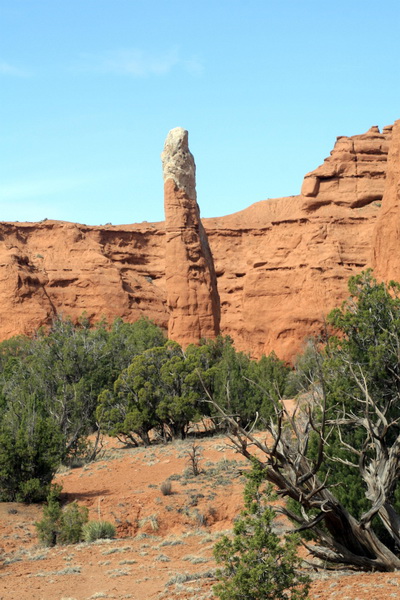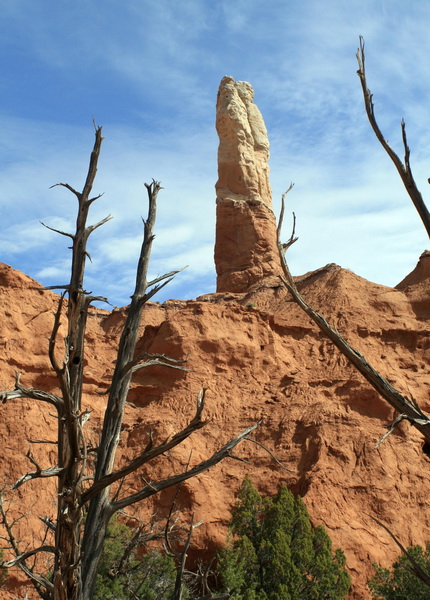 Here's Becky at the base of one to give you a perspective.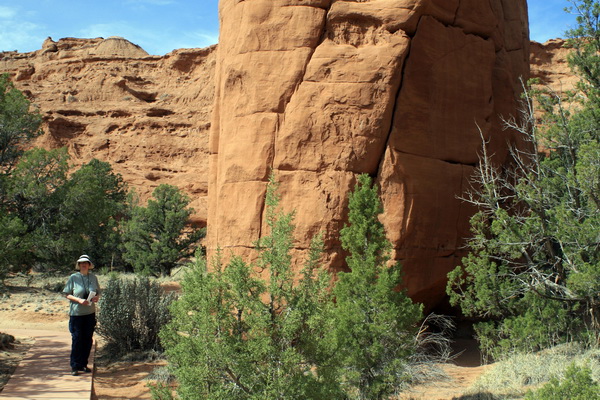 There are also many of these big outcroppings of gypsum popping up here and there (think "semi-truck sized")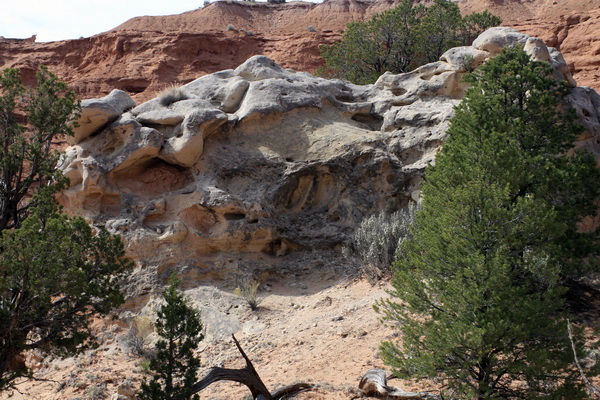 After a short hike along a flat "nature walk" trail (ADA compliant) we decided to take on something a bit more challenging. Like the Angel's Palace Trail.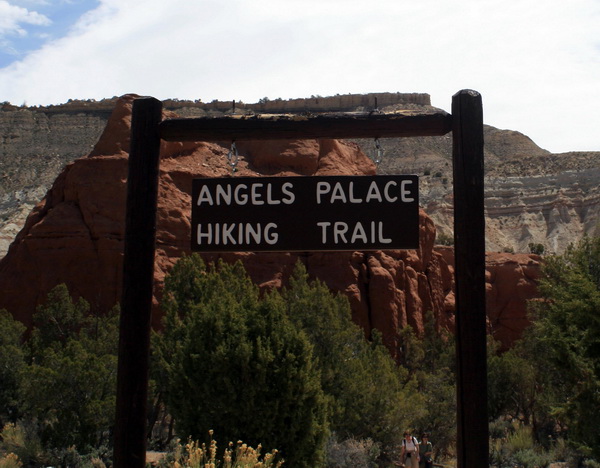 After hiking up a small canyon with a creek running through it the trail started climbing, hard.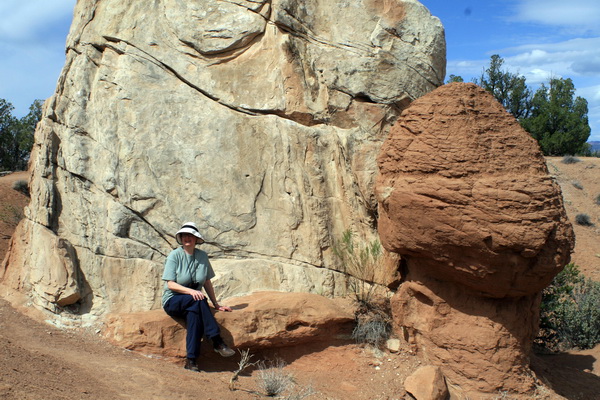 At times we completely lost the trail and found it again. Lots of sheer drops on loose gravel covered ground. We took it slow but were rewarded with outstanding views.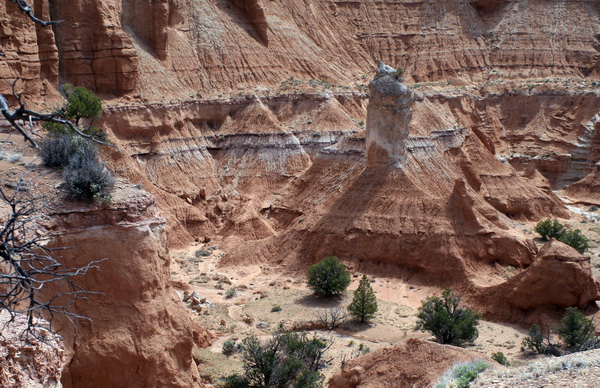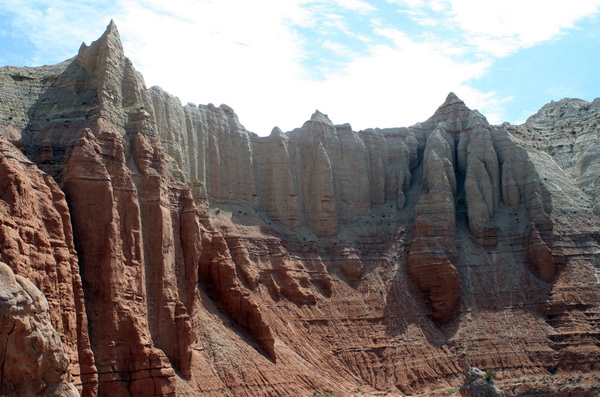 After hiking over a few miles on this loop we hit the valley floor again and had a bit of lunch at the lovely picnic area.
These chukkars wandered about as we ate. Very nice.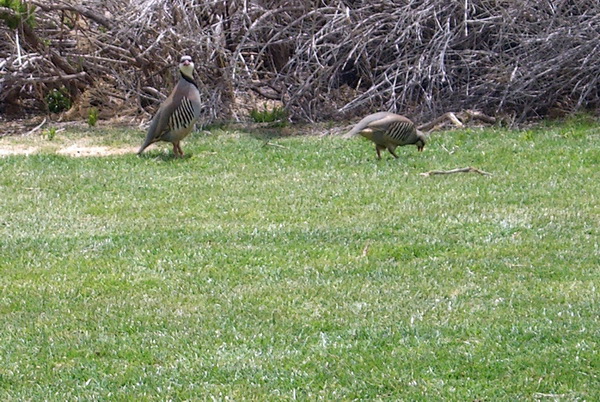 Heading back out of the Basin we were held up for a bit by a small, family cattle drive, including a little boy (6 years old?) riding a pony just his size. It was funny because we'd just been reading a brochure about "What to Do When Meeting Cattle on the Road." The answer; park and wait for them to pass (and take pictures).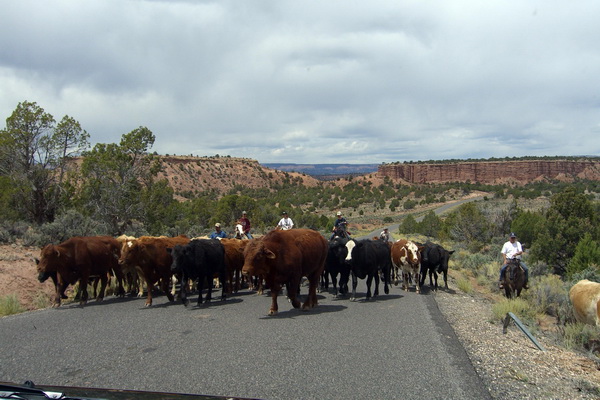 We still had lots of day left so we thought we'd go visit the town of Panguitch where we looked about and had some pie and coffee. Not much open (I think it was a Sunday but at this point in the trip was not at all certain what day it was).
From there we headed over to a place where we had seen a sign proclaiming "Mossy Cave Trail" the day before.
The canyon you hike through to get to the mossy cave follows a little canyon filled with these "hoodoos."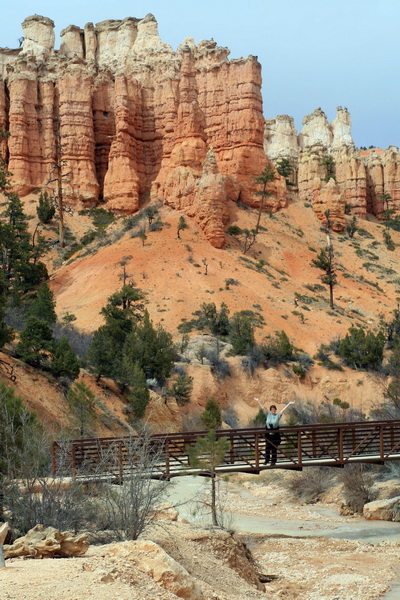 This 15 mile long watercourse (which includes this cool waterfall) is actually man-made. From 1890-1892 Mormon pioneers labored with picks and shovels to carve an irrigation ditch from the East Fork of the Sevier River, through the Paunsaugunt Plateau, into this canyon. It's known as the Tropic Ditch.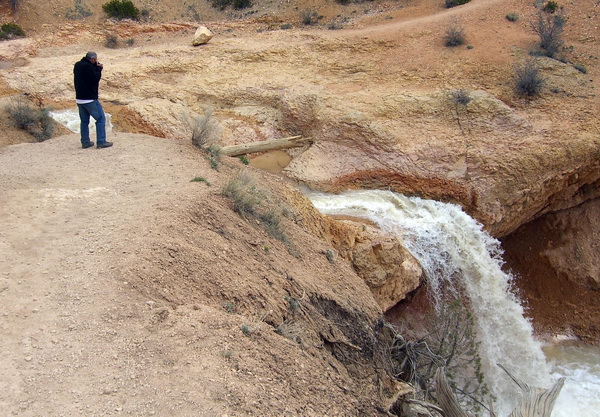 Technically we're in Bryce Canyon National Park...but on the "free" backside. We're feeling pretty smug about not spending $25 to see it.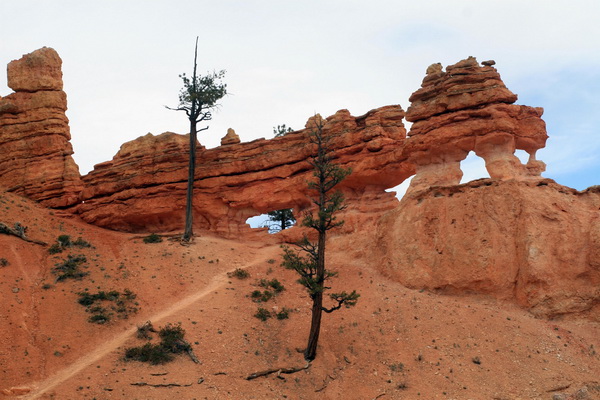 The Mossy Cave is actually a kind of grotto created by a spring. It's still cold enough and sheltered enough that it still has ice in it along with lots of moss.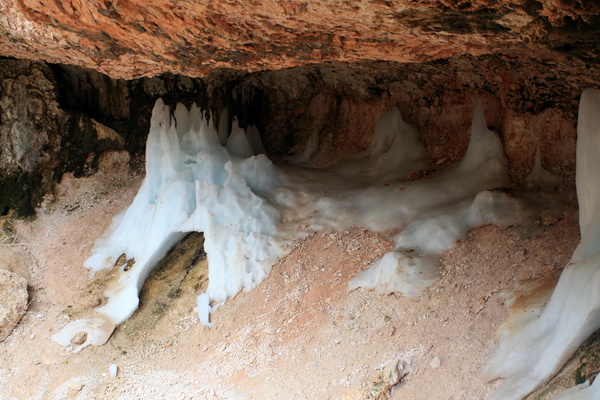 Back to the camp where we settle in for the evening. I think I'm beginning to go feral.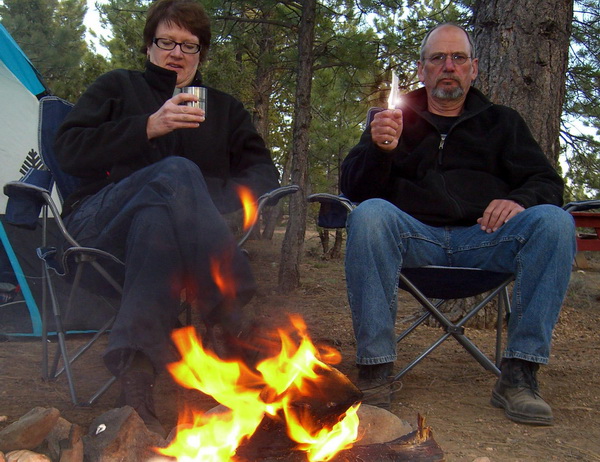 After a lovely supper of "meals ready to eat." MRE's are dehydrated foil packages that you simply add hot water to, seal, let stand et voila...mediocre grub. I kid, actually they're pretty good (and simple). This night we treated ourselves to beef stroganoff and for desert some berry crisp (which Becky liked better than I). After cleaning up we settled in for a bit of singing around the campfire (at least I sang, Becky was mostly just embarrassed...hey, who's going to hear me?) and to catch up on a bit of reading.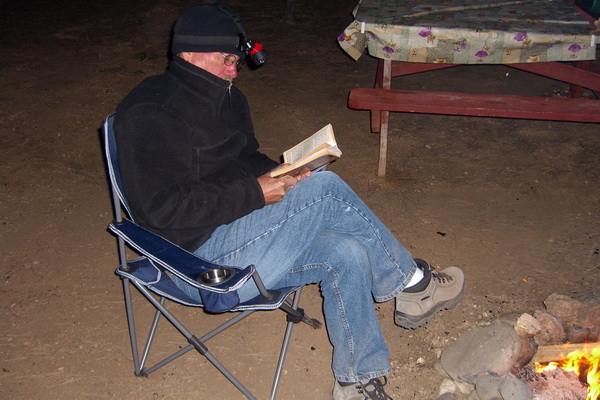 The next morning it's colder. The water is frozen...but thankfully it's not the dreaded THIRTEEN DEGREES! Becky, bless her heart gets up first and starts the stove and sets the water to boiling for coffee.
Here she is staring wistfully at last night's long dead fire.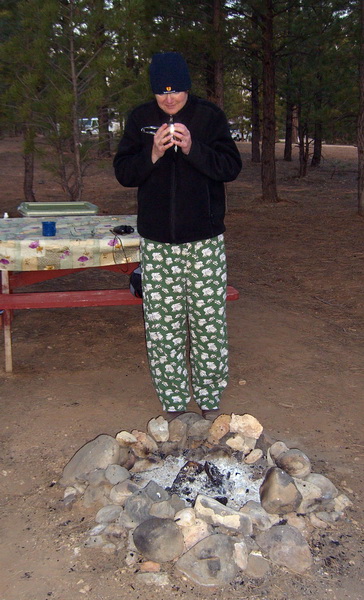 After another lovely shower (we were uninterrupted beings as we were still the only campers here) and breakfast we headed out south on Hwy 89 and then cut across on Hwy 9 with a mind to see Cedar Breaks National Monument.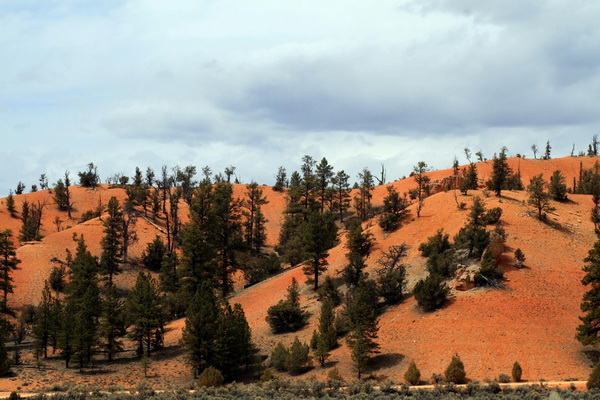 We quickly gained even more altitude and crossed the highest pass on the trip at 9,910 feet. On the way we passed the wonderful, still totally frozen, Navajo Lake.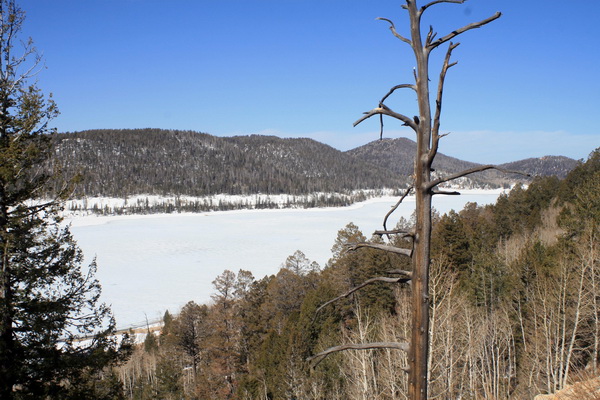 Well, here's all we saw of Cedar Breaks...still quite snowed in.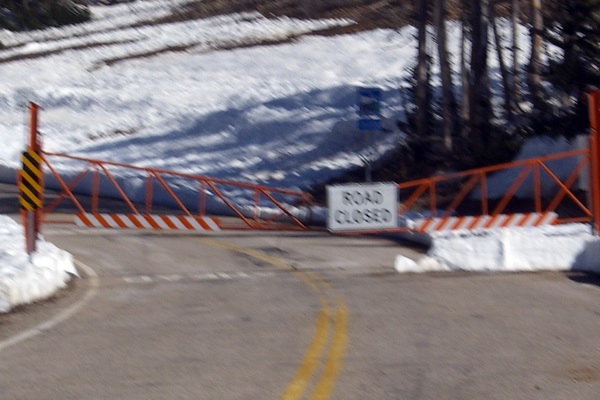 It was at about this time I realized we were really going to have to get new tires for the Element. I knew they were going to have to be replaced somewhere on this trip but wanted to eke out all the miles I could on them. Now was the time. So in St. George we found a Costco and bought a lovely set of Michelins. The Element was happy, our pocketbooks weren't. Becky used the time while the tires were being installed to call several Las Vegas hotels looking for a reasonable place to stay in Las Vegas that night.
Becky's relatives, that same Elgin clan previously lived in Santa Clara which is on the outskirts of St. George. The family home is now a museum. We simply had to drop by since we were in the neighborhood.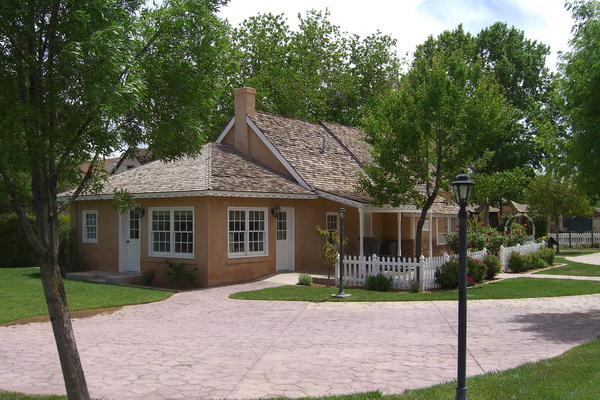 That's Great Great Grandfather Henry Hug, the one with the white beard in the center.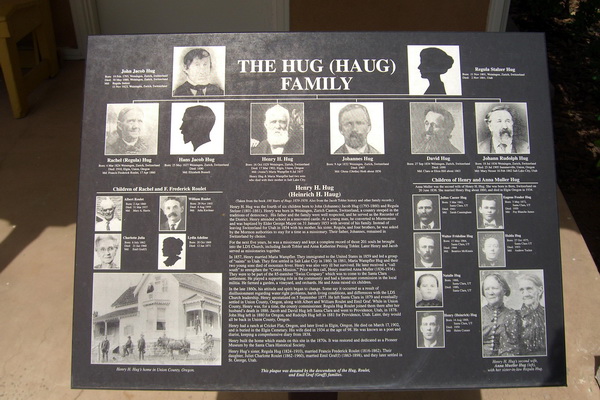 The house wasn't open but we peeked through the windows at the interior.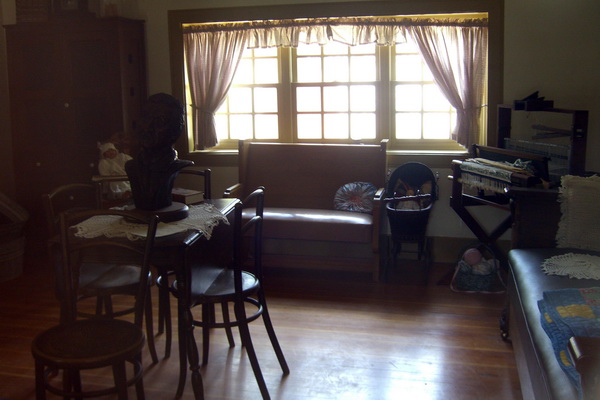 Becky, getting in touch with her roots.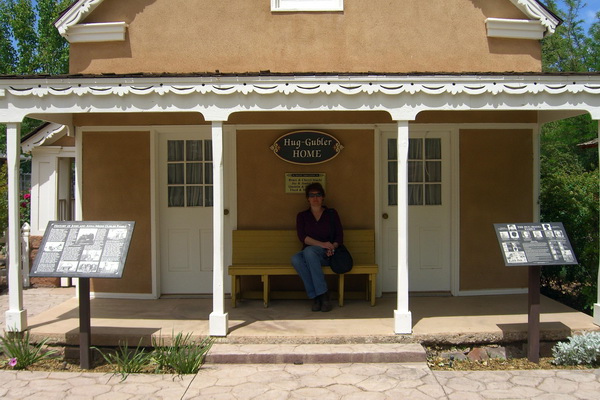 A brick (used as part of a funding drive) with Becky's grandmother's name etched into it. Sweet.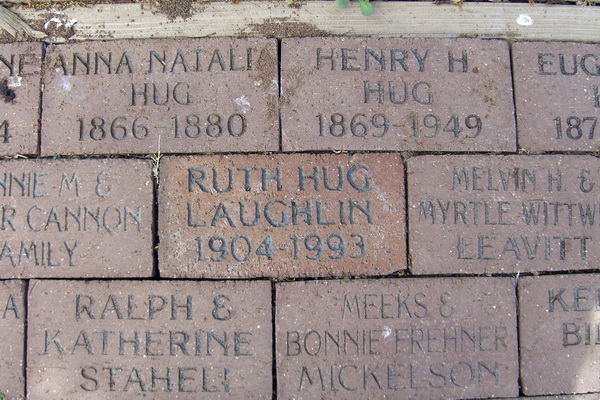 Here's a short video of the babbling fountain in the backyard. Very peaceful.
Becky said she knew a shortcut out of Santa Maria. I'm not sure how "short" it really was but it took us through some very interesting countryside. Including this eerie, burned over, joshua tree area. We made a short trip through the corner of Arizona at this point...just to justify my "6 States" in the title-thingie.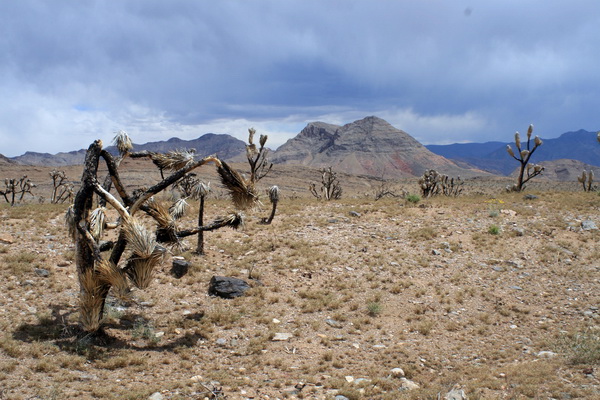 And through an amazing storm of these huge, freaking bugs that fell like rain...they were almost as big as my hand (well, maybe 1/2 the size of my hand). All's I know is that I'm going to have to wash this rig again.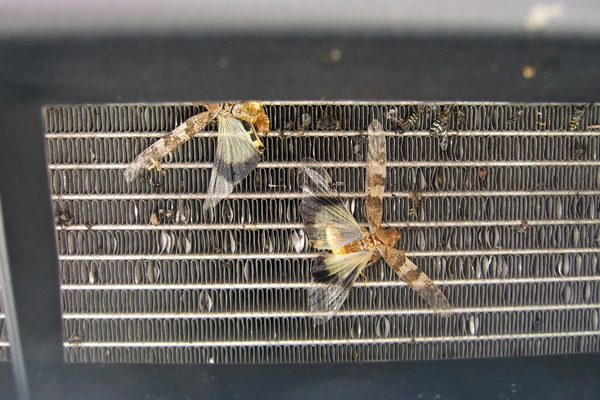 So spin my head around and call me Dizzy...from camping in the high desert one minute to the belly of the beast the next. This trip is about contrasts I guess...and here comes one now.
Suddenly we're in Las Vegas, Nevada! Sin City. The Belly of the Beast. I haven't been here in 40 some odd years (Becky more recently as part of her "work"). It's overwhelming.
Becky had gotten us reservations at "The Casino Royale" hotel in the middle of the strip. It's in walking distance to most everything. Curiously I recommend the Casino Royale (and don't forget the "e"). It's an inexpensive, old-school Vegas, slightly tattered at the edges hotel in an outrageous location in the center of the Las Vegas strip.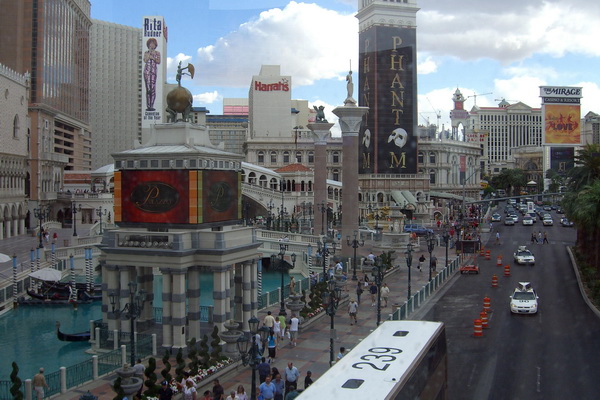 First order of business after checking in is to hit the clubs. I don't gamble much (too much of a tightwad) so I'm mostly here to ooh and ahh at the marvels of sin-city.
Yep, that's indoors at the Venetian...fake sky, fake canal, fake everything. Cool.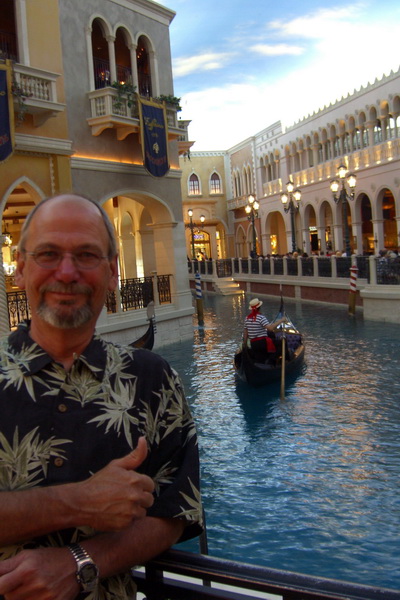 Here I am at the Treasure Island Resort "fondling" the masthead on a ship outside (actually it's a perspective thing...I didn't really violate the masthead).
We found food at the Paris Las Vegas at the "French Market"...mistake. It consisted of a fairly expensive buffet with unbelievably good food. We felt obligated to eat all we can to justify the expense and...well, what can I say. We totally overate on wonderful, delicious, rich foods. Ratatouille, chicken coq au vin, crepes...sinful.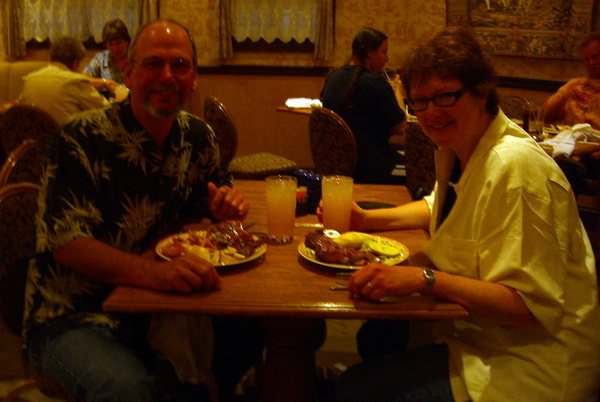 Afterwards we waddled over to go up into the Eiffel Tower. Scary for Becky...but a great view.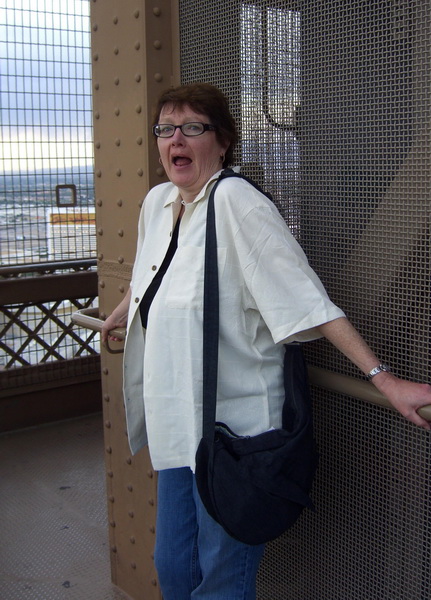 We watched the Bellagio's fountains do their thing from on high.
One of the more mind-blowing things I think was the new "City Center" that was being constructed down the street. This sucker is HUGE! It has its own zip-code...seriously. Here it is under construction.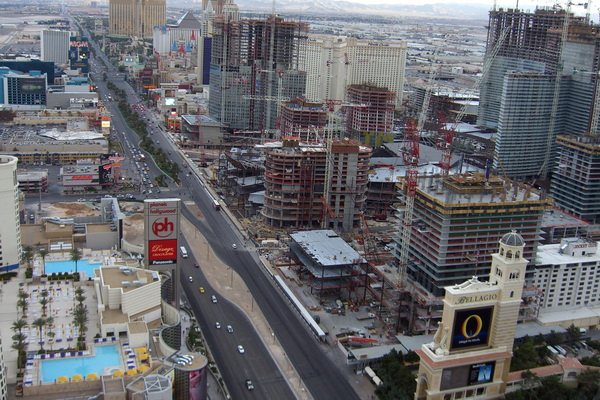 I was wearing down (remember, it was just this morning that I was camping out in the high desert) but Becky still had things to show me. The Treasure Island Hotel used to put on free shows of sea battles (complete with cannon fire and pirates...a thing I like very much) between tall ships in a big lagoon the last time she was here. Now they are offering something called "Sirens" advertised with babes in skimpy clothing on the billboards. So we took our place in the stands along with a gazillion other people (I don't like large crowds with no avenues of escape...hey, I'm rural) and waited for the show.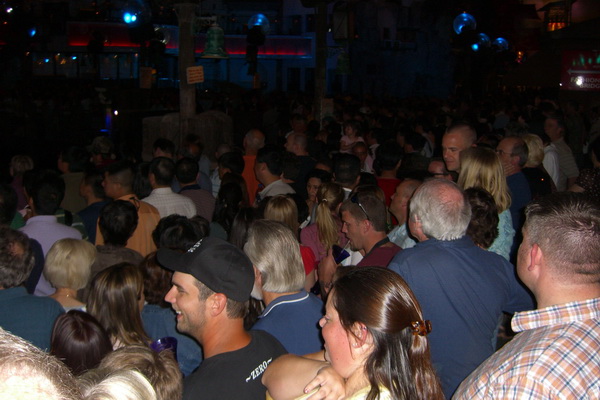 It turned out to be hard to hear, hard to see, too far away with lots of what I would call "Britanny Spears" pop music and "naughty" strutting. It was simply awful. Becky agreed, but sadly there was no escape, we were imprisioned by the crowd. On the plus side there were some cool pyrotechnics.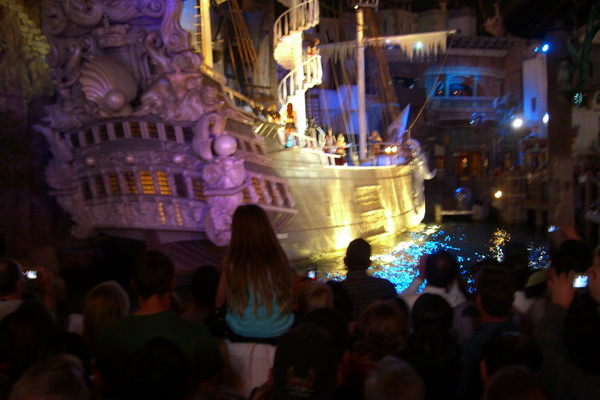 Back to the hotel and some much needed rest.
The next morning Becky (she "owed me" for making me sit through that "Sirens" debacle last evening) let me stop off at the Vegas Moto Guzzi dealership (Pat Clark Motorsports). In many ways it was as depressing as the Treasure Island show. They had only one Moto Guzzi on the floor and the owner told me that Moto Guzzi's support had been awful and they were selling none of their bikes...not even the Piaggio (Moto Guzzi's parent company) scooters. Truly sad.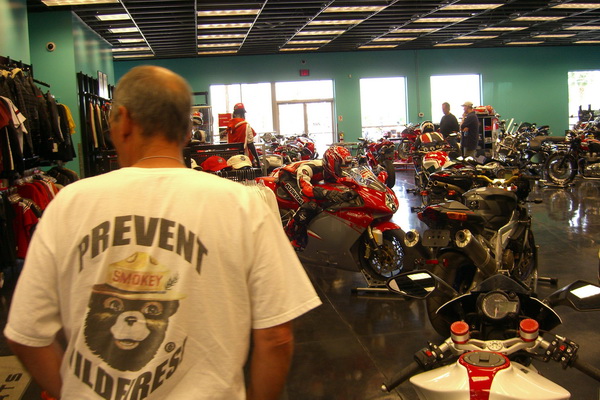 We simply had to hit up the "World's Largest Gift Shop" on the way out by...we both love kitschy gift shops.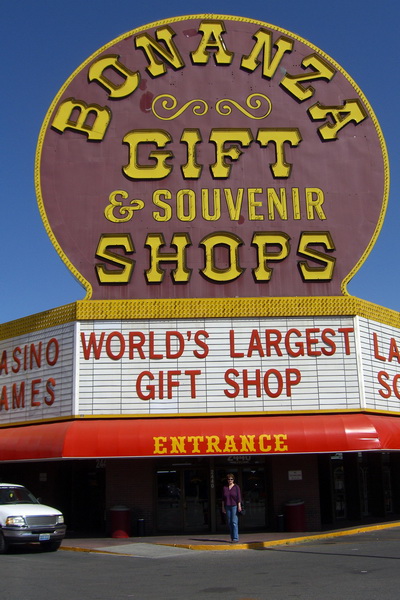 We headed out of town on the MAJOR Los Angeles/Las Vegas thoroughfare, Hwy 15 heading west towards California.
Near Barstow (and Area 51)...we came upon another jerky place. Must have jerky.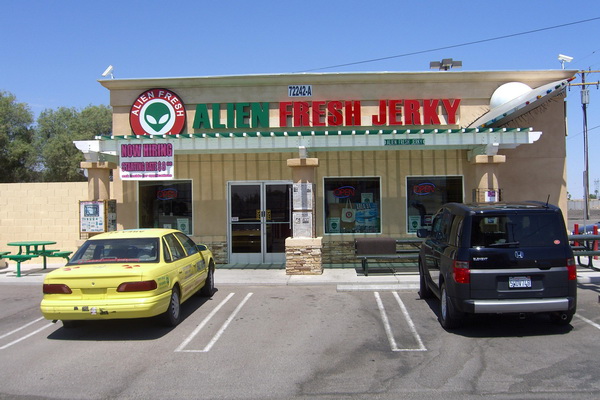 There were aliens (the outer space kind) in the parking lot.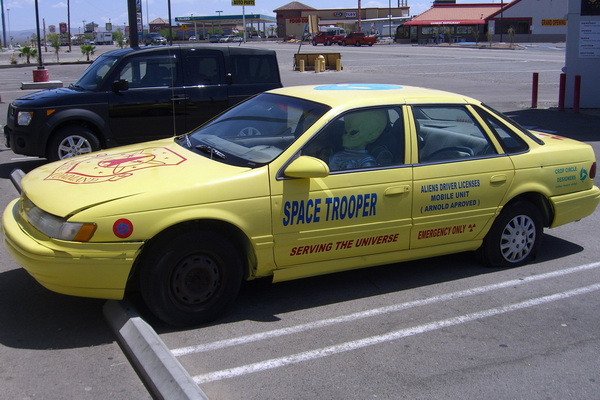 The World's Largest Thermometer...it was 86 degrees I guess. It's always something isn't it?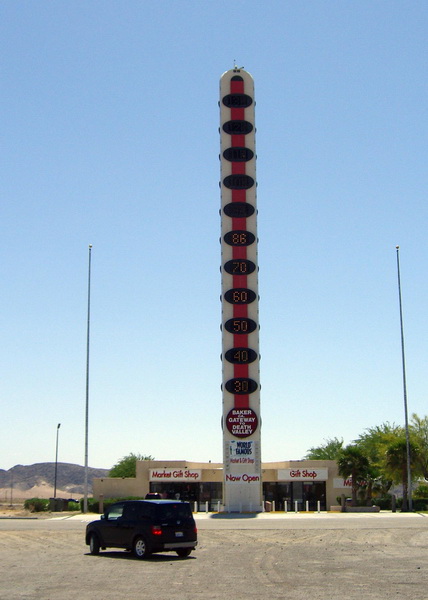 As we passed through Yermo (at high speed) we stopped for lunch at the 50's themed Peggy Sue's 50's Diner...it was really quite a fun place and featured, good cafe-syle food. Lots of great old rock n'roll memorabilia and music. We bought some Necco Wafers, Bit O' Honey bars and Fizzies for the road.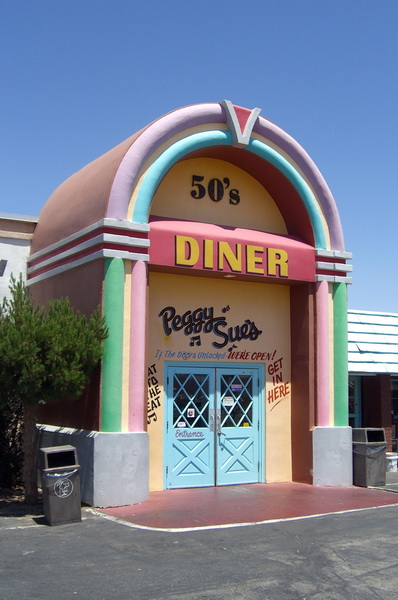 Ah, back home in California. We turned north on Hwy 99 (we've driven way too much 4 lane highway today) and then took off onto some back roads to Visalia on Hwy 198. We pressed on to the little town of Three Rivers in the Sierra foothills to spend the night. Three Rivers is lovely little town situated along the Kaweah River.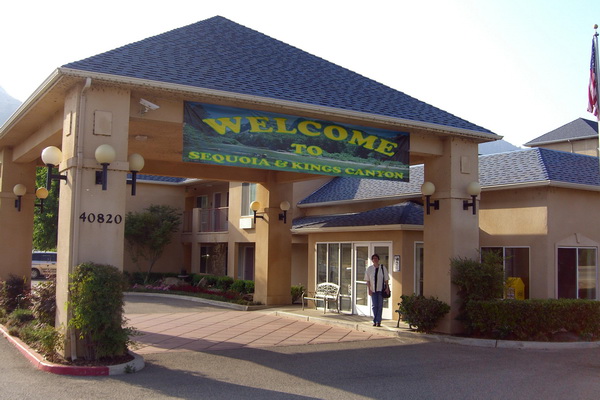 Tomorrow, Sequoia National Park.
---
Click HERE to continue on with the trip!
Click HERE to return to our homepage