---
We're up the next morning bright and early, grabbed breakfast downstairs ("ooh, a waffle machine" squeals Becky) and then took Hwy 198 north up to the park.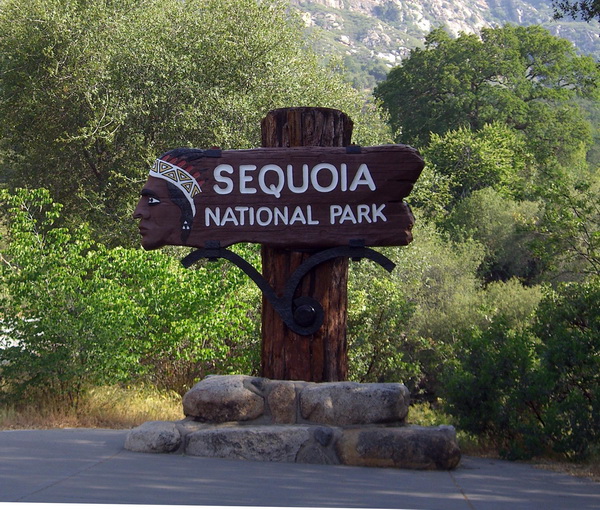 Just a few miles inside the southern gate to Sequoia Park are the remains of the old highway where it traveled through this natural tunnel. You can understand why they moved it...probably got tired of extracting RV's from under it.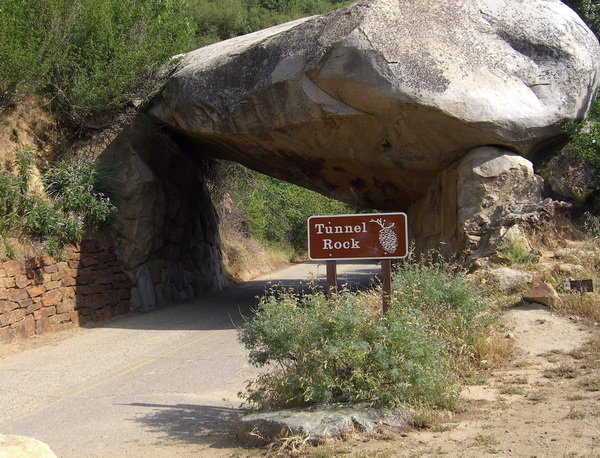 It was a perfect day and everything seemed to be in bloom. Ahhh, spring in the southern Sierra Nevadas.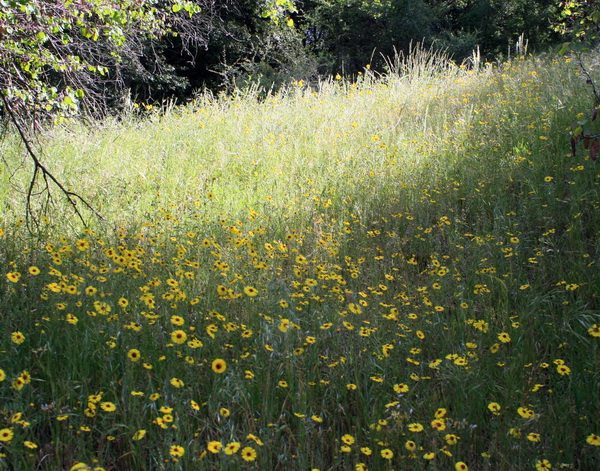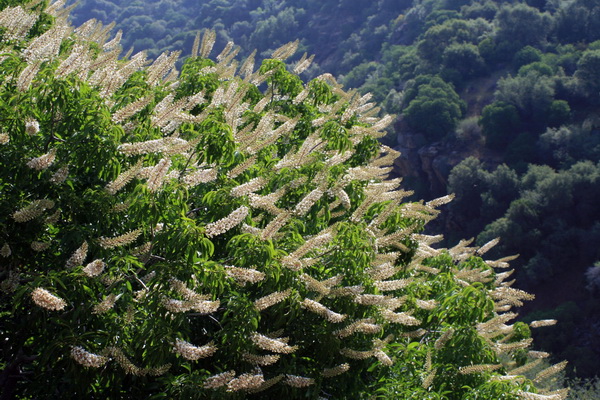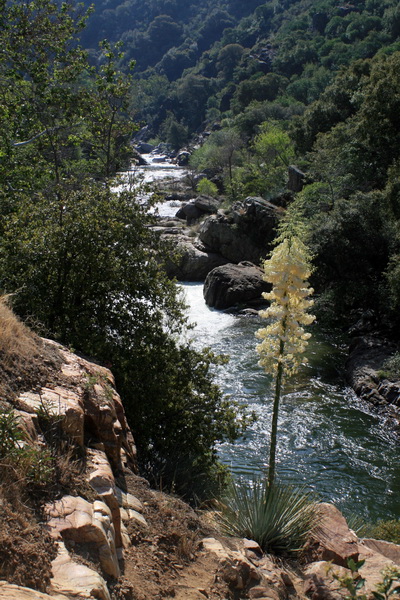 The road made a pretty dramatic altitude change rather quickly...check out those switchbacks.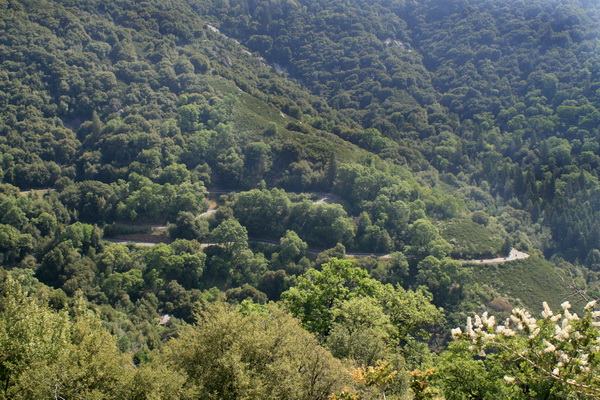 One of the roadside signs made a dramatic statement about the worsening air quality in the park.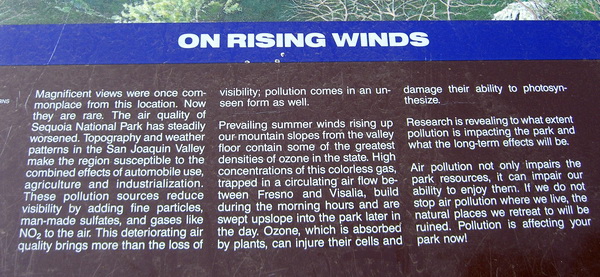 This is the view from the sign...and this is still early spring. It must be awful in late summer.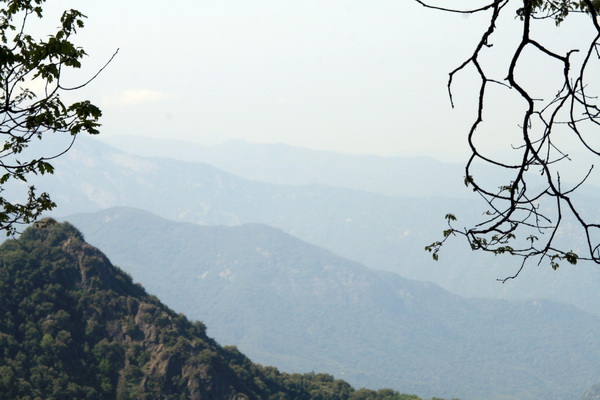 We stopped at the visitor's center to get our bearings and to check out some of these giant sequoias up close and personal.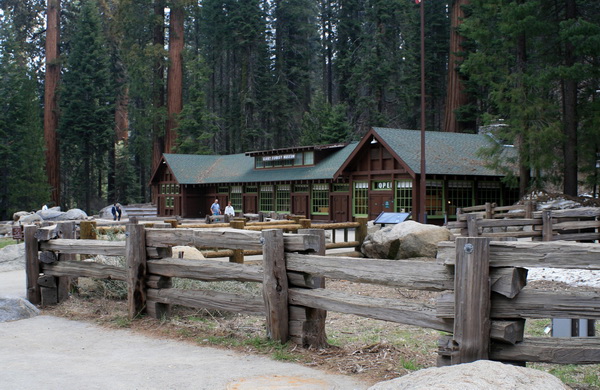 I love this style of architecture.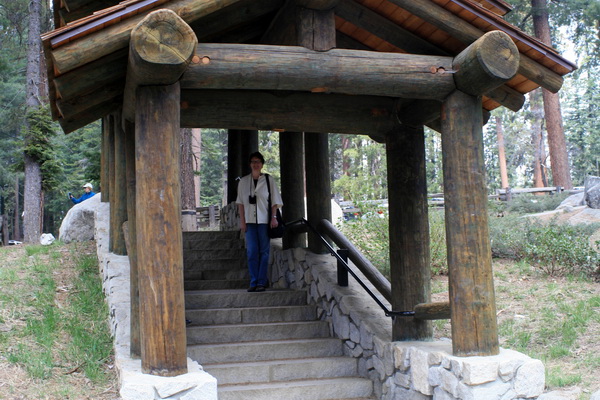 We have lots of old redwoods back at our home in Humboldt County and while these are all "redwoods" they are actually different genus. Back home we have Sequoia sempervirens, the tallest trees in the world. In Sequoia Park the redwoods are Sequoiadendron giganteum, the biggest trees by volume in the world.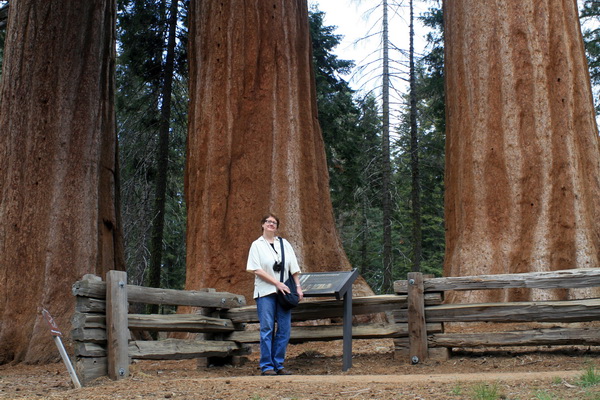 These brutes have huge bases and elicit the same feeling of awe as out coastal redwoods. I've never seen one standing before and love 'em!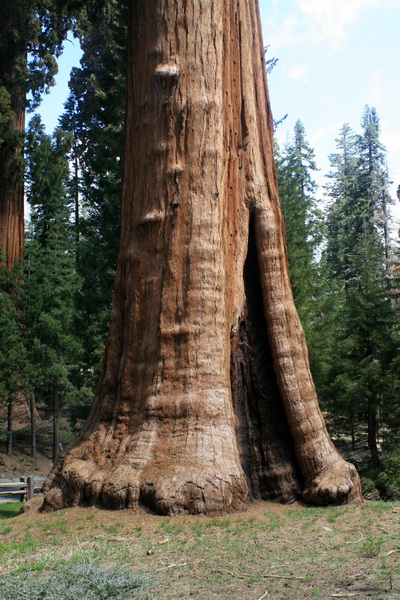 We stopped off at this likely looking meadow and followed the path around its edge.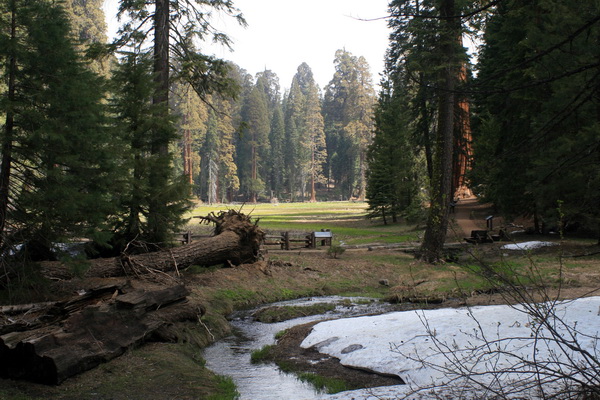 Strategically spaced along the path were these comfy benches that I was amazed to see were made out of old-growth redwood...oh my, the karma!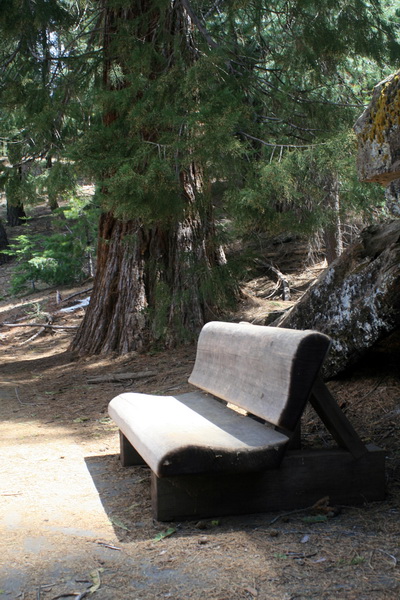 Here's a beautiful, old "twin" tree at the meadows northern end...I had to go to the southern end to get the entire tree in the picture.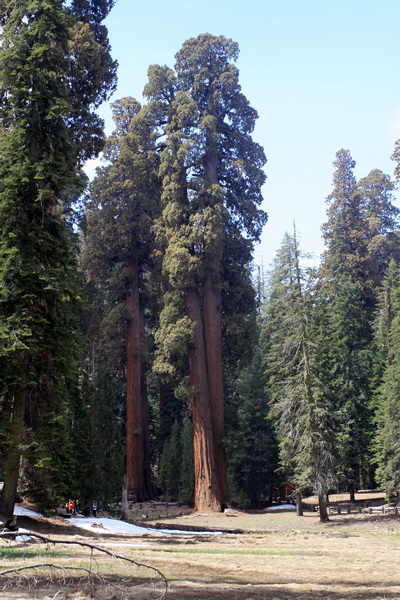 I found this amazing. The tree is slowly consuming the boulder. A centuries old battle is underway.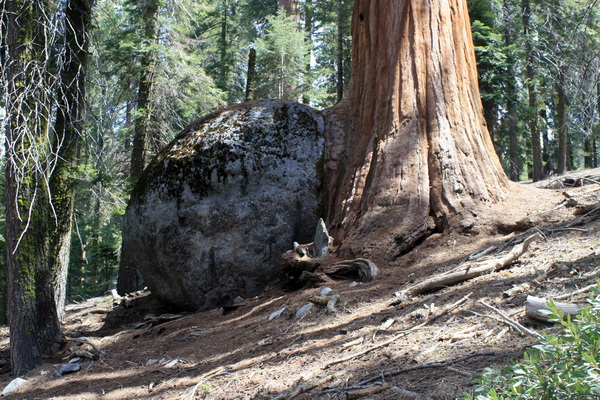 We stopped off at the Wuksachi Lodge for a spot of lunch.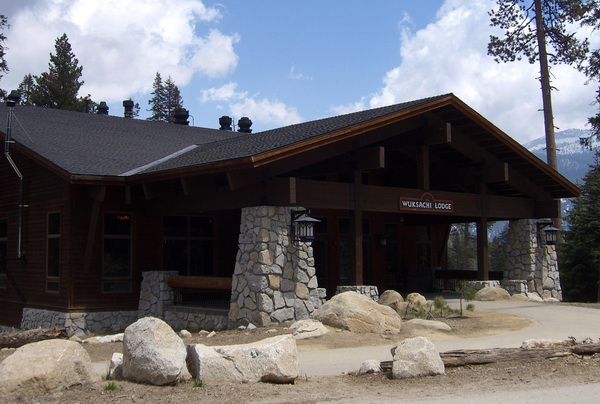 The food was excellent (mmmm, burgers and chili), reasonably priced and the views were to die for.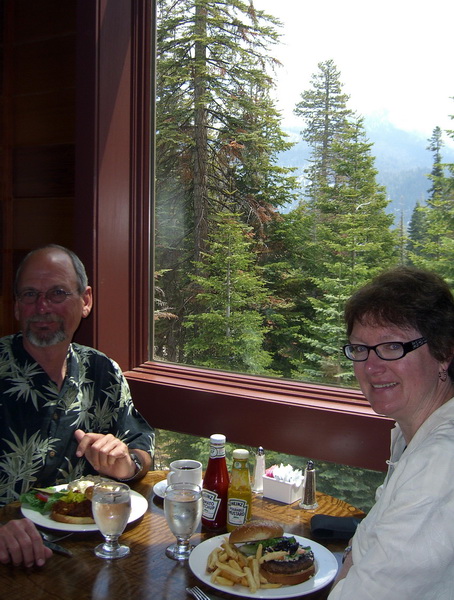 Not long after we were back on our way we came around a corner to find several vehicles stopped in the middle of the road. Looking down the hillside we saw the reason. A bear, maybe 50 meters away. Fortunately one of the stopped vehicles was a park ranger and he quickly got the vehicles out of the road and then joined us on the roadside to talk to us about the bear which was methodically tearing apart a log (even standing up on its hind legs). No one got eaten. It was cool.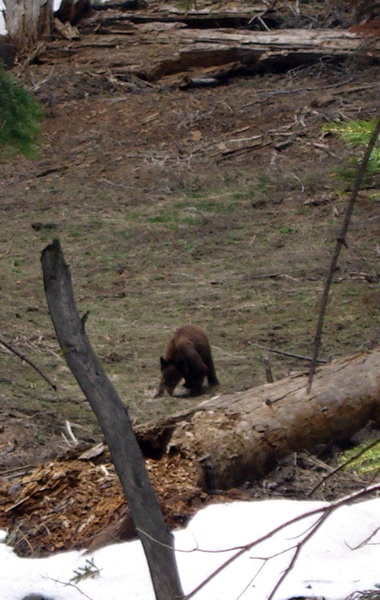 We pulled off into a well developed parking area (complete with restrooms) to get a look at the world's largest tree. There, not far away, was this hollowed out log. Very popular.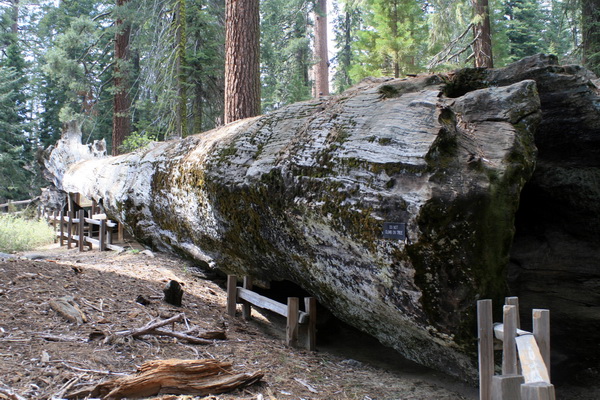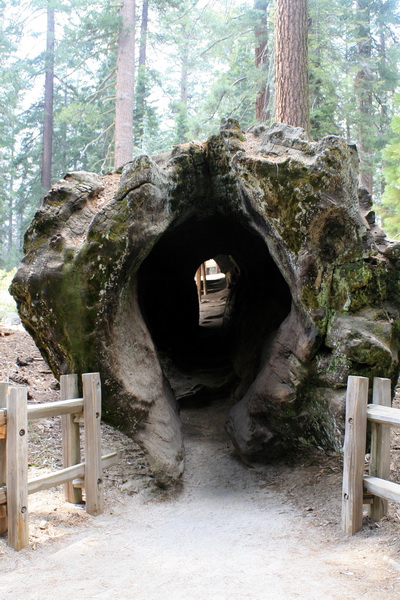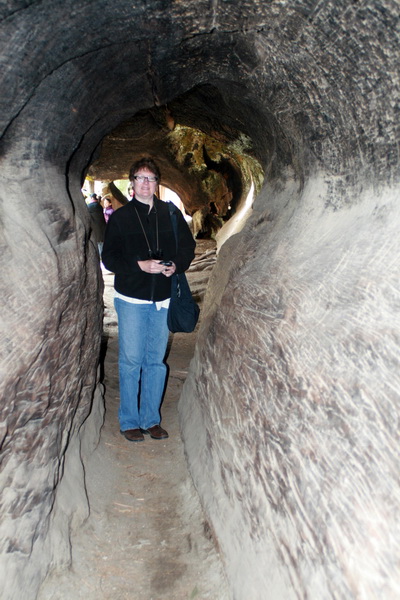 A bit further down the path is the Gamlin House.
Interestingly the U.S. Calvary the sign mentions were actually a troop of Buffalo Soldiers, famous in both song and story.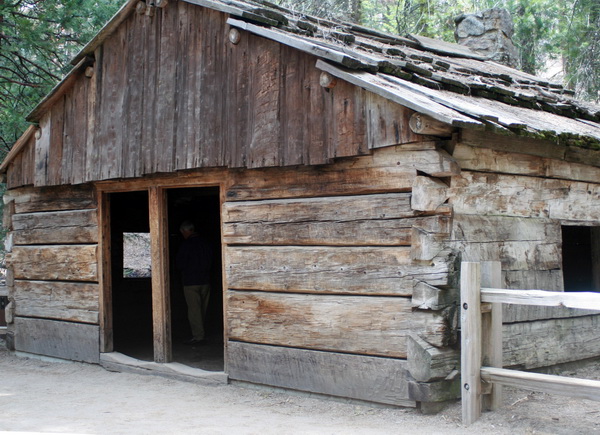 I think this is neat. I don't know why, just do.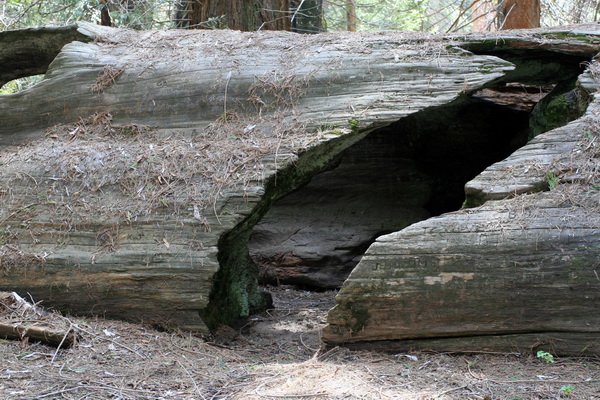 I'd like to have been there to see that. Pretty damned amazing.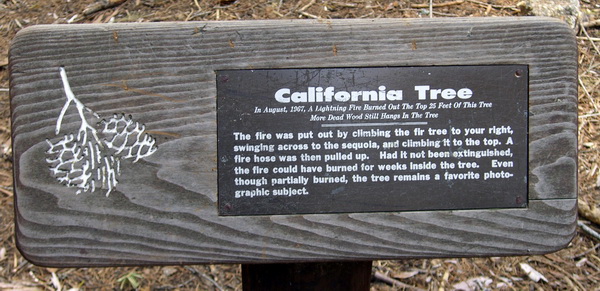 Here is the California Tree.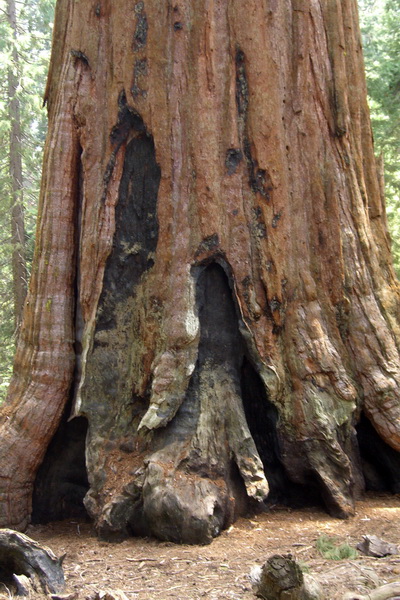 Just as you're about to leave the park at its northern end you come across the World's Largest Tree (by volume mind you)...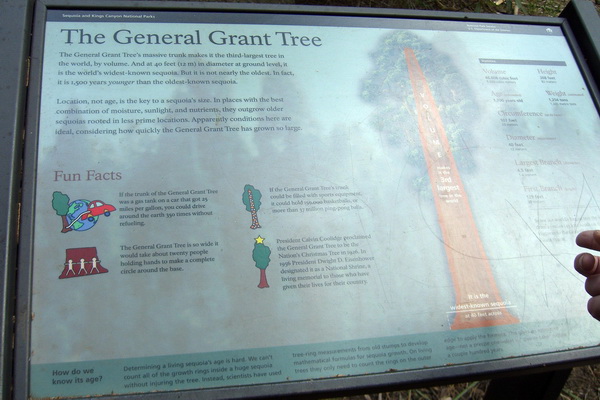 ...our Nation's Christmas Tree (?), the amazing, General Grant Tree!
It's very big.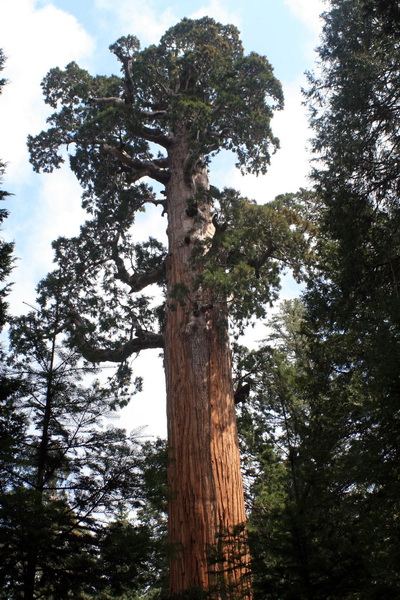 Not wanting to deal with Hwy 99 up through the valley we opted for some small, scenic back roads up through the foothills.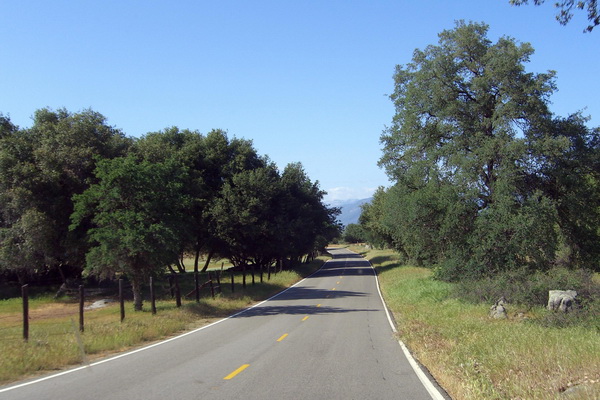 This "lake" is actually the San Joaquin River.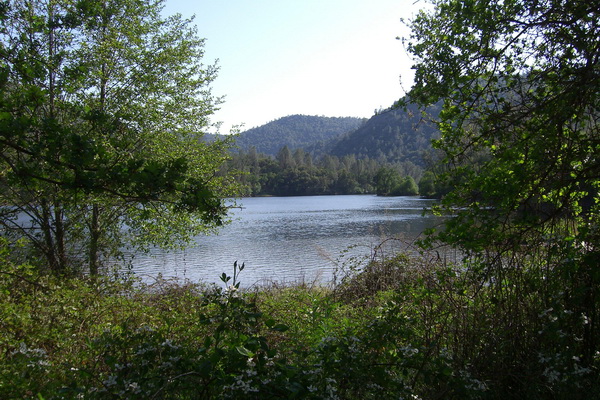 Traveling along Hwy 168 north we made frequent stops to smell the roses...or whatever these flowers are.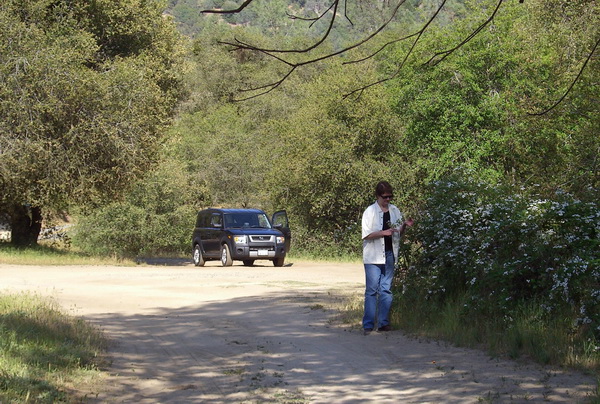 We had to stop in the lovely old town of North Fork and get a picture. I'm not quite sure how they figured out it's the "exact center of California" but we'll just take their word on it.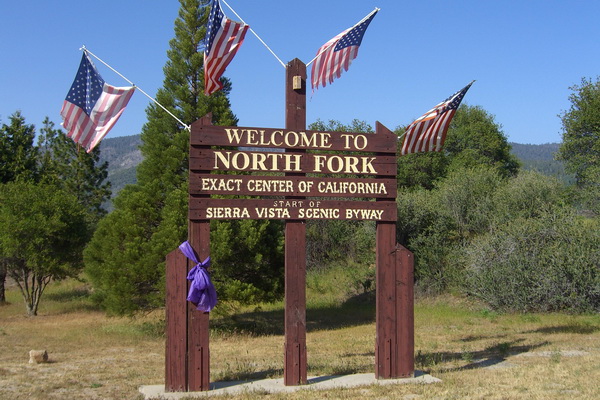 We pulled into Oakhurst (Gateway to Yosemite) late in the afternoon and were more than ready to call it a day.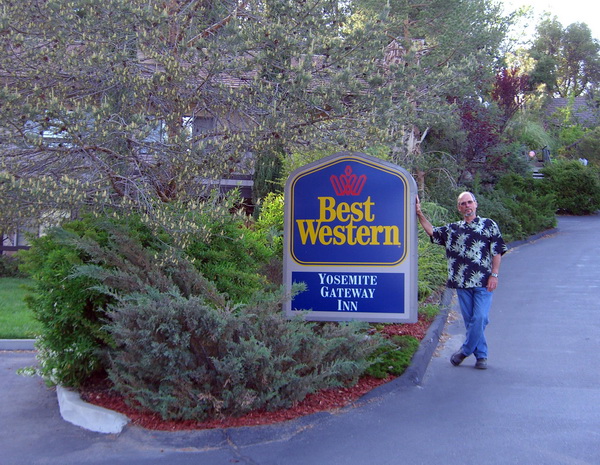 Nice motel, quiet, well landscaped, soft bed.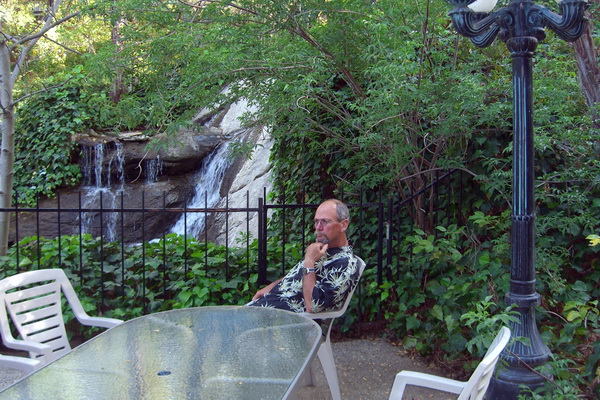 They had one of those huge redwood log sections on display out front...so I scaled it (log scaling explained HERE).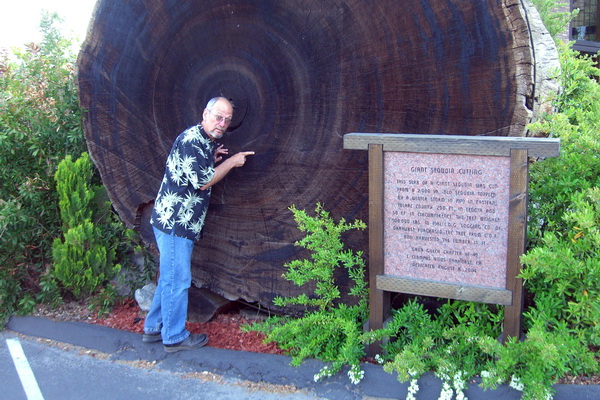 We spent the night with Half Dome looming over us.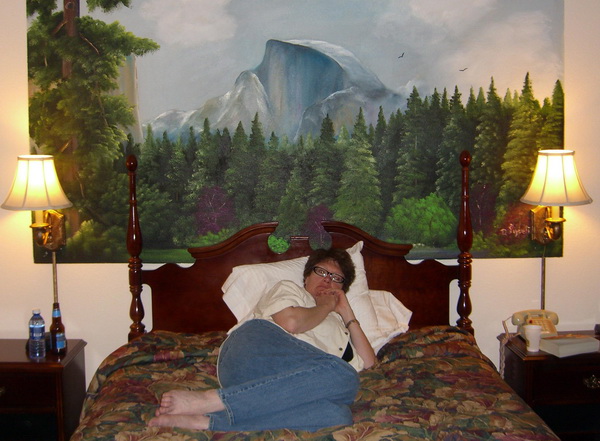 Our plan was to follow Hwy 49 north a ways and get a look at some "Gold Country" (so named because of the mid-1800 gold rush in this area).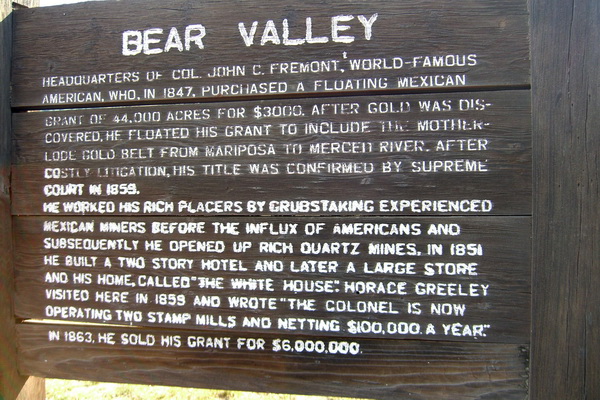 Our journey took us through lots of historic old towns like this one, Bear Valley.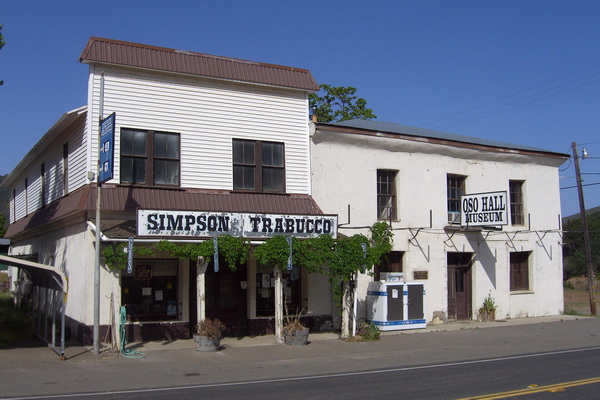 Me, coffee cup at the ready, sticking my nose where it doesn't belong.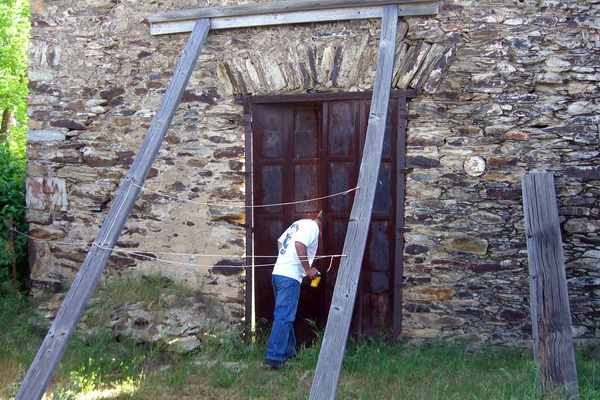 Coulterville, a wonderful historic old town.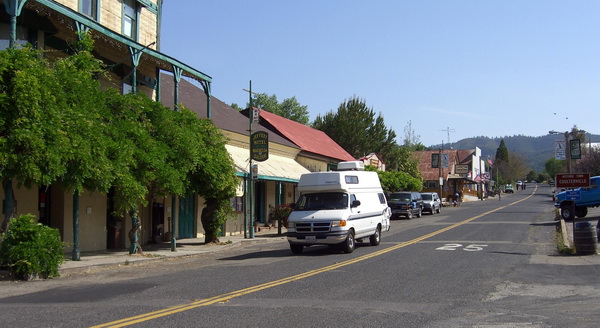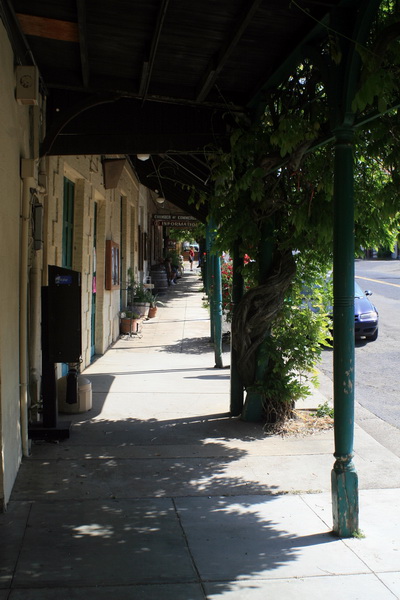 At Moccasin Creek we came across signs to a fish hatchery. Can't pass that by.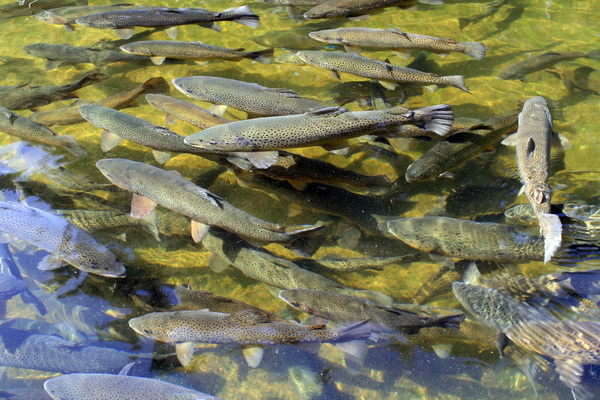 The lovely, young Fish and Game employee kindly pointed us to the pens where they kept their secret, "trophy" fish.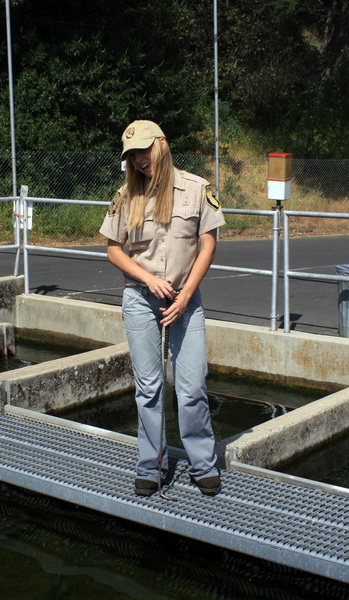 These suckers were huge (I'm guessing 24" on the average). They release some periodically in the local area's lakes. Much to the delight of the fishermen/women, I'm sure.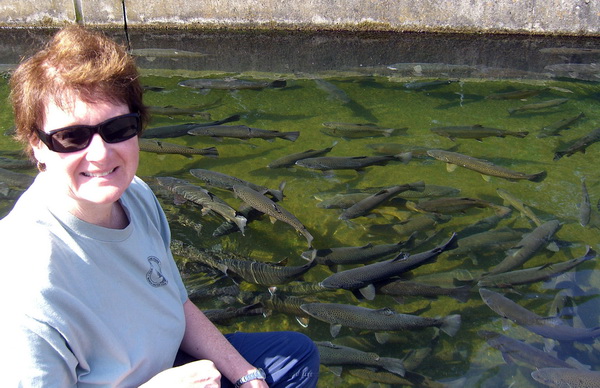 We stopped in Jamestown and wandered around for awhile. It's hard to pass through these delightful, scenic towns without stopping. We're making terrible time.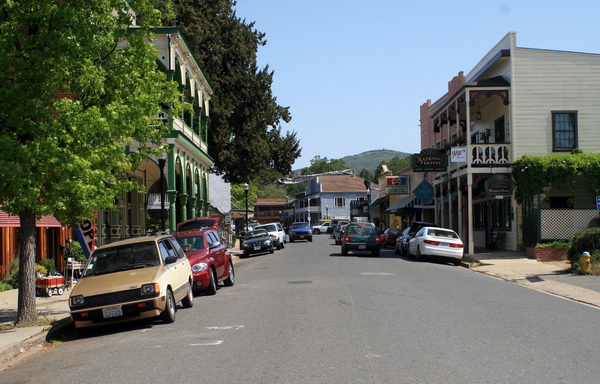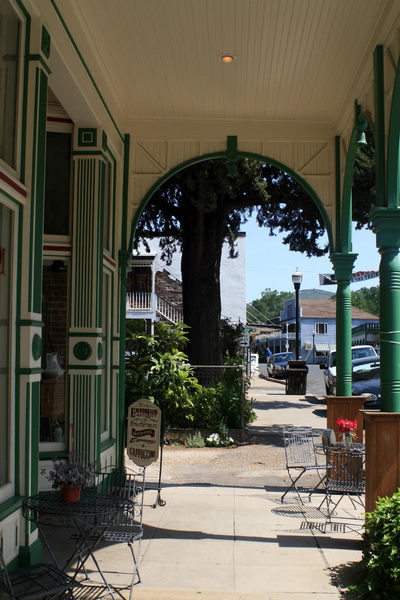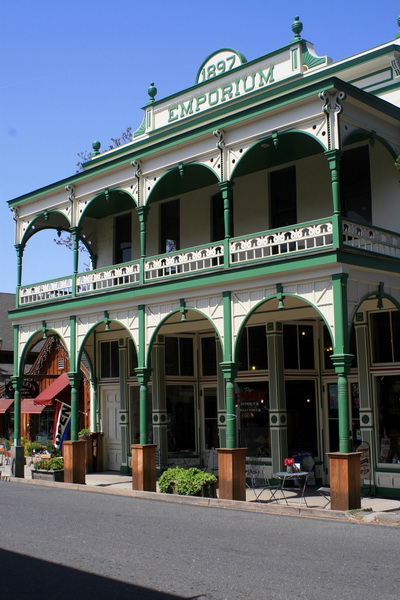 We found some public restrooms in the park and partook of them.
I amused myself while waiting on Becky...I do miss my motorcycle.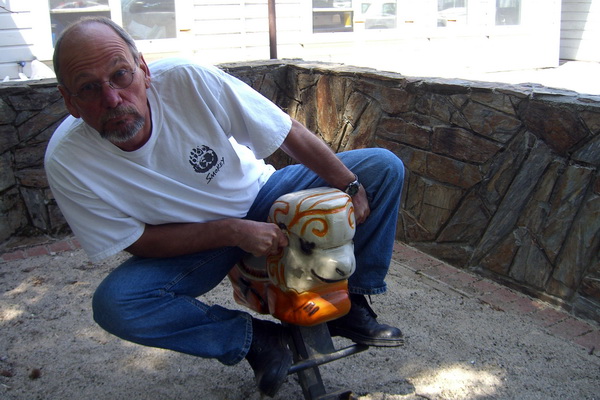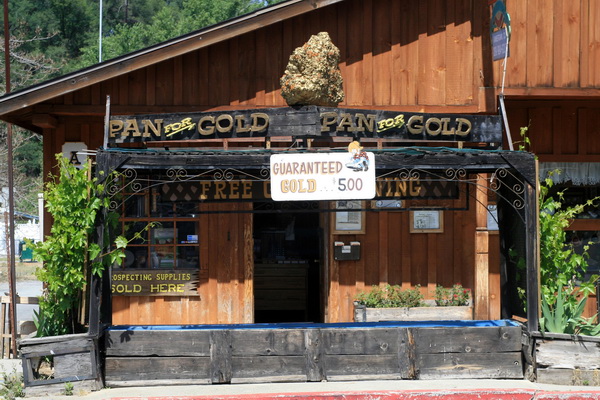 We ate a forgettable Mexican lunch in Sonora and pushed on up through Mark Twain country and the town of Angel's Camp. They were getting ready to celebrate "Jumping Frog Days" and for some reason unknown to me this means hanging clothing over the streets.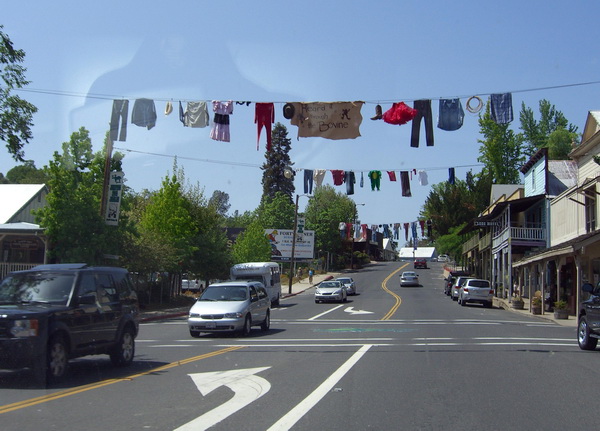 Next stop, the preserved historic old mining town of Columbia.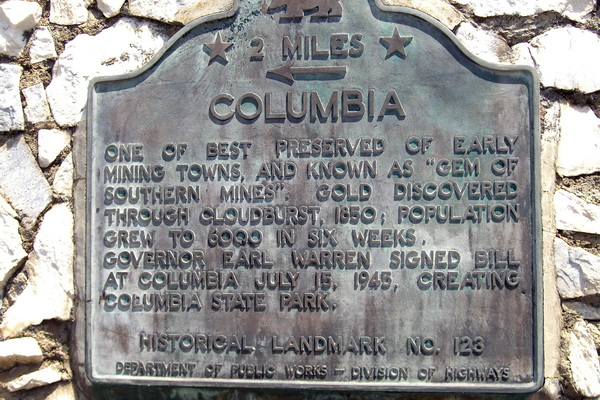 Becky gets herself immediatly thrown into jail. Ho-ho.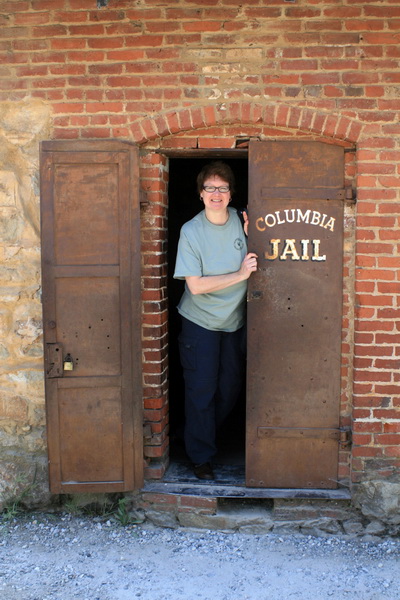 Main Street. The town was packed with fairly well behaved school children. Several times when talking to the local merchants they apologized for the throngs of kids. Really they weren't that bad.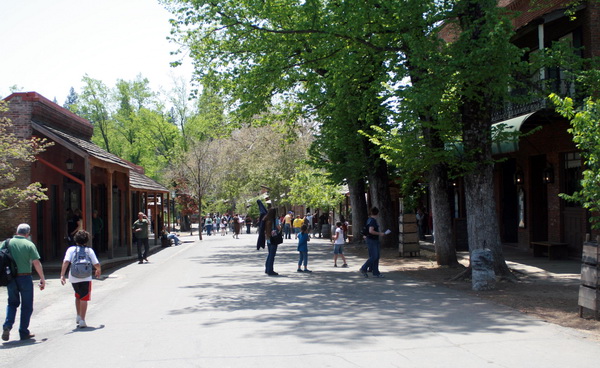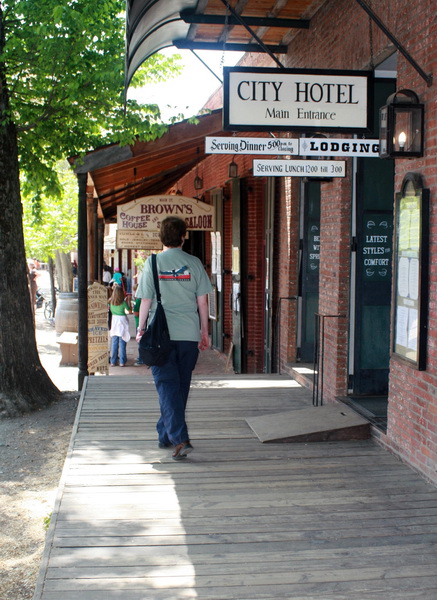 A hearse in the old stables.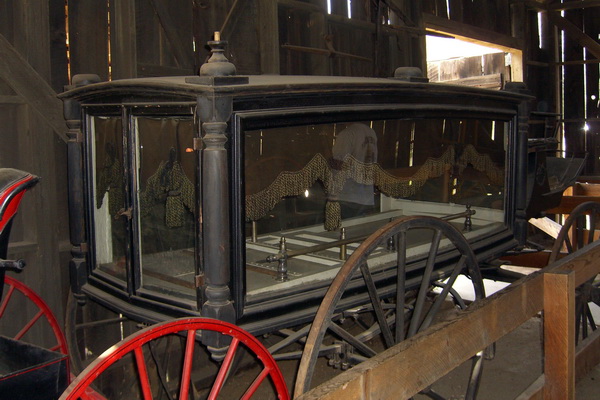 Many of the local businesses are still open and have remained faithful to their roots. The ice cream fountain is still an ice cream fountain fountain, the photography studio is still a photography studio, the blacksmith shop is still a blacksmith shop...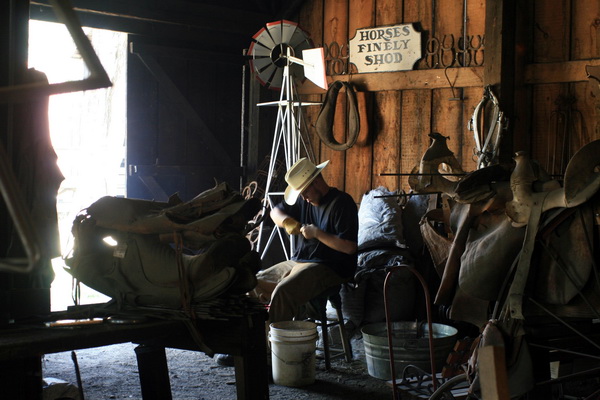 And of course then there's the stagecoach ride!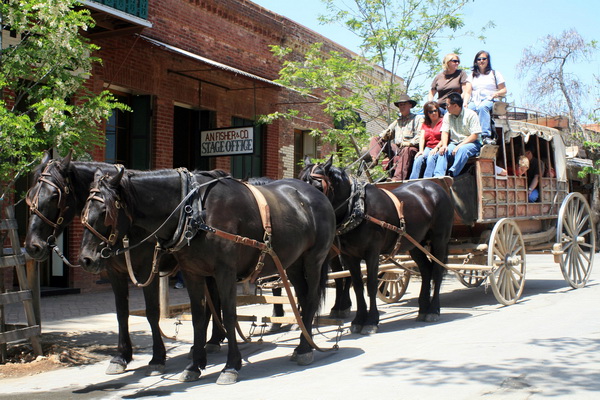 Becky buddied up with one of the stagecoach wranglers and got us reservations to ride up top on a later run!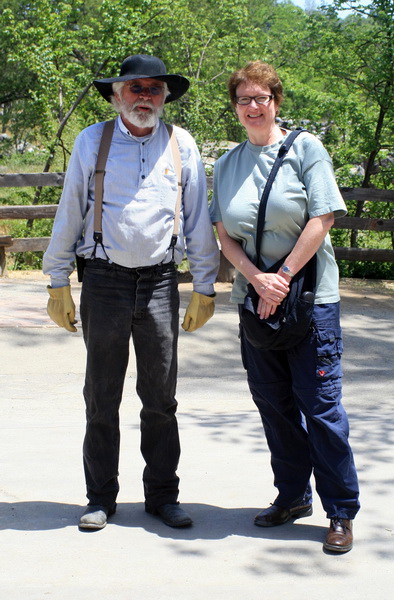 Pretty clothing bolts in the Fancy Dry Goods & Clothing Store shop.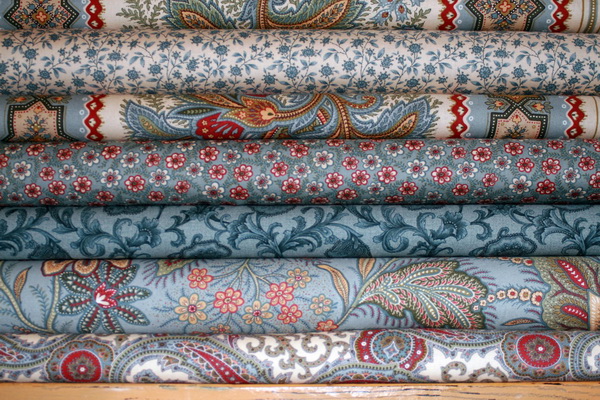 Some lovely old ribbons in a small museum.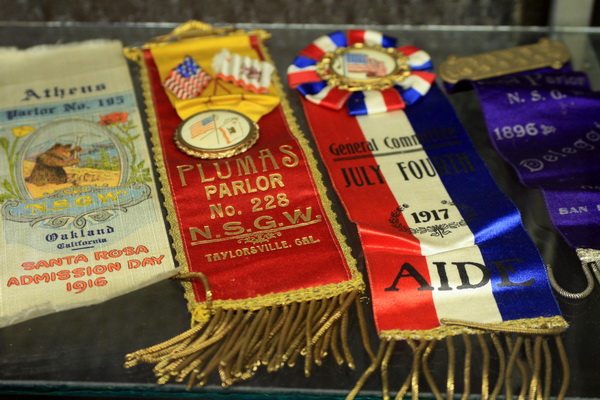 It appears that the old fire house is still functioning as a firehouse.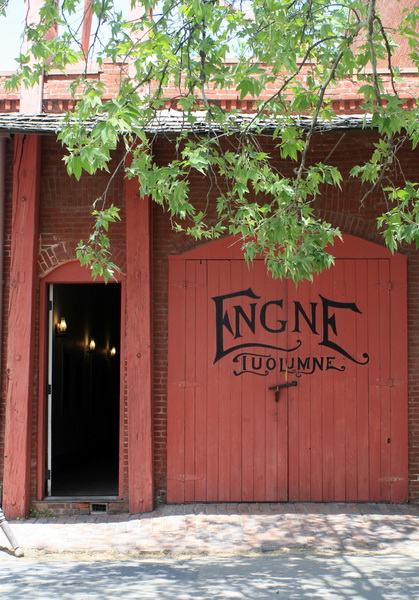 Time to ride! Becky and I call "shotgun" and make the kids ride inside.
Drat! Waylaid by a bandit!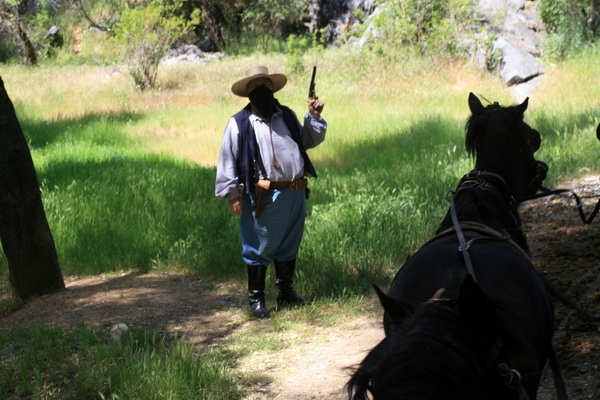 We explain to him that we are carrying no gold, but offer him the children riding down below instead.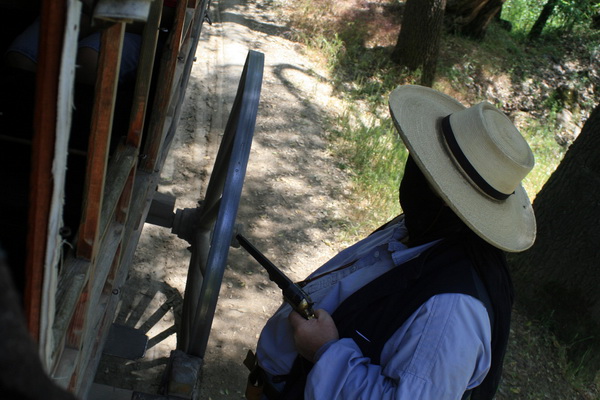 Heading back into town.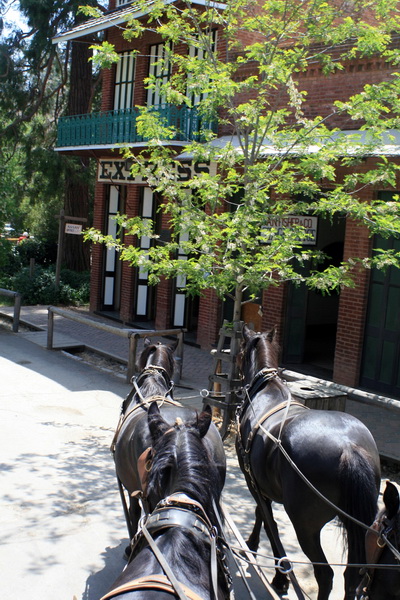 Our driver...a good hand.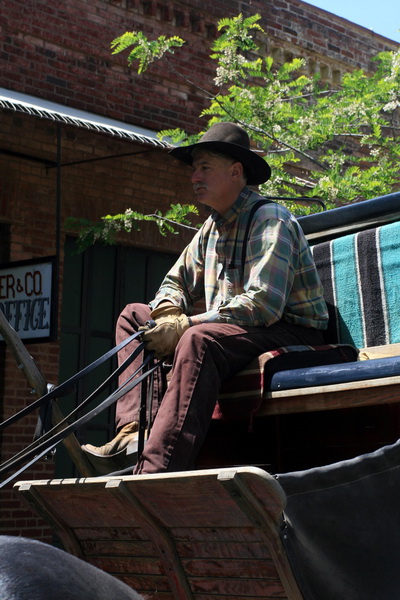 We continued up Hwy 49 and stopped off in Sutter Creek.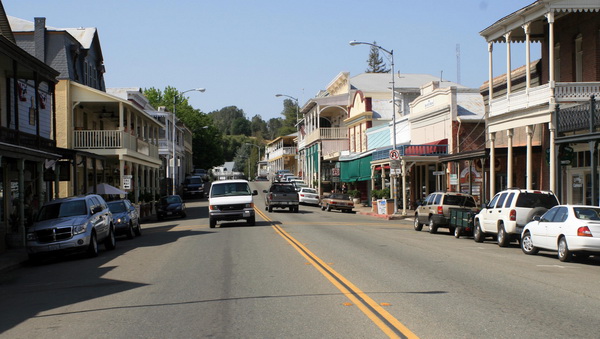 This sign in the window of a cafe made me laugh.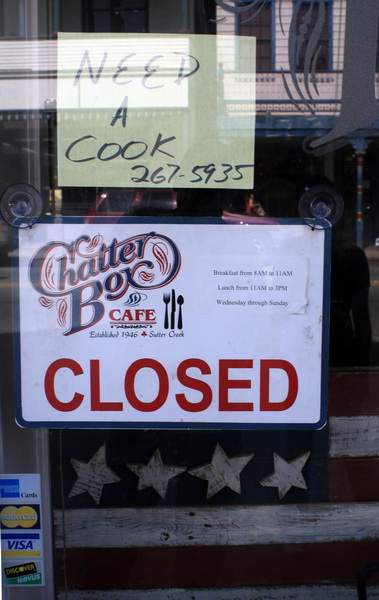 Both Becky and I have lived in nearby Sacramento and have memories of this town from years ago. I guess it really hasn't "grown" at all but instead of the old, rural town we remember is has been "gentrified" if you know what I mean. Much more prosperous looking. Very nice.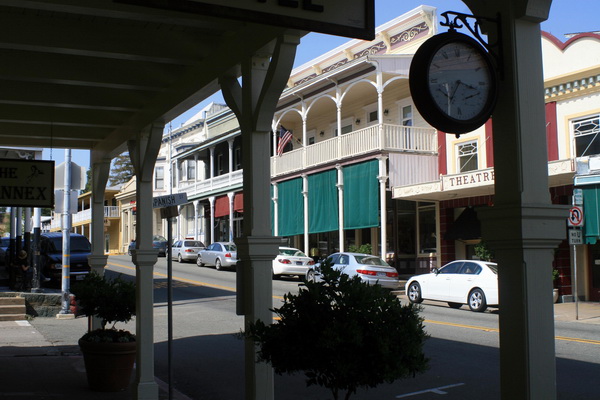 Ah, spring in the valley. The best time of year to be here.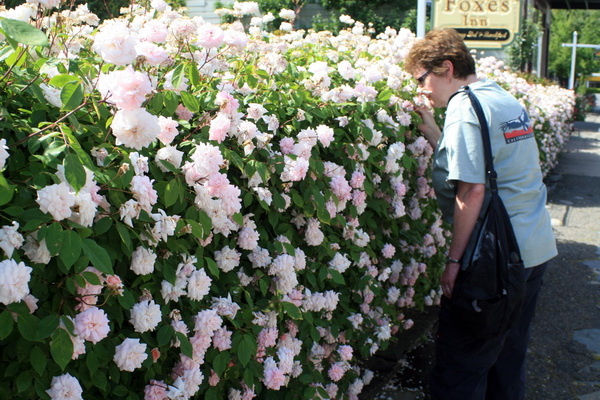 In late afternoon we reached our destination. Becky's step-mom's house in Rio Linda (just north of Sacramento).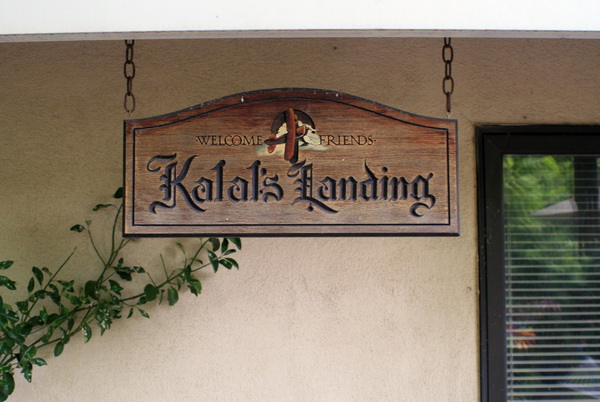 Adena lives in a lovely home on several rose covered acres.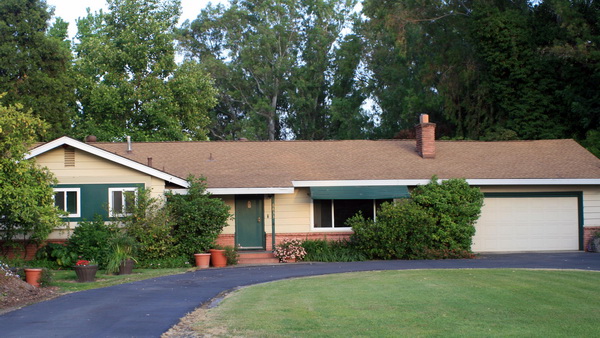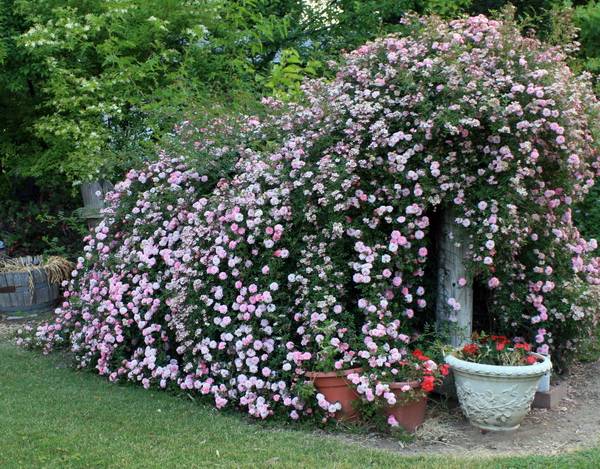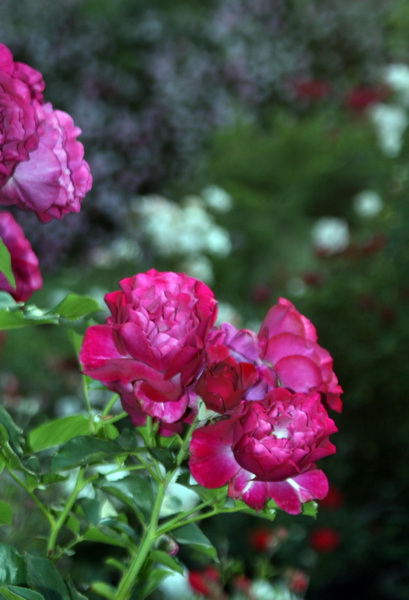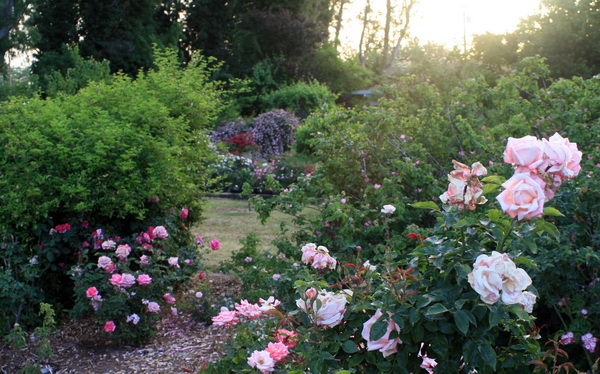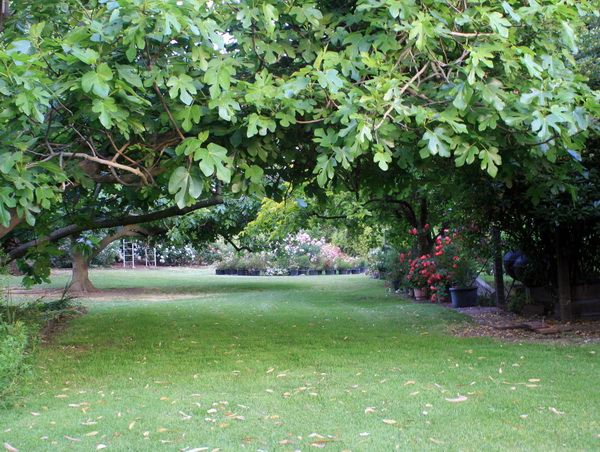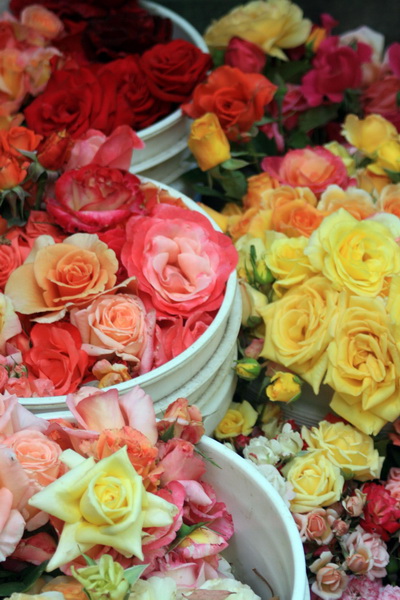 Adena is an active member of the Rio Linda/Elverta Historical Society. They were getting ready for Farm Days the following day on an old farm that they are renovating.
Here's Adena with one of her fellow members.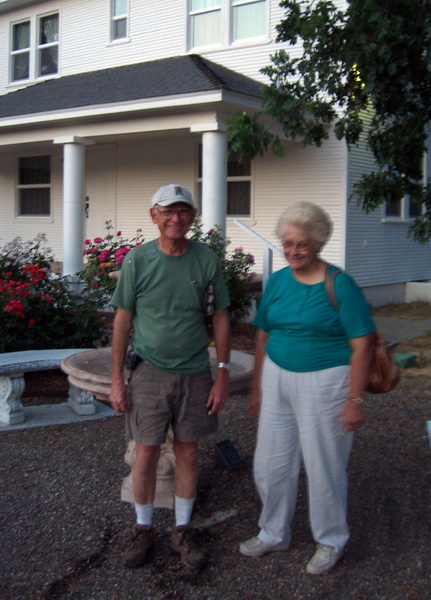 Becky standing next to a tree on the grounds that was planted as a memorial to her father.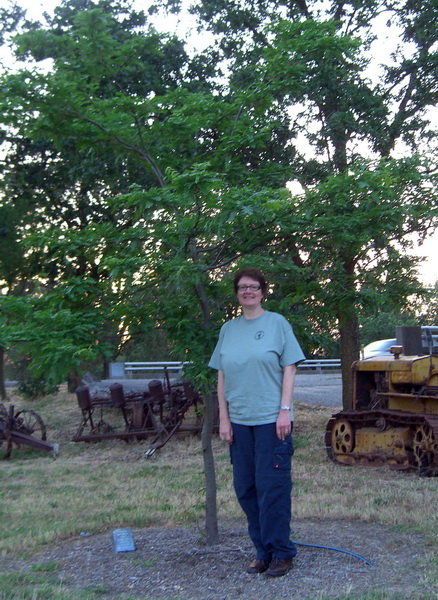 We all miss Bob.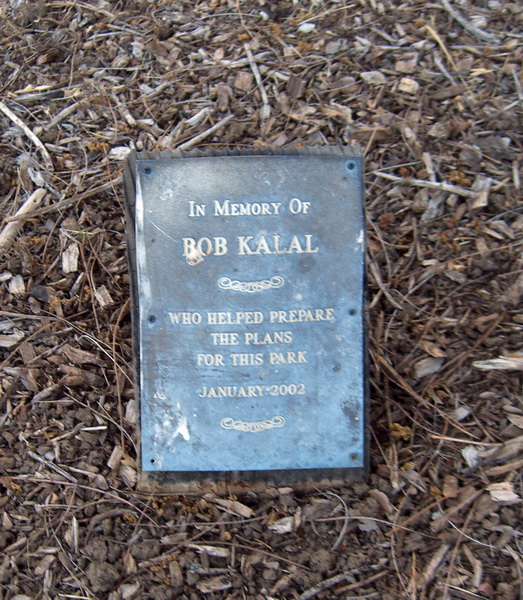 Once back home Adena proudly displays the society's "chicken" flag. (Rio Linda and Elverta used to be well known for chicken ranches.)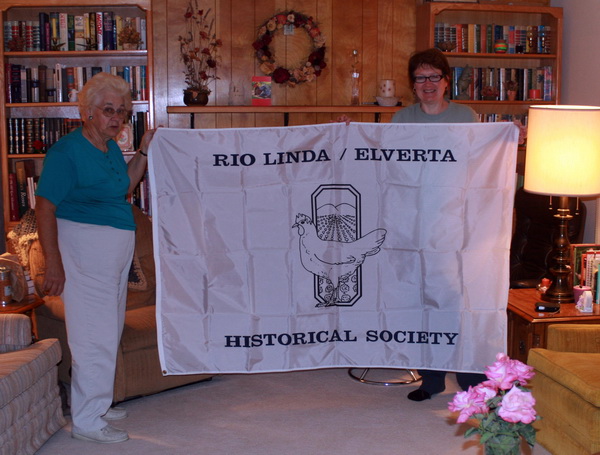 I think it's time for bed.
---
Click HERE to continue on with the trip!
Click HERE to return to our homepage