---
We rose early the next day, said our "good-bye's" and "thank you's" to Adena and headed the 20 miles west on Hwy 80 to my old home town (I graduated from high school here) of Woodland for some breakfast.
We came across this likely looking cafe, the Savory Cafe right on Main Street.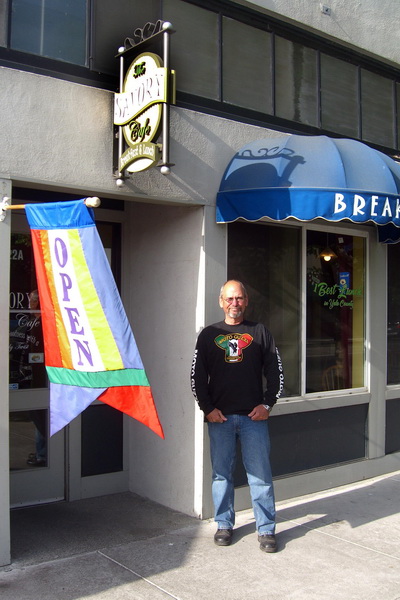 They have a somewhat unusual breakfast menu. I couldn't resist the "oink-oink-a-doodle-do" (scrambled eggs with sausage on an english muffin with house made hollandaise sauce) mostly because I wanted to say the name out loud to the waitress. Becky opted for the "breakfast dog" seen below (maple-bacon sausages, skewered, dipped in pancake batter & prepared "corn-dog style")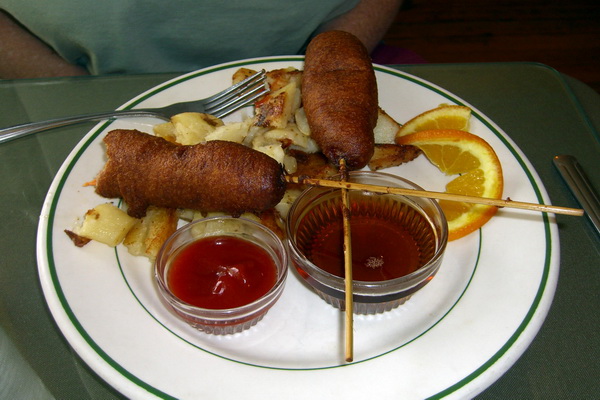 The food was tasty and fun and the staff very friendly. Big thumbs up.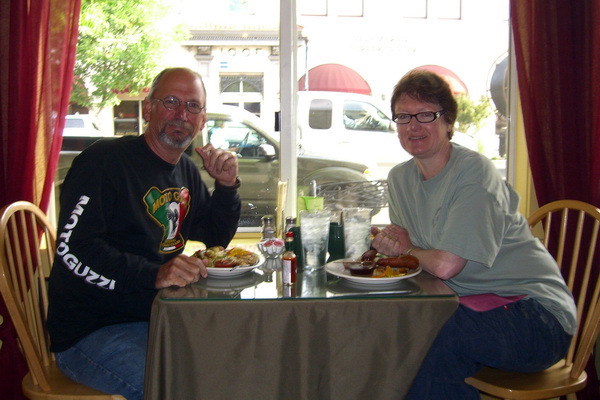 After breakfast we crossed Main Street to take a look at the old Woodland Opera House.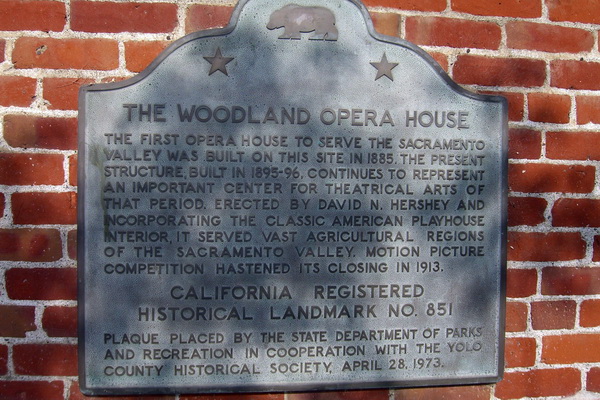 Still standing and looking better than ever.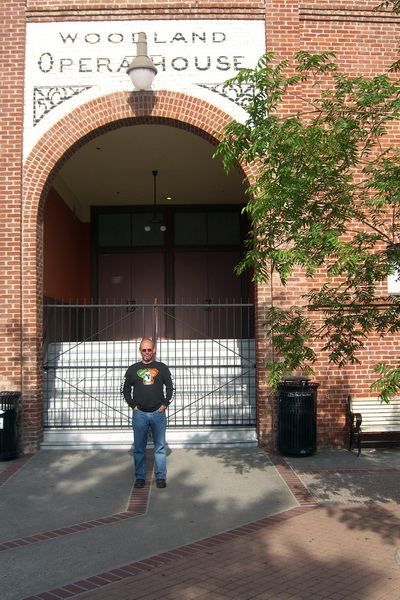 We then took a driving tour of some of the old residential areas.
This house was the home of one of my best friends Mike and his younger brother Chris (now my brother-in-law) Blank.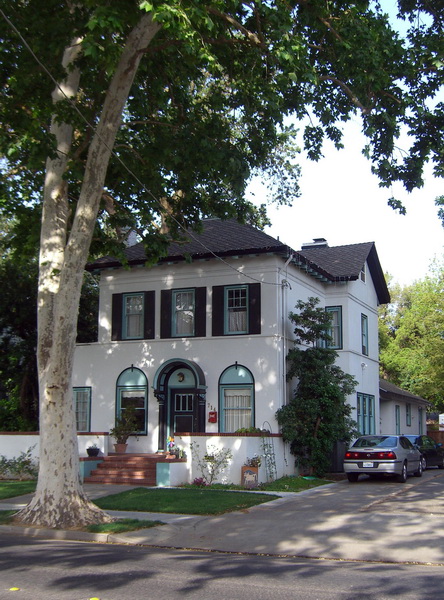 Me standing in front of my old house from my high school years...both of us still look pretty good.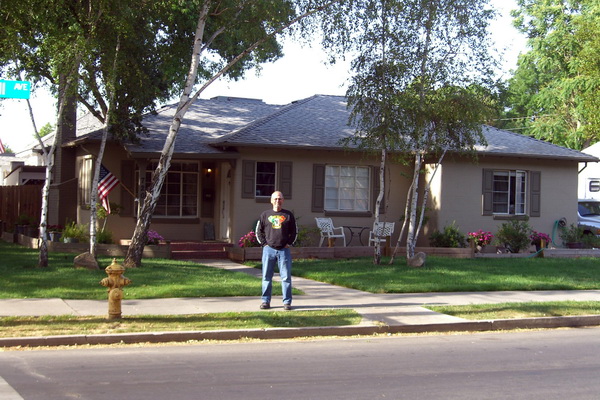 We took Hwy 16 west out of town and through the scenic Capay Valley. Lots of memories from my youth here.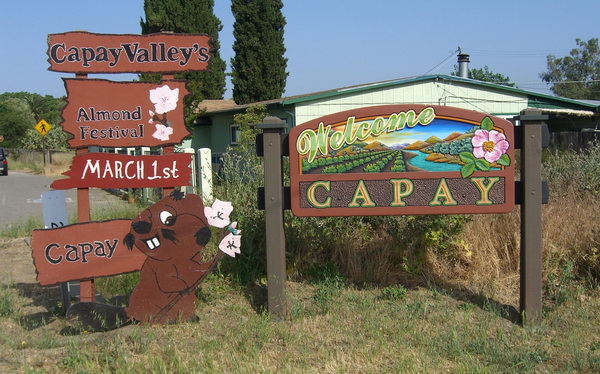 Along the way we passed a mess of turkey vultures devouring a dead deer. So of course Becky had to stop and watch them eat. She was delighted, she had never been able to get this close before. "You could actually see them stick their heads inside the deer and rip the flesh out!" I stayed in the car.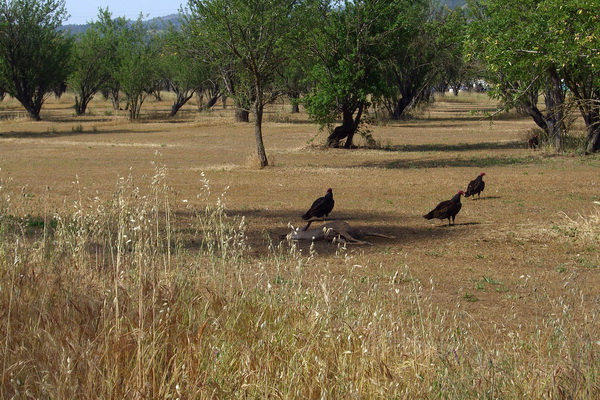 I really like this road. Not much traffic and lots of interesting tiny towns like Esparto, Guinda and Rumsey.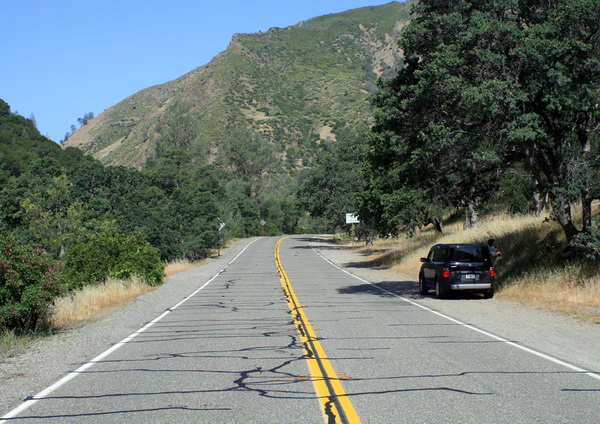 Cache Creek.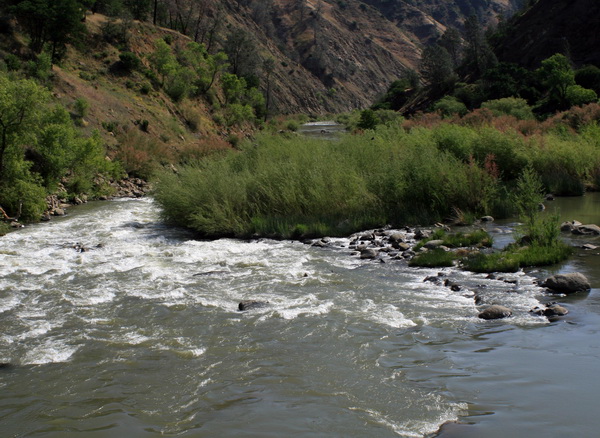 The swallows were going nuts under the bridge.
We intersected Hwy 20 and continued on it past Clear Lake and over to Hwy 101 before heading north to Willits.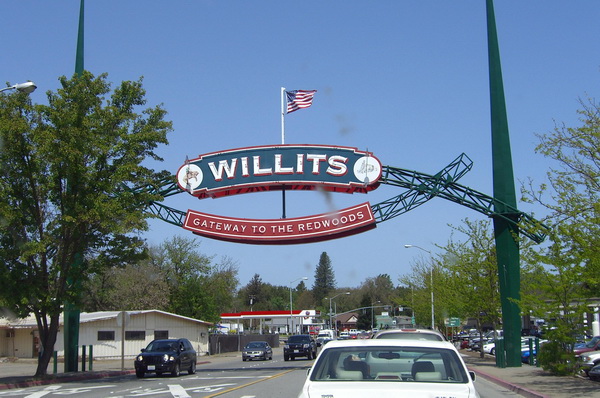 Willits at lunch time can only mean one thing. Lunch at Ardella's. Oh my, Lori's homemade soups are unbelievable! Do yourself a favor is you find yourself in Willits. Right on Hwy 101 on the north end of town. Tell Lori that Gil sent you. You will not be disappointed.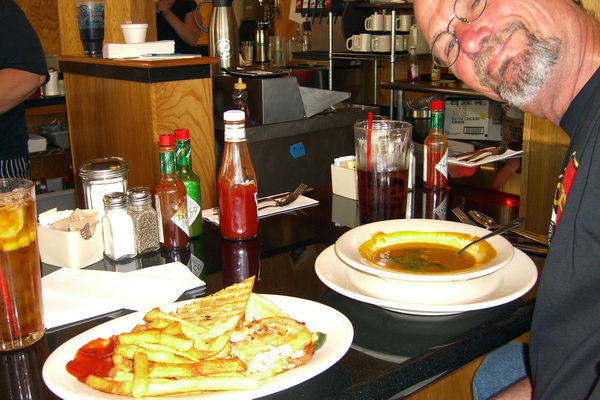 Some of the electronic gizmos that seem to be necessary to our traveling anymore.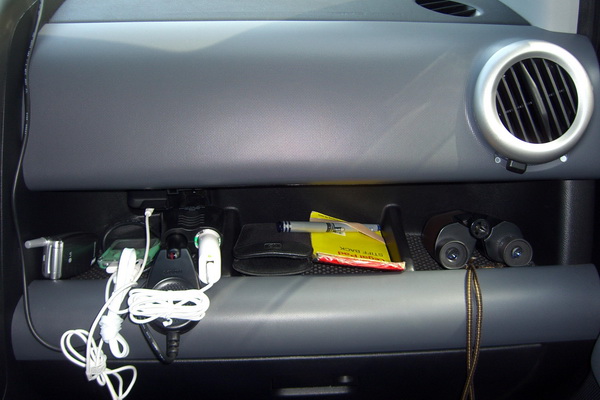 Oh boy, we're getting close now!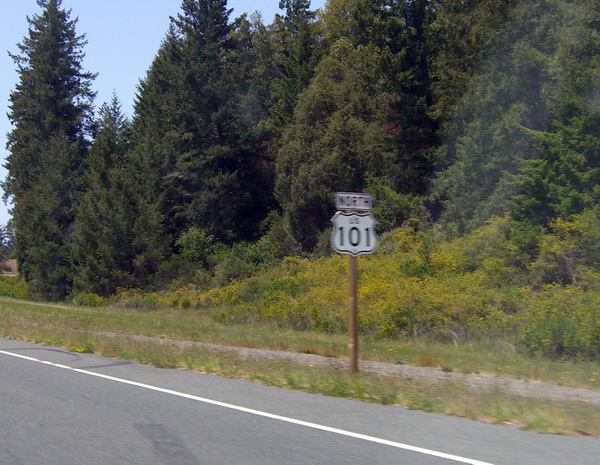 Hey, real redwoods! Notice how tall they are?
Becky and I talked it over and have decided that two weeks on the road is the perfect length of time for a vacation. We'd now been gone for 2 1/2 weeks and were tired. We're still having a great time but the time away from home was starting to take it's toll.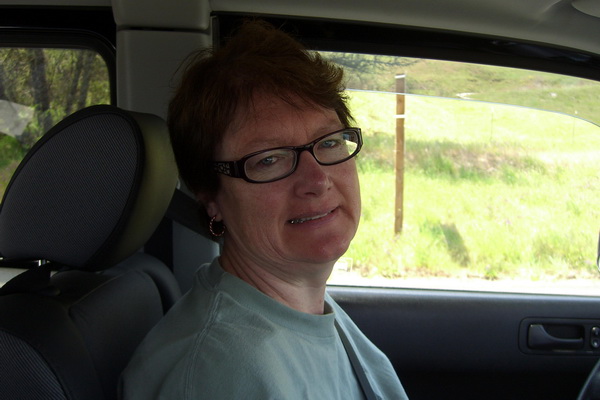 It's good to be home...of course after about two days of healing up we were ready to head right back out again.
---
Length of vacation: 17 days
Distance traveled: 3,200+ miles
Time spent camping: 2 days
Amount of car trouble: Absolutely None
Number of new tires: 4
Trip Rating: 4 stars out of 4!

---
Click HERE to return to our homepage