---
We got a somewhat leisurely start the next morning. We thought a good idea would be to head on in to Boise and get some breakfast at a delightful place Danny and Linda knew. Danny pointed out some fields loaded with marmots. Never seen anything like that before.
They were right about the breakfast cafe. It's called "Goldy's" and is right in the middle of downtown Boise. The food and atmosphere are wonderful! (I'm especially fond of the reflection of the back of my bald head in the mirror...sigh)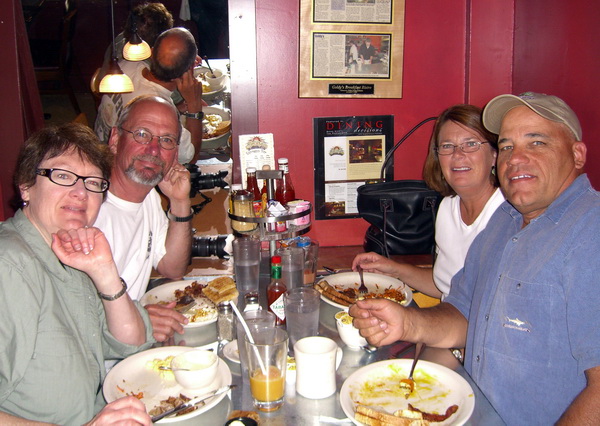 After breakfast we strolled around the downtown area for a bit. It was both Becky and my first time here. We discovered we both quite like Boise.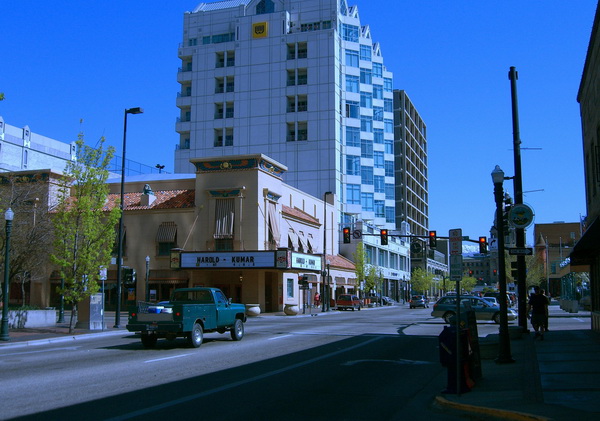 We saw the state capitol building (closed for renovations)...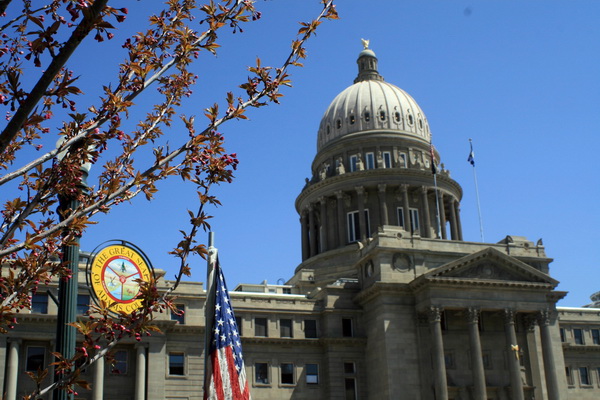 ... and wandered around the beautiful old, art-deco, Hoff building.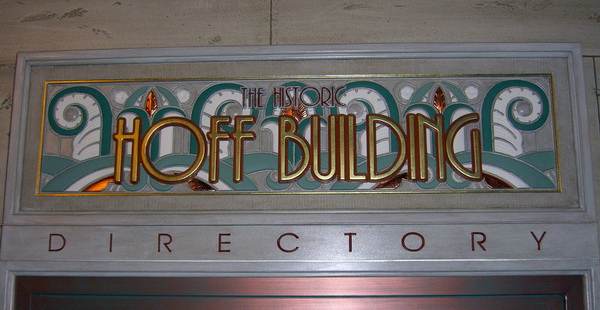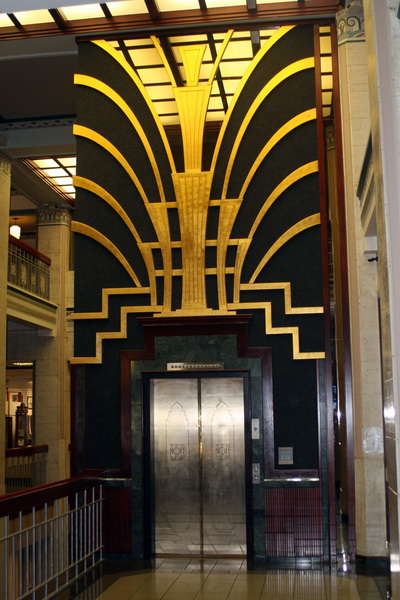 The view from the top of what passes as a "sky scraper" in Boise (only 11 stories but hey it's all relative). The view was delightful.
After seeing all that could be seen we jumped back into the car and drove out up and down city streets filled with gorgeous houses from the early 1900's. "Ooh, I'd like to live in that one." "Hey, look at the gables on the one to the right." Then onwards to the city park along the river. It was a beautiful clear day and it looks like spring has finally sprung here.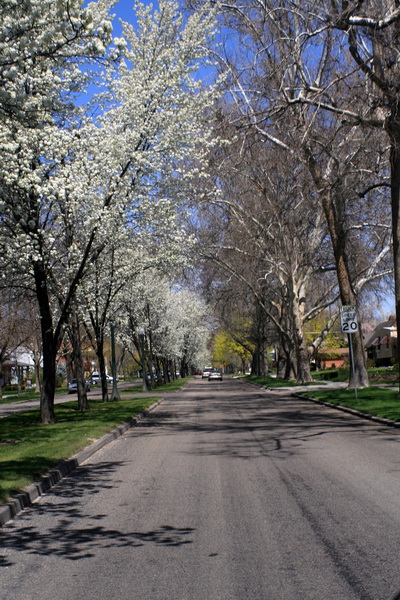 The park is beautifully maintained and borders the Boise River.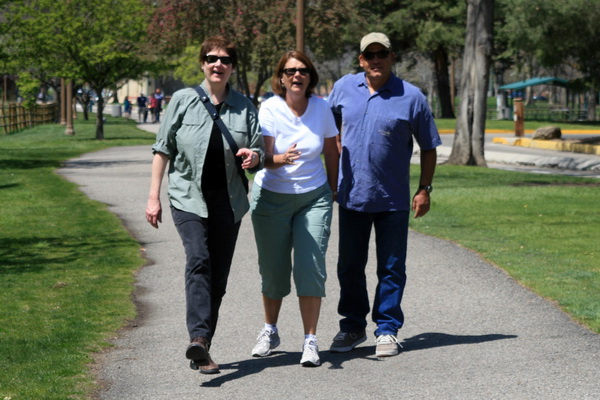 It seemed as though half the town was out enjoying the day.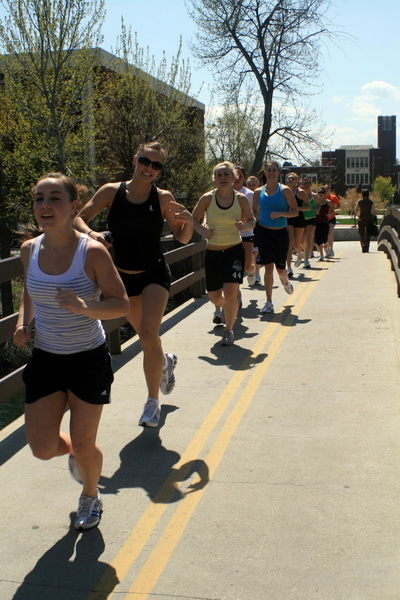 Danny and Linda picking the brain of one of the park's groundsmen about his techniques for growing flowers.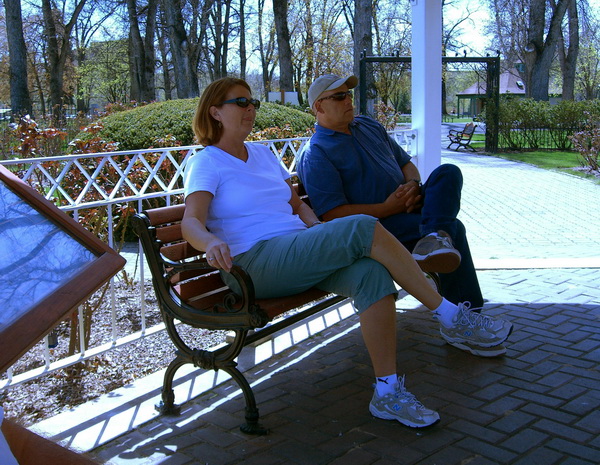 On the way in we had discovered that the local IMAX theater was showing "Shine A Light," the new Martin Scorsese documentary of a 2006 Rolling Stones concert.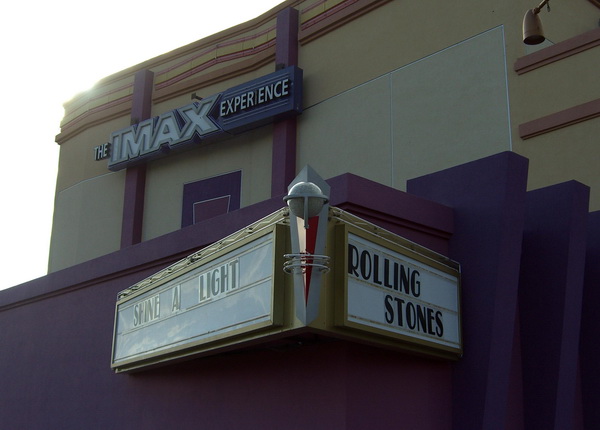 All four of us are huge Stones fans and Becky and I have wanted to see this movie for quite some time. The movie is amazing. It was all that we hoped it would be. Becky badgered me for the rest of our trip about my not including any Rolling Stones on the Ipod. A mistake on my part.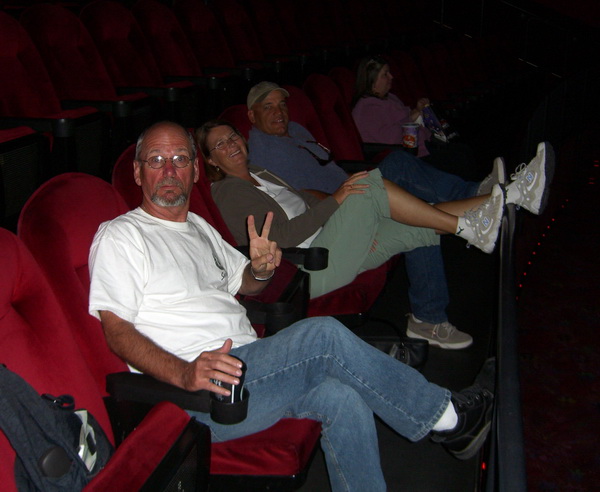 After the show we headed back out to the house and got all agricultural.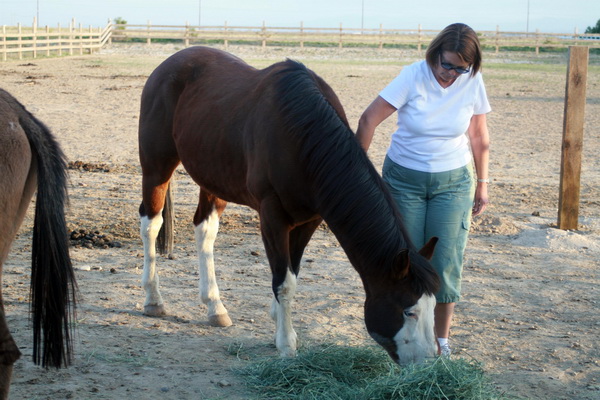 Becky has always been fascinated with tractors. Has been as long as I've known her. Sadly she has never gotten to operate one...until now. Danny gave her brief instructions on its operation and directed her to where she needed to deliver a bucketful of gravel.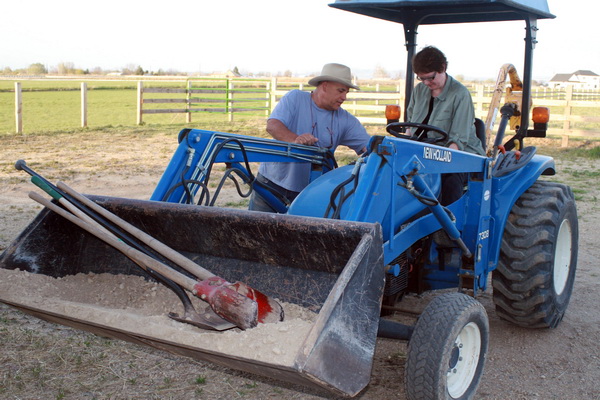 One happy girl.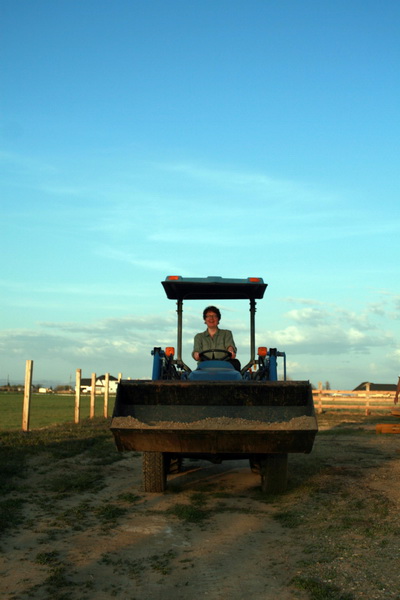 Right on target!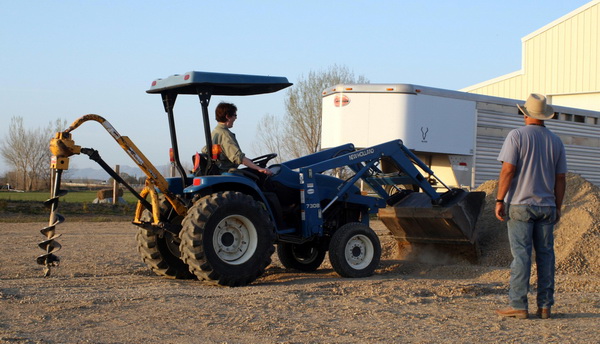 Not wanting to show favorites, Danny discovers that even though I've ridden motorcycles for years, I've never run a quad-runner. Again brief instructions (Danny's good at this)...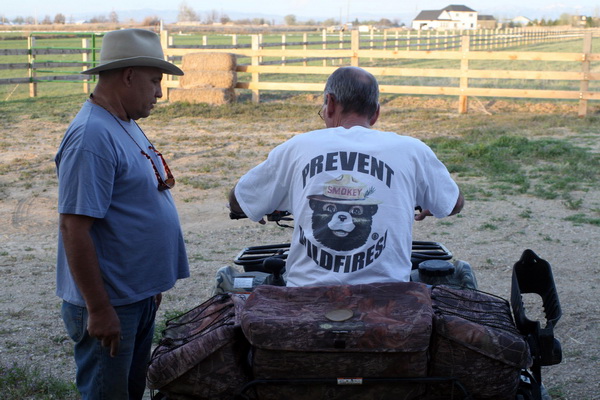 ...and I'm on my way!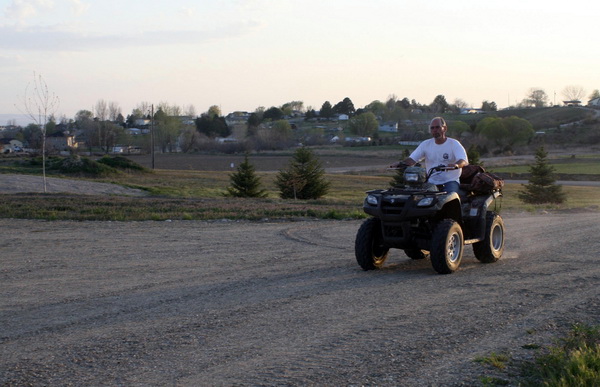 Still best friends. We spent the evening drinking wonderful tequila, looking at their photos from last winter's vacation in Mexico, looking at my photos from the current trip and just generally having a wonderful time.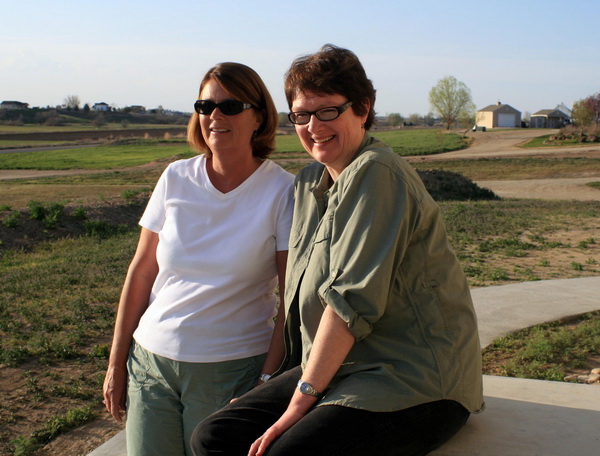 And of course, once again we stayed up chatting far later than we should have. We're simply having too much fun. We slept the sleep of the dead.
We're up at a "reasonable" time the next morning.
Becky and I have to leave today but first we all decide to visit "The World Center For Birds of Prey" that is right on our way out of town. The facility is headquarter for the non-profit Peregrine Fund, an organization that was fundamental in bringing back the Peregrine Falcon from near extinction. Today they are known worldwide for their conservation and recovery efforts of rare and endangered raptors.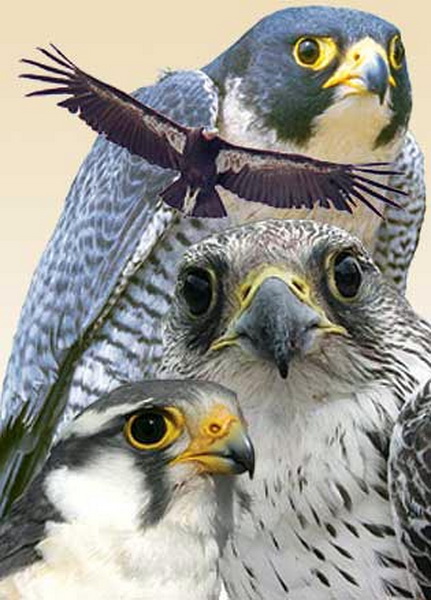 Linda gets in the mood as we buy tickets in the gift shop.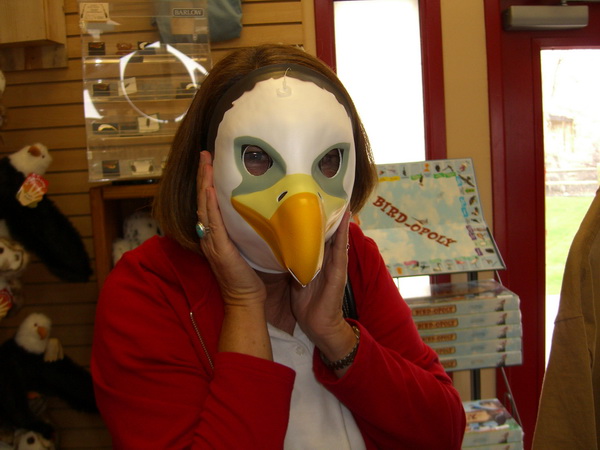 There's lots to see here, interactive displays, movies and birds. Lot's of birds, including 2 that are over 40 years old! The Center has a very active and successful captive breeding program. At the facility they have and breed an Aplomado Falcon, a Harpy Eagle, a Eurasian Eagle Owl...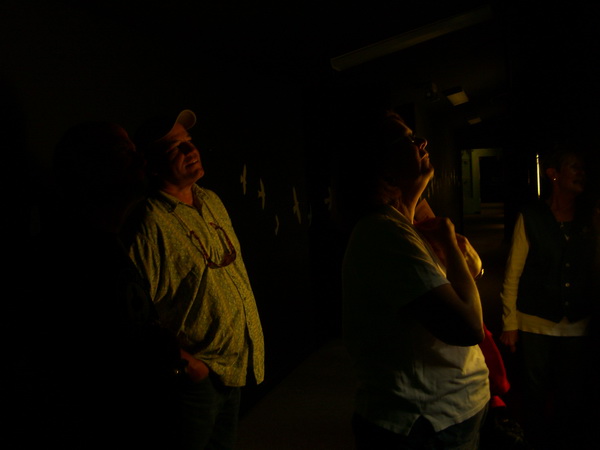 ...and this bad boy, the star of the show, a juvenile California Condor! It was startling to see this bird in person. He had so much unexpected personality. We were separated by a one-way plexiglass plate that allowed us to see him but he couldn't see us. He could hear us however and gets very excited when people visit. He jumped around on his perch and then over onto the window bars, mere inches from us and stared at the glass trying to see us through it. He then jumped back to the perch and slowly pulled a dead rat apart for our enjoyment. It was amazing and we watched him for some time. The Center has had wonderful luck with their condor breeding program and have raised and introduced (mostly in Arizona) many of these birds into the wild.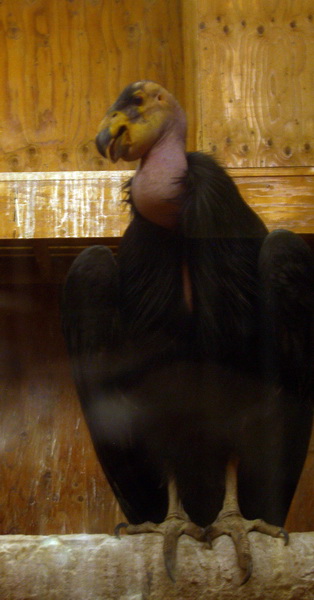 Linda comparing her wingspan with that of a California Condor's.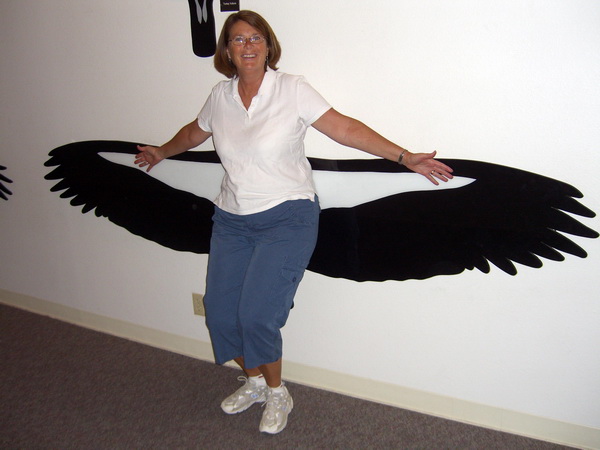 We said our sad goodbye's to one another in the parking lot. Danny and Linda headed back to the ranch (and more fence building chores) and we headed southeast on Hwy 84 heading towards Utah.
We stopped in Twin Falls for a restroom break and discovered that we were standing at the exact spot where Evel Knievel made his ill fated attempt to jump the Snake River on a motorcycle (actually some enemy-of-the-people had ripped off the commemorative plaque).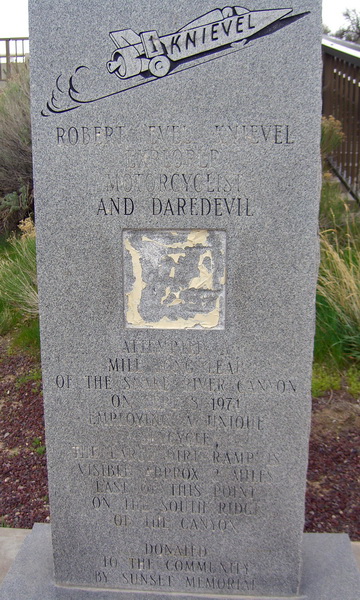 Ira Burton Perrine was an early settler in this area and is responsible for the building of this bridge in the early 1900's that succeeds where Evel failed to cross the Snake.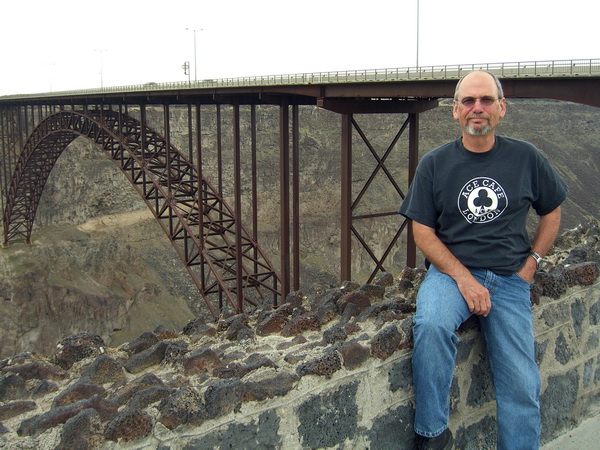 Here's Becky dancing with the great man.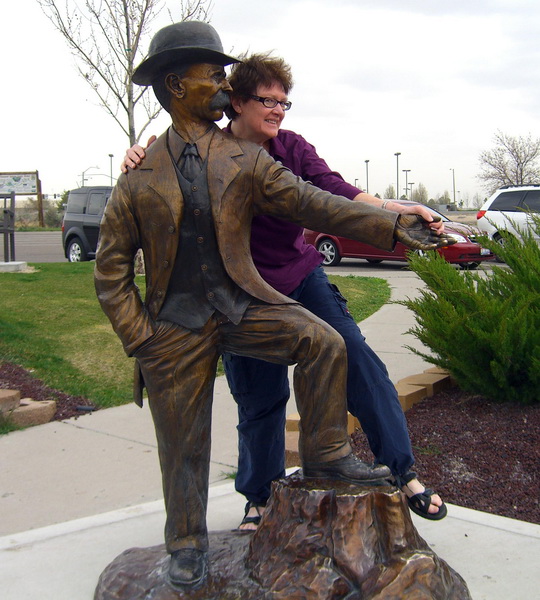 A little further upstream from the bridge is one of the two sets of falls that gave the name to "Twin Falls." This is Shoshone Falls.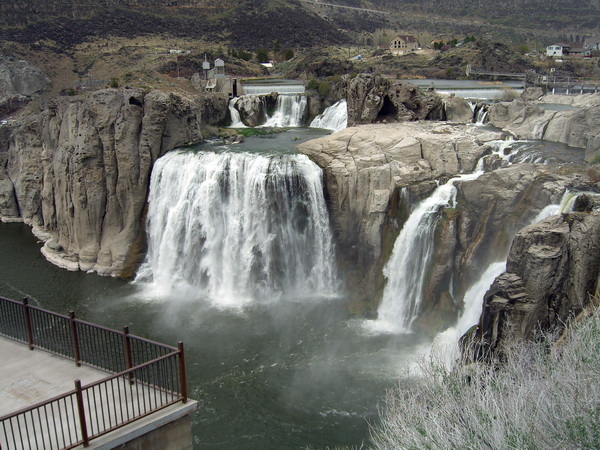 This is what has become somewhat of an iconic image of this trip, Becky staring through binoculars at something.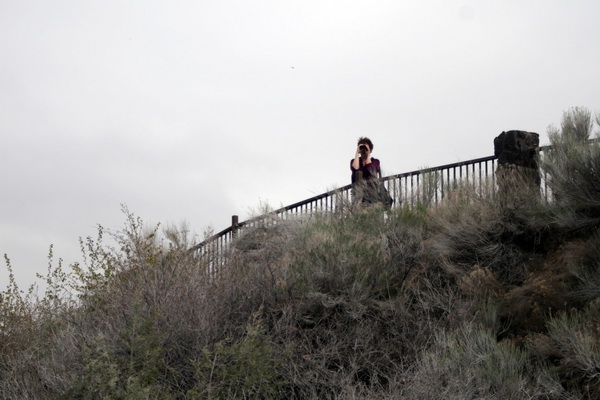 We took Hwy 86 when it split off of Hwy 84 and continued east until we came to Pocatello. From Pocatello we turned and headed south on Hwy 15 towards Salt Lake City. We made it as far as the little town of Malad City before we called it a day. Motels were scarce in this area and we were fortunate to find a place to stay.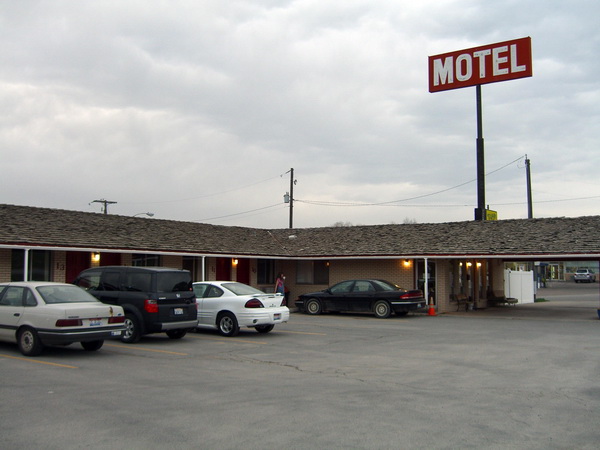 For entertainment that night an elderly couple from California in a van with a top case stuck themselves under the motel's semi-low overhang. They managed to destroy the rain gutter and actually life the roof by a couple of inches.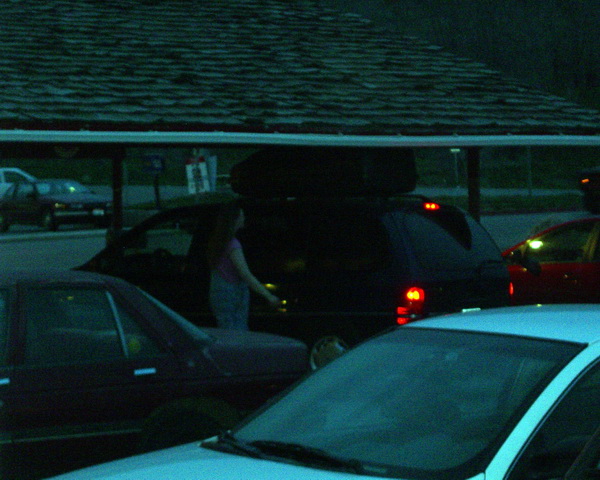 The motel catered to crews of guys working away from home so there was lots of help getting it unstuck. I pulled up a chair, poured myself a whiskey and watched the action. Finally, by letting most of the air out of the van's tires and having several big guys stand on the bumpers, the van was able to extricate itself.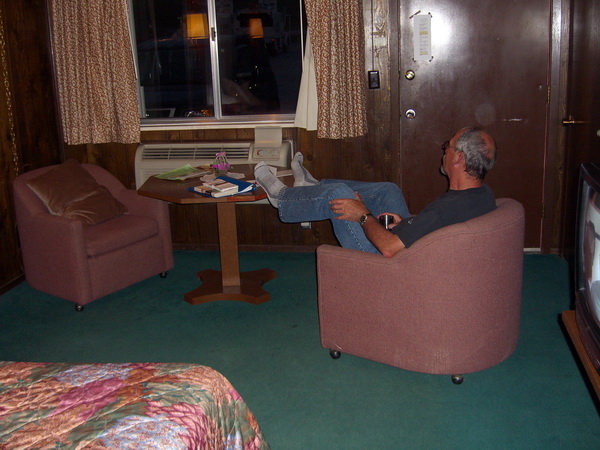 It had been a long, fun day and now it's time to sleep.
---
Click HERE to continue on with the trip!
Click HERE to return to our homepage