---
Years in the planning, weeks in the adventuring and (many, many) months spent creating this trip report...we're finally getting this monster posted to the web site. The photos here were a collaborative effort. Both Becky and I packed point and shoot cameras and between us we took something over 1,500 pictures on this just-short-of-3-week trip. Don't worry, we're sparing you most of that. The narrative to the report was mostly done by Becky with me (Gil) occasionally jumping in with (blue text) when I feel I have to clarify a point or simply feel the need to defend myself.
Marked on the map below are the locations where we ended up spending nights. To jump directly to a specific area simply click on one of the towns listed below.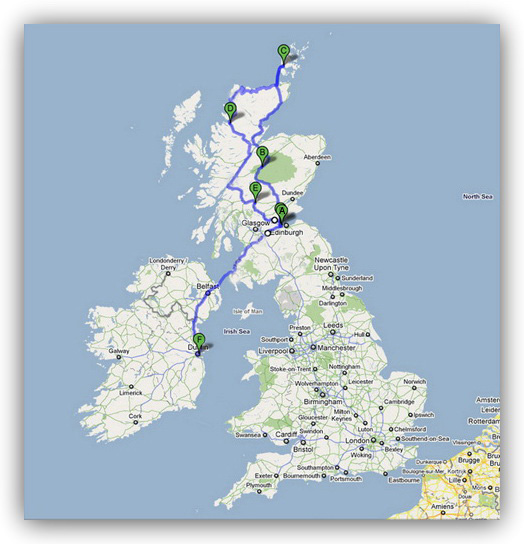 A = Queensferry, Scotland / B = Kingussie, Scotland / C = Stromness, Orkney / D = Ullapool, Scotland / E = Lochearnhead, Scotland / F = Dublin, Ireland
We've included a few movies and LOTS of links along the way. Please, don't feel any obligation to watch/follow them all! Just have fun.
---
Click HERE to continue on with Gil & Becky's neolithic adventure!
Click HERE to return to Gil and Becky's homepage