---
THE JOURNEY BEGINS
Okay then, it's May 10, 2011 and we're all packed up and ready to roll! We made the 6+ hour drive from our home in Eureka, California, to catch our Virgin flight from San Francisco International Airport nonstop to Heathrow International Airport in London, England.
(We both traveled as light as we ever have. Both of us with 22" check-in bags (actually small enough to be considered carry-on baggage) plus me with a small backpack and Becky with an equally small carry-on Rick Steves bag. We found we never missed all that extraneous stuff we had to leave behind...except for me wishing at one point I'd brought a second pair of shoes but more about that later. Traveling light certainly makes catching flights and making connections a snap. We're getting better at this the more we travel.)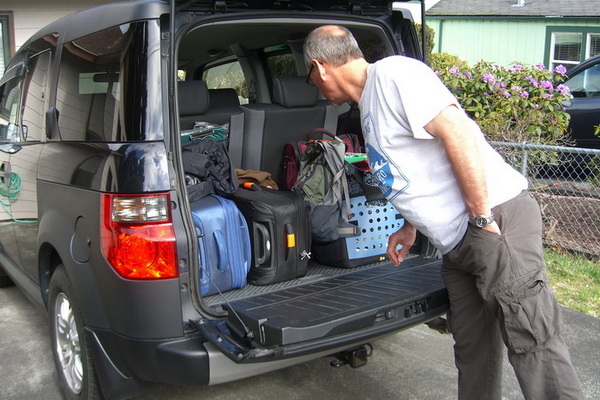 Both of the animals were signed up for their own vacations. Duffy was staying at his favorite local dog spa, "It's All About the Dogs" and Kipper the cat is staying at a swanky kitty resort, "Cozy Cat Cottages" in Eureka. She had her own 4 level condo, complete with a window that had a bird feeder strategically placed just outside to watch. She seemed delighted.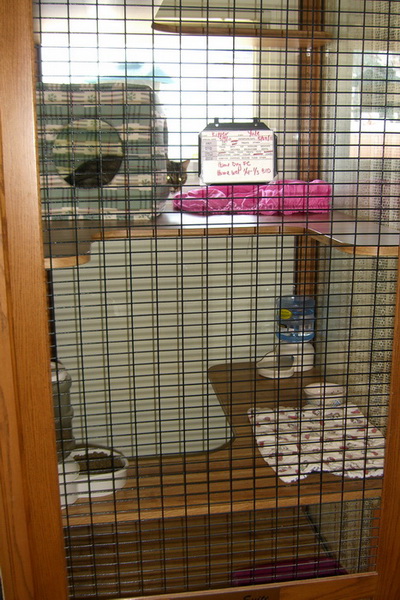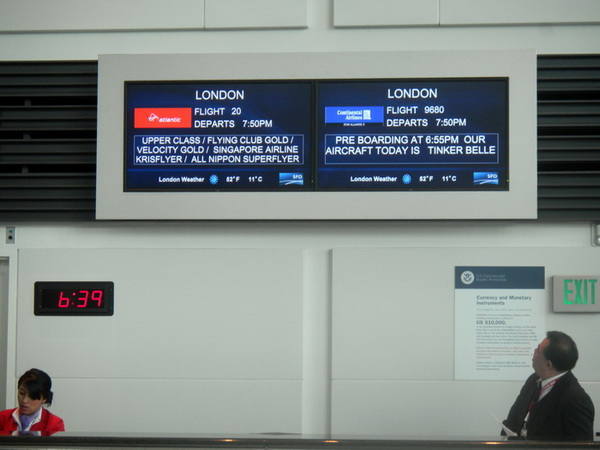 Gil had pre-ordered his usual kosher meal. His dinner reminded him in no uncertain terms that times have changed and that we were most certainly traveling "economy."
(In the past I've found I generally get a tastier, more interesting meal if I tell the airline I require Kosher. It doesn't necessarily pan out on every flight however...this was one of those flights.)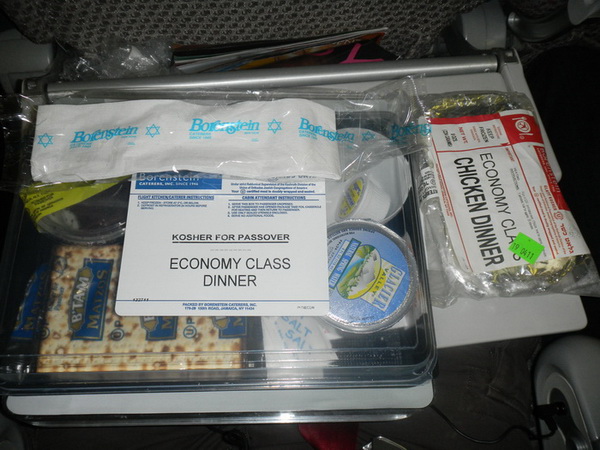 After a long ten hour flight (these long flights just seem to become more and more of a huge ordeal as I get older...sigh) we arrived a bit early at Heathrow Terminal 3, then (after a long hour in Immigration lines) found our way to Terminal 5 (via the Heathrow Express train) to catch our British Airways flight to Edinburgh. While waiting, we bought a pay-as-you-go Vodophone, so we now had a phone number. Upon arrival at Edinburgh, we were met by three dear friends: Barbara and Dennis Martin, up from Salisbury, England and Barbara's cousin Lily Fleming down from Longforgan, Scotland. They drove us back to our Bed and Breakfast for the next three days, Priory Lodge, in nearby Queensferry.
---
QUEENSFERRY, SCOTLAND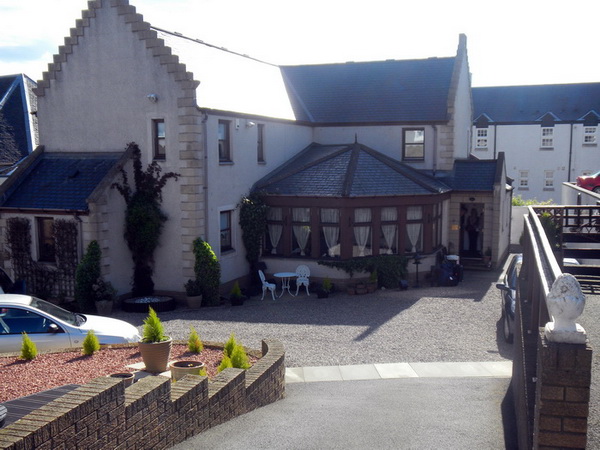 Gil surveys our room and amenities..."one stuffed bear on bed." Check.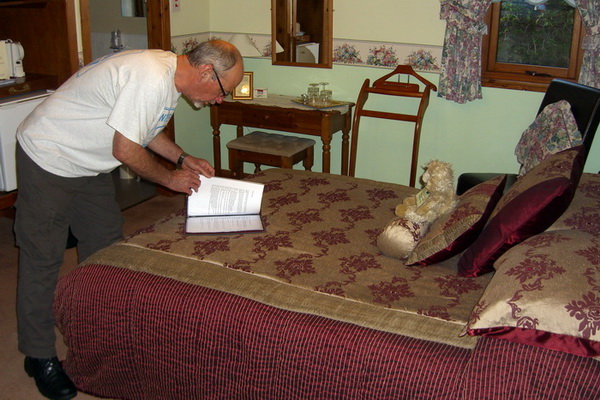 ...and Lily shows us her room upstairs, complete with lounge chair and four-poster bed.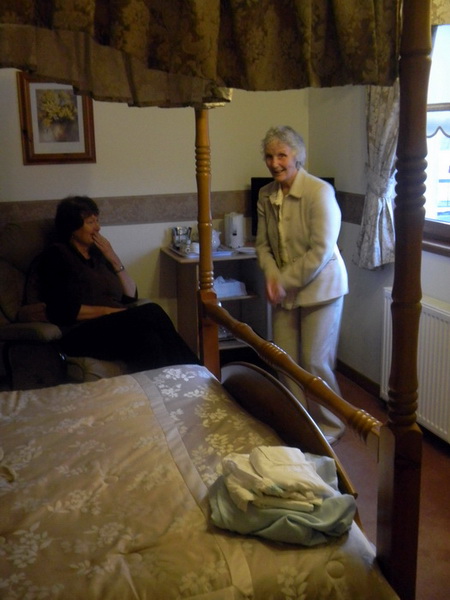 Our breakfasts were delicious. Gil ordered both the haggis and black pudding. Once I had porridge with Drambuie!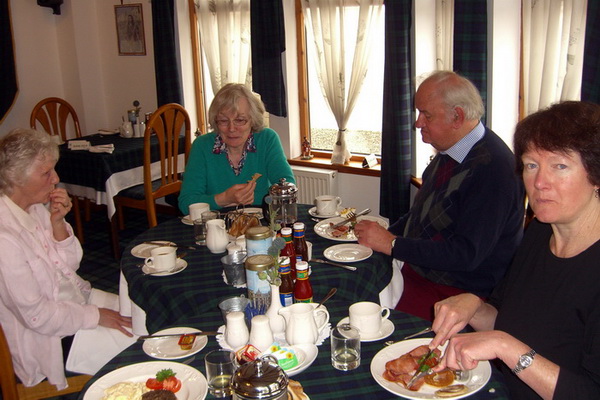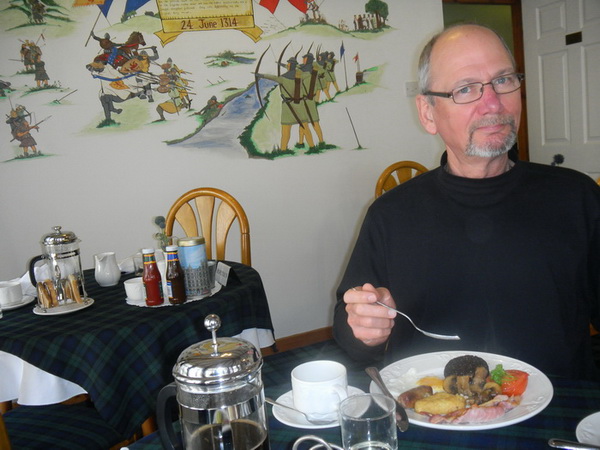 Swapping stories at the close of the day in the guest lounge with Dennis and Barbara.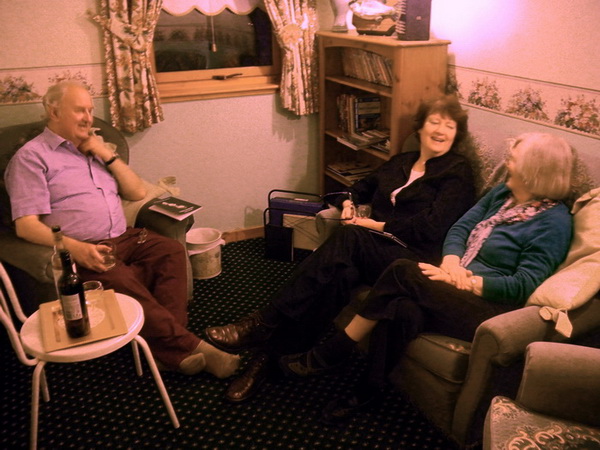 Queensferry is quite a charming town, with splendid views of both the highway bridge and celebrated railway bridge across the mighty Firth of Forth.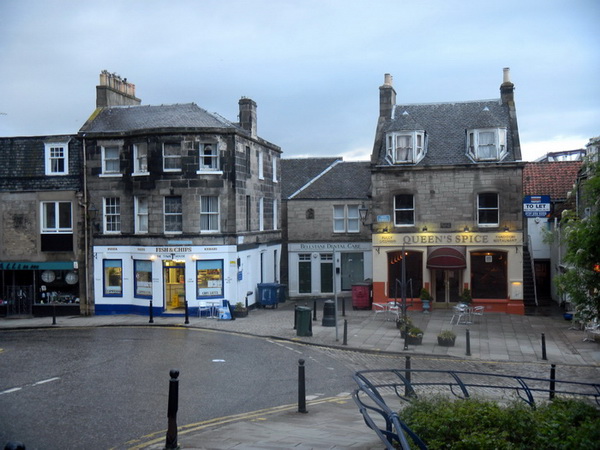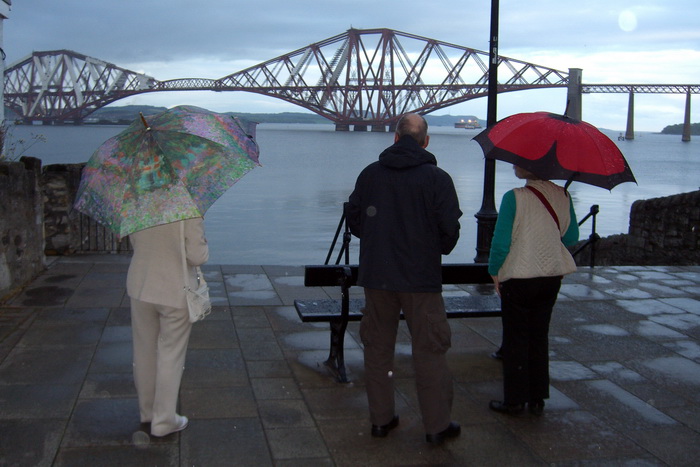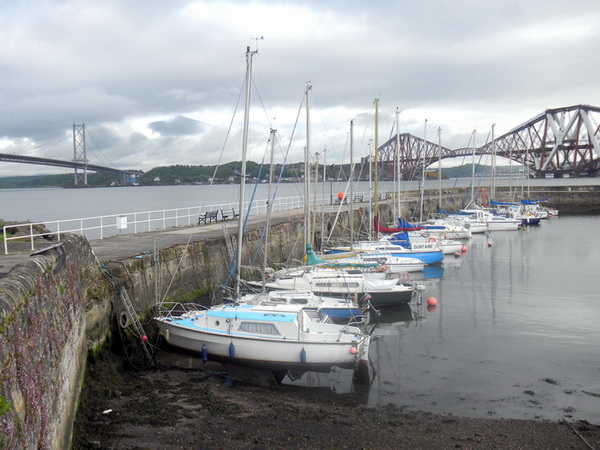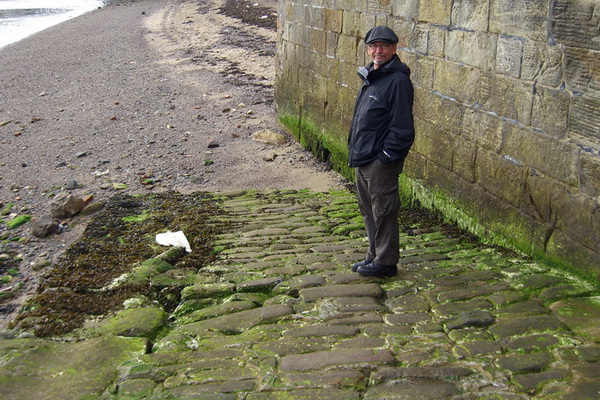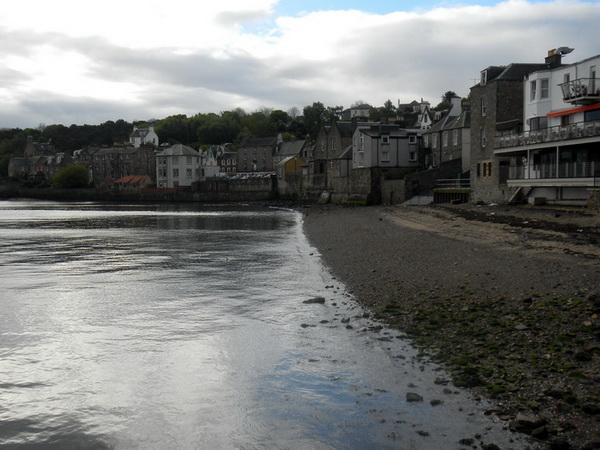 Gil enjoyed "Cullen Skink" at the aptly-named "Two Bridges Inn."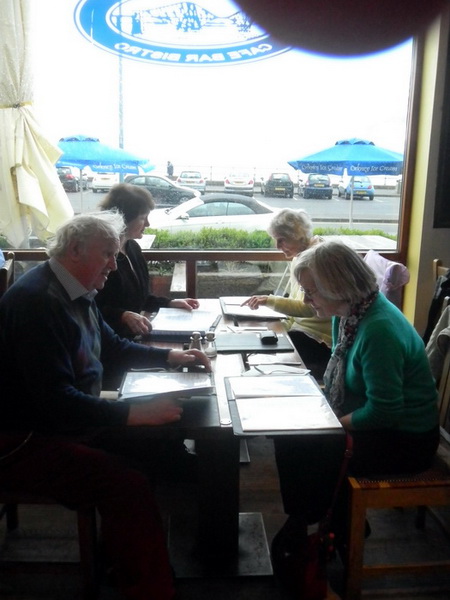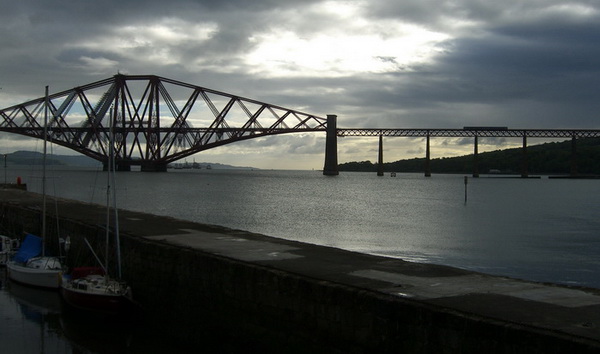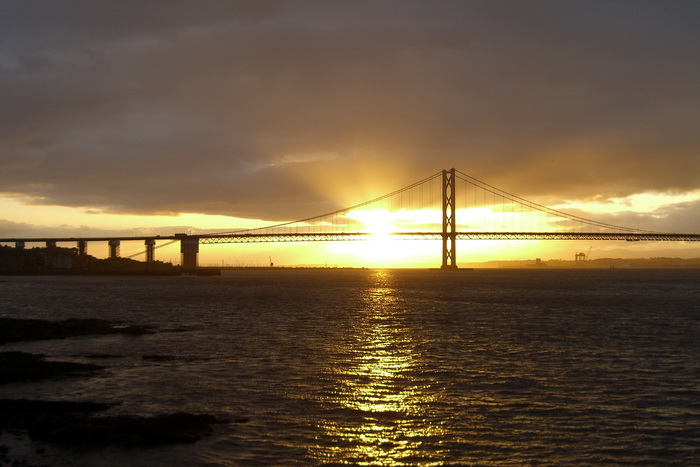 (Help me! I can't seem to stop taking pictures of the bridge!)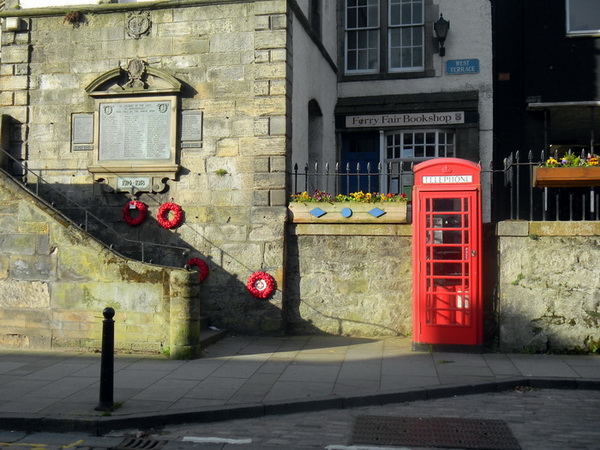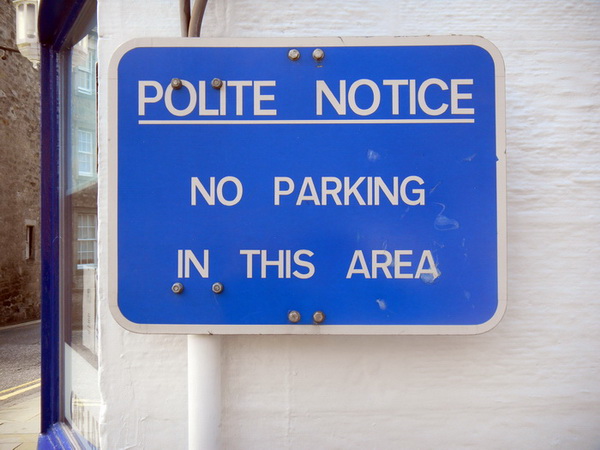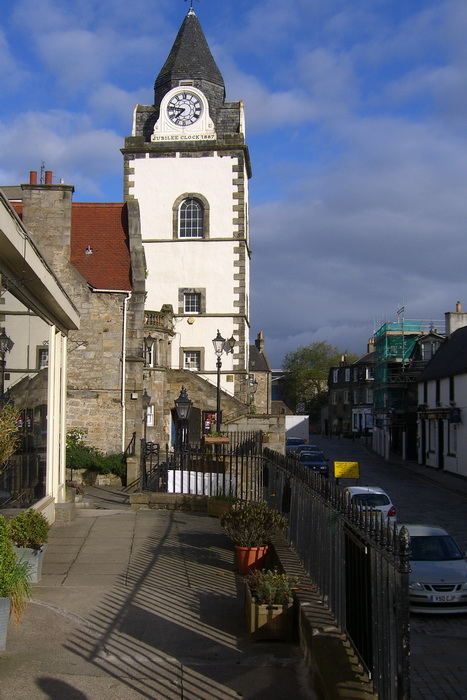 One morning, Lily, Barbara and I went for a brisk walk through the byways of the town, including grand views of the Forth.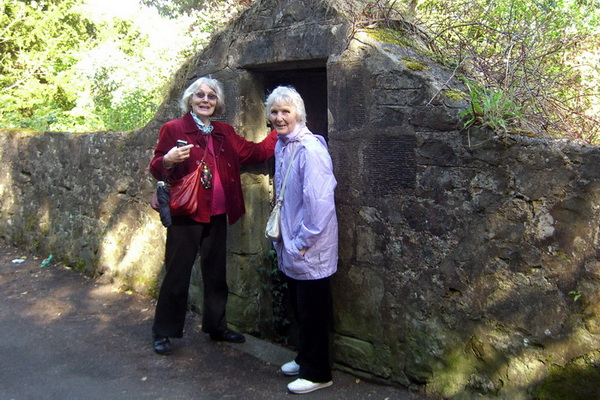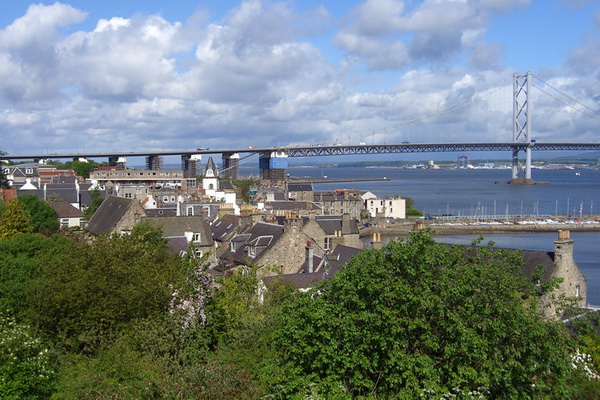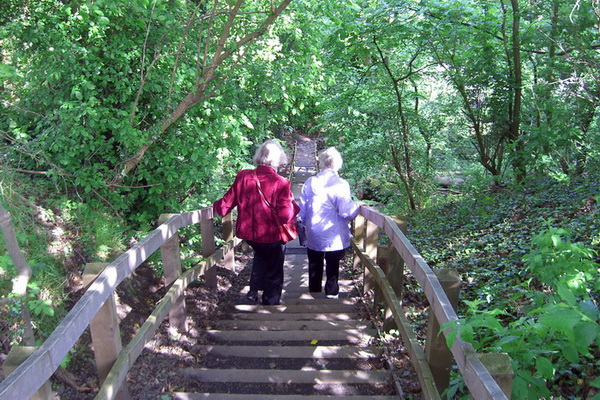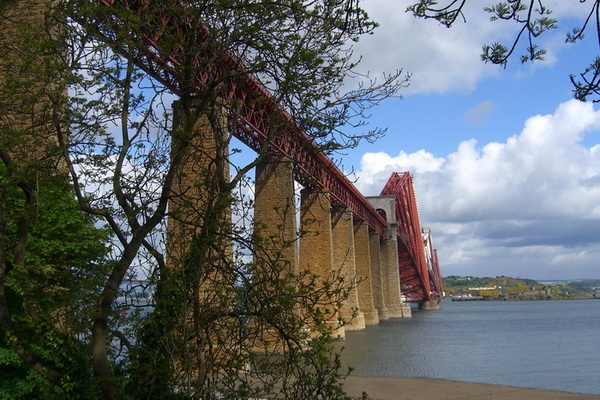 The Queensferry Museum had interesting displays, including this model of "The Burry Man."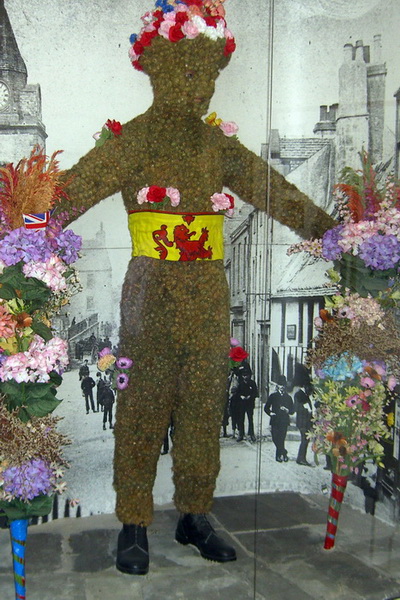 One night we ate dinner at the Hawes Inn, which is mentioned in Robert Louis Stevenson's book "Kidnapped" and Sir Walter Scott's "The Antiquary." Delightful company and good food, but we had an odd waitress, who couldn't seem to decide whom among us she disliked most. Was it the Americans or these English sorts? Only Barbara escaped her ire...and we are all the most charming of people!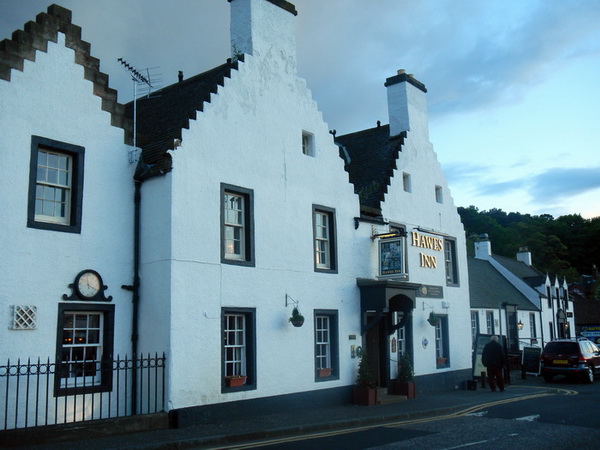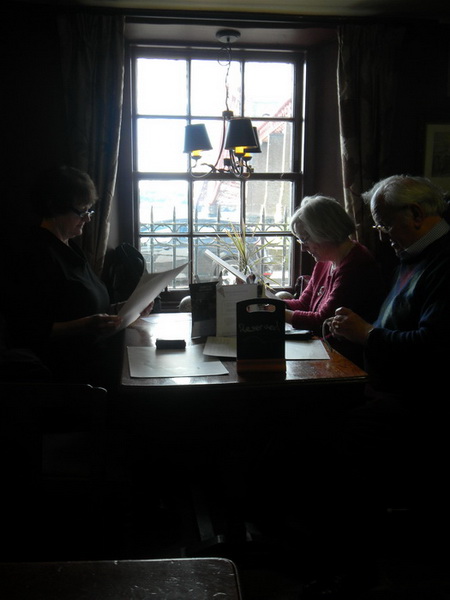 During our "Queensferry" stay, we spent one day visiting both the Falkirk Wheel and the former Royal Yacht "Britannia."
(Please excuse there being dates emblazoned on the following few pictures. Sometimes this 21st century camera and this 20th century man don't always see eye to eye.)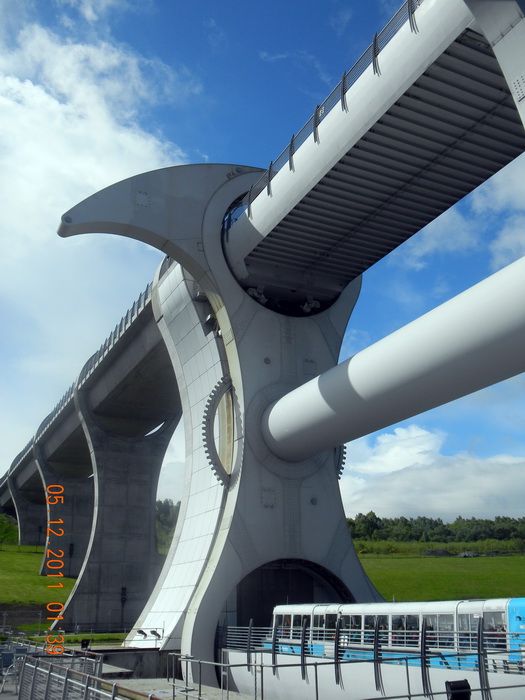 The Falkirk Wheel (west of Queensferry, near the town of Falkirk) is a unique rotating boat lift, which connects two canals by lifting/lowering canal boats 68 feet, replacing (in 2002) the former flight of eleven locks which were destroyed years ago.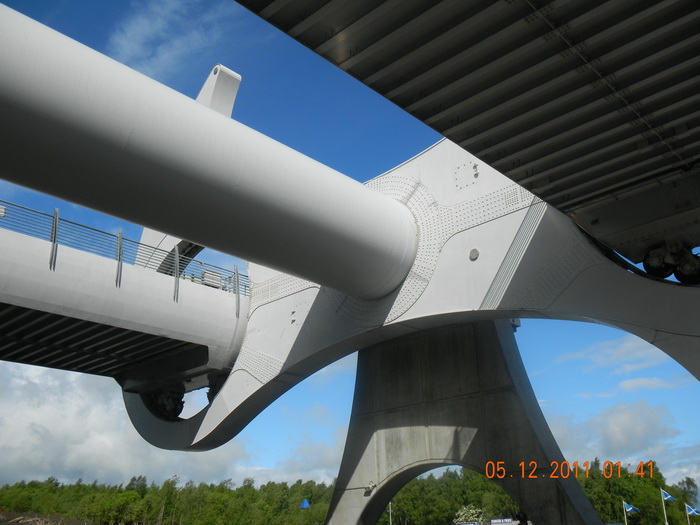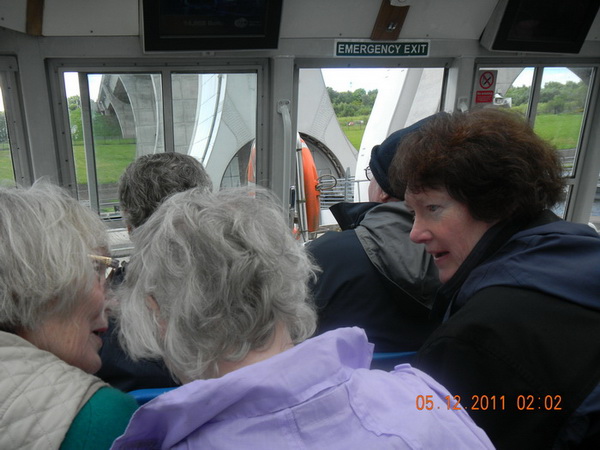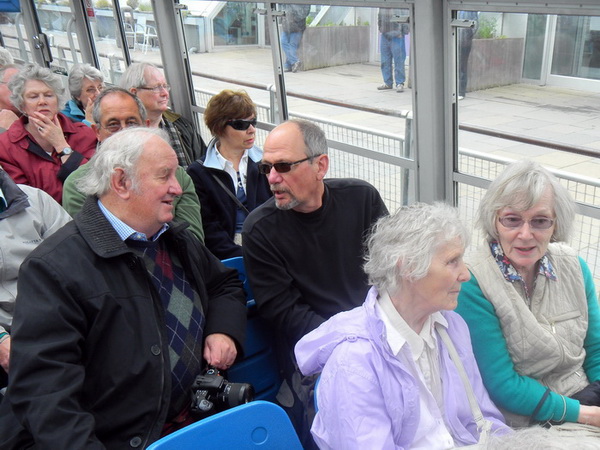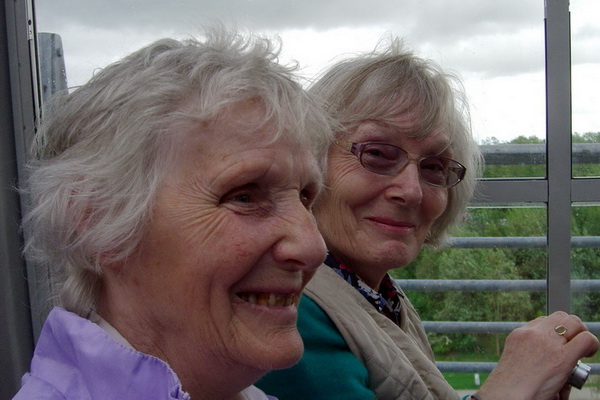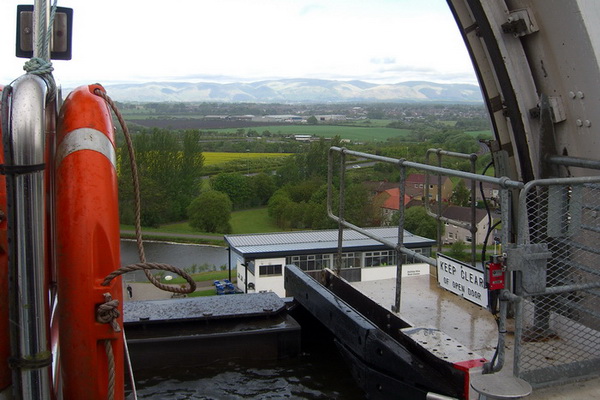 After Den drove us back to Queensferry, our next adventure was to journey east by bus to Edinburgh. We all caught the bus right in front of the Priory Lodge, and rode it all the way to the central bus station. There, we separated, as Gil and I wanted to visit the former Royal Yacht "Britannia." We boarded another bus to take us to the port city of Leith.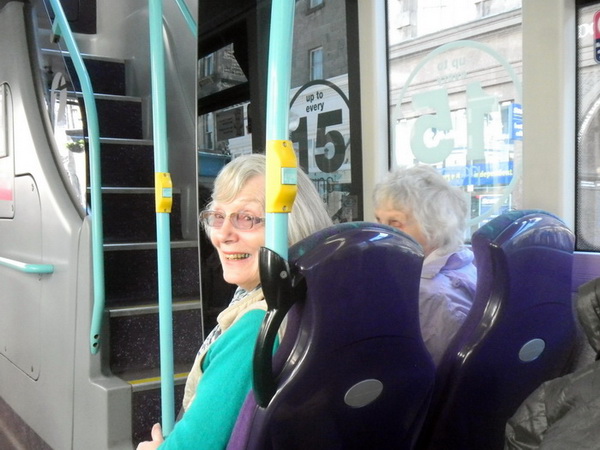 (...and the following clip shows why driving in Britain is not for the faint of heart.)
THE FORMER ROYAL YACHT BRITANNIA
The entrance to the Britannia exhibit starts within a vast mall, where we were briefly entertained by the sight of young ladies enjoying a live fish pedicure...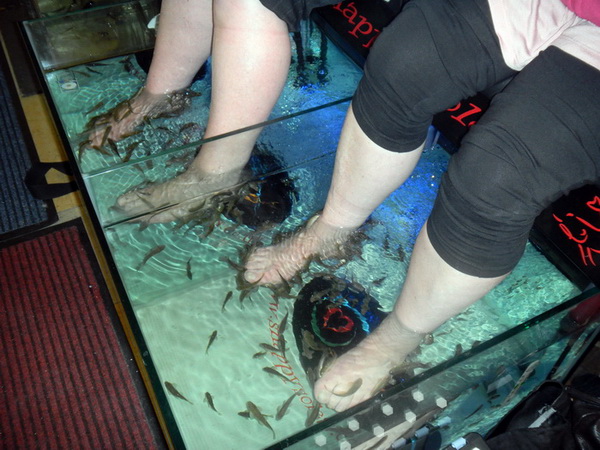 On to the yacht...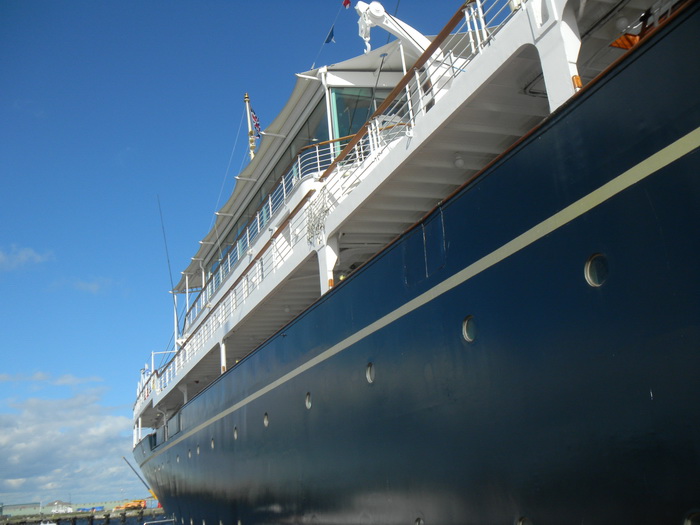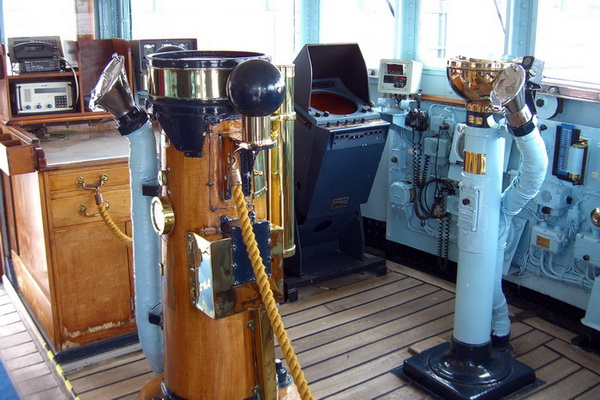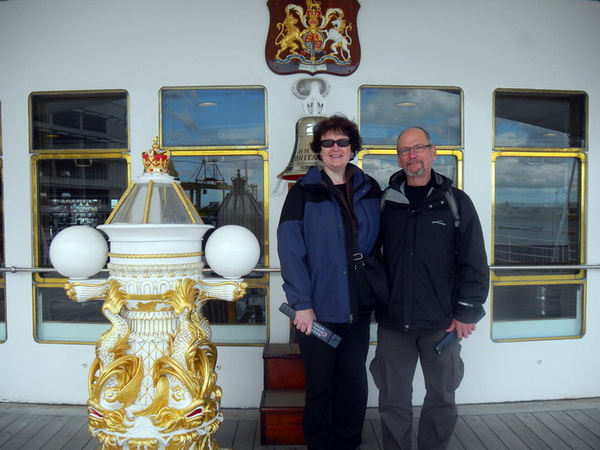 The Queen's bedroom. All the staterooms were fairly simple, and like the rest of the royal quarters, decorated in a 1950's style. The Queen insisted upon single beds.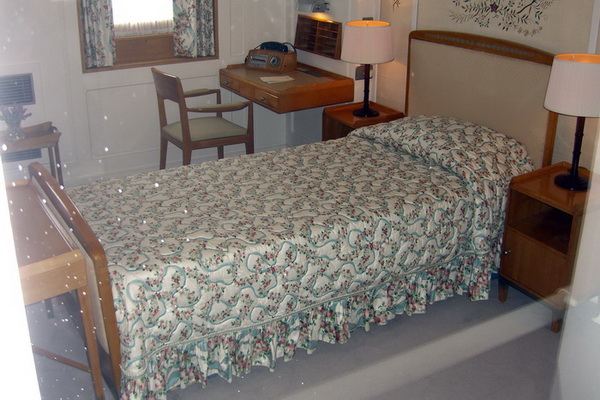 The Honeymoon suite (the only stateroom with a double bed)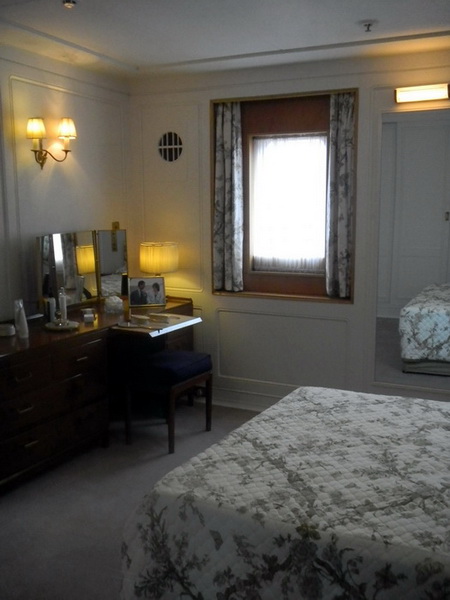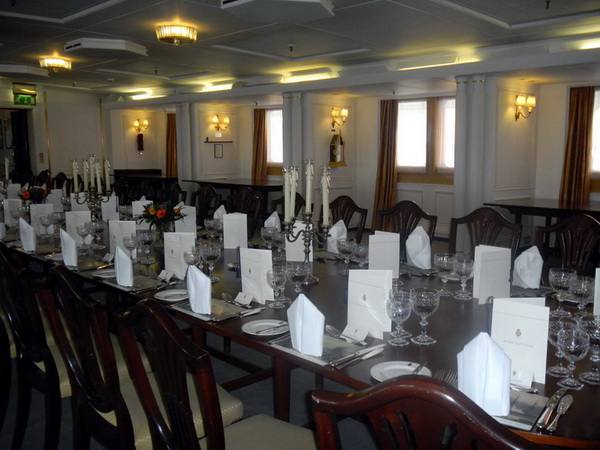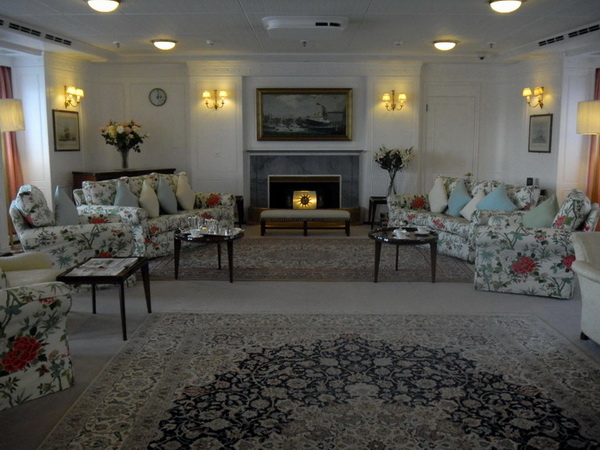 Quarters for some of the crew (actually these are officer's quarters. Things get even more cramped, even on this glorious ship, when you get down to the common sailors.)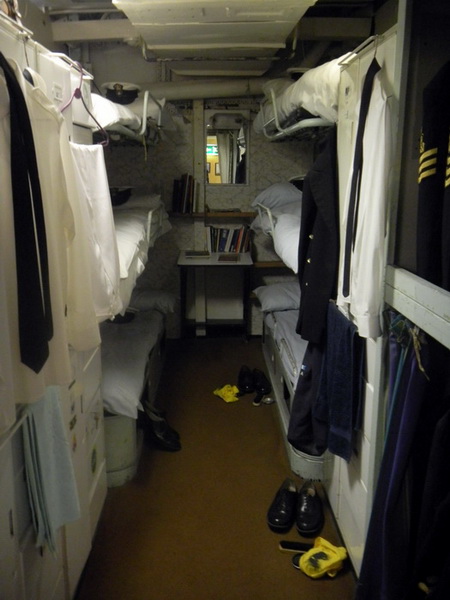 The on board post office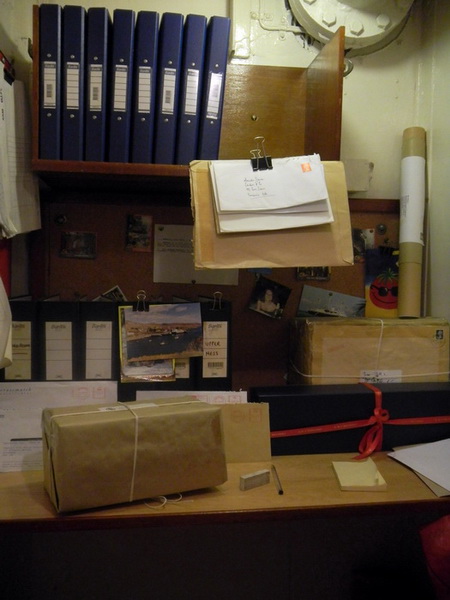 The surgery (the ship was designed to be converted to an emergency hospital, if needed)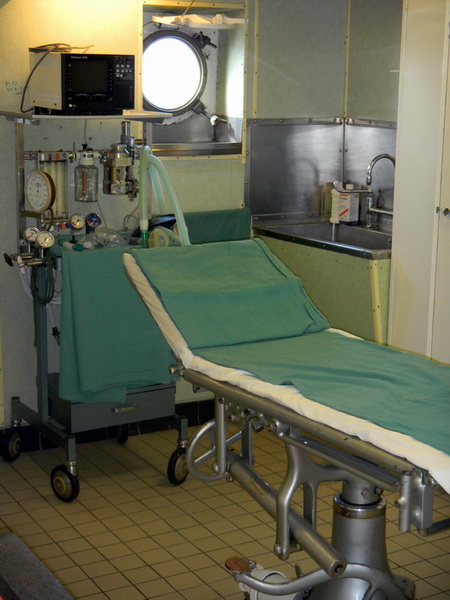 The vast laundry (some crew members had to change their uniforms several times a day, so laundry was a round-the-clock enterprise)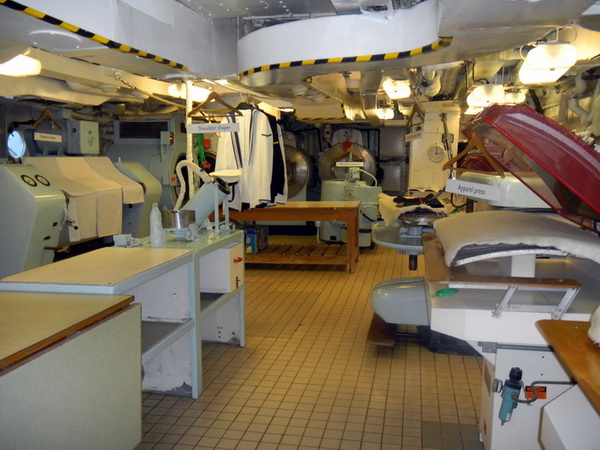 The engine room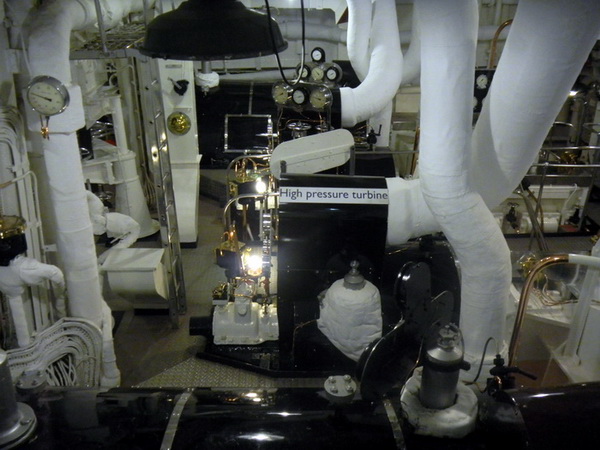 The elegant racing yacht, the "Bloodhound" which is docked next to the Britannia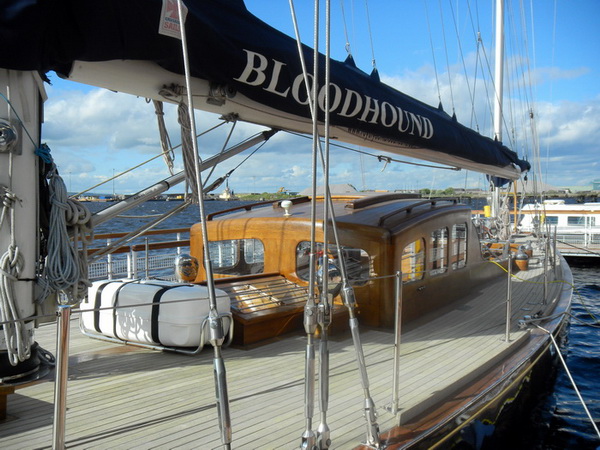 We caught the bus back to the center of Edinburgh, then decided to return to Queensferry via the train instead of the bus. This is the Waverly Station.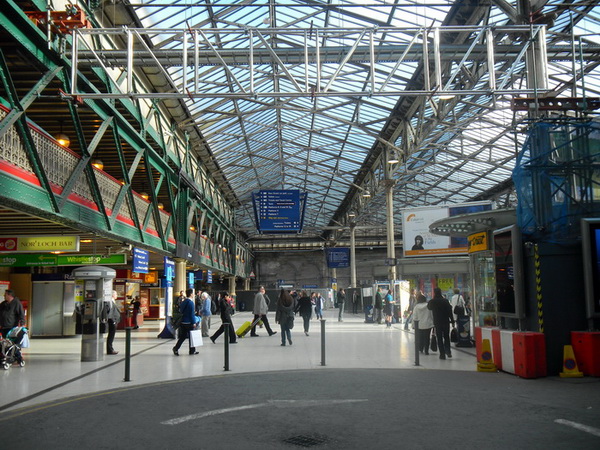 Purchasing train tickets. The train took us to Dalmeny Station in Queensferry, which was a short walk from Priory Lodge.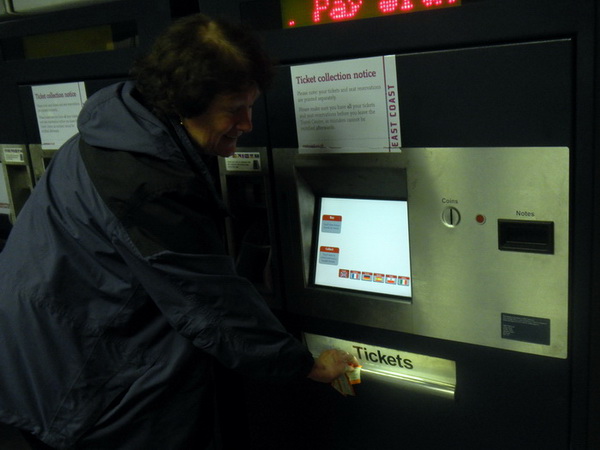 Another day, we took a boat ride out on the Firth of Forth on the "Forth Belle," including rounding both the highway and mighty rail bridges. During the hour and a half long trip, we saw an island prison, the ruins of Inchcolm Abbey, grey seals, and eider duck. The recorded narration was excellent, with a wry sense of humor.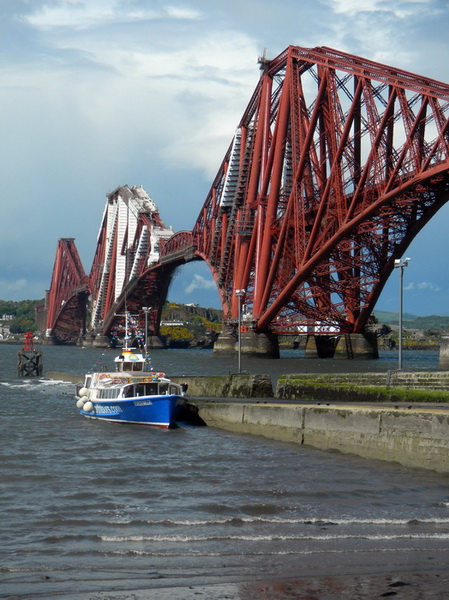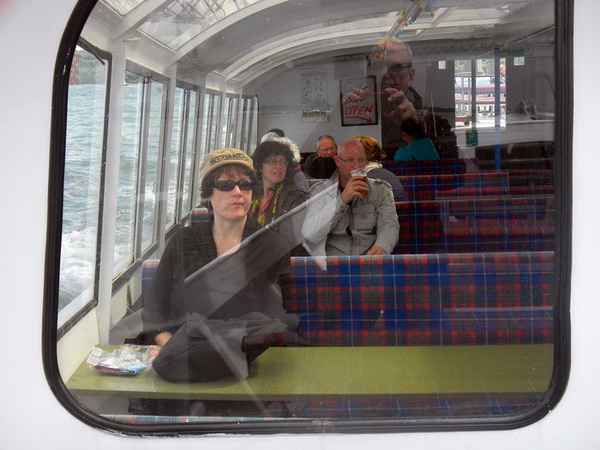 (for you sharp-eyed adventurers please notice that I got both Becky and I in this shot)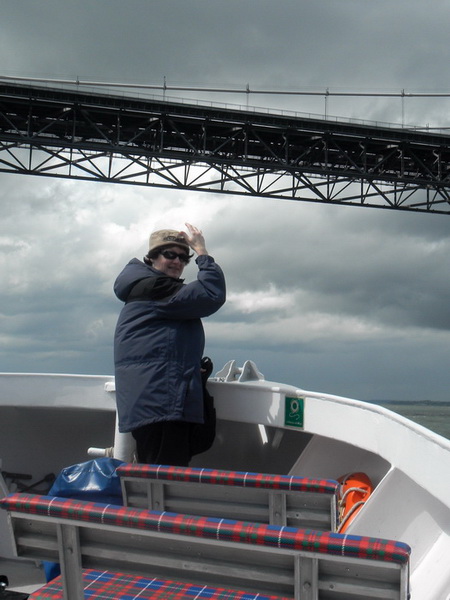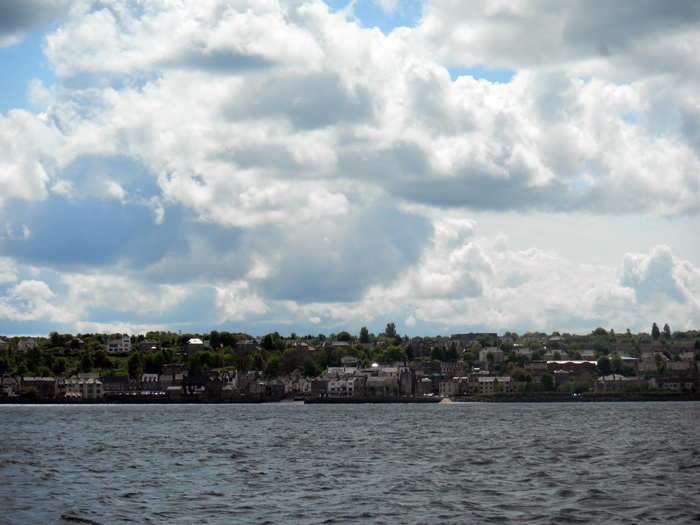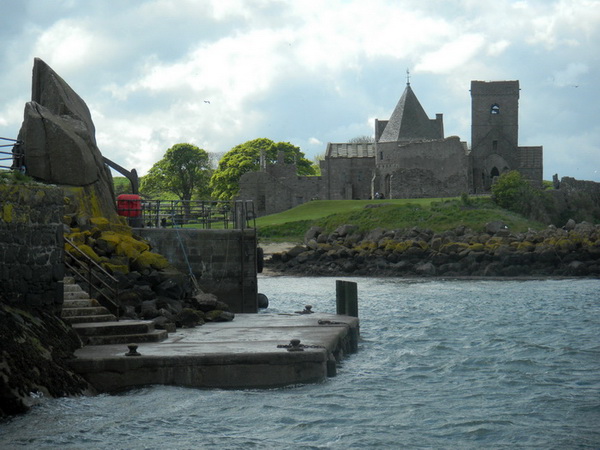 ---
Click HERE to continue on with Gil & Becky's neolithic adventure!
Click HERE to return to Gil and Becky's homepage