---
Our flight from Edinburgh to Dublin took just one hour. The Dublin Airport is new and spacious. We took the Airlink bus from the airport to downtown. We bought round trip tickets (ten euro) from a vending machine outside the terminal, at the Airlink bus stop. It makes 2 stops in Dublin, at O'Connell Street and Busauras Station.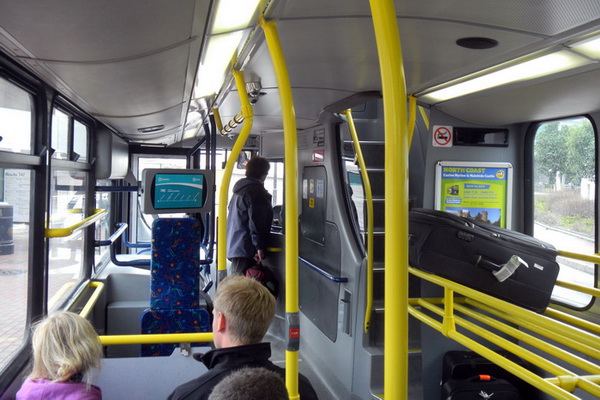 OUR APARTMENT IN DUBLIN
We got off the Airlink at O'Connell Street and walked several blocks to The Lotts Bar, where we had pre-arranged a rendezvous with a young man from Brazil, who represented our landlord, Liam Clancy. We would be staying in our own apartment for a full week. We walked a block to our apartment with the nice young man (Becky thought he was cute) where he showed us how to get in and work things, including 6 different sets of doors/locks.
The apartment was just as advertised on the Holiday Lettings website (with one big exception - no wifi, just cable internet, which we could not use with the iPad). We paid 560 euro for the week, or about $730.
For a video tour of the apartment done by the landlord, click here.
Below, we are taking the photo while standing on the picturesque Ha'Penny Bridge, looking north across the River Liffey to our apartment on Bachelors Walk. See that narrow grey vertical section of the buildings? At the sidewalk level is the first door we go through to get to our apartment complex.
(It's situated in the perfect location!)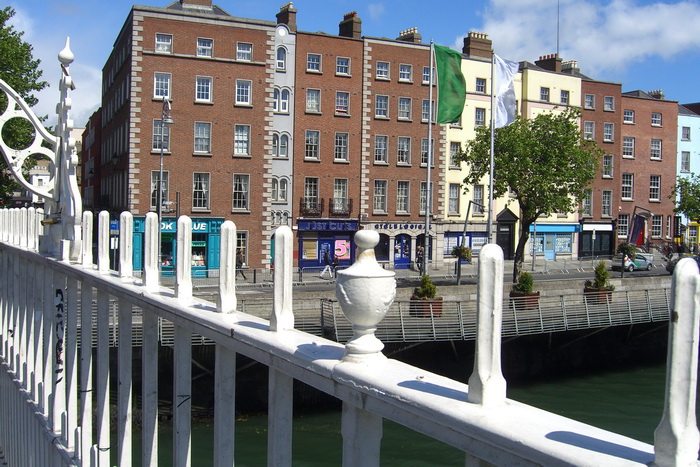 Below is our first door. It leads to a interior corridor and two more doors before opening to...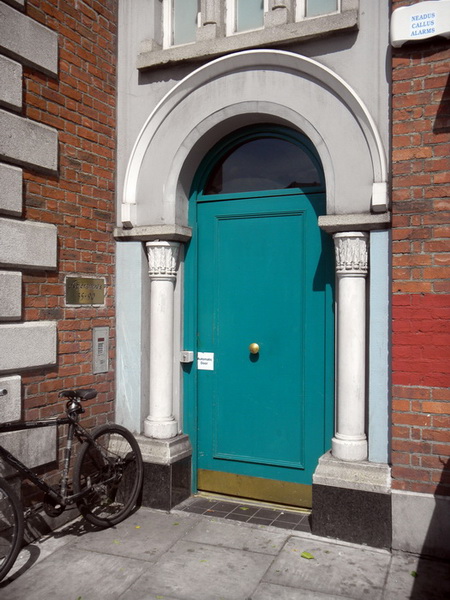 ...the central garden area. We saw very few people here, and the apartment was very quiet, which was amazing considering that we were in the center of (often noisy) Dublin.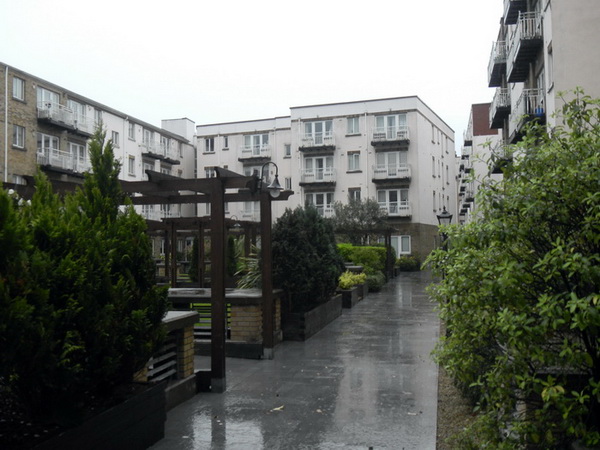 After walking the length of the central garden area, we entered what Gil named "Cell Block F." Once through this door, we went through one more locked door to an interior hallway, and then finally we found ourselves at our own apartment door! We quickly mastered the drill, so all the doors and keys were really no problem, although it did mean we had to do everything together or else leave one person trapped in the apartment.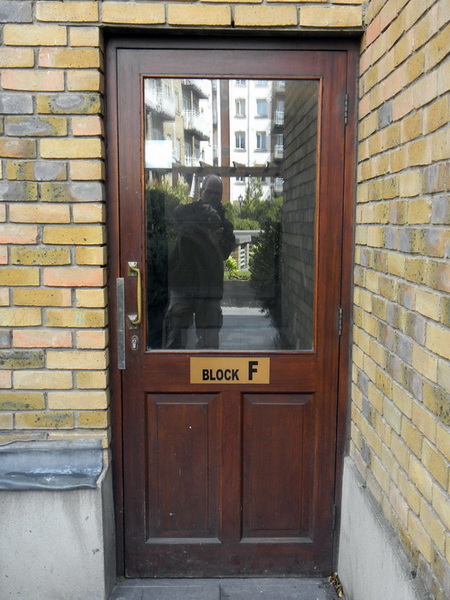 Here is the living room, which was quite comfortable and looks out onto the gardens.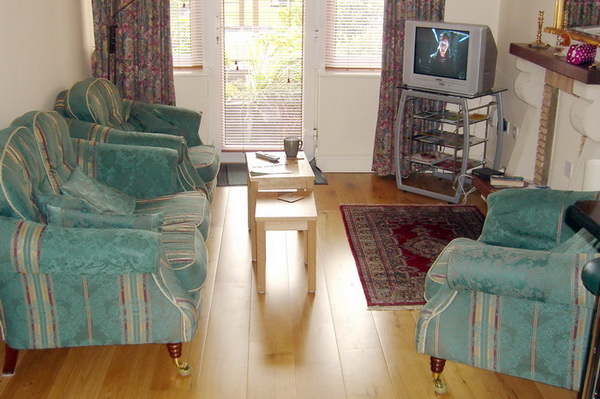 The bedroom was small, but the bed was comfortable and there was room for our luggage and coats at the other end of the room.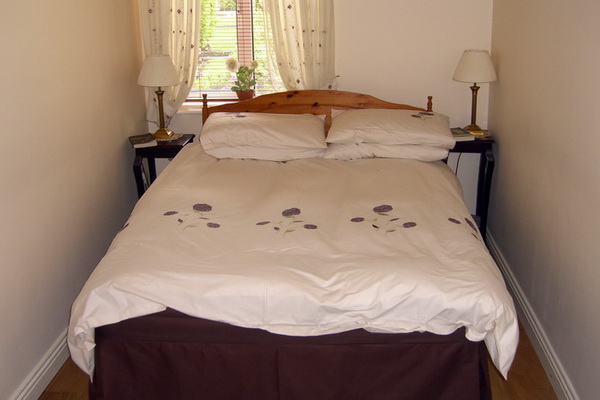 We ventured across the river to the old part of town, which was rather brave of us because it was Saturday evening in Dublin and the parties and drunken revelry were already starting over in the Temple Bar area. Our destination was the Tesco supermarket, since we planned to use our apartment kitchen a lot (yeah baby, these old timers know how to have a good time on a Saturday night!). What fun! But we could not have negotiated the automated checkout without the very kind help of one of the employees. Our credit cards, being the old fashioned type (most of Europe now uses chip-and-pin cards, unlike in the USA), were not usable here, but our cash euros worked fine.
(Our old-fashioned, magnetic strip cards were only rejected a few times on our trip but the writing is on the wall. Soon one will need need the computerized "chip-and-pin" credit and debit cards to do business. Some U.S. companies are already offering pre-loaded chip-and-pin cards for sale to use in the outside world)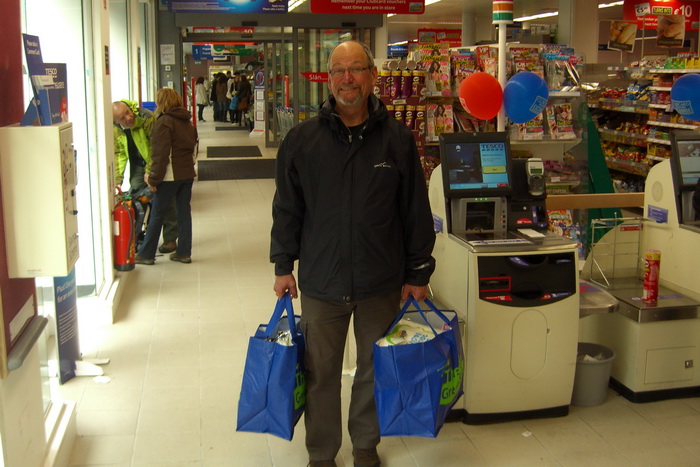 Back at our apartment, Gil tries out the patio door. It was very tricky to relock, so we didn't really use this door.
(there's a half hour of my life I'll never get back)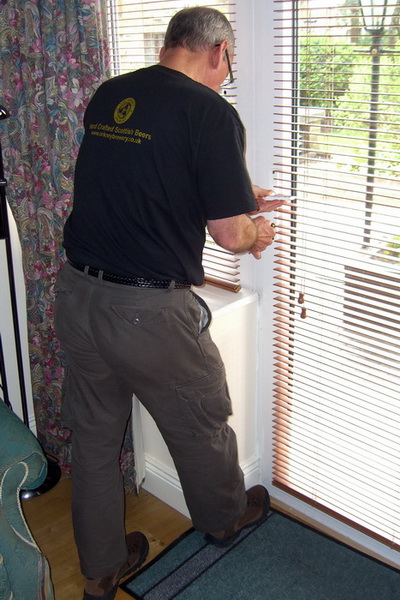 Ooh, look at me, cooking breakfast in Dublin! (I'm going to resist mentioning the hat...)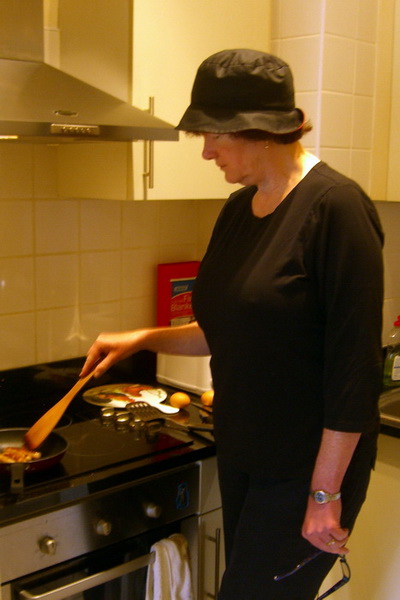 I baked several pounds of potatoes, then fried them up each morning. The Irish sausages were very inexpensive and very good. Actually, everything was really tasty!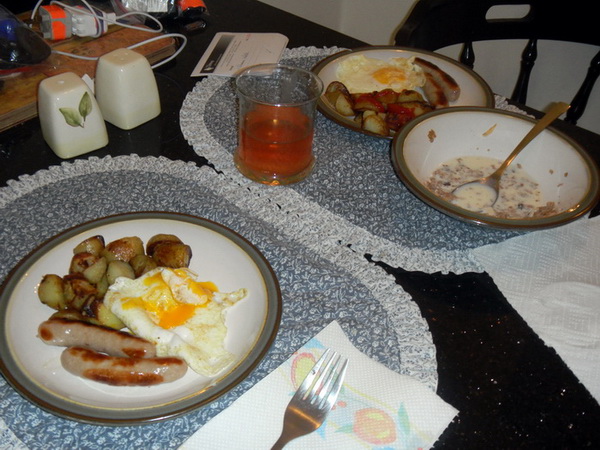 Ooh, look at Gil, cooking! (no hat) Note the washer/dryer combination. Very handy when you're on the road!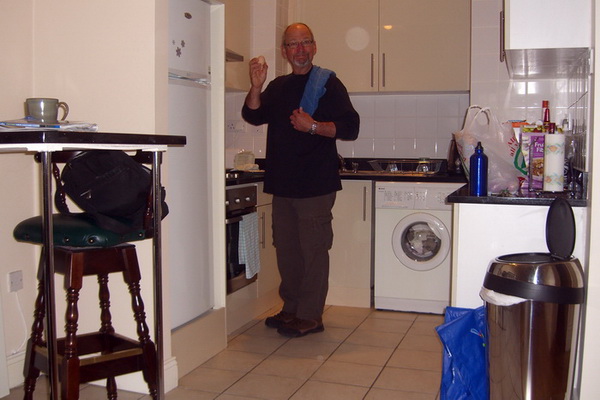 Whoops, you caught me, eating "French" donuts for breakfast! (changed hats)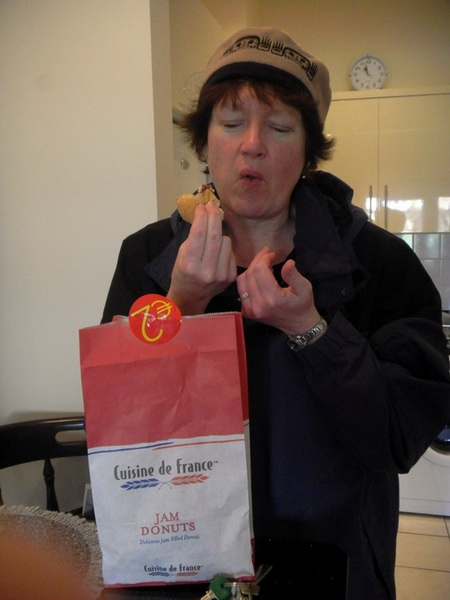 Soon after we arrived in Dublin, we both fell ill. (No reflection on Dublin; it just seems inevitable that during a long vacation, one eventually gets sick.) We figured if we had to be sick, at least we were in our own place, with no one bothering us. However, we were both so tired that it really cut into our tourist time for a couple of days. At least we got to catch up on laundry and amuse ourselves watching Irish TV. Highlights included watching numerous cooking shows (Jamie Oliver's Thirty Minute Meals shows were great) and the BAFTA awards for television, as well as all-day live coverage of President Obama's visit (see special section below). We also developed a morning "cocktail" of fizzy vitamin C tablets and echinacea tablets, which was tasty and may have even helped us heal. (and I'm sticking with that story that it's actually "medicine" in my glass)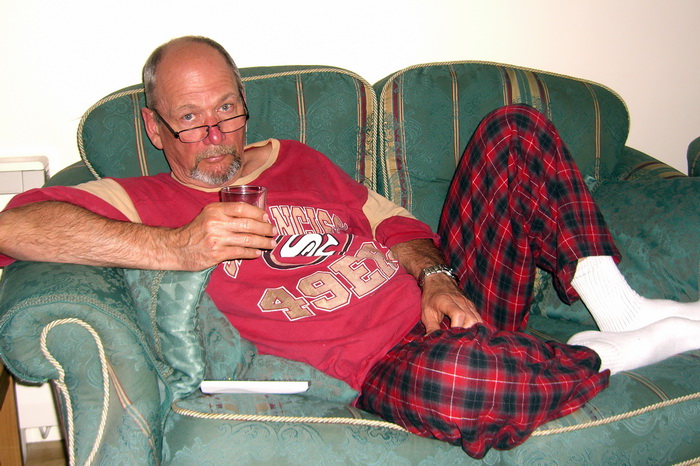 OUT AND ABOUT IN OUR NEIGHBORHOOD
Below, I am standing just outside our "front" door, on Bachelors Walk, along the River Liffey to the south. That's the famous Ha'Penny Bridge in the background, which leads to Temple Bar and downtown Dublin. The bridge was built in 1816, and is for pedestrians only.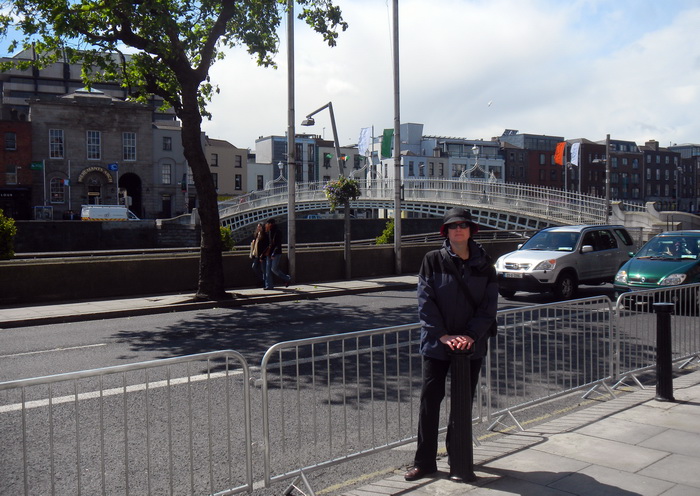 Around the corner and a couple of blocks from our apartment was the Epicurean Food Hall, which was nothing fancy, but kind of fun; a mall-style food court serving inexpensive food from around the world. I had a fantastic Greek-style salad, and Gil had a plateful of some kind of Mediterranean stew.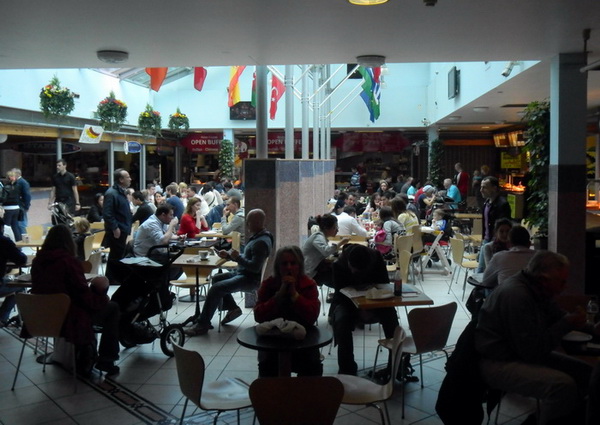 One of the restaurants at the Food Hall was Leo Burdock Fish and Chips establishment, which served adequate meals. Our first night in Dublin, we had take-away fish and chips from here.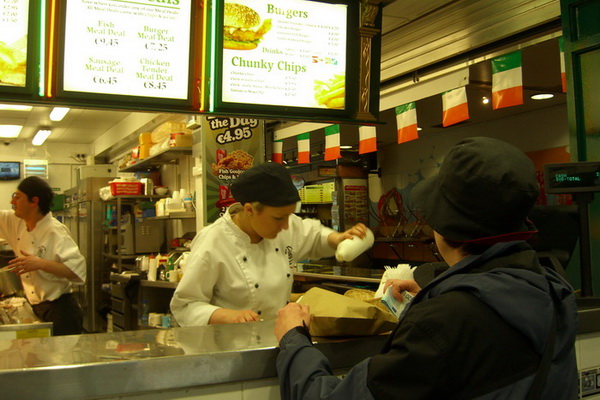 O'CONNELL STREET
O'Connell Street is Dublin's grand thoroughfare running north to south. Built in the 1740's, the street is so wide there is even a sidewalk running down the tree-lined median, which features statues celebrating great figures in Ireland's fight for independence. Here, we are looking north, towards the pillars of the General Post Office, site of Patrick Pearse's reading of the Proclamation of Irish Independance and the subsequent 1916 "Easter Rising."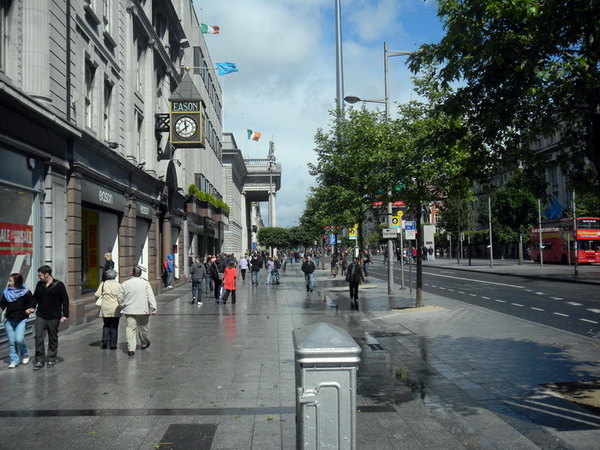 Below is the monument honoring Charles Stewart Parnell, the member of the British Parliament who nearly won Home Rule for Ireland in the late 1800's.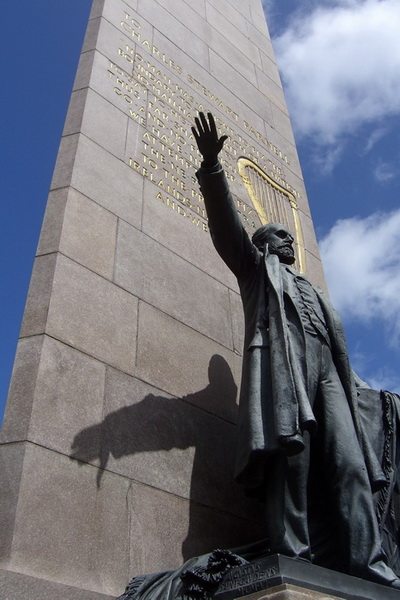 Part of the General Post Office (G.P.O.) is below, along with the 390-foot-tall stainless steel Millennium Spire, completed in 2003. According to travel authority Rick Steves, the spire is "a memorial to nothing and has no real meaning. Dubious Dubliners call it the tallest waste of 5 million euro in all of Europe." Its nicknames include the Stiletto in the Ghetto, the Stiffy on the Liffey, the Pole in the Hole, the Poker near the Croker (after the nearby Croke (athletic) Park, or the Spike in the Dike. The site of the spire was originally occupied by a tall column crowned by a statue of Admiral Horatio Nelson; that monument was blown up in 1966 by the Irish Republican Army to celebrate the Easter Uprising's 50th anniversary.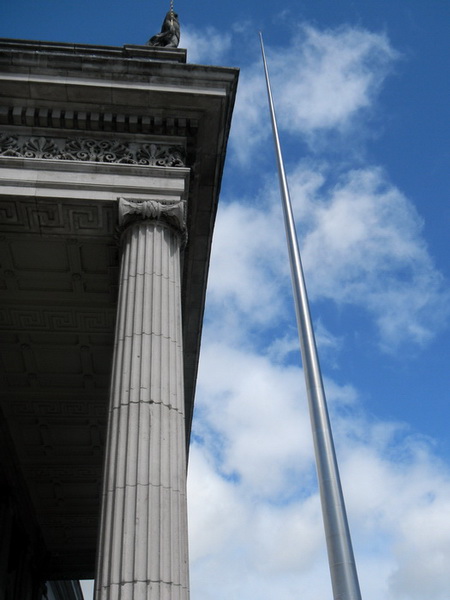 "The G.P.O. building itself--a kind of Irish Alamo--was the 1916 rebel headquarters and scene of a five-day bloody siege that followed the proclamation. Its pillars remain pockmarked with bullet holes." (Rick Steves) It has been extensively restored, and remains an active post office with a beautiful interior.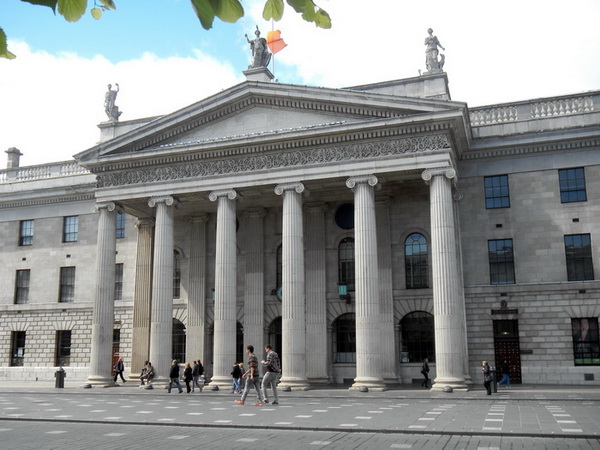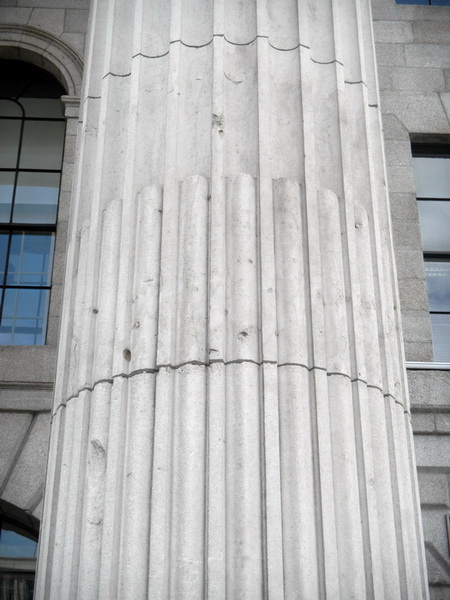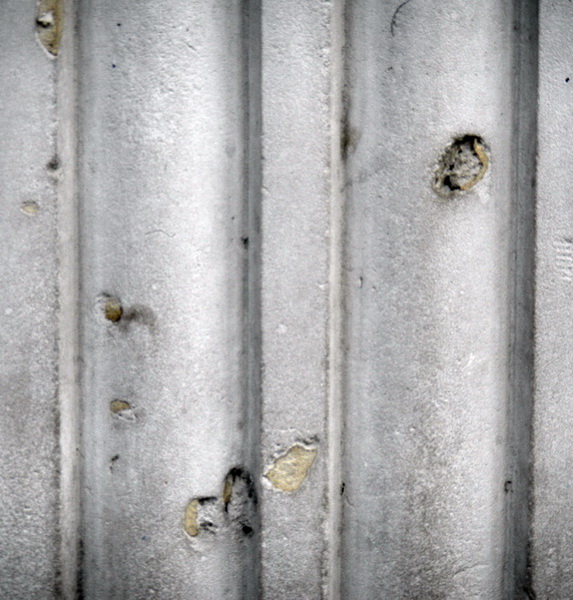 Here I am, hiding behind a statue of Irish author James Joyce, just off of O'Connell Street.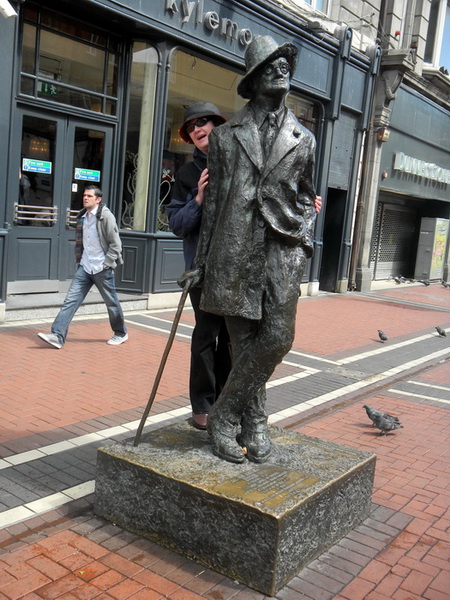 Looking along pedestrianized Henry Street, towards the Spire on O'Connell Street.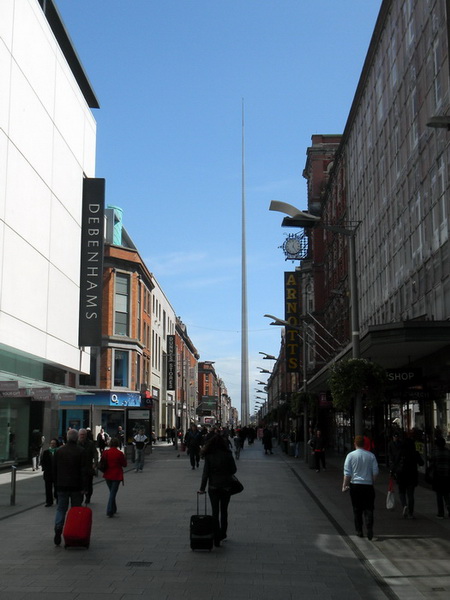 These wonderful gentlemen are my heroes! After hours of frustration trying to get the iPad to access the internet at various coffee shops offering "free wi-fi," I took the crippled device to the electronics section of Arnotts department store on Henry Street, where these two took pity on me. They took the iPad to a back room, and worked on it for some time, ultimately bringing it back fully functioning again (something about the unit confused with cellular network stuff). Now that's service, especially since I hadn't even bought anything there. (In my defense, while waiting, I did attempt to "close a sale" after I discovered a customer contemplating buying a flat screen TV.) I then lounged around in the friendly store ("That's OK, just take your time," they said.) using Arnotts' wifi account, and checked/sent email, updated Facebook, etc. Hooray!!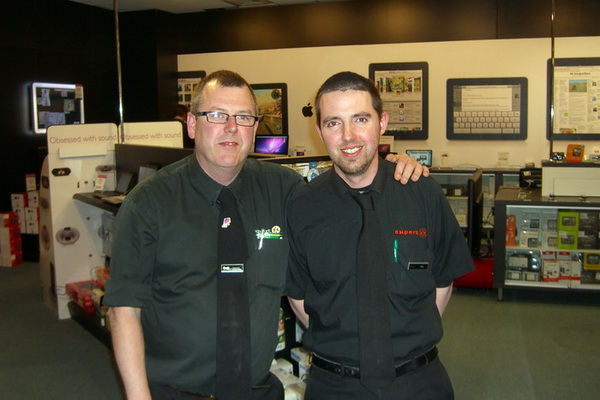 One day, we went to a Polish buffet on Talbot Street for lunch. Very colorful and tasty, although we weren't always sure what we were eating! There are many eastern Europeans living in Dublin.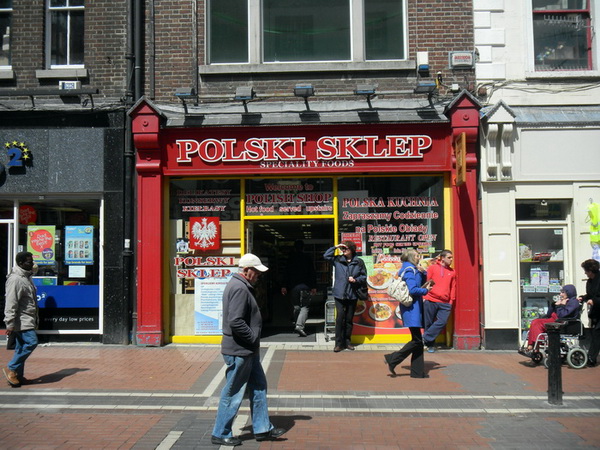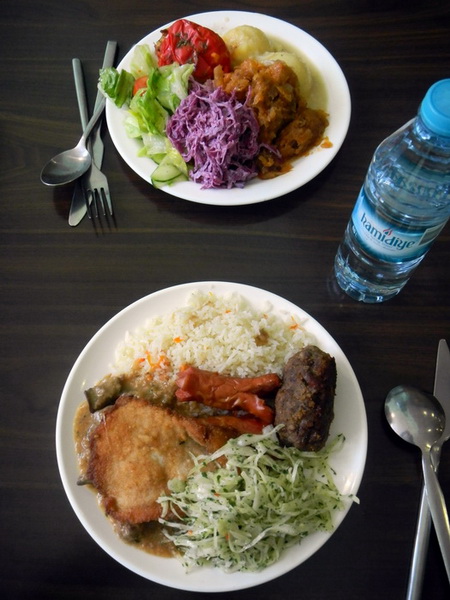 We finally had Guinness (and yes, Guinness is discernibly better in Ireland), along with excellent sausage and mash and chips, at Brannigan's Bar, not far from our apartment, just off O'Connell Street. It's a friendly place, decorated with a lot of Americana by people who obviously loved John Wayne. A patron asked about a rifle that was displayed on the wall, and next thing we knew, the barman took the rifle down and handed it to the customer. (totally freaking me out...we just don't do that in the U.S.) We chatted with a couple of Americans from Hawaii, whose son went to President Obama's high school. We also talked with two nice Irish gentlemen about Obama, the Troubles, etc. (This was the day after Obama's visit to Dublin (see section below), so he was quite the popular topic!)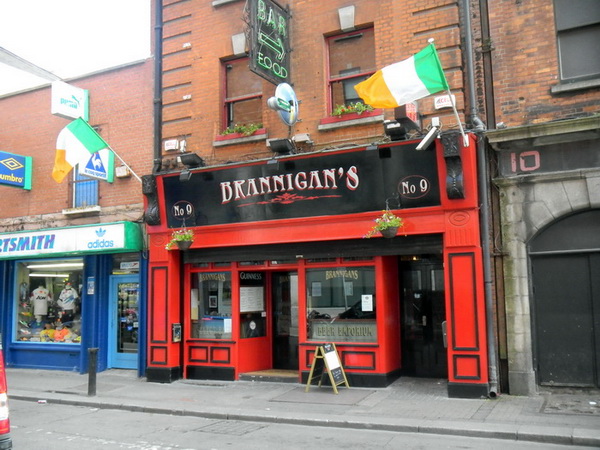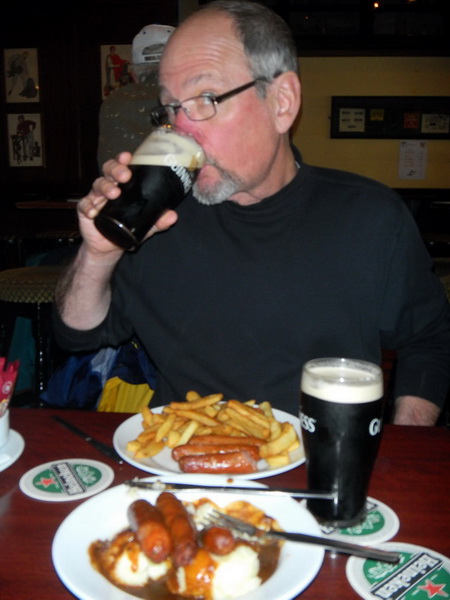 May 25, we kept seeing groups of kilted Scots walking around town. Finally, Gil just had to ask someone what was going on. It turns out these avid sports fans had come over to see the Carling Nations Cup; Wales vs Scotland. (Scotland won the match that night 3-1, and Ireland ultimately won the cup.)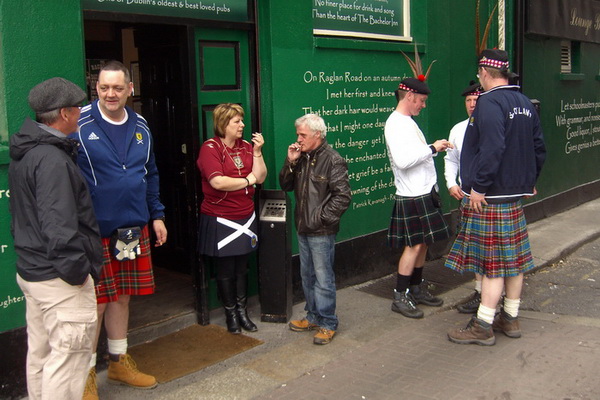 OBAMA IS COMING, OBAMA IS COMING!
Our visit to Dublin happened to coincide with the visit of President Obama and First Lady Michelle on May 23. Dublin opened up its arms and hearts to them, and after all the cynicism that has enveloped the USA, it was quite refreshing to see (and hear) genuine affection for a world leader. We could hear teenagers in the street talking about him. Newspaper and TV coverage was non-stop.
Many shops and pubs decorated (and advertised) themselves in honor of the occasion. We saw lots of American flags and bunting.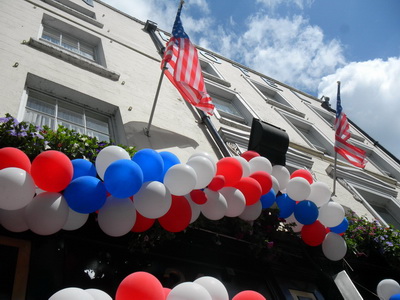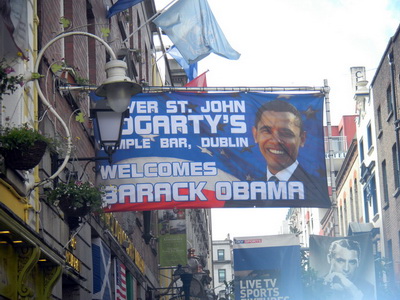 Paddy Power is a chain of bookmakers; they had changed the signage on one side of this particular location to "O'Bama Power."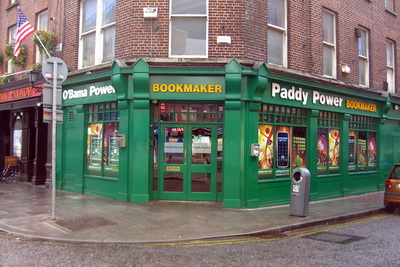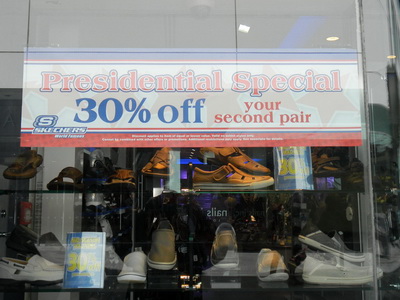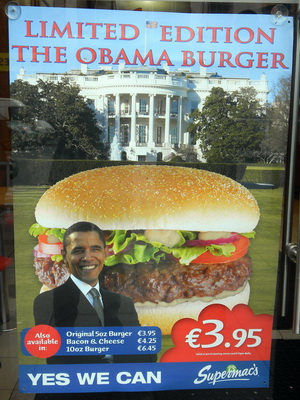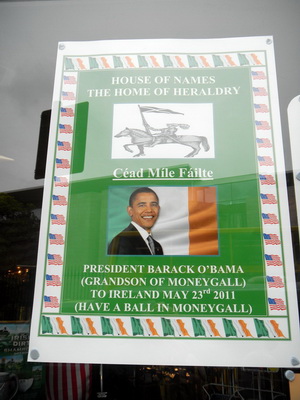 When we walked out our apartment complex door onto Bachelors Walk, after watching hours of live presidential visit coverage, we were startled to find ourselves in the midst of a crowd of people, with streets barricaded and the Irish Garda (police) everywhere. "What's going on?" The answer "Obama is coming!" So we waited about 15 minutes...
(it's kind of weird that we had to travel to Ireland to see our President)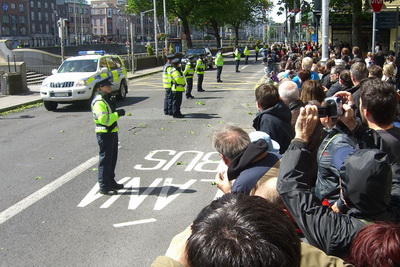 Helicopters flew overhead...Gil and I made photojournalist plans: I would be responsible for still shots, and Gil would catch the motorcade on video...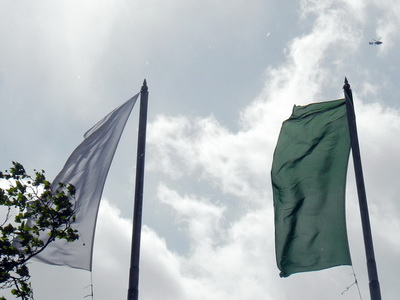 And suddenly, there was the entourage! Motorcycles, trucks, cars, and two identical limousines flying the Irish and American flags sped by....which one should I snap with my camera? Luck was with me...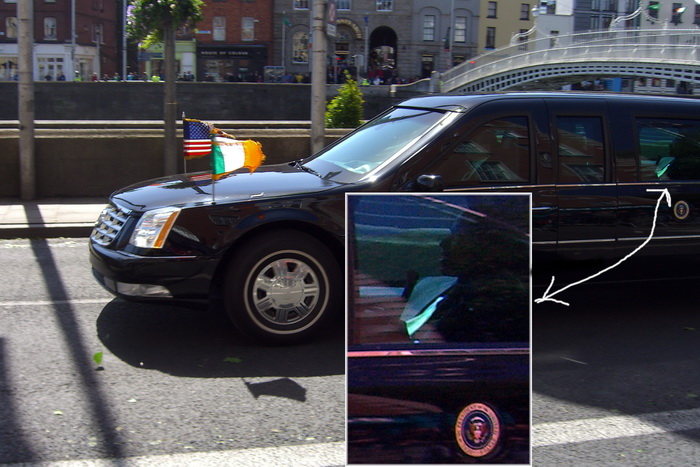 (the clip below gives a sense of the sheer number of people and vehicles needed when a head of state travels)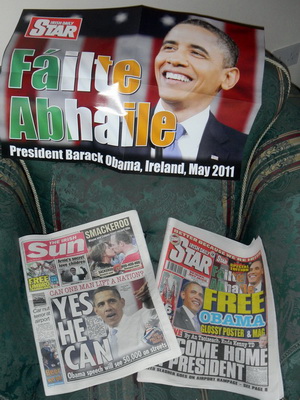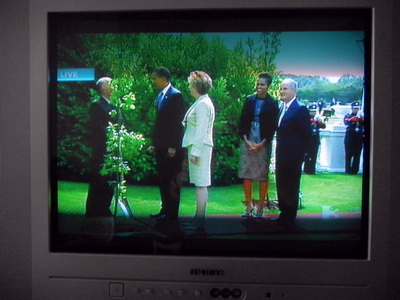 Gil's O'Bama headgear was a special newspaper insert. Fold your own hat!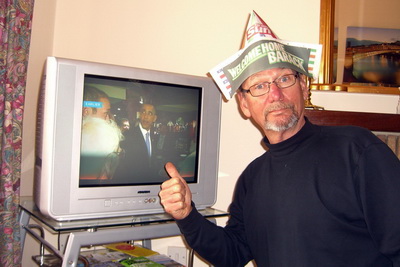 The Obama's obviously loved their quick (one day) visit to Ireland, which included planting a tree with the President of Ireland, then a visit to his ancestral town of Moneygall, where he and Michelle enjoyed downing full pints of Guinness in the local pub with the locals. Finally, back in Dublin, he gave a stirring speech on the steps of the building below. If we stepped outside our apartment, we could hear bits of the speech, if the wind was just right. We opted to stay in the apartment, and not fight for space with the thousands of people who poured into the area, just across the river from us. TV coverage was great, and included various musical performances. Our favorites were Dublin born Imelda May and (surprisingly) the twinsies, Jedward. We (er, one of us) have (has) to admit, those two guys were just adorable (strange)!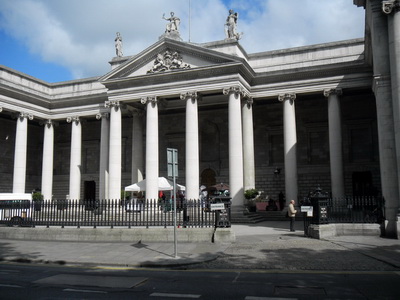 ---
Click HERE to continue on with Gil & Becky's neolithic adventure!
Click HERE to return to Gil and Becky's homepage