---
THE GARDENS OF REMEMBRANCE
These gardens were dedicated in 1966 to honor the victims of the 1916 Uprising. The bottom of the cross-shaped pool is a mosaic of Celtic weapons, symbolic of how the early Irish would proclaim peace by throwing their weapons into a lake or river. Queen Elizabeth visited the park just the week before our arrival.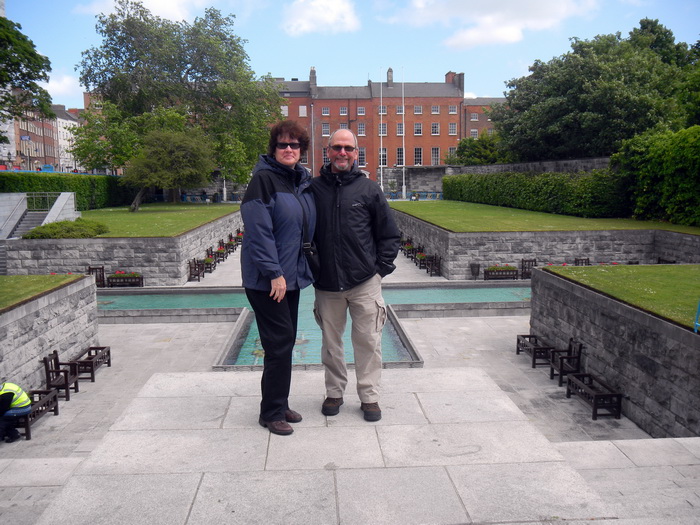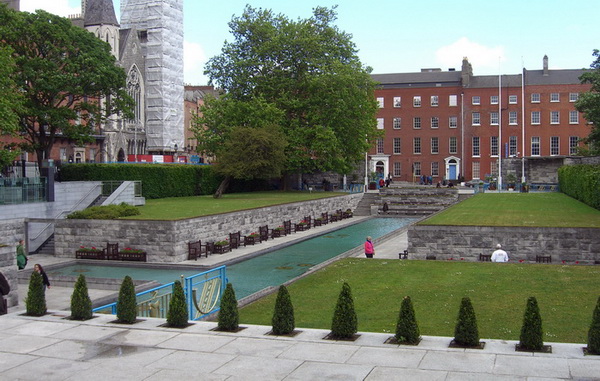 I found later that this photo makes a great "wallpaper" for my iPad!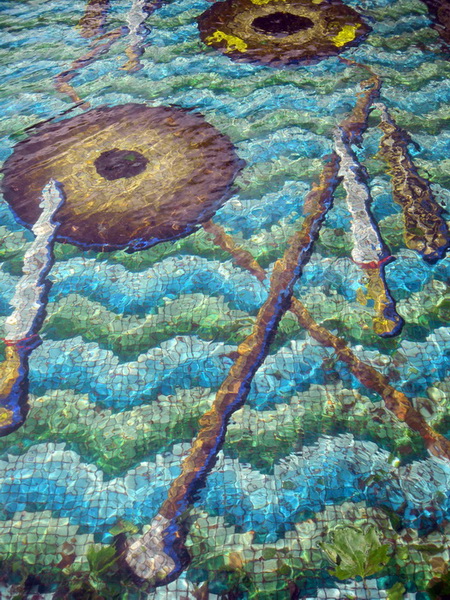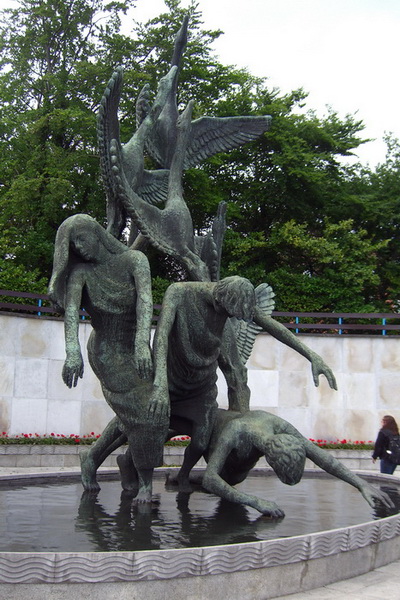 (We seem to run across a lot of these types of sculpture. I must confess I'm confused by them...what does it mean???)
TOUR BUS TIME!
We took the City Sightseeing Tour, which offers a typical hop-on and hop-off route.
Becky and I've found that while tour busses can be over-the-top tourist-y they are often a wonderful tool to get a sense of a city. Our first orders of business when finding ourselves in a new city is to 1) learn the mass transit and 2) take a bus tour)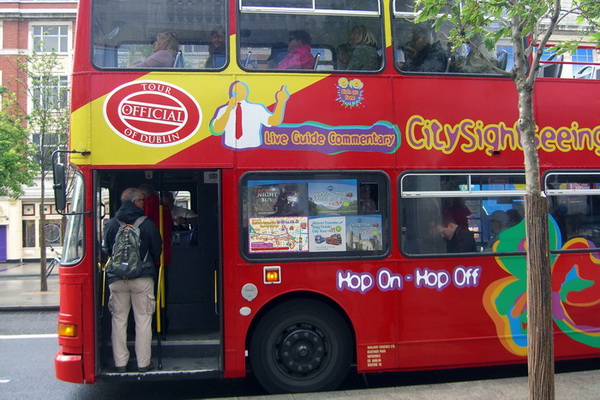 Government Buildings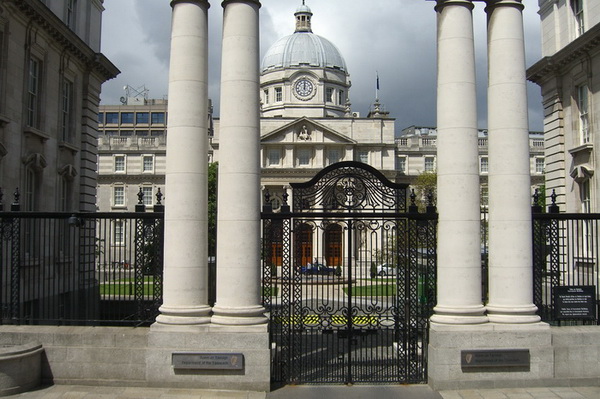 Christ Church Cathedral, which now includes the "Dublinia" exhibit, highlighting Dublin's Viking and medieval past. Unfortunately, we did not have time to visit the Cathedral in person.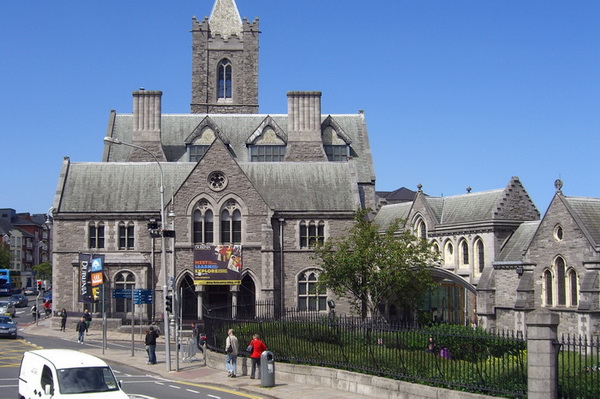 Not far away is St. Patrick's Cathedral. Again, no time to visit this cathedral or its lovely grounds.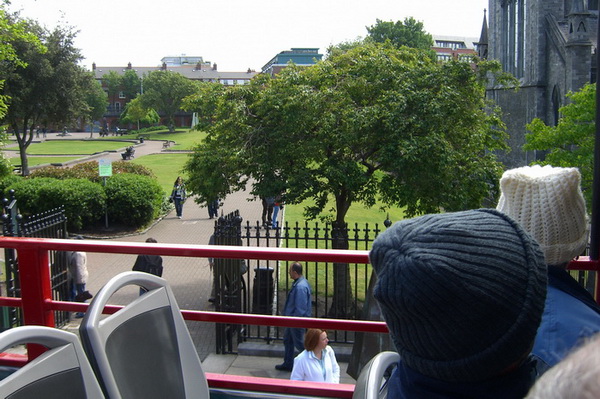 While we do enjoy drinking Guinness, we did not make time to go to the Guinness Storehouse, which has become a huge tourist attraction and doesn't even include a tour of the "real" brewery.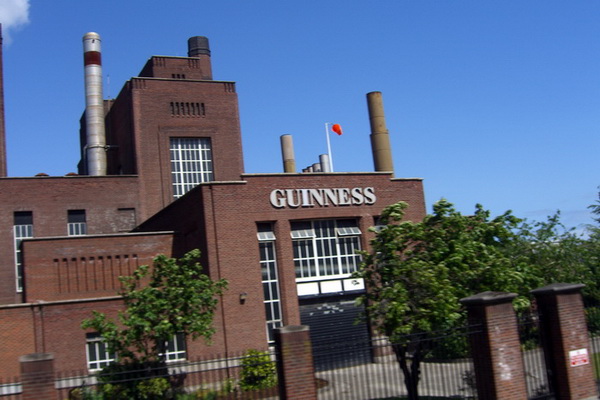 On the other hand, the Kilmainham Gaol was a must-see stop for us. The City Sightseeing bus stops right in front of the site.
KILMAINHAM GAOL
From Rick Steves' Guide to Ireland:
"Opened in 1796 as both the Dublin County Jail and a debtors prison, it was considered a model in its day. In reality, this jail was frequently used by the British as a political prison. Many of those who fought for Irish independence were held or executed here, including leaders of the rebellions of 1798, 1803, 1848, 1867 and 1916. National heroes Robert Emmett and Charles Stewart Parnell each did time here. The last prisoner to be held here was Eamon de Valera, who later became president of Ireland. He was released in 1924, the day Kilmainham was finally shut down. The buildings, virtually in ruins, were restored in the 1960's. Today, it's a shrine to the Nathan Hales of Ireland."
To make a visit to Dublin without endeavoring to know at least a little of its history would be a waste. History is reflected everywhere, and the Kilmainham Gaol encapsulates facets of the struggle for independence very well. It's an atmospheric place full of sadness (like final letters written by some of the patriots before facing the firing squad) and ghosts, and the displays and tours are very well done.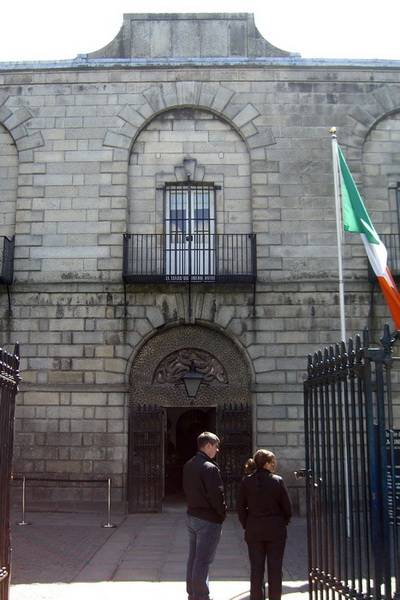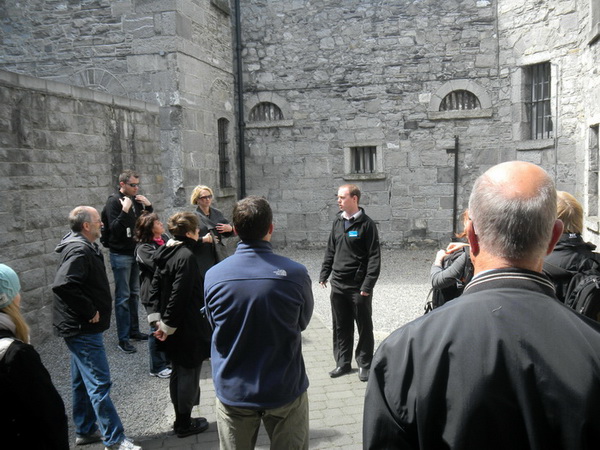 Such a grim place.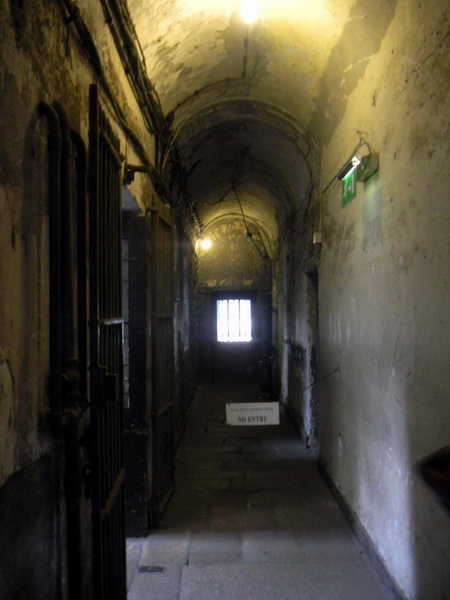 Victorian jails have a sort of "steam punk" feel about them.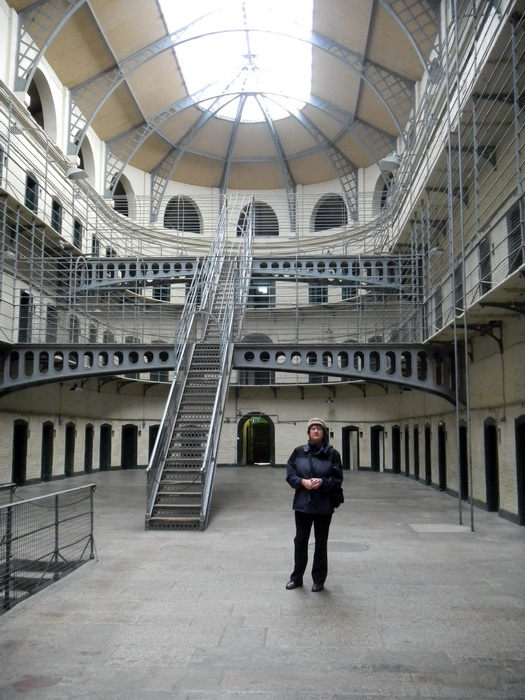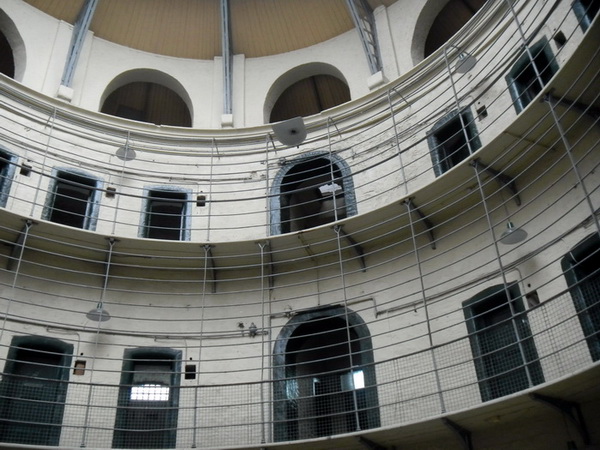 These stairs were designed so that only one person could use them at a time, very slowly.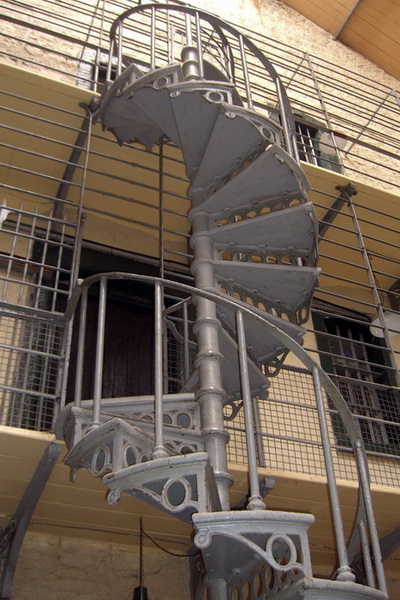 A few of the cells had discreet signs indicating particularly famous prisoners had been held inside, but for the most part, signage was minimal, which seemed appropriate. We were free to wander in this area.
(It appears that the cell doors no longer lock...don't ask me how I know)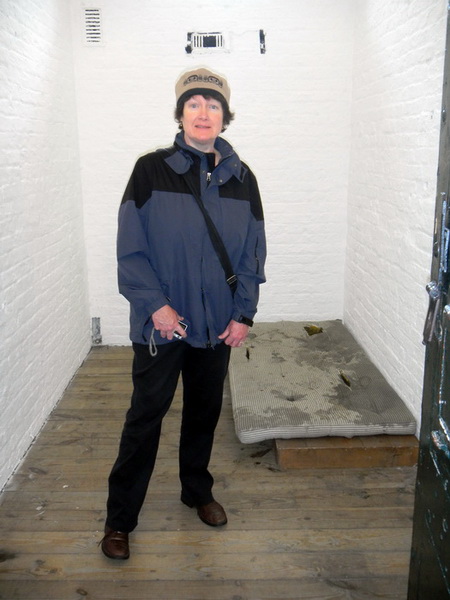 Michael Collins, who was one of the few independence leaders NOT imprisoned at Kilmainham. Many of his artifacts are kept in the museum, however.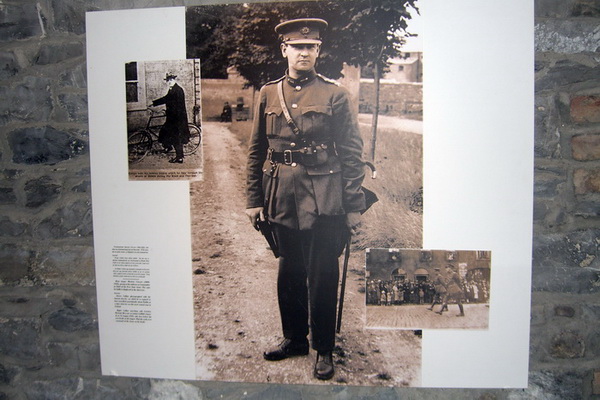 This wall was the site of many executions by firing squad.
(Very grim, very sad)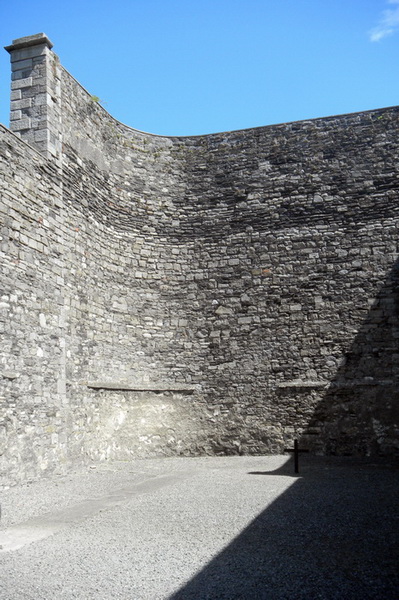 TRINITY COLLEGE - BOOK OF KELLS
Trinity College, where the famous Book of Kells is housed, was within easy walking distance of our apartment, beginning with walking over the Ha'Penny Bridge to Temple Bar, then through this arch.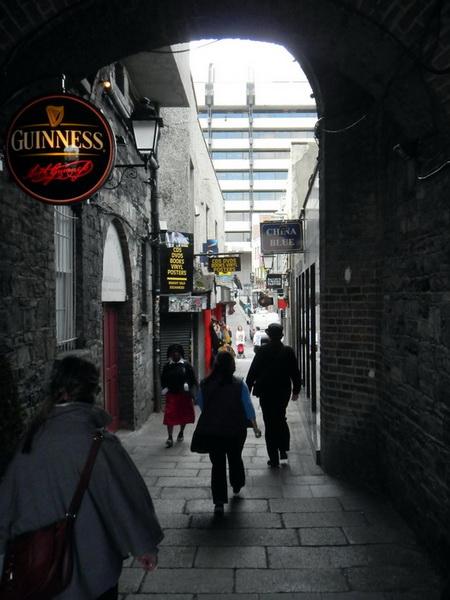 It's easy to sign up for a student-guided tour of Trinity College.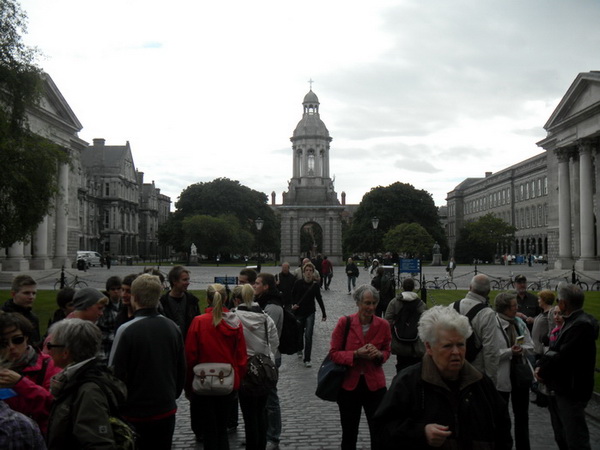 Yes, our tour guide was adorable. Also well informed and witty.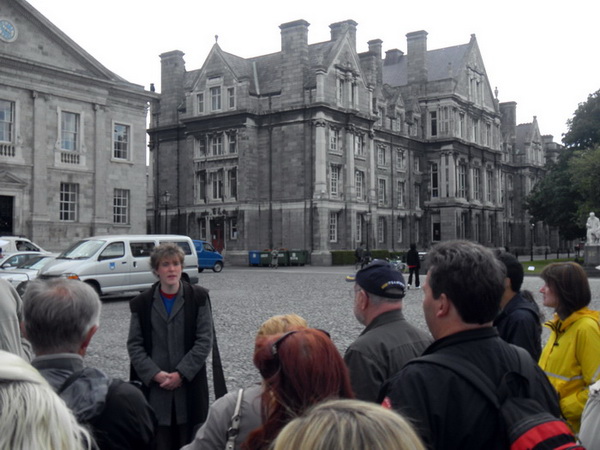 I got in just a little bit of trouble for this. But darn it, this sculpture was supposed to revolve, and so SOMEONE had to give it a push!
You see that little blue sign in the corner? It reads quite clearly, "Do Not Climb." As Becky was busy spitting in the eye of authority I was slowly backing away and disappearing into the crowd. [Oh yeah? Kind of like what I did that time the English/French border customs people relieved you of your knife while you tried to tell them "It's not dangerous. Everyone in the U.S. carries them."] (That was totally different! Those French gendarmes were not paying the attention to my well reasoned arguments on why I should be allowed to keep my knife that they deserved. The "we can do it the easy way or we can do it the hard way" talk was not at all necessary!)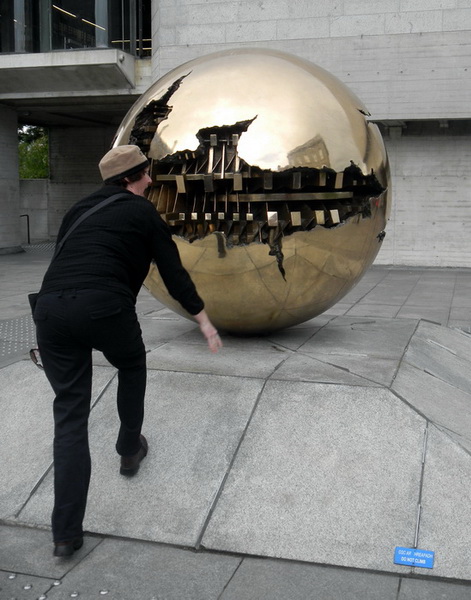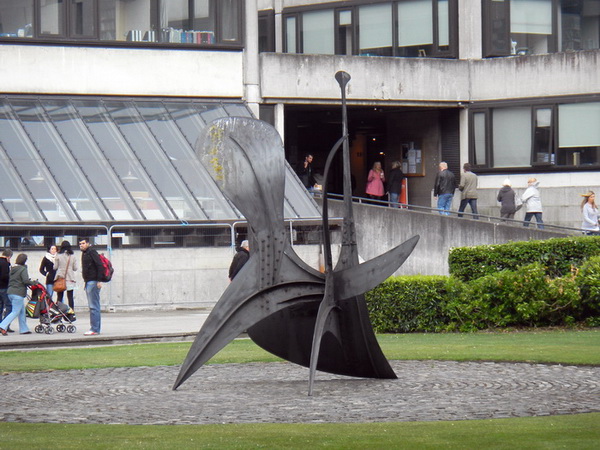 In my opinion, they need to completely redesign the Book of Kells exhibit. It's quite confusing within the exhibit (do I turn left here, or right?), and apparently they expected 20 people at a time to show up, instead of hundreds every hour. Still, what we were seeing (after finally nudging people out of the way...almost) was amazing ("the finest piece of art from what is generally called the Dark Ages"), and they had a good (though crowded) gift shop. Going upstairs afterward into the 200-foot-long beautiful main chamber of the Old Library (1732) was a treat, with lots of old documents and artifacts on display.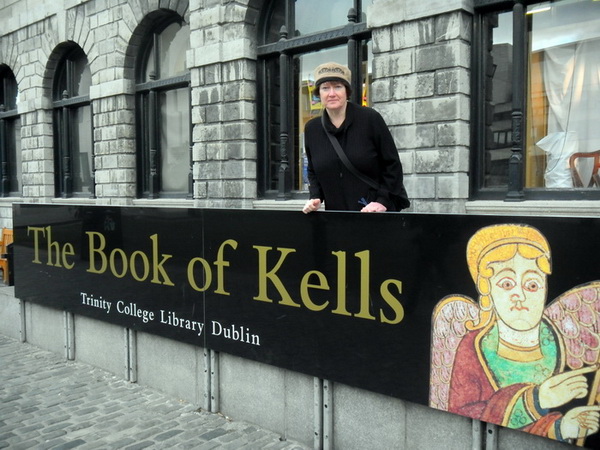 GRAFTON STREET
Grafton Street runs south from Trinity College campus to St Stephen's Green park. It is a pedestrianized street, with plenty of shopping opportunities if you're so inclined, and eateries. We liked it mostly for the people watching.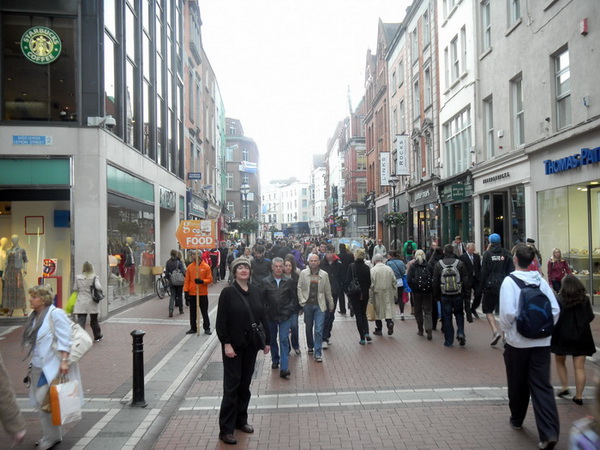 We discovered a Starbucks on the upper floor of an upscale department store (BT2), across of Bewley's. (We felt a little old and lumpy walking through the Versace and Prada aimed at gorgeous 20-somethings, but we persevered.) I signed up for a Starbucks account and this time the internet connection actually worked. Plus, we got a window view onto Grafton Street and the merry throngs walking below us. (Why do I wear my hat so much, you may be wondering? Because my hair was not at its best.)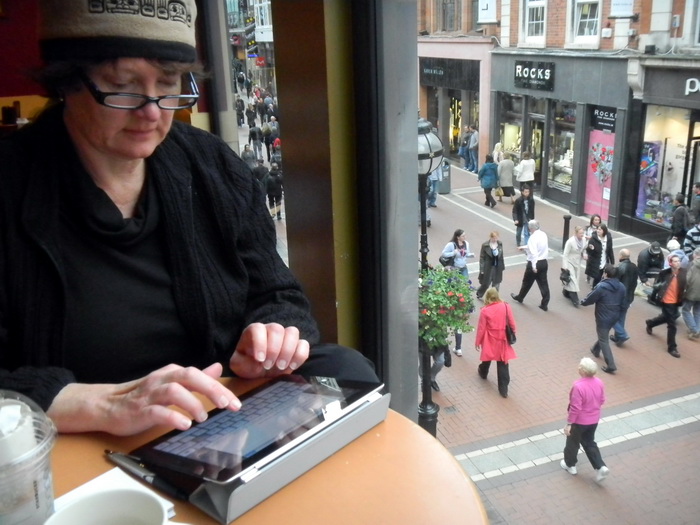 One of our favorite "discoveries" along Grafton Street, among many buskers, was Los Putas, pictured below. We bought their CD.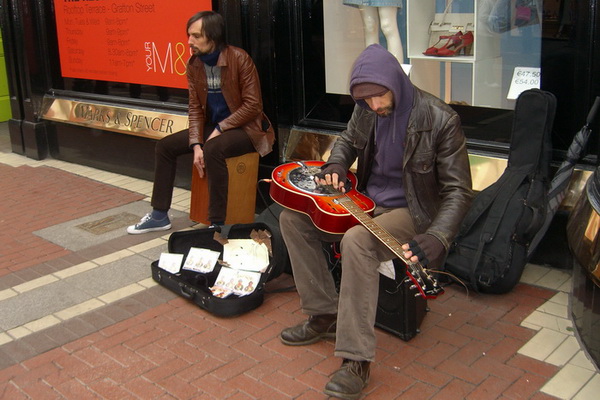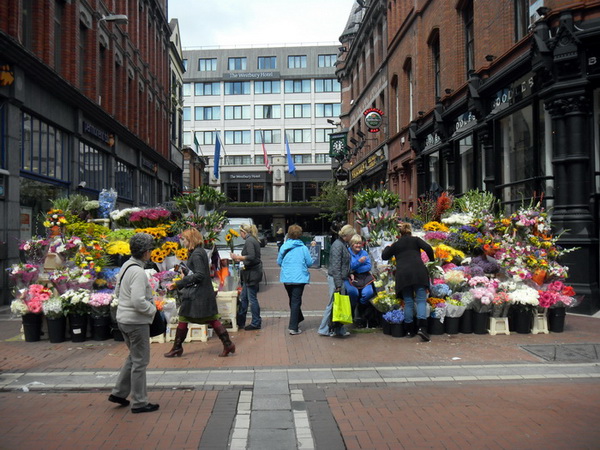 Phil Lynott, lead singer and bass guitar player of the much-beloved Irish band Thin Lizzy, died in 1986. This statue and a Thin Lizzy cover band feature in the 2006 film Once, which was largely filmed in the Grafton Street area.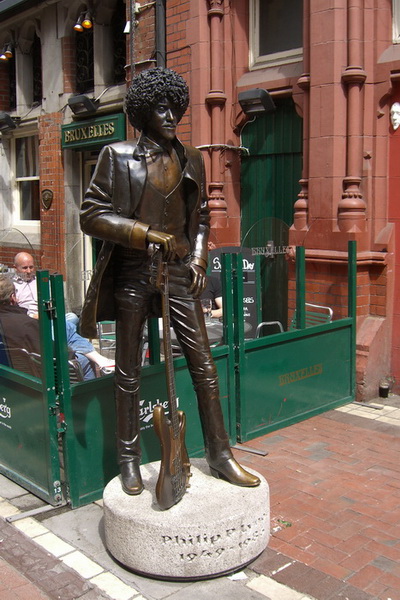 Tower Records began decades ago in Sacramento, California, and Gil and I remember it fondly. It went world-wide before going bankrupt. What was it doing here, complete with the original font and colors? Turns out that this store, just off of Grafton Street, is one of a couple of independent Tower Records stores.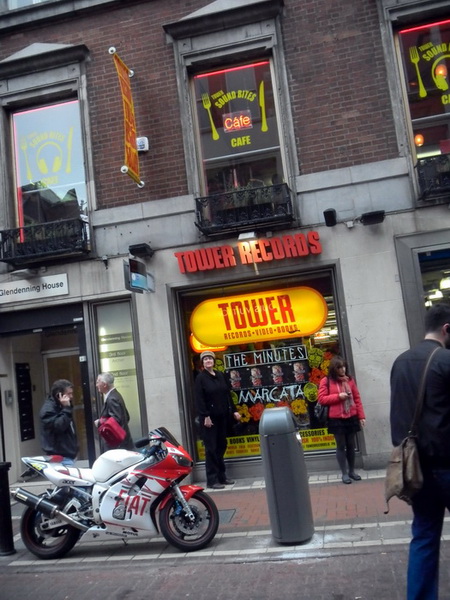 The cafe upstairs in Tower Records was excellent. Small, but all the food was excellent quality, using locally sourced foods and home baked treats. Plus there were many strange, arty sorts of magazines to read.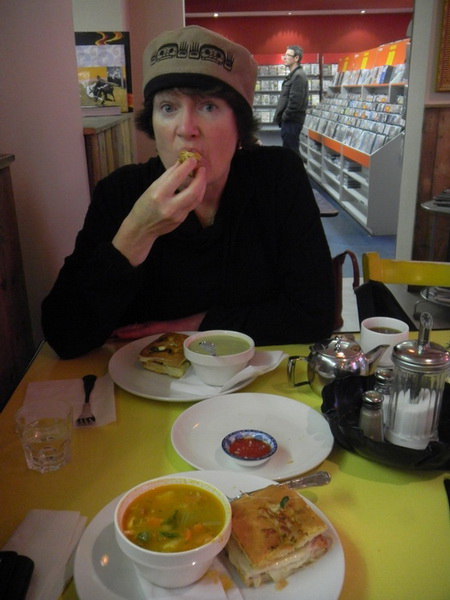 Arcata, California is just a few miles north of our house, so I just had to play around with the sign.
By way of explanation, "Marcata" is the name of an album by the alternative rock band, "The Minutes."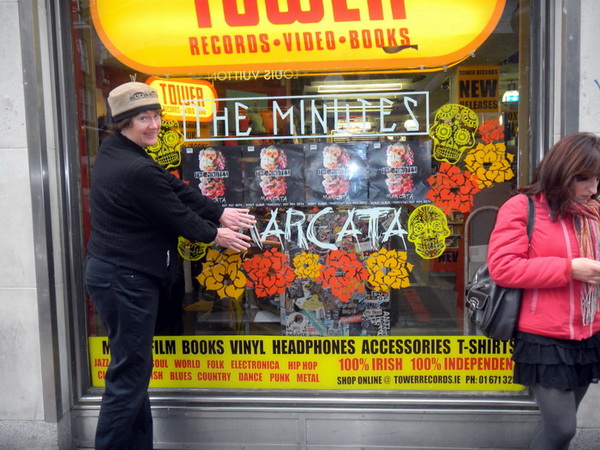 Dutiful tourists that we are, we had to photograph the "Sweet Molly Malone" statue (apparently known locally as the "tart with the cart"), near the north end of Grafton Street.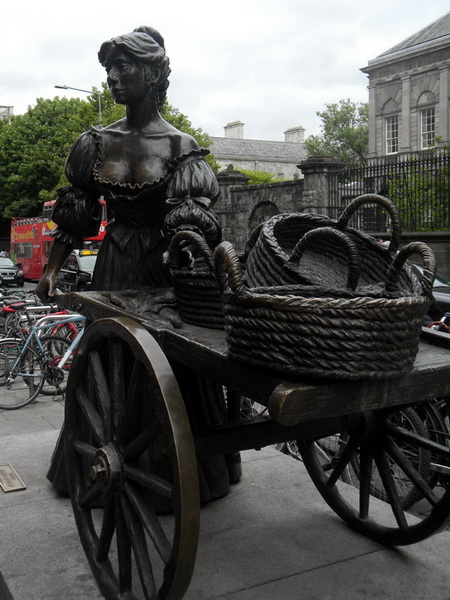 The National Museum: Archaeology and History lies a short distance east of Grafton Street. Set in a gorgeous building, this museum holds plenty of treasures. We saw lots of golden ornaments, several ancient "bog bodies" recovered in relatively recent times during peat excavations, a 15 meter long long boat found in a bog, swords, ancient shoes, chalices, viking artifacts and more. One of the "star" exhibits, the eighth-century Tara Brooch, was not on display. The ancient Macehead of Knowth, which was found at the Knowth mound site (see below), was quite amazing.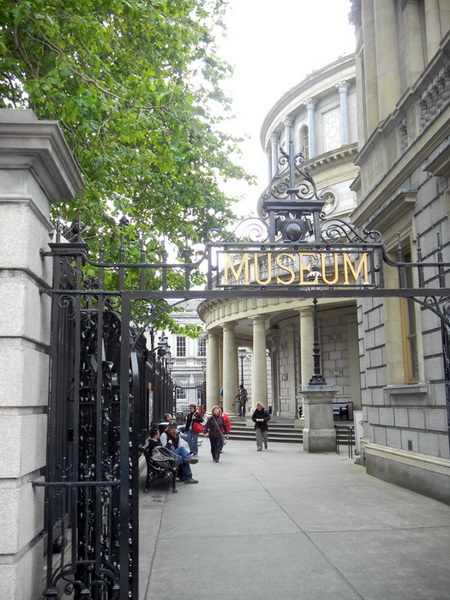 At the south end of Grafton Street we found St Stephen's Green park and (below) the huge glass-covered St Stephen's Green Shopping Centre. We went inside to purchase more cold medicines.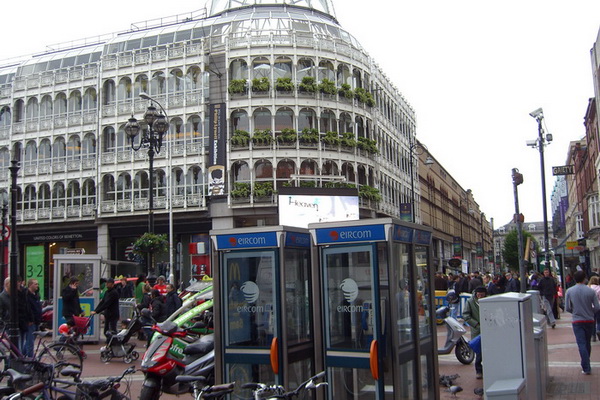 We passed lots of colorful doorways. It's a "Georgian Dublin, south of the Liffey" thing. More about it here.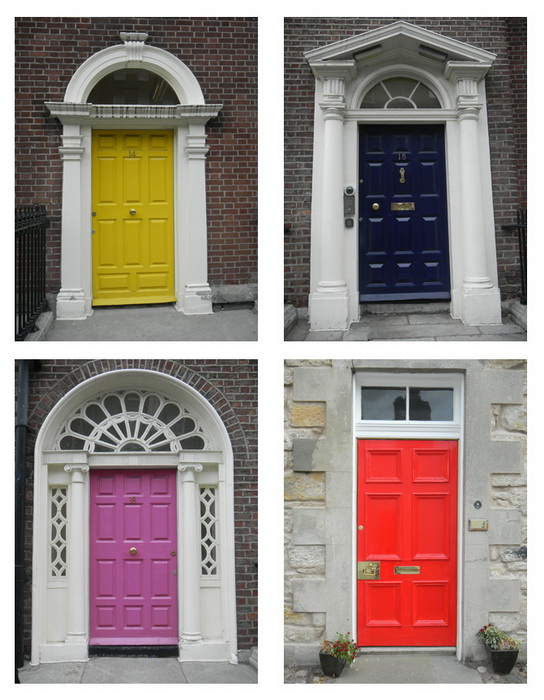 We strolled around to Merrion Square, where we went into a corner of the park to visit with Oscar Wilde.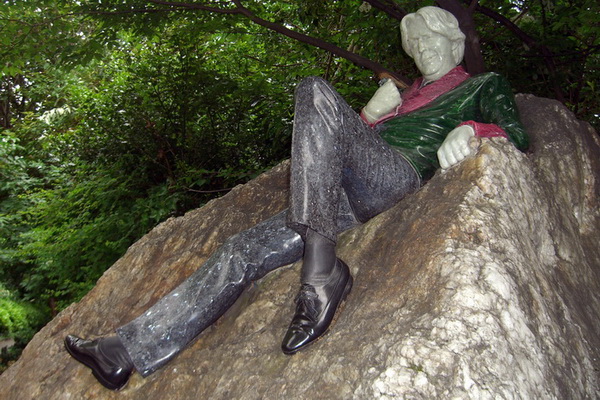 BUS TRIP TO BRU NA BOINNE
Bru na Boinne, in the Valley of the Boyne, is 30 miles north of Dublin, and contains two world-famous neolithic mounds: Newgrange and Knowth. We took a special tour bus to get there, so a car isn't necessary.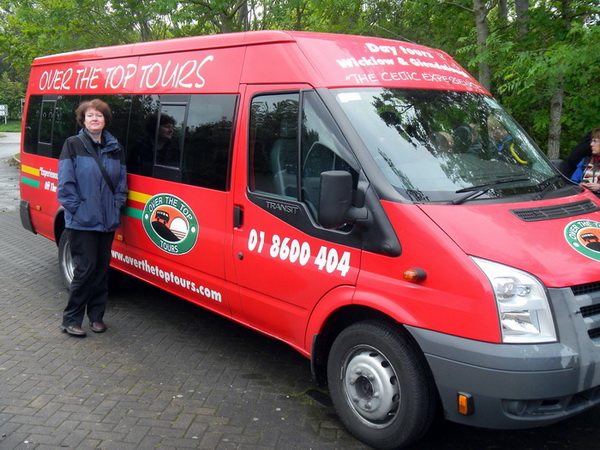 I love how the bus driver changed the music as we moved through different landscapes.
Eating is (supposedly) not allowed on the bus...
(See! This proves it...you're the scofflaw. So don't be bringing up that whole knife thing again.)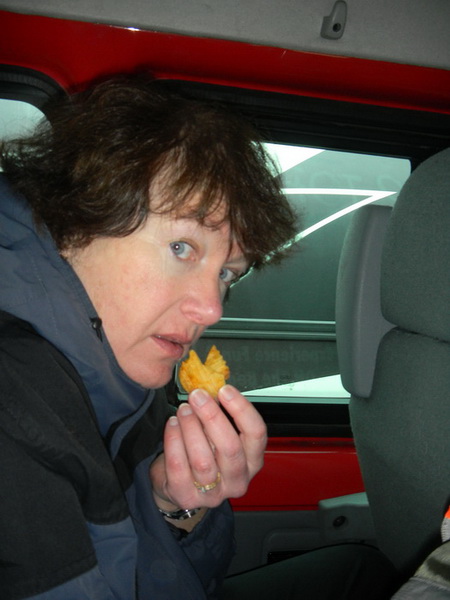 The tour bus dropped us off in the Visitor Center car park, then we walked a ways to the Center.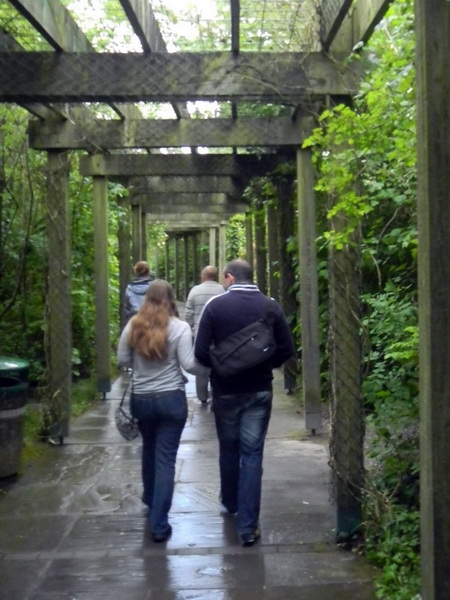 The entrance to the Visitor Center, where we were given specific times to catch the shuttle buses to first Knowth and then Newgrange, and then return us to the Visitor Center. The system is quite well organized to handle the huge numbers of visitors. Since the number of each group is limited, we never felt overwhelmed.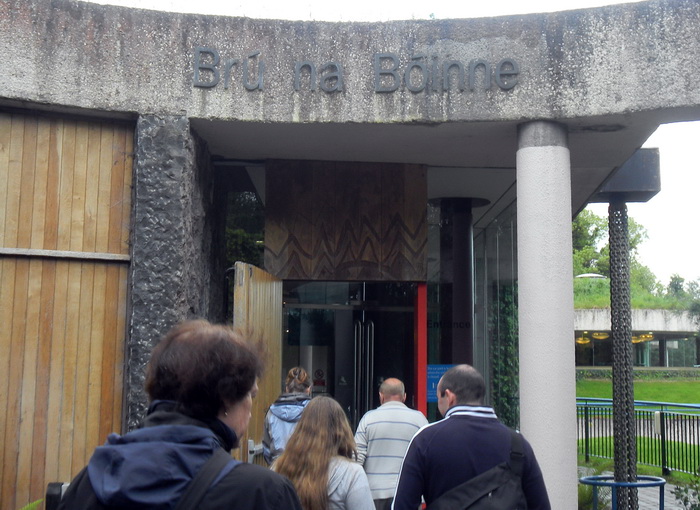 Models of the two mounds, which are actually a few miles apart.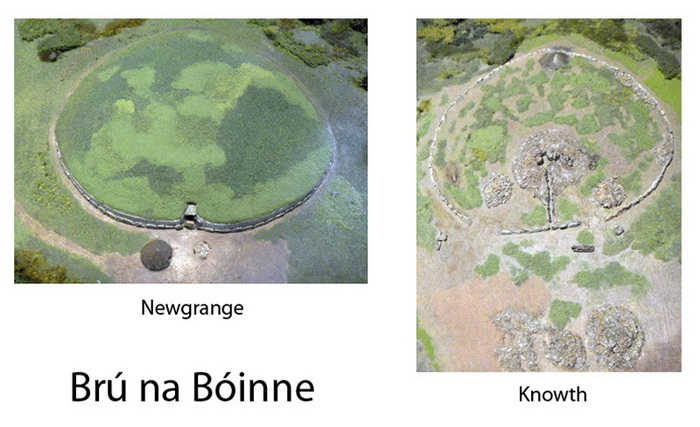 Becky wearing badges for each of our shuttle bus times.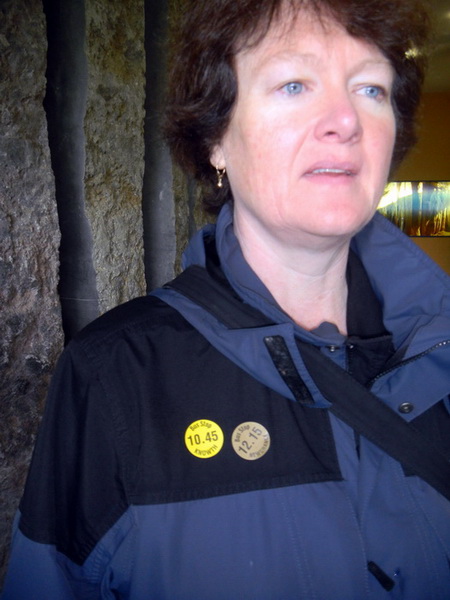 Still in the Visitor Center, Becky plays with a model that illustrates the single line carvings that we'll be seeing on some of the large stones that surround the mounds.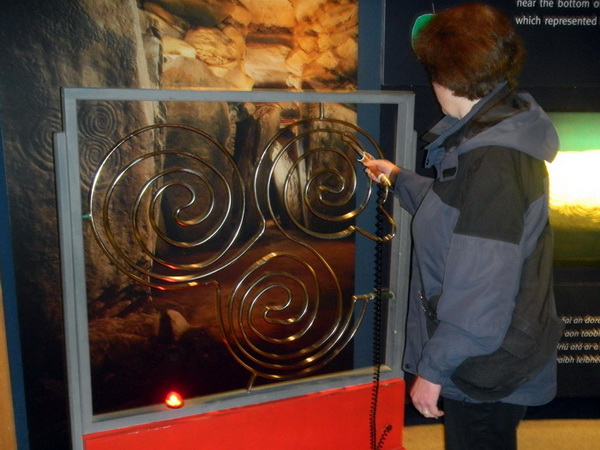 Gil, crouching in a replica of the passageway at Newgrange; practicing for the real thing we'll be seeing soon.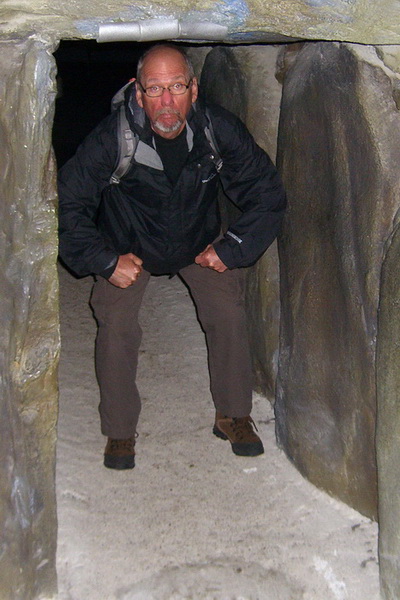 Now we're at Knowth, where our very knowledgeable guide pointed out various features of the mound and surroundings. In addition to the central large mound, which is 85 yards wide, numerous smaller mounds are nearby.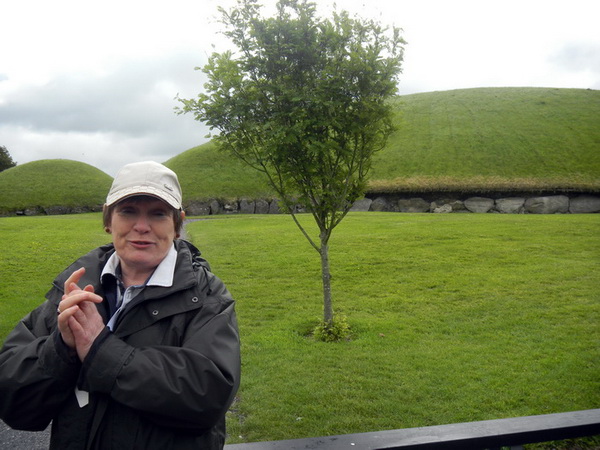 Although visitors are not allowed inside the Knowth mound, the guide encouraged small children to crawl through a special "hidden" chamber outside the mound.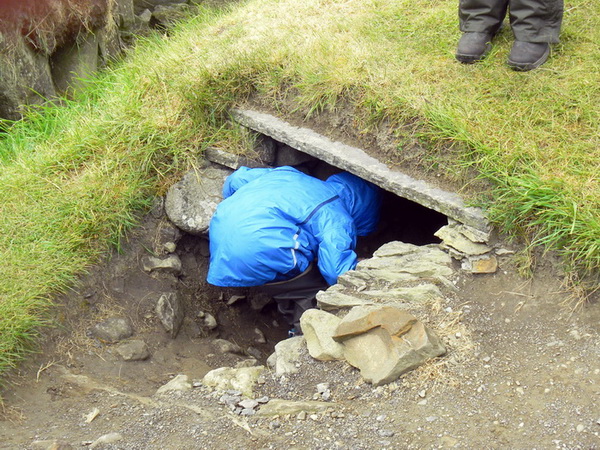 Pictorial representation of construction and the inside Knowth. There are two passageways, aligned to catch the rays of the spring and fall equinoxes.
(Game Time! See if you can find the neolithic smiley-face in the image below.)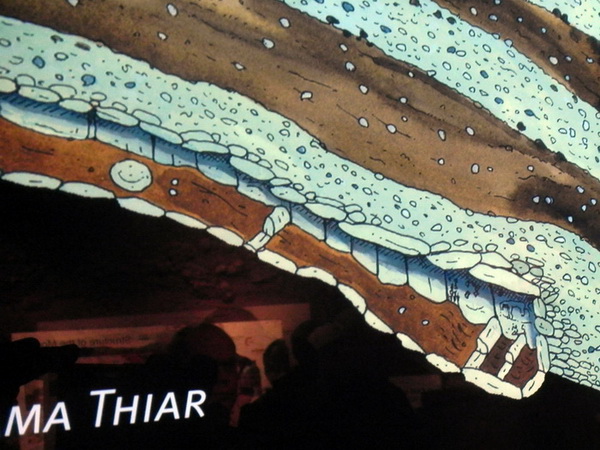 Now we're at the mound known as Newgrange, where we met another excellent guide. The facade has been reconstructed in modern times, using the white stones that ancient people apparently brought to the site. The sheer size of this mound, and the unusual nature of the facade, was quite startling. Like so many sites that we have seen on this trip, the age of these structures is estimated to be about 5,000 years - 500 years older than the pyramids at Giza.
(The neolithic sites we visited in Ireland seemed to be much better restored/preserved than did the ones we saw in Scotland. They are wonderful for giving you the sense of what they once were but ultimately I preferred the rougher, unpolished, out-in-the-middle-of-a-field Scottish sort.)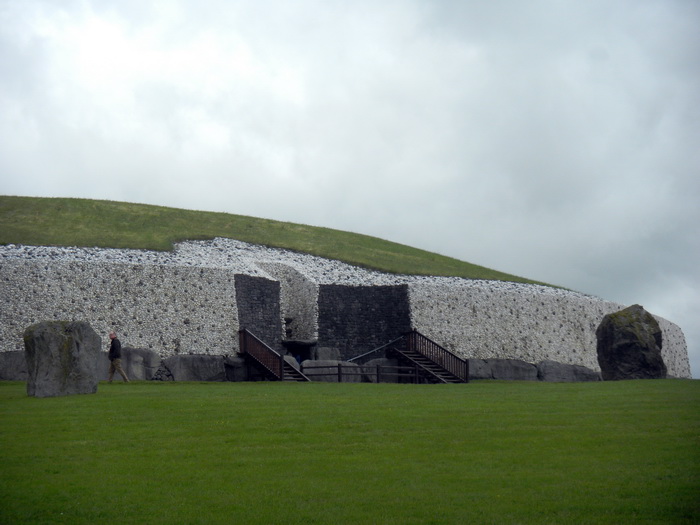 During the tour of Newgrange, we slipped through this entrance then squeezed down a long (60 feet) narrow passageway to a cross-shaped central chamber, under an amazing, still-intact, 20-foot high stone domed roof. As the sun rises on the shortest day of the year, the winter solstice, a ray of light creeps slowly down the passageway until it fills the central chamber. While we stood in the chamber, the guide turned out the lights, then turned on a light that reenacts the winter solstice sun. Wow!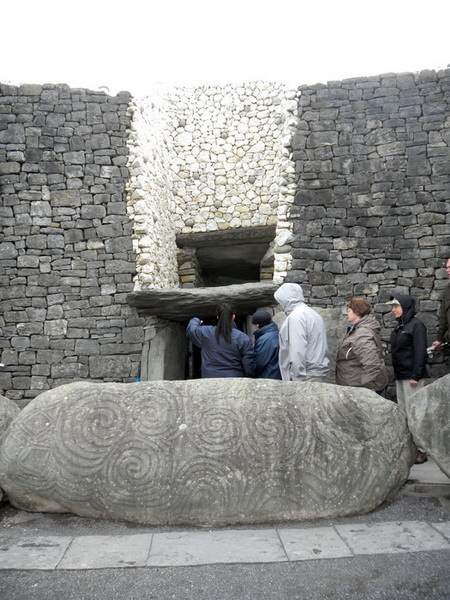 The view from the hill at Newgrange.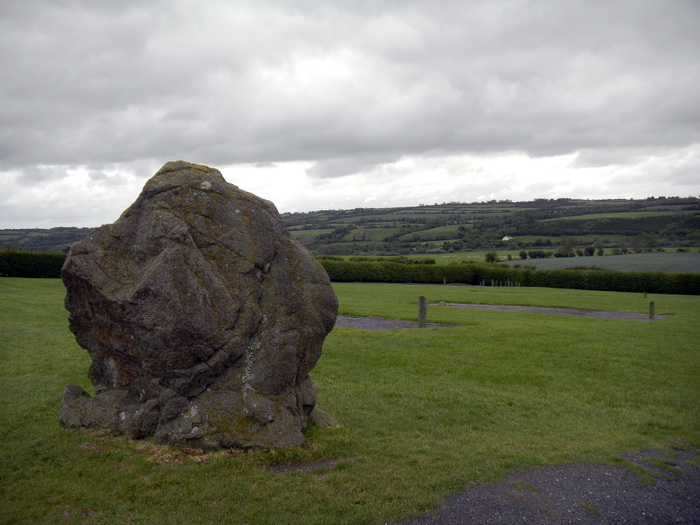 Gil waiting for the shuttle bus back to the Visitor Center.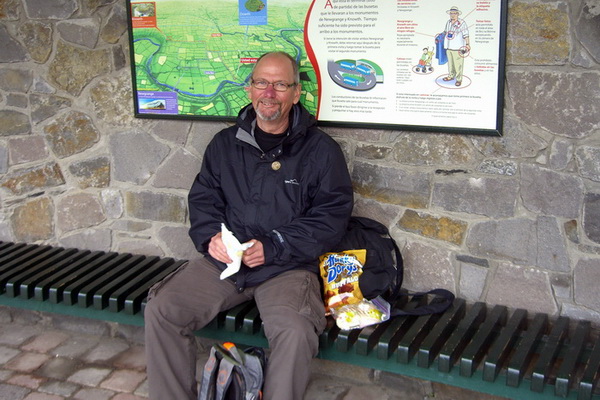 TIME TO GO HOME
Alas, our trip was coming to an end. We had to get up frightfully early (4:30) to exit our apartment and walk to O'Connell Street to catch the bus back to Dublin Airport. Exiting the apartment was a little tricky - you may laugh, but we actually practiced the day before how we would do it, since we needed to leave the keys in a mail box in our own Cell Block F, but we needed a key to unlock one of the six doors to exit the complex....having two people was essential!
Our trip from Dublin back to London Heathrow was smooth, and we liked our Aer Lingus flight much better than our earlier Ryanair experience. Aer Lingus staff were friendly, the signage at the airport perfect, and there were no hidden fees. Once at Heathrow, we climbed back into a Virgin 747, and flew home.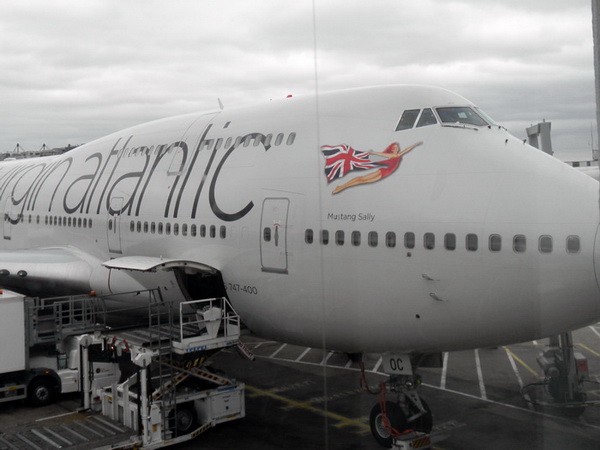 Gil in his usual sleep mask...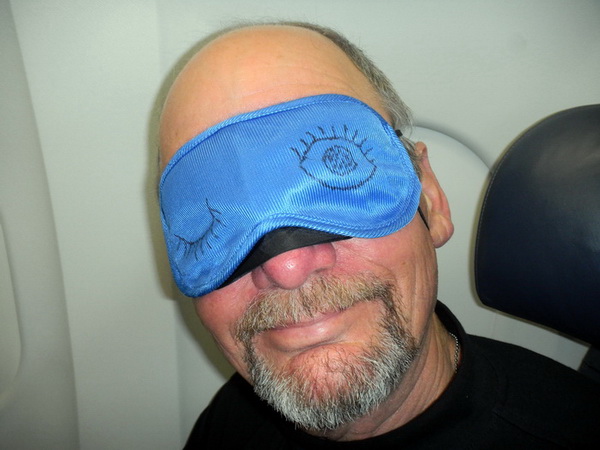 Back in San Francisco!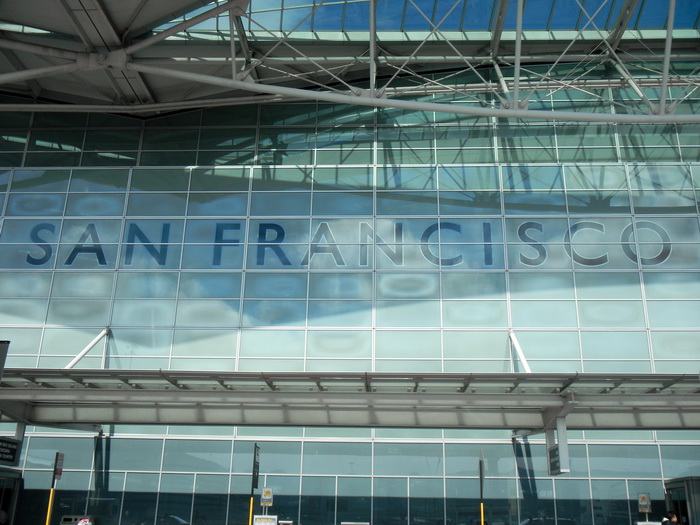 Waiting for our shuttle bus back to El Rancho Hotel in Millbrae.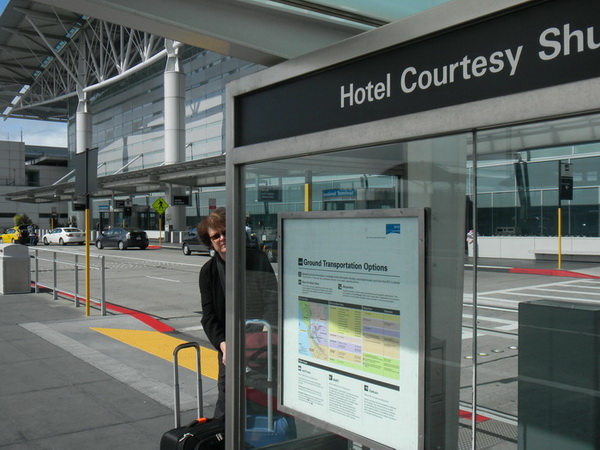 Ah - I can stretch out and sleep!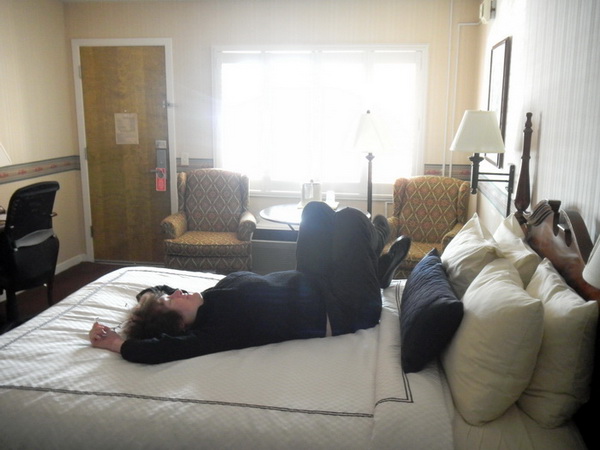 But first, In-N-Out burgers for dinner!
It's funny but even given all the outrageously good food we ate on this trip [and we ate plenty!] one still misses the simple joy that is a fast food burger joint)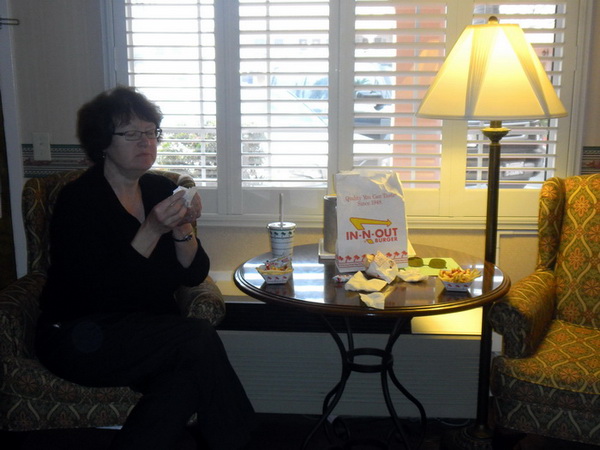 We got up very early, and drove to the Golden Gate Bridge. Here's the view from the south end, looking back at downtown San Francisco.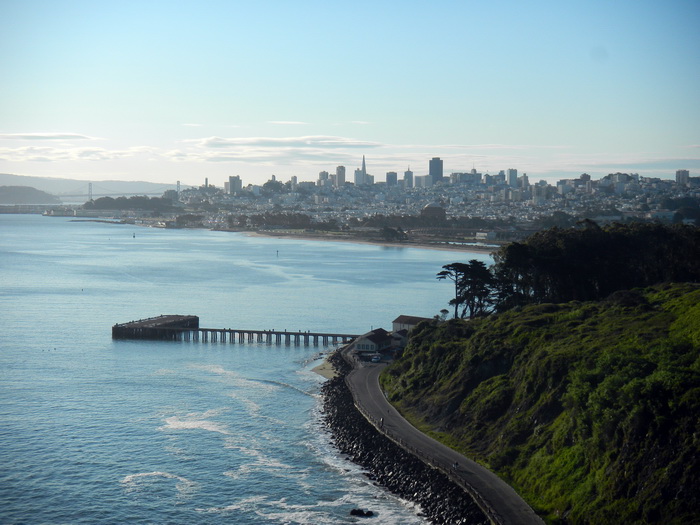 What a glorious day! We walked across part of the bridge, and took about a million photos, since the weather is rarely so clear and sunny.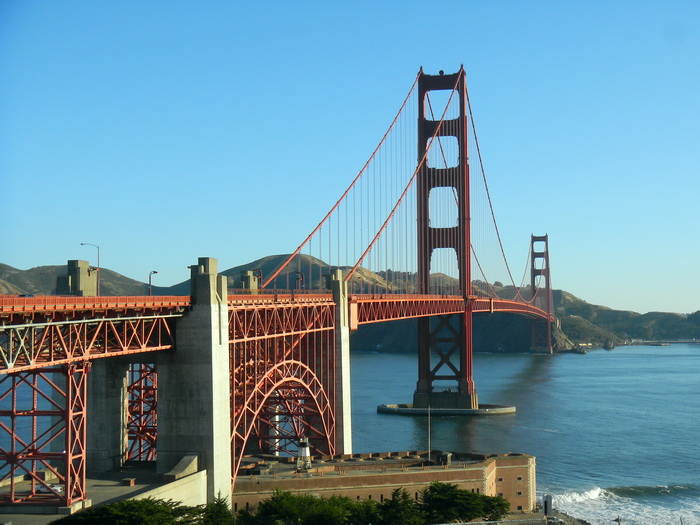 Home again, home again, jiggedy jig. Back up Highway 101, back into the redwoods, back to the smell of the Pacific, back to our pets and our home. A truly wonderful trip but it is soooo good to be home. For something a little different we've included some Appendices for our trip. One page of "The Food We Ate" and a page of "The Urinals I (Gil) Used."
(Okay, in defense of the "urinal page" these are not the urinals one might find back in the good ole U.S.A. and I thought they were interesting.)
---
Click HERE to visit our trip's Appendix 1...The Food!
Click HERE to return to Gil and Becky's homepage