---
THE FERRY NORTH TO ORKNEY
We are off to Orkney! Orkney is in the northernmost part of Scotland, surpassed only by the even further north Shetlands. Orkney is a collection of about 70 islands lying six miles off the Scottish Coast. Orkney belonged to Norway until the 15th century, when it was surrendered to Scotland.
This is our ferry, the Hamnavoe, operated by NorthLink ferries. [Note: actually, this is a picture of the ferry arriving in Stromness, not Scrabster. But it's the same ferry, honest. Pretend it's leaving from Scrabster, and we are aboard, eagerly taking the lift from the car deck to the main deck.]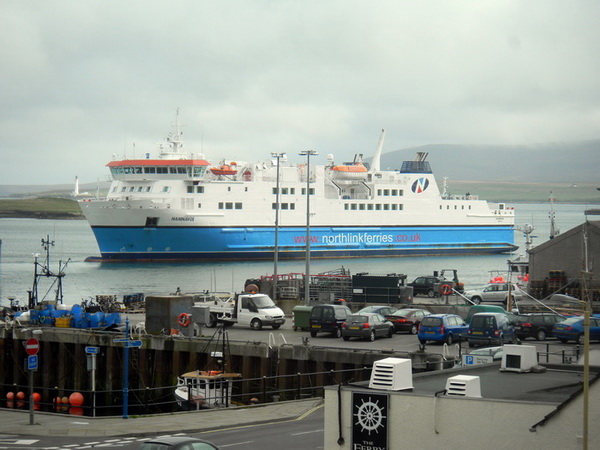 The ferry was unexpectedly luxurious inside. We opted to have dinner on board, to while away our 90 minute voyage. We had meatloaf and fresh veggies that were quite delicious, and watched the waves roll by. Unfortunately for Gil, he is prone to queasiness when out at sea, so I left him to suffer alone (well, I did bring him a sea sickness bag, which luckily he never had to use), and then I scampered on deck to see what I could see.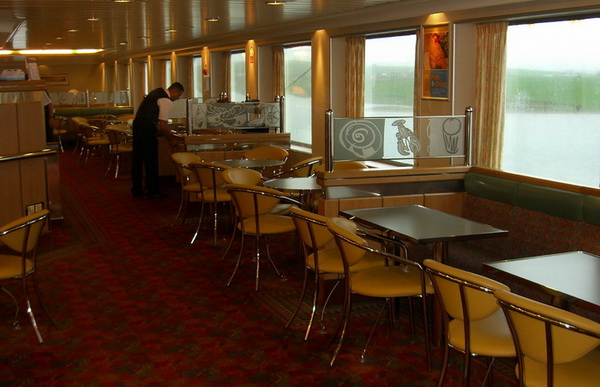 Uh oh...
(Seriously, what was I thinking? In retrospect my mistakes were two-fold. Firstly, eating a giant slab of meatloaf smothered in brown gravy with lots of lovely red potatoes on the side wasn't exactly clear thinking and secondly I horribly underestimated the nature of the North Sea. Even though this was a fairly ordinary passage by local standards it was all rock and roll by mine. Urp.)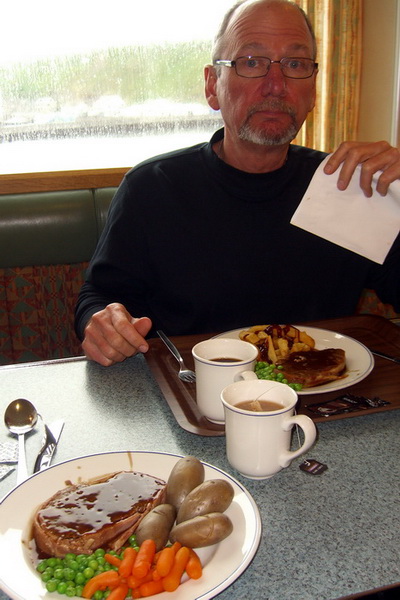 I relished the moving deck, watching the waves, the seabirds, and the approach of the islands, and my new hat served me well. Here's a happy self-portrait, with the Orkney Island of Hoy (I believe) in the background.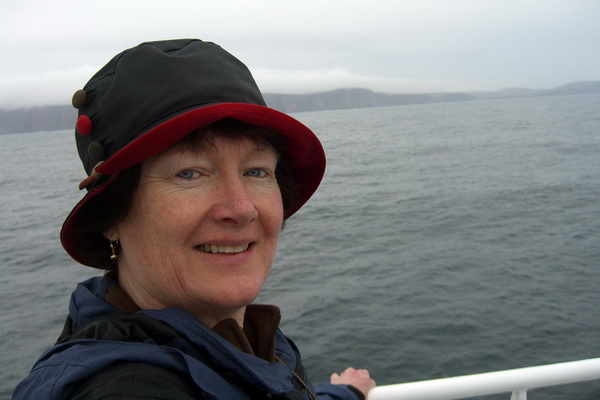 After months of anticipation, I was rewarded with my first glimpse of "the Old Man of Hoy" rock formation, which told me we would would soon be rounding the island of Hoy and heading for the port at Stromness, on "the Mainland." [The largest island of the 70 or so islands that comprise Orkney is called "the Mainland," not to be confused with "regular" Scotland, which Orcadians call simply "Scotland." Some say that Orcadians are Orcadians first, and Scottish second. Oh, and don't call Orkney "the Orkneys." It's just not done.] (Okay, I'm totally confused...anyone else?)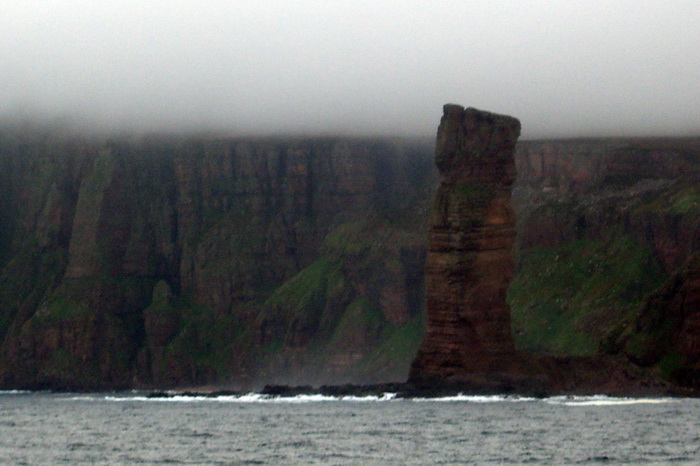 We arrived in Stromness exactly on time, and disembarked.
ORKNEY: THE TOWN OF STROMNESS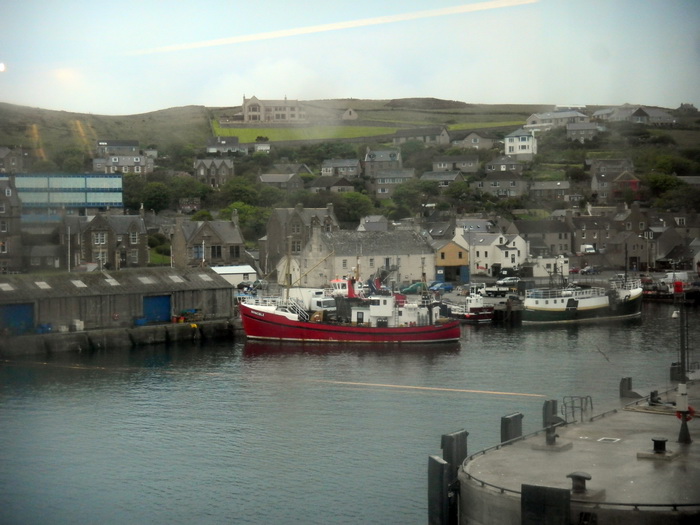 Having "walked the streets" of Stromness back home, using Google Streetview, we were already fairly familiar with the general layout, and the location of our Bed and Breakfast for the next four days, "45 John Street," hosted by Kay and Neil Sinclair. We drove through the very narrow streets easily, just going slowly and watching carefully for the occasional traffic and pedestrian. Our bed and breakfast was literally walking distance from the ferry terminal.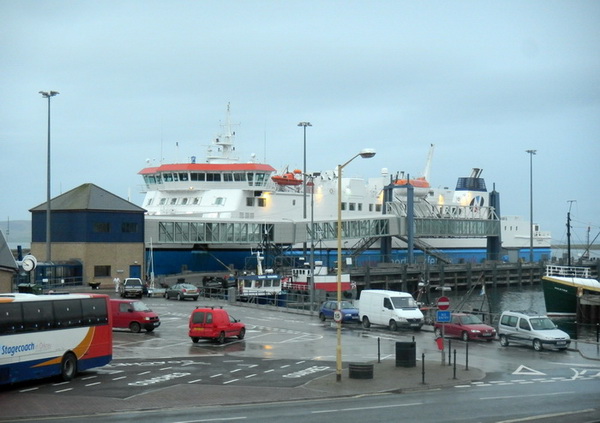 Like nearly all Stromness businesses and homes, the outside of 45 John Street was plain and simple. The idea of flashy attention-drawing signage (or litter, or graffiti) seems foreign here.
(I love them for that)

Our room (number 2, with double and single beds) was quite comfortable, and we had a fantastic view over the harbor, including watching the ferries arrive and depart (usually right on time). Along with our coffee and tea things, our room had a box of home-baked shortbread, which was magically refilled each day.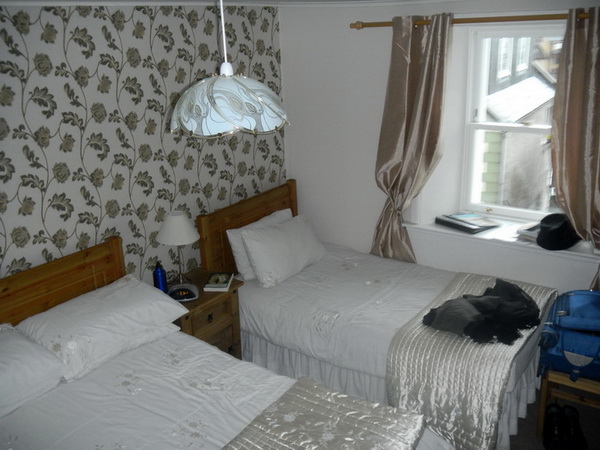 The view from our window. Oh, and that's our car down there. Parking was free this time of year (May), according to Kay, so it was easy to take our luggage up to our room.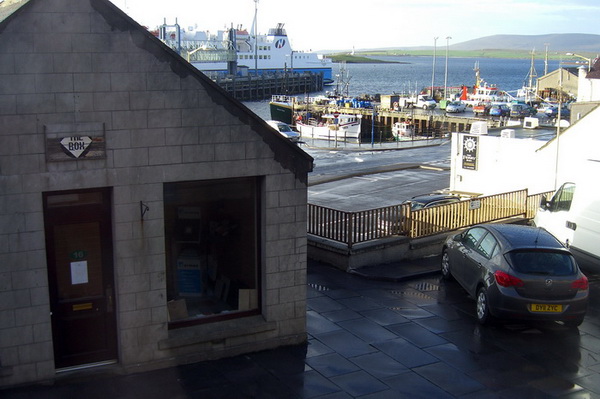 Oh my, the food at our bed and breakfast....Kay takes great pride in her home baked breads and shortbread, as well as her perfect breakfasts and amazing preserves. Oh, and homemade granola. And roasted rhubarb from her garden out back. Ah, the memories of those meals...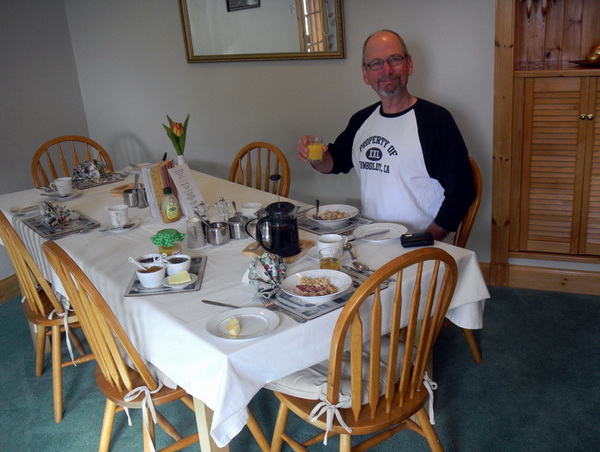 Kay's preserves. Her rhubarb fig was my very favorite.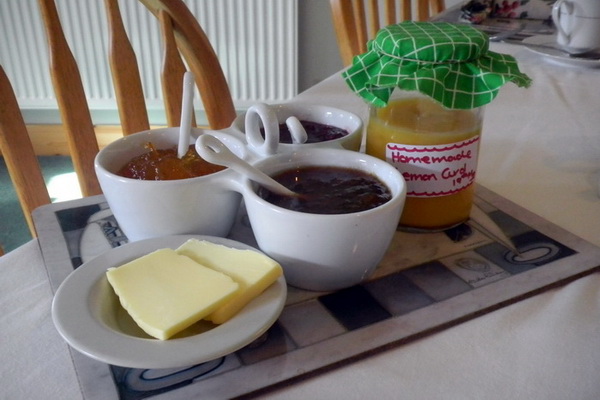 The roasted rhubarb was delicious on Orkney yogurt, sprinkled with Kay's granola. Note also the fresh fruit and a new Orkney cheese each morning...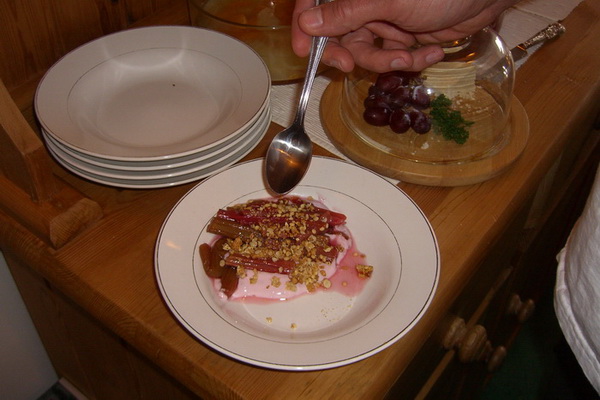 And here's the delightful Kay herself!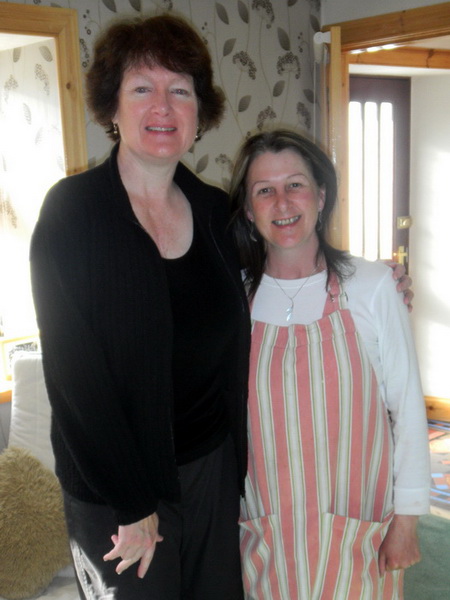 Gil demonstrates how we felt after each meal.
(I literally gained 10 pounds on this trip...at least 4 of which Kay was responsible for)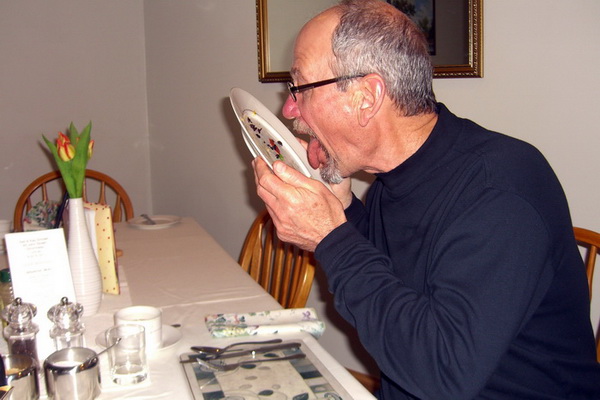 Here I am in our room, in a typical evening pose, tapping away on the iPad, probably posting a trip photo to Facebook. Yes, I'm still wearing my hat...Gil laughed at me, too.
The Stromness Tourist Information Center was at the ferry landing, just a short walk from our place.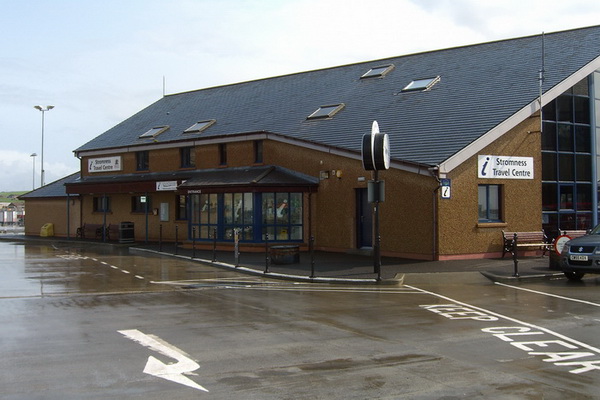 Our first evening in Stromness, we took a walk down the flagstoned main street, which changes names every few blocks, from John Street, to Victoria Street, to Dundas Street, etc. Narrow as it is, the street accommodates two way traffic and pedestrians. Houses on the east side of the street look over the bay, and often had their own docks.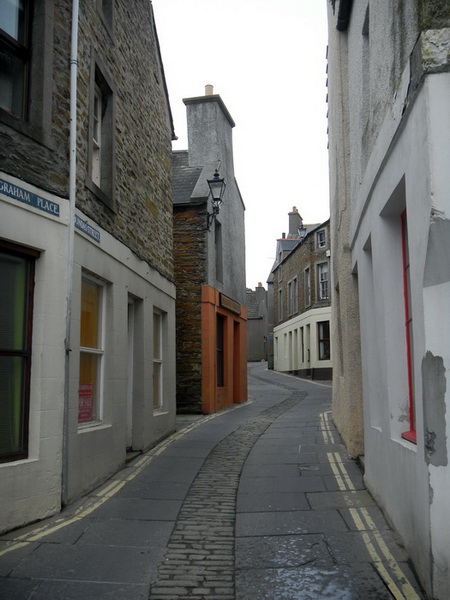 Periodically, small lanes opened off to the west side, some accommodating vehicles and others just for pedestrians. Stairways led up the hill to the west.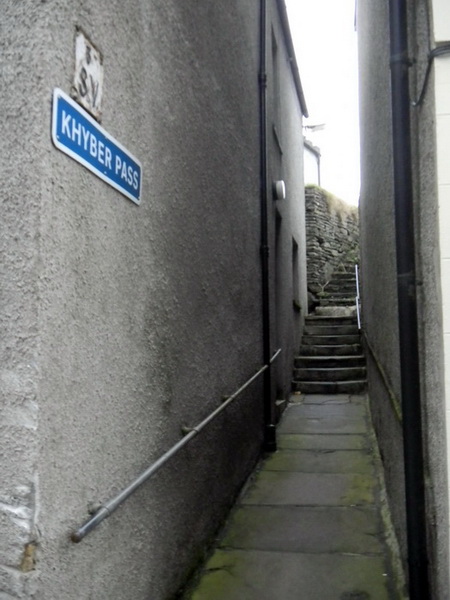 Everyone we encountered along the way was so friendly - we were met with smiles and greetings at every turn. Gil helped guide a gentleman parking his car in front of this church, who then walked with us for a spell. He introduced us to a purely local custom: The Red Cross thrift store posts funeral notices in its left window if a local person has died.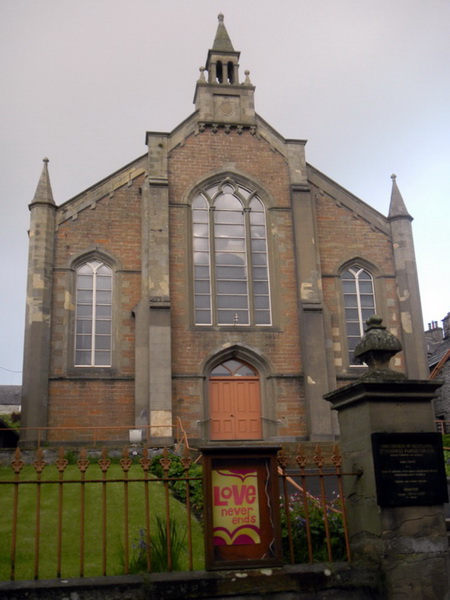 A couple of days later, we spied one of the notices, indicating a member of the Flett family had died. The Flett family butcher's shop is just around the corner from our Bed and Breakfast (and is where Kay buys all those delicious breakfast meats she served), and Flett Builders vans were parked nearby, so we already felt a small part of the community.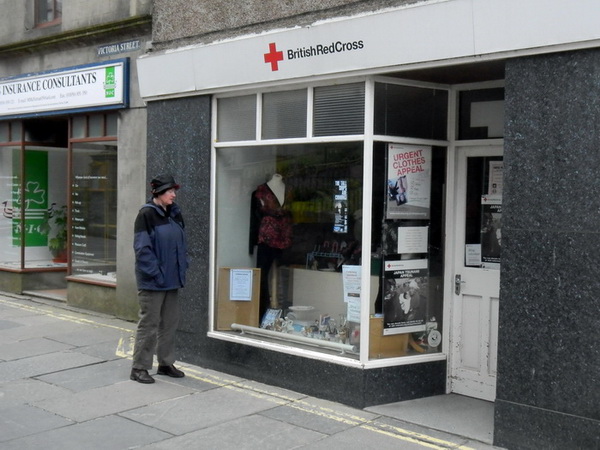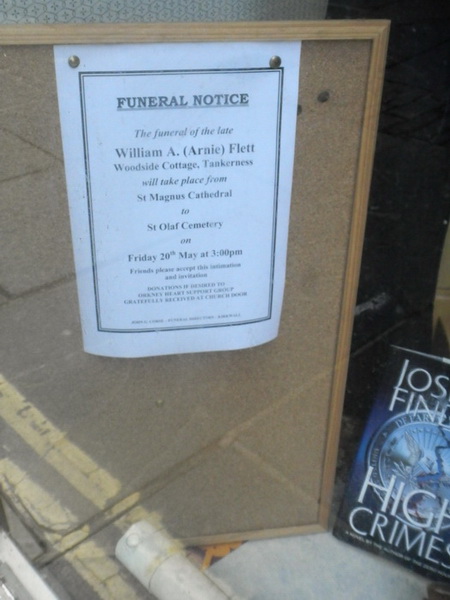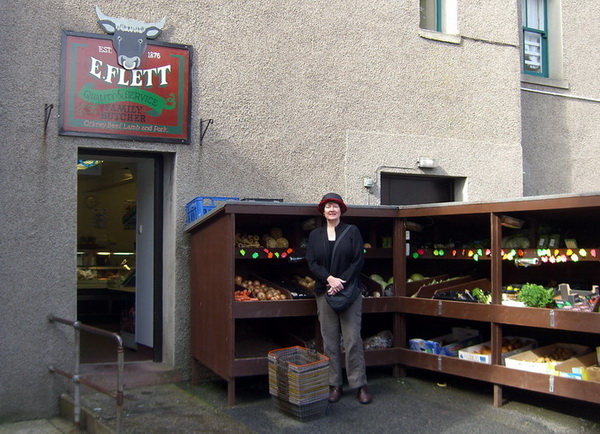 Back to our first evening walk, we also ran into "Ricky," who turned out to be an ex-Navy man, and presently a harbor pilot. We learned from him that the Scrabster to Stromness ferry sailed in all weather; it would take a major winter storm of hurricane force (100 mph!) to hold her back. (I believe we were close to that on the voyage over) Ricky had been diving for scallops earlier, and gave us a bag to take back. Well, you just don't say no to a bag of scallops, even if you're not sure what you're going to do with them...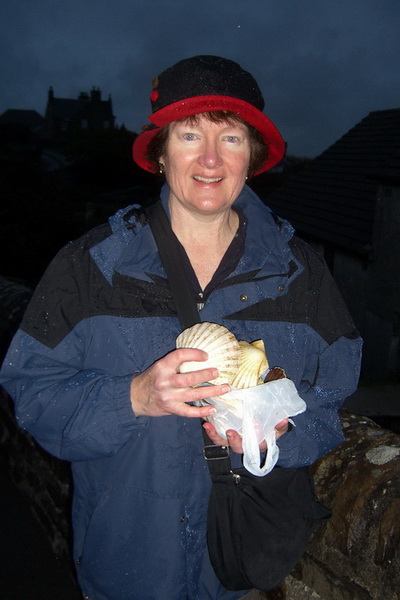 ...Luckily, Kay did. Back home that night, I had hardly started my story to Kay "Um, we met this nice man who gave us these scallops..." when she said "Oh, that'll be Ricky; if you'd like, I know just how to cook them and I can serve them for your breakfasts." And so she did, cooked in butter, garlic and lemon, on the half shell, with potatoes duchesse piped along the side, garnished with parsley from her garden. We each had four scallops, including the orange "coral" (roe). And oh yes, they were marvelous!
You're starting to understand why I like this place so much now, aren't you?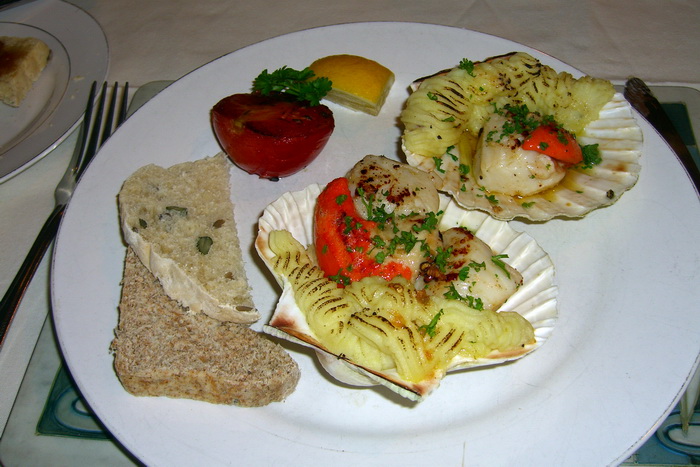 Other sights from Stromness: The harbor in the morning light...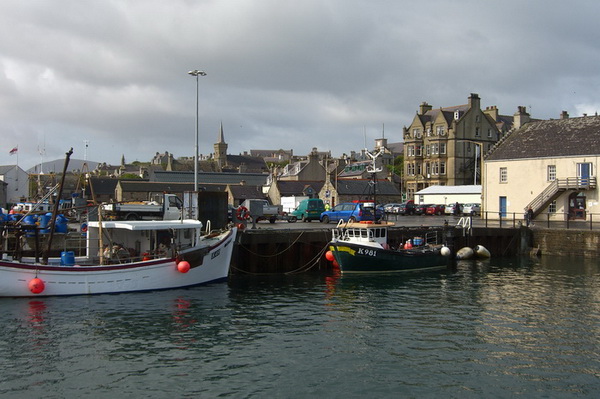 One night, Gil bought fish and chips here...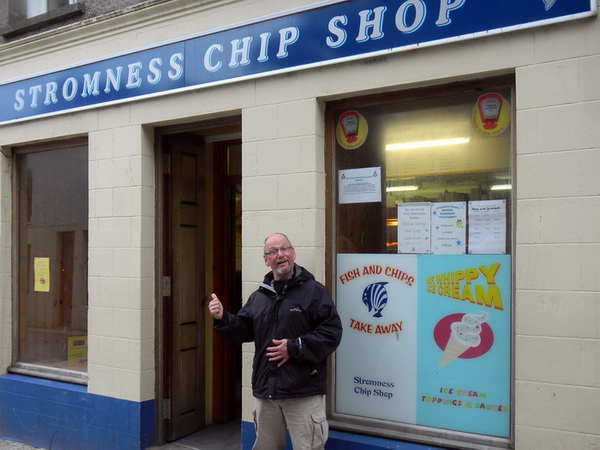 ...which we ate outside and found to be the very best fish (haddock) and chips we had ever tasted! (in all fairness, the tastiness of any given fish and chips seems to be pretty much in direct proportion to how hungry you are and how cold it is outside...these were very good!) And you'll have to excuse the tilted picture - it's hard to take a photo when one hand is busy stuffing fish into your mouth!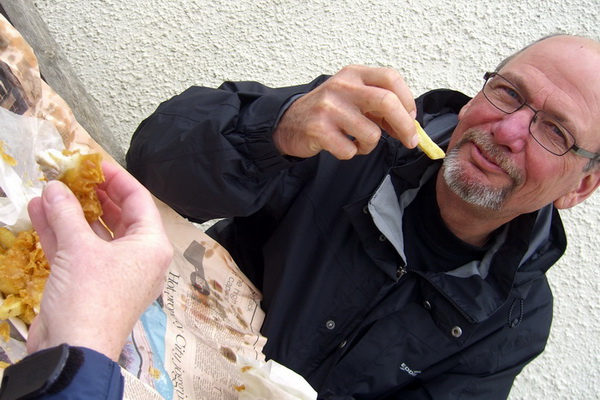 Orkney's maritime history is long and varied. A good percentage of the crews for the Hudson's Bay Company came from Orkney. For hundreds of years, ships took their water from this well before setting sail.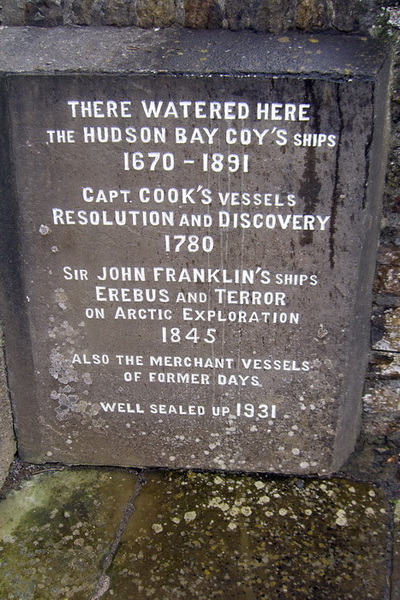 When Hudson's Bay Company ships arrived, the cannon was fired.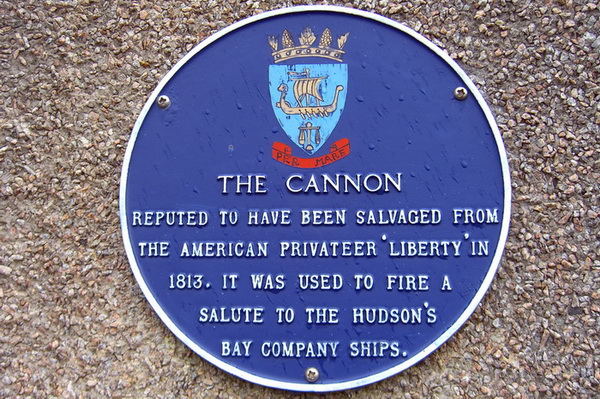 Stromness is in the background.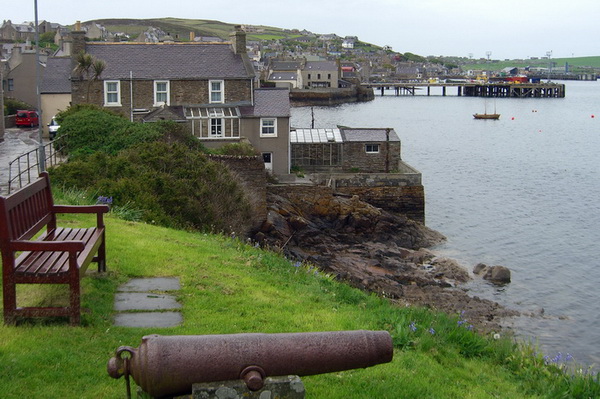 Even the cats were friendly, walking right out into the street to greet us.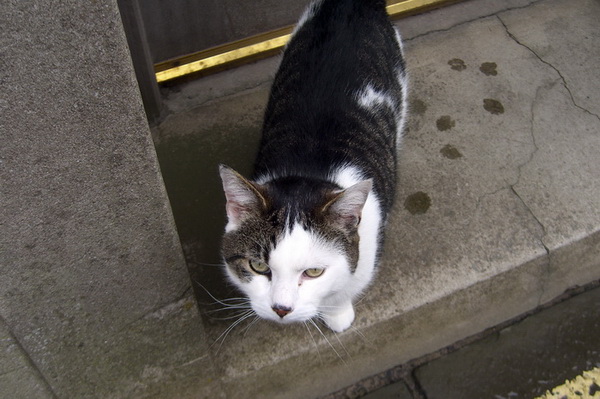 The Library was charming, filled with shelves of Orkney literature. Visitors can get a free library card just for the asking, "valid for the duration of your stay," which includes using their internet and computers with printing capability - handy for printing out the ABSOLUTELY REQUIRED boarding pass for infamous Ryanair airlines, for our trip to Dublin later in our story...(if you show up without a PRINTED boarding pass, they charge you 40 pounds to print your pass!!)
(Don't get us going on how much we dislike Ryanair...but more on that later)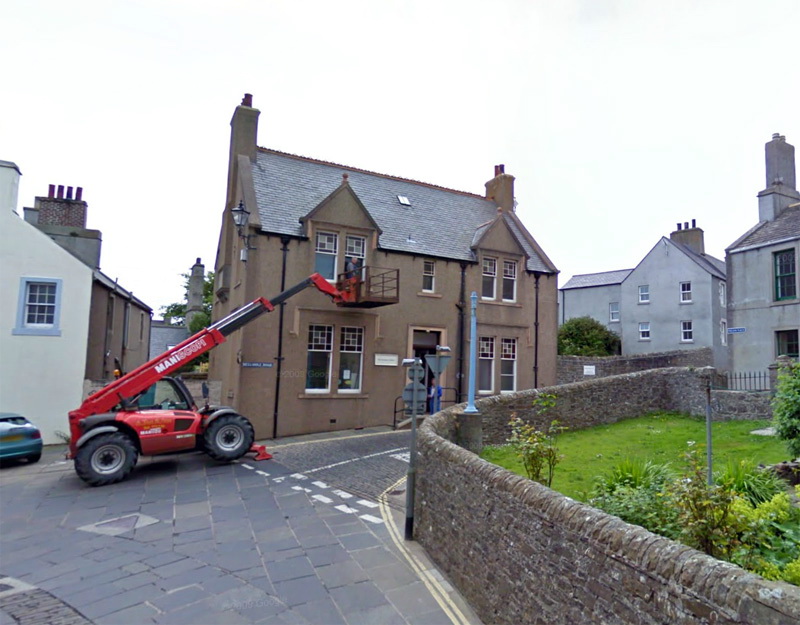 ...photo of library above was "borrowed" from "Google Streetview" maps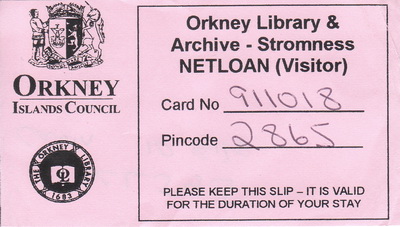 The Stromness post office, where we learned (when trying to mail a package of miscellaneous stuff back home) that one should not exceed two kilos per package, as the price goes up considerably. The box we were going to mail would have cost us about $75 (!) so we thanked the postmistress and later took her advice, separating our items into two padded envelopes, each under two kilos. Still expensive, but much better! And on a related note - the portable scale we brought from home (a Christmas gift from Awanna) was quite useful. We used it to weigh our luggage items, in addition to our postal packages, to ensure we didn't exceed weight limits for our hand-carried and checked luggage on commuter flights, which charge outrageous sums. Our scale easily changed from pounds to kilos, which was very handy.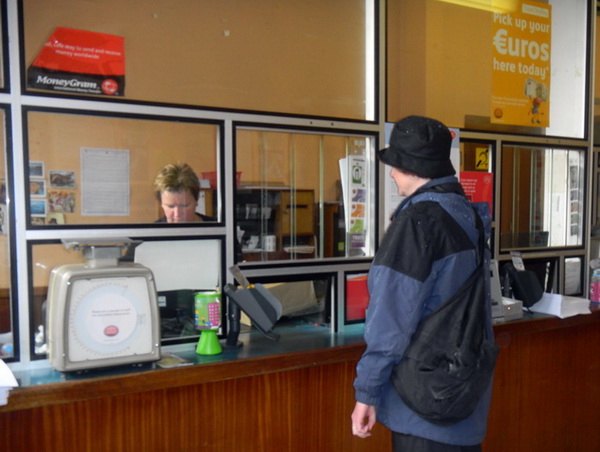 ORKNEY: MAESHOWE CHAMBERED TOMB
Next morning, after our first of four delicious breakfasts served by Kay, we began our first Orkney adventure, at the fabulous Neolithic Chambered Tomb known as Maeshowe, just a few miles from Stromness. It is estimated to be nearly 5,000 years old. You must call Historic Scotland first to reserve a space in the guided tour. Visitors cannot go inside Maeshowe unless part of an official tour group.
We met up with other visitors at nearby Tormiston Mill. We purchased several items at the gift shop, including two Historic Scotland Orkney Explorer Passes for 16 pounds each, which enabled us to enter Maeshowe and several other must-see sites.
Our tour guide collected us at the Mill, and walked with us to Maeshowe to begin the tour.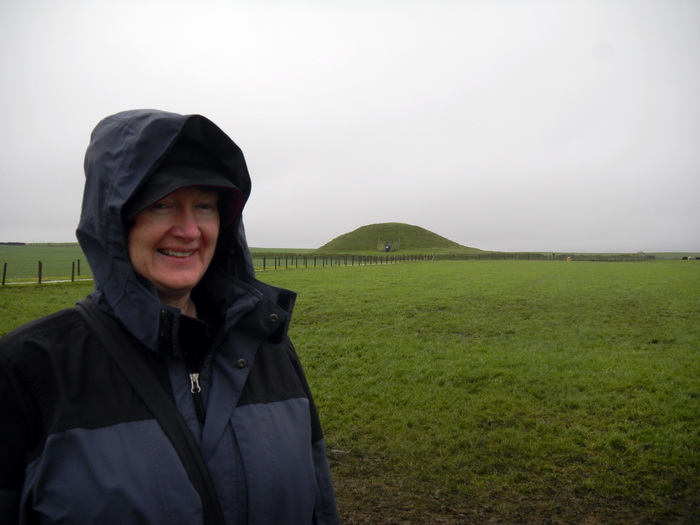 We crossed the highway and walked through a gauntlet of very friendly (of course - it's Orkney!) cows. Or "coos," as they are called in Scotland. I discovered that they have very long tongues!
You might want to rephrase that Beck...it sounds rather, er, well, um...you just must might want to rephrase it that's all.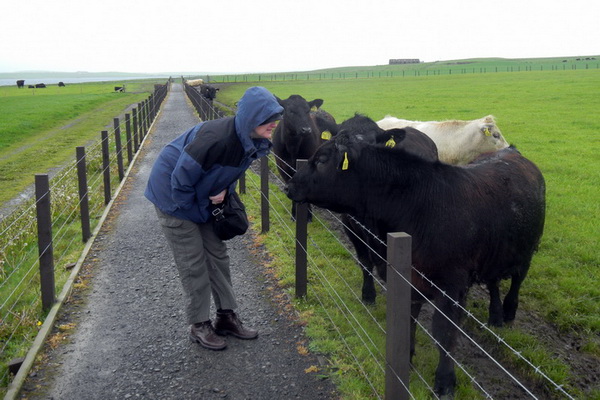 Our guide gave us a brief introduction, while rain fell and the wind blew.
[Important side note: Our guide mentioned that "The 'Ness of Brodgar' is the most exciting new archaeological site right now in Orkney or possibly Great Britain." The Ness of Brodgar is between Maeshowe and the equally fabulous Ring of Brodgar, about a mile away. The Ness of Brodgar is not yet open to the public on a regular basis, as the excavating is an ongoing project, but the discoveries are major. From the Ness of Brodgar link, click on the 3D Panorama photo of the Ness of Brodgar for an amazing aerial view. (Unfortunately, we did not investigate the Ness while we were in Orkney...next time!)]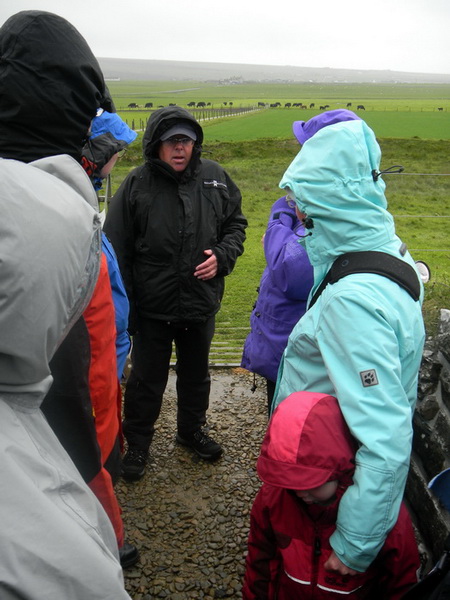 Back to Maeshowe: After our guide unlocked the gate, we each stooped low through the long entryway (36 feet long and only 3 feet high) to make our way to the central chamber, where we had plenty of room to stand. Photos are not allowed inside the mound, so click here to see the entry passageway and here to see the layout.
Inside the central chamber, our little group gathered to listen to the guide and be enthralled by the artistry and skill of the ancient builders. Truly an amazing place, worth travelling thousands of miles to see.
Maeshowe is perhaps best known for its brilliant stonework and for its alignment to catch the rays of the setting midwinter sun. The same website has a link to the winter solstice camera, so in December you can keep track of the gradually moving rays, which at the solstice enter the center chamber and illuminate the back wall.
Click here for interior photos.
In the twelfth century, Vikings broke into the mound and occupied it for a short time. Some of them left runic graffiti, some of it rather rude, and some just a little silly, like "Tholfir Kolbeinsson carved these runes high up." (Which he did - the guide pointed out his handiwork...which sure enough, was very high up. Good job, Tholfir. A really useful message to future visitors.)
Below, I emerge from the mound.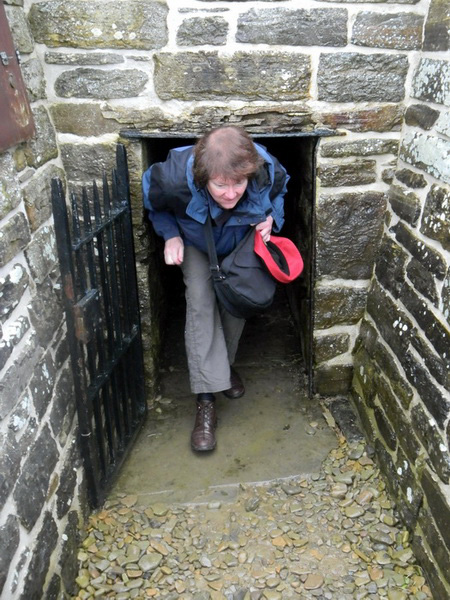 We returned to the visitor center at Tormiston Mill, and learned that the tide would be low shortly, meaning it would be an excellent time to explore the Brough of Birsay, which is accessible only by walking across a causeway at low tide.
ORKNEY: THE BROUGH OF BIRSAY
On our way to the Brough of Birsay, on the northwest corner of The Mainland, we stopped at the tiny hamlet of Palace, where we saw the ruins of an Earl's Palace and explored this church, which was built on the site of a far-older church. St Magnus lived in this area, and after his assassination in the twelfth century, his body was brought to the church on this site, which was probably much larger than the present day version. (His remains were later transferred to St Magnus Cathedral in Kirkwall, which we shall visit later.)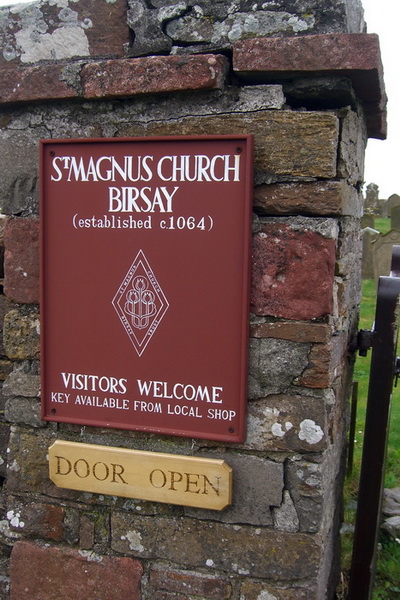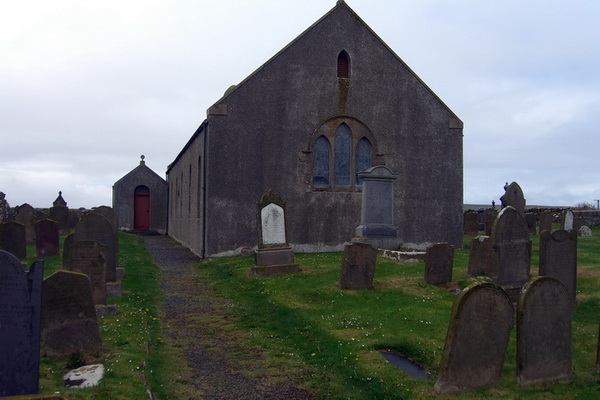 Before we crossed the causeway to the island containing the Brough of Birsay, we bought picnic fare from this nice lady. I had homemade potato leek soup and "bere bannock" (a traditional Orkney flatbread made with an ancient variety of barley) and Orkney cheese, and "millionaire's shortbread" (Scottish shortbread with caramel and chocolate layers) for dessert. Certainly not the fast food one might expect at a snack truck in America!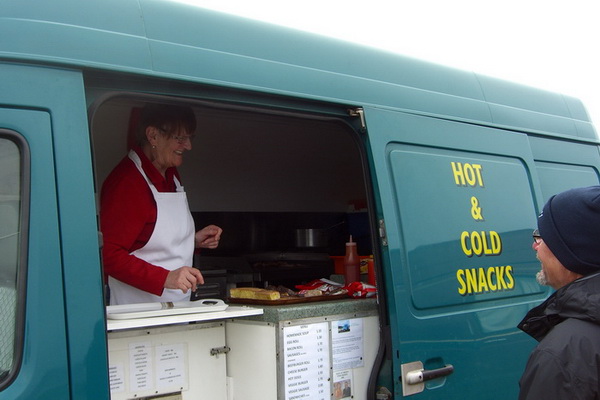 We ate at one of the rock-lined picnic areas created just for us. It was rather rainy and quite windy, so the shelter was much appreciated. We chatted with a woman who was walking her collie. She was a recent Scottish transplant to Orkney, and loved living there, in spite of the fierce storm last year that kept her inside her cottage for six days, in winds of up to 120 miles per hour!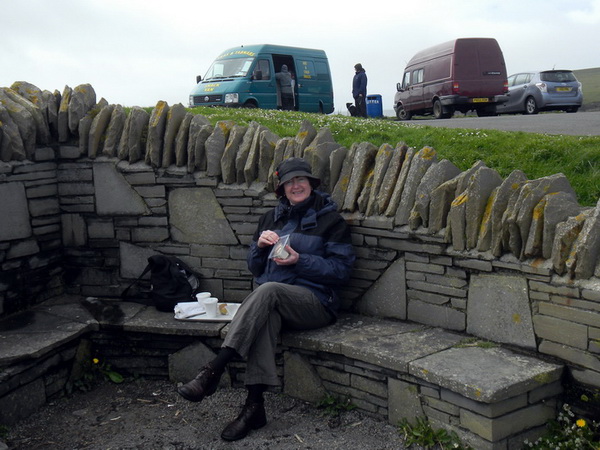 Gil found his cool hat in Kirkwall, and it served him well. (We will be visiting Kirkwall on this website in our next chapter.)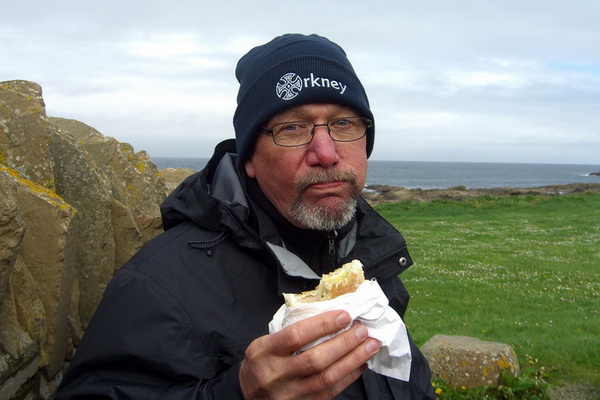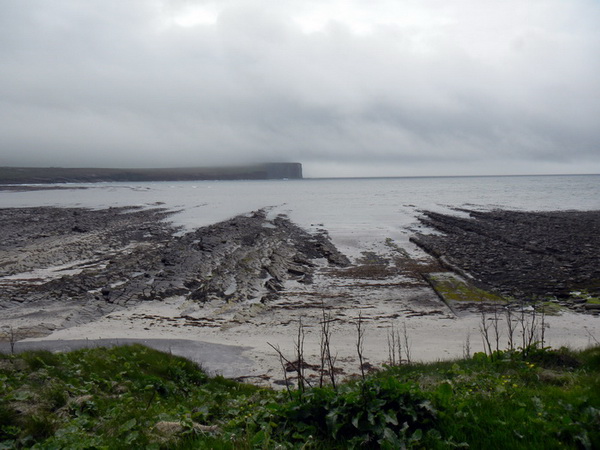 Notice the causeway to the Brough of Birsay. You need to be mindful of the tides before you begin crossing!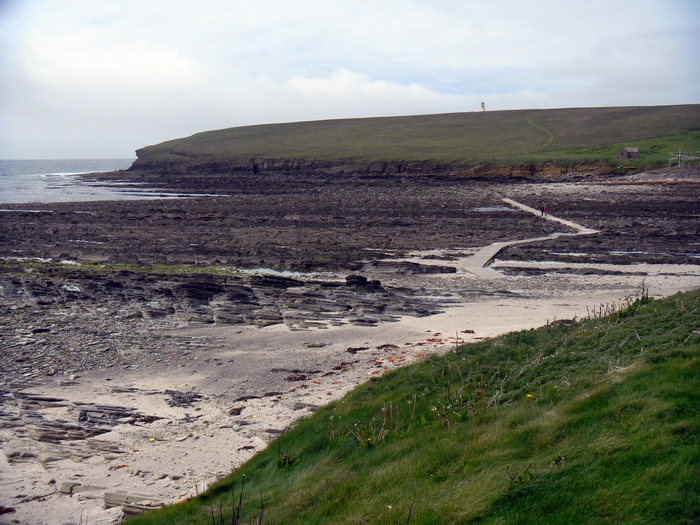 The "Brough of Birsay" refers to the settlement on this island (and the island itself), and is thought to date from the fifth century. By the seventh century it was a Pictish stronghold, and by the ninth century it had been settled by the Vikings.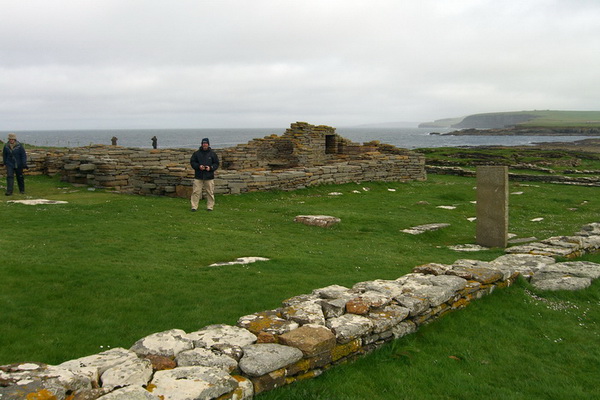 There were many oystercatchers flying about the island. Gil spied a "nest" in the ruins - see the egg?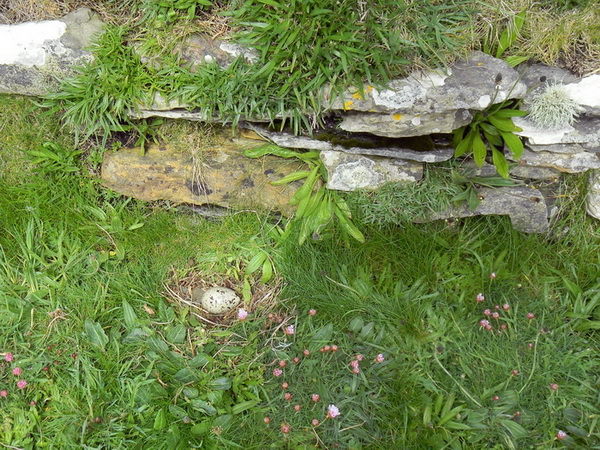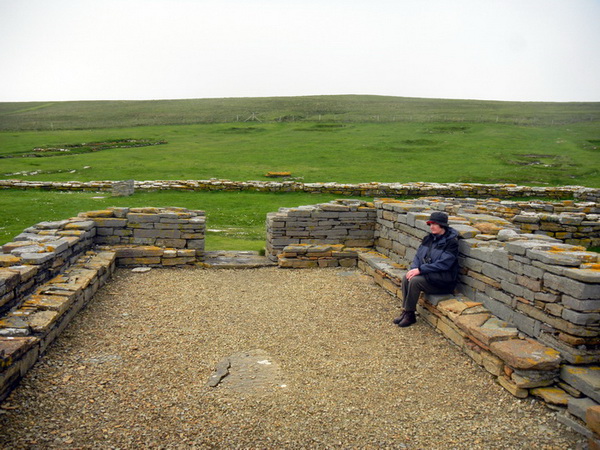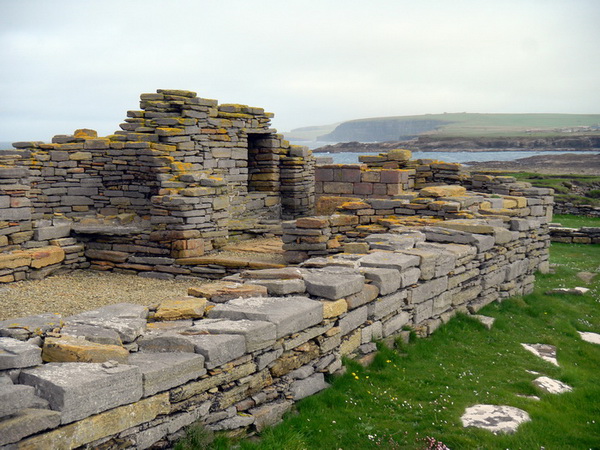 After wandering through the ruins of the settlement, we walked to the top of the island to see the lighthouse and then to the cliffs. We were hoping to see puffins! Alas, no puffins here (or anywhere else on our trip) , but we had a fantastic view of the adjacent seacliffs. We lounged back in the green grass; the sun came out, and we used the binoculars to spy on ravens and various gulls apparently nesting. This was one of those moments where we were both reminded that - puffins or no puffins - life is truly grand!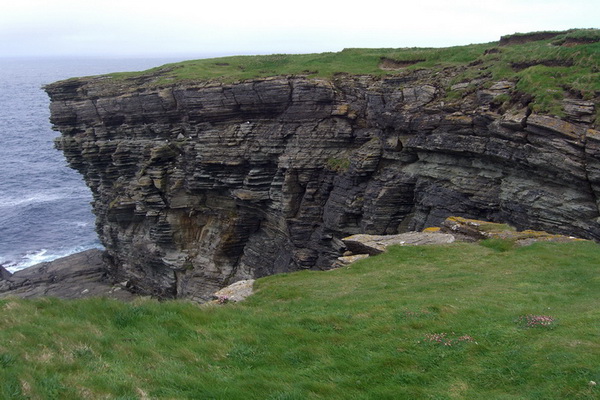 On our way back over the causeway, as we picked our way across the stones, we noticed this interesting cairn.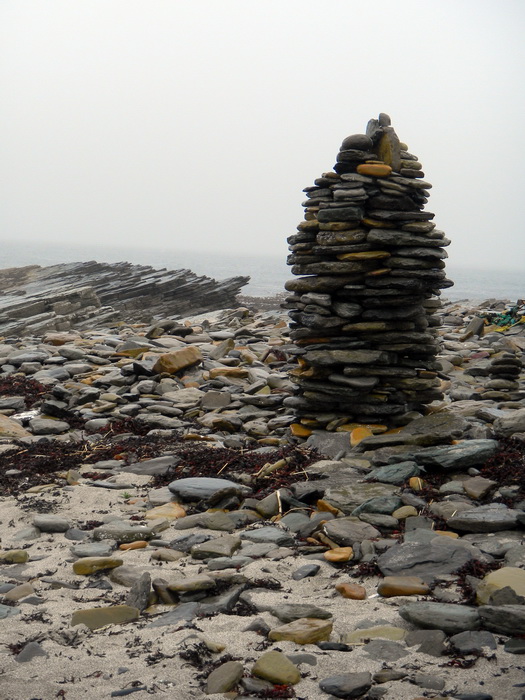 ORKNEY: STONES OF STENNESS
Off to another ancient site - this time back south, to the Stones of Stenness, which may be nearly 5,000 years old. They are a short distance from Maeshowe. Like many other ancient remains in Scotland, these are freely open to the public. It was wonderful to walk among them, and touch them. The only other visitors while we were there were the sheep, who seemed unimpressed, but we were in awe.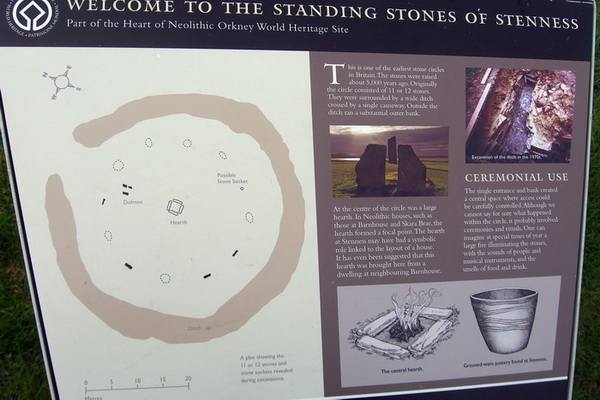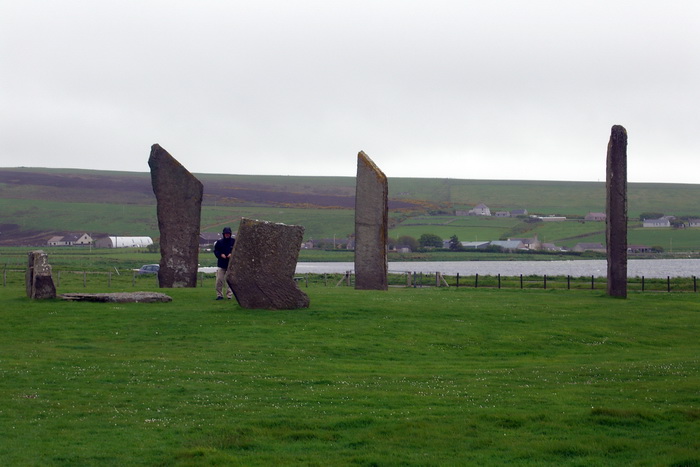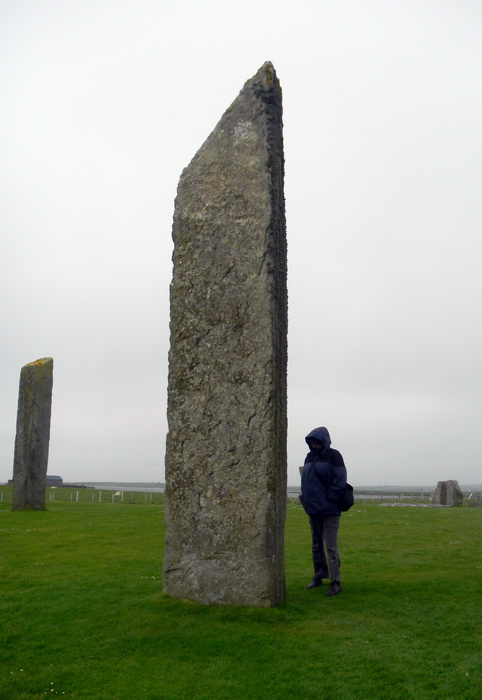 Gil manages to cross a style, on his way from the Stones of Stenness (background) to nearby Barnhouse Village. This neolithic settlement was apparently in use during the heyday of the Stones of Stenness.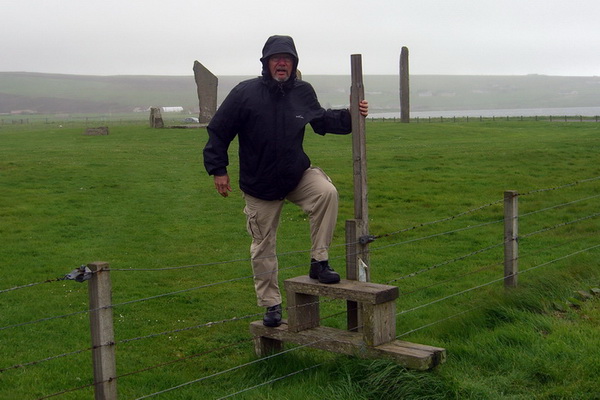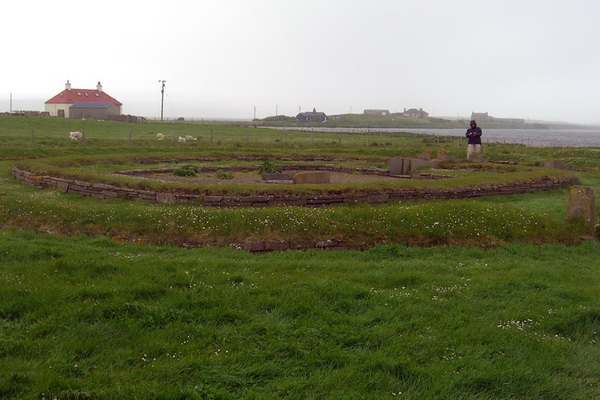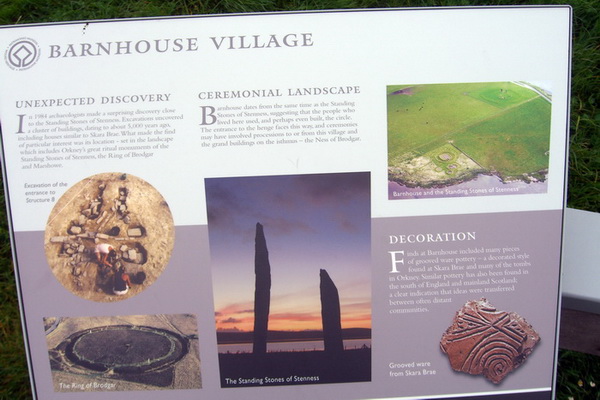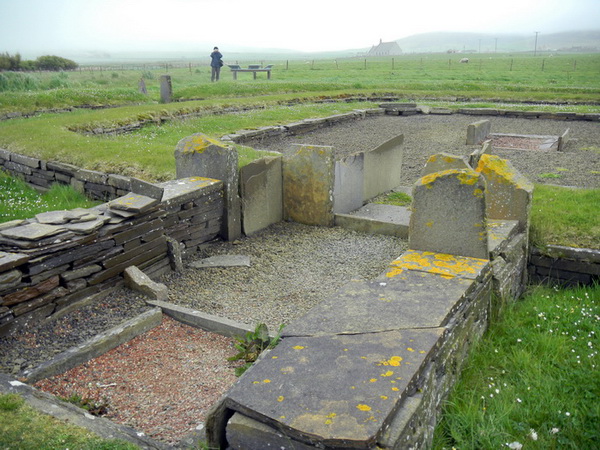 This hill next to the Barnhouse ruins is just crying out to be properly excavated, but there are so many important sites in Orkney (over 3,000 identified so far) that there simply isn't enough time or money to do so yet.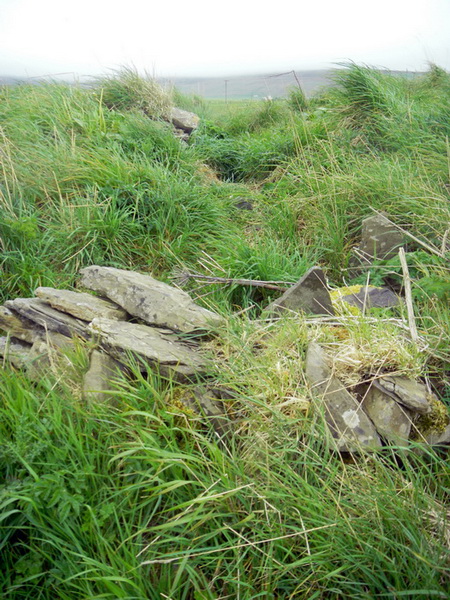 Hmmm...Gil's boot is showing serious signs of wear. Time to look for new footwear! We tried to buy a pair locally, by checking out the Stromness business known as "Rope Center" (everything from serious fishing gear to hats to Italian running shoes), where they were very helpful, but didn't have the exact boot Gil had in mind. So, we will need to do some shopping in Kirkwall, the largest town and capitol of Orkney.
(This was a sad time during our trip. I loved those boots and "packing light" as we did, they were the only footwear I'd brought. Now I'd spend literally days shopping in the limited number of shoe stores on the island and try to find and break in some "foreign boot" to replace my beloved "Made In America" ones)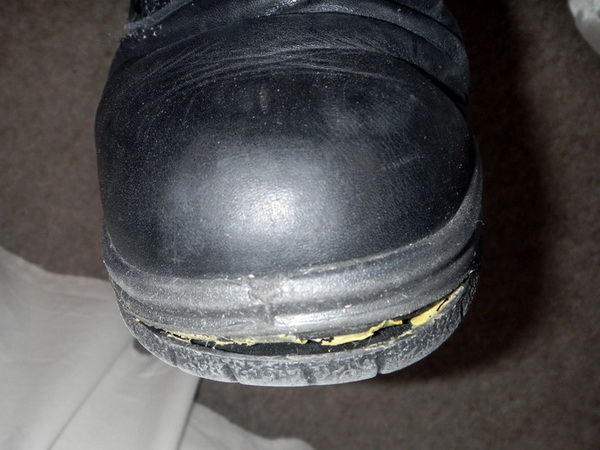 ---
Click HERE to continue on with Gil & Becky's neolithic adventure!
Click HERE to return to Gil and Becky's homepage