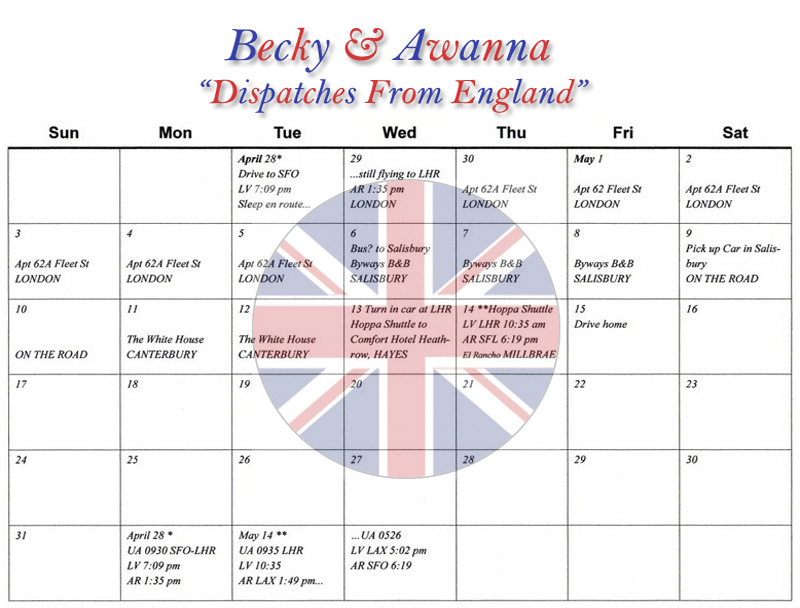 ---
Travel through time and space by choosing from below:
Tuesday-Sunday, April 28th-May 3rd / Monday-Wednesday, May 4th-6th / Thurday-Friday, May 7th-8th / Saturday-Sunday, May 9th-10th / Monday-Thursday, May 11th-14th
---
Tuesday/Wednesday April 28/29, 2009
It's a late night in London, as I type this on my little netbook (free wifi here) in our apartment - oops, I mean "flat." We arrived a few hours ago, and are now feeling rather jet-lagged. My mother Awanna and I have met so many kind people already, and we like our small (but very nice) apartment very much.
But wait - that's tomorrow's story.
Our adventure began outside my Eureka home yesterday.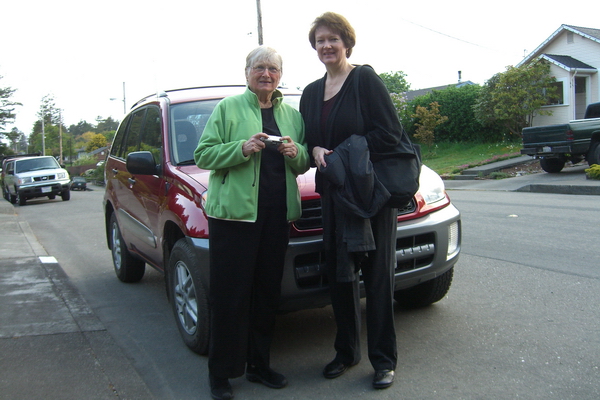 Yesterday was our journey to England, and this is my first dispatch, so it's a bit of an experiment. The drive down to San Francisco from Eureka was uneventful. Alas, our favorite restaurant in Willits, Ardella's, was closed, so we had a mediocre lunch on the plaza in Healdsburg. We experimented with the new Nuvi GPS unit on the way, which was a great help when I decided I really had been rather stupid to leave my wind-blocking fleece jacket at home. Must buy new one, I thought - and Nuvi led us right to an REI store in Corte Madera.
Getting all the electronics going...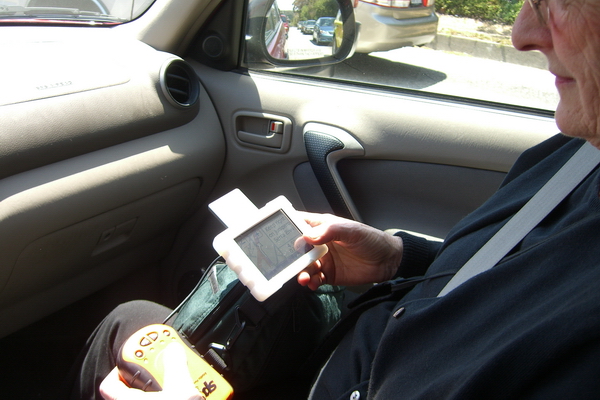 Waiting for the shuttle to SFO at the El Rancho motel in Corte Madera where we would be leaving our car and staying overnight upon our return to the "New World"...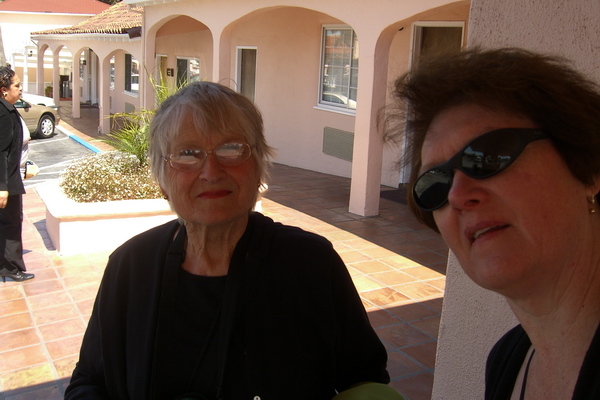 We arrived in plenty of time at the airport. In fact, perhaps we were a bit too early, not that we minded at all. We were literally the only ones in line at the check-in counter. I've never had such painstaking service before in an airport - the attendant was pleasant and even carefully zipped up my suitcase's handle, and checked to make sure I had a proper luggage tag. And she did not chide me for my 48.5 pound suitcase (the limit is 50) - darn all those new-fangled electrics - they are heavy! Security was a breeze, thanks to there being only 3 people in the entire international flight screening area.
Here, Mom (green jacket) waits amongst the heaving throngs of surly international travelers...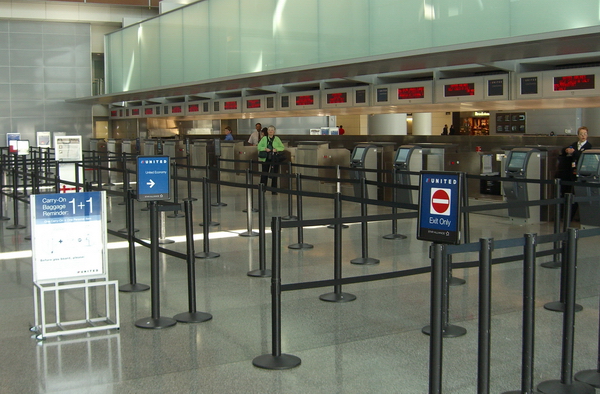 Our flight was pretty full; somehow my seat (Boeing 777, Row 21 Seat H, in Economy Plus area) had about 4 feet of legroom (actually too much - couldn't reach my seat pocket) and Mom had a more conventional "Economy Plus" seat across the aisle from me, with but a few scant inches of "extra" legroom.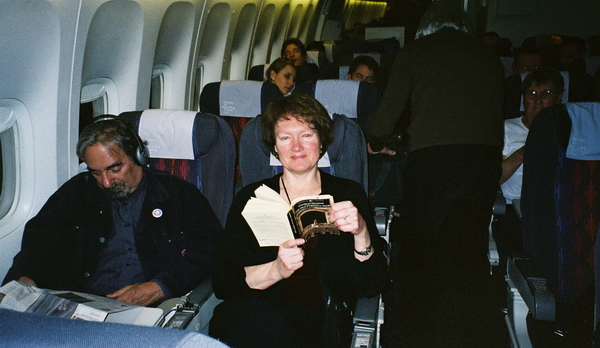 Not much sleep on the way over, although I had interesting chats with my seatmate, who is a manager/producer for a number of artistic acts from around the world. We landed in Heathrow Terminal 1, which is new as of last year for United flights. The Dot2Dot Shuttle service to our Fleet Street flat worked fine, although it does mean extra time picking up and dropping off other passengers. The touted wifi was a joke, but the bus was new, the seats comfortable and the driver talented (38 GB pounds for the two of us). During the drive, we talked with an interesting couple from Australia who had just arrived from 130 degree weather in Egypt, where they had just seen the magnificent Queen Hatshepsut's temple (she's the female who ruled as Pharaoh in her own right).

Our landlord Tim met us within a minute or two of our arrival at the flat, at the corner of Fleet Street and Bouverie Street, one floor above "Fuzzy's Grub" restaurant. I'll send photos tomorrow and tell you about our travels (I neglected to take my camera during our brief rambles, mostly foraging for food for our little kitchenette in our flat).

Cheers for now, Rebecca and Awanna
---
Thursday-April 30, 2009
Yesterday, we met our landlord Tim and found our new flat to be quite cozy, but furnished nicely, and in an excellent, central London location.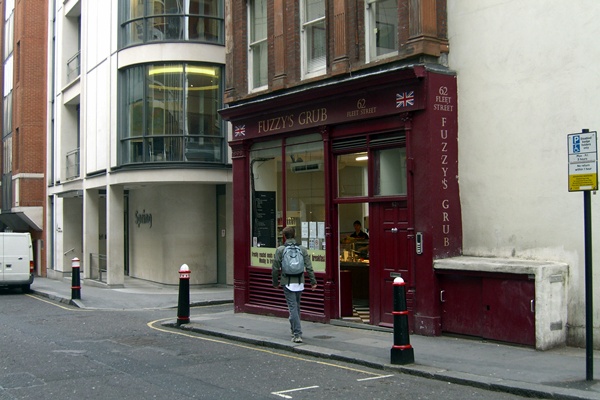 We walked east on Fleet Street to a Marks and Spencer Simply Foods and spent 42 pounds on all sorts of fun foods. ("Ooh, don't we need this pint of Double Devon Cream?") We stock up on several Weight Watcher-type meals (and discover a couple of hours later that macaroni with LEEKS is not all it's cracked up to be), but the Vegetable Bake is pretty tasty, especially when augmented with Mature Cornish Cheddar cheese.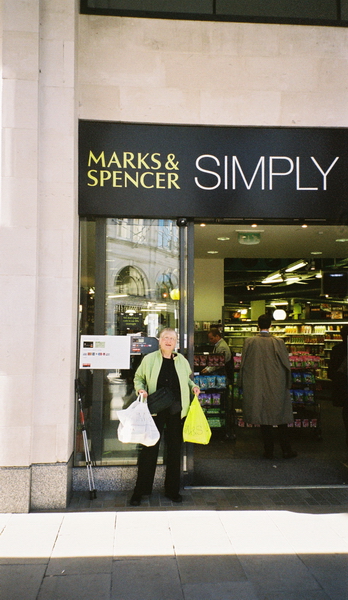 We've found so many helpful people everywhere - our landlord, who took Mom by the arm to help her up the stairs, the two young men at T-Mobile who brought my old UK phone back to life with a smile, the young man at the food store who cheerfully offered to go downstairs to fetch toilet and facial tissue for me, the kind gentleman at Boots Pharmacy who took Mom downstairs via a tiny lift and a back-room tour just to find my favorite fizzy Vitamin C tablets. The silver haired gent at a legal bookstore who helped Mom count out her British change, and finally said "well, that's close enough" and then took two additional coins out of the till to show us their new interlocking design, and told us "just keep them for yourselves."
Today we rose before 5:00 (we couldn't help it) and decided today would be the day to explore our own neighborhood, here in the legal district of London. We walked around a bit before St Bride's Church (Christopher Wren, heavily rebuilt after the Blitz) opened at 8:30, just east down Fleet Street. Eight churches have been on this site, with the earliest remains from Roman settlement times.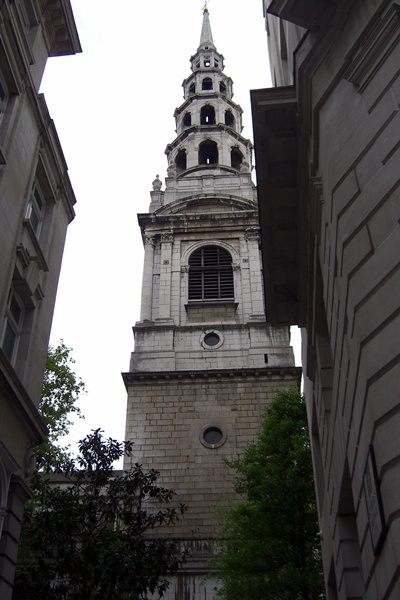 This church has been associated with the printing and journalism trades for many decades, and remains so, even though those trades have mostly vanished from the area. Note the tributes to journalists kidnapped and killed in the line of duty.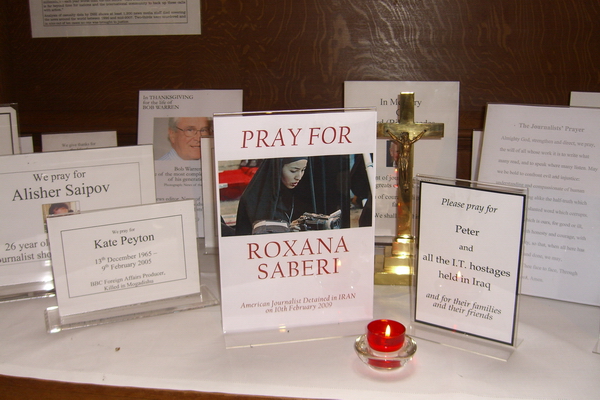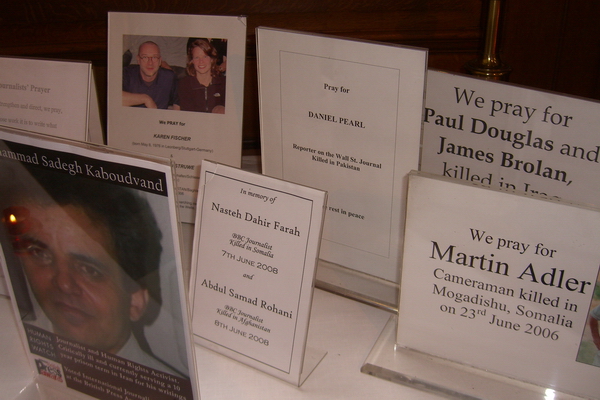 Then, we wandered through the extensive grounds of the Inner and Middle Temples (two collections of legal professionals) and spent some time in the Temple Church, which was built in the 1100's by the Knights Templar, and nearly destroyed in the bombing raids of World War II. We found the effigy belonging to an ancestor of 25 generations back.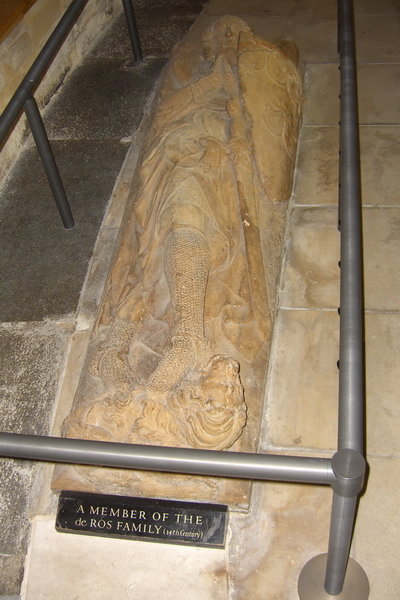 We had a tasty lunch at Pret A Manger, a chain of fresh-made sandwich shops I love. We shared a "Mature Cheddar with Pickle on Baguette" sandwich and sat enthralled by the hordes of barrister-types, young and old, moving in and out of the shop in mere minutes, lunch in hand . I'm not brazen enough to take photos of them, but I definitely feel "on vacation" compared to these Very Busy (and Very Well Dressed) people.
After walking back east to the flat, and taking a brief break, we're off again, this time east towards St Paul's Cathedral. On the way, we nip into St Martin's Ludgate church, another by Christopher Wren. Then we continue to St Paul's where we wander the crypt and main church, finally sitting for the 5:00 Evensong service. A magnificent setting to be sure, but I find I am becoming very sleepy...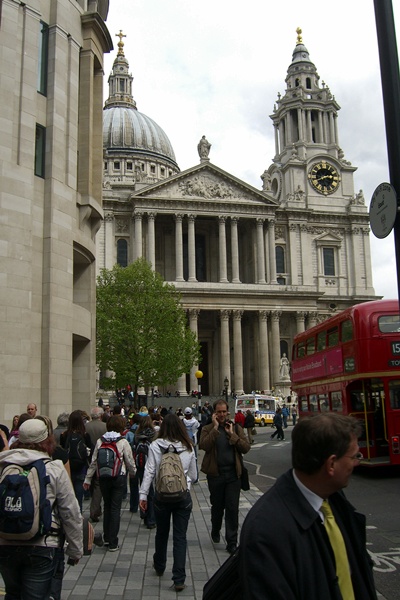 Heading home, we hop a bus. Hooray, we are able to use our new Oyster (pre-paid travel) Cards successfully for the first time, by tapping them to the special spot and getting a green light as reward. Almost as if we know what we are doing!
Cheers to all, Becky and Awanna
And remember - to combat the spread of swine flu, the UK is running telly ads that tell us to "Catch It, Bin it, Kill it!" Which translates to, "Use a disposable tissue, Immediately throw it away, and Wash your hands frequently." Good advice anytime!
---
Friday-May 1, 2009
It's May Day, 2009! (more about that later...)
I started my day with a sausage sandwich from the shop just downstairs from our flat, called Fuzzy's Grub. Everyone else lined up in this busy little place knew exactly how to order, unlike me (answering "yes" to questions I didn't really understand, for example, got me a cup of tea with milk in it and brown sauce on my sausage). Anyway, tasty!
We rode the bus west on Fleet Street/Strand to Trafalgar Square, that beloved heart of London, to meet our friend Barbara from Salisbury and her daughter Sharon, who were arriving by train. "Let's meet by the lions."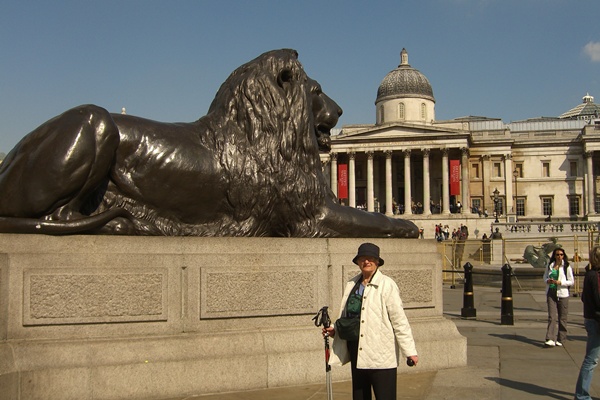 We spent the morning in the beautiful National Gallery (pictured behind Mom, above), soaking up so many iconic paintings (from just one of several galleries) I felt quite saturated, including Monet, Van Gogh, Stubbs, Pisarro, Manet, Caillebotte. I especially enjoyed the Turners and the magnificent Stubbs horse "Whistlejacket."
Mom and Sharon sat in with a most attentive group of school children, enjoying a lively discussion led by a docent about Seurat's "Bathers" painting.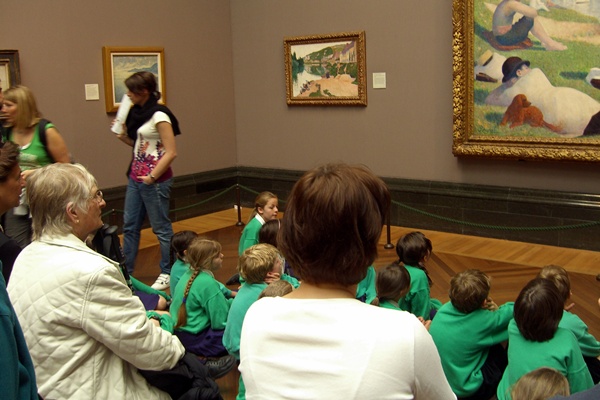 After a spot of lunch at the Gallery, we decided to amble over to Covent Garden in the delightful sun, and take in the London Transport Museum. As we ambled, we came across the May Day Parade on its way to Trafalgar Square, filled with red banners (a portrait of Stalin!), communist/socialist slogans and chanting people. All seemed peaceful as we stood and watched.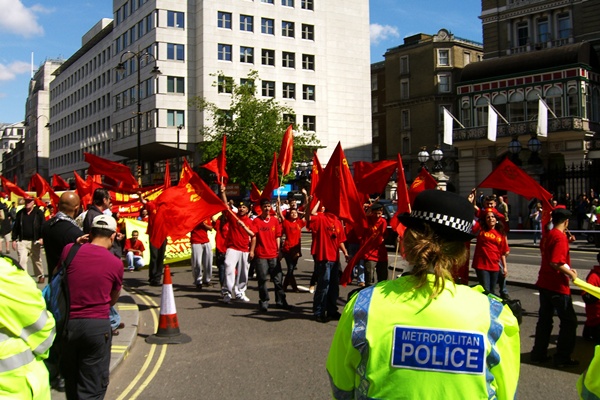 Below, in the London Transport Museum, Mom and Barbara confer in one of the first "underground" train cars, from the 1800's. We also sat in and climbed on horse drawn omnibusses, and a variety of London busses through the years.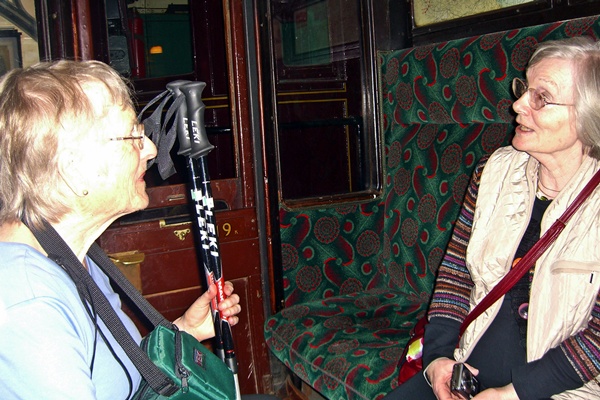 We said good-bye to Barbara and Sharon (we'll see them again on Wednesday), and made our way by foot to the Strand, where we meant to catch a bus back home, but we got distracted by Somerset House (where we plan to look at more fabulous art tomorrow in the Courtauld Gallery) and its delightful courtyard and fountains. We had a snack, and relaxed, enjoying the perfect weather.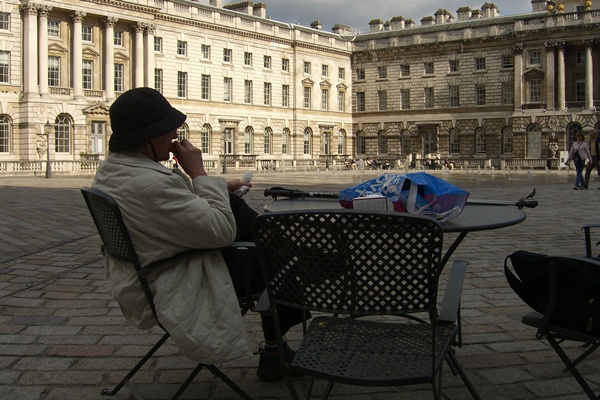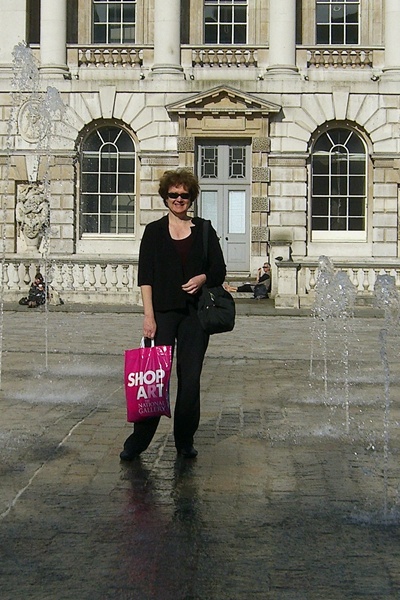 Then, before we could find a bus stop on the right side of the street, we were back home, rather footsore.
Until tomorrow, Becky and Awanna
It's Gil here. I'm at home in Eureka minding the store while Becky and Awanna are out gallivanting around Britain. In addition to my duties here at home I'm also in charge of posting the girls' dispatches to the web each day. Included in an email, separate from the "Daily Dispatch," was this picture that Barbara took of Becky "driving" one of London's double decker busses. I think it's too funny not to be included in this trip report. So here it is...I have the power!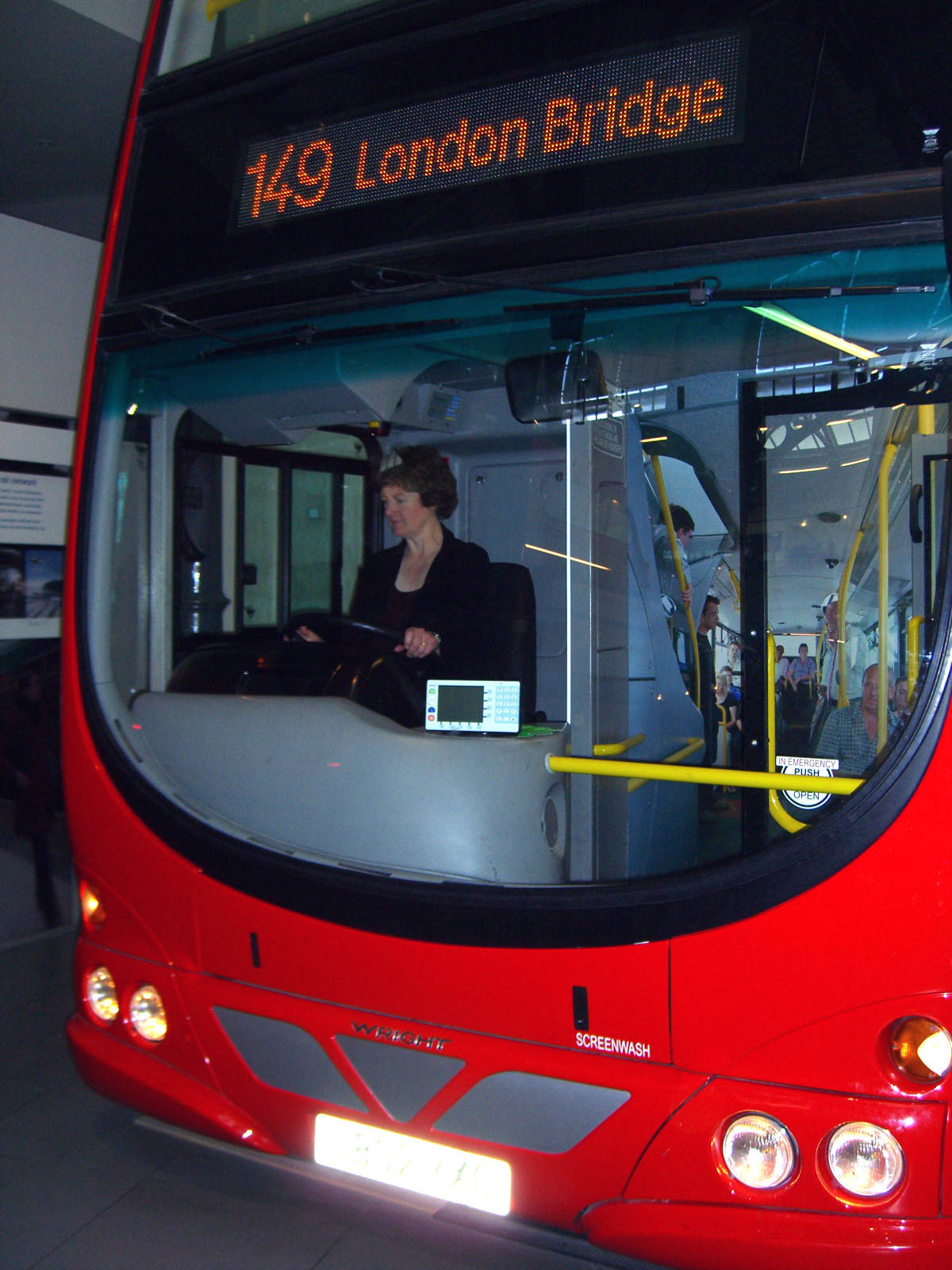 -photos above and below by Barbara Martin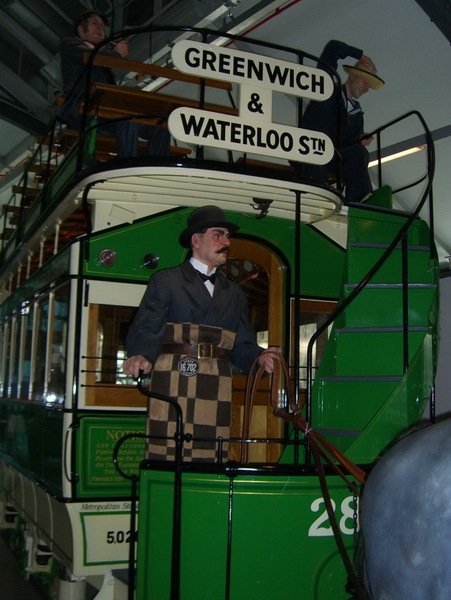 ---
Saturday-May 2, 2009
This sunny Saturday morning we discovered that it's true - our neighborhood becomes a ghost town on the weekends. Hardly any one lives or stays here, they just work like demons during the week.. I went out on the streets in search of breakfast. Almost no cars on the street, so I just sauntered casually across Fleet Street. Silence. I found all the shops shut except McDonalds, so I had a bagel with egg and sausage (hey, at least it's BRITISH sausage, or so the sign said).
Our first goal of the day was to arrive before 10:00 at the Lyceum Theatre box office, so we could purchase tickets for tonight's performance of Lion King (after a frustrating evening trying unsuccessfully to use the Ticketmaster website). We (once again) inadvertently ended up walking all the way to our destination. This time we strolled along the Embankment along the extensive Temple grounds, enjoying the crisp sunny morning weather, admiring the Thames and the view of the London Eye, Big Ben tower, etc. Eventually we got on a bus but found ourselves suddenly crossing the Thames on the Waterloo Bridge - oops, wrong way. We got off, and Mom bravely decided we could walk back across it, to the destination box office, where we got very good seats.
After our success, we walked a short distance to Somerset House (same place with the fountains from a couple of days ago), where we went through the small but fabulous collections of the Courtauld Institute...Manet, Cezanne, Rousseau, Rubens, Gauguin, Seurat, Picasso... Here's Mom with a certain rather famous gentleman with a somewhat damaged ear...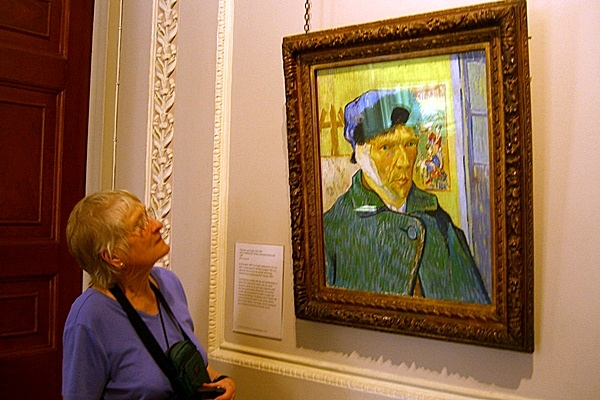 After a spot of lunch at the Gallery Cafe, Mom headed towards the Gallery Shop and I went on a walking tour of the "Hidden Places and History" tour of Somerset House. (How could I resist?) I saw the vast watergate (below), where navy barges used to come right into the building from the Thames, before construction of the vast embankments, which set Somerset house, which used to abut the River, about 100 feet (?) away from the river edge. I saw a gilded barge in which the admirals and captains would ride in enclosed comfort, whilst ferried by more lowlife seamen rowing with long poles against the Thames current. (Did I mention that for many decades Somerset House housed most of the offices of the British Navy?) We then explored stairways and tunnels and coal storage cupboards. (OK, the tour was not QUITE as exciting as I had hoped.)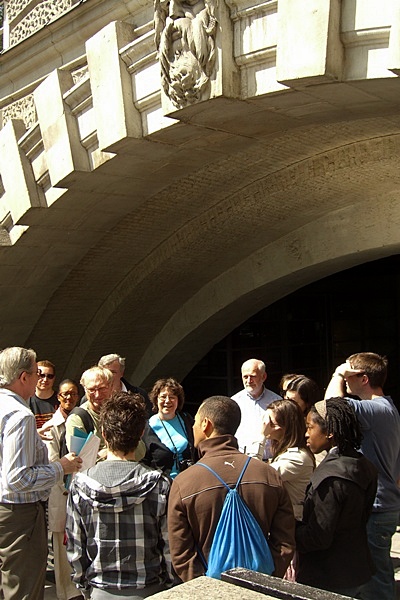 We then relaxed in the open fountain courtyard, and Mom successfully got the SPOT device to send a location "OK" message. And we tried to get a pigeon to eat an errant grape, but they were having none of it.
Back home via one of our "usual" buses, heading east on Fleet Street, suddenly our bus "went rogue" and turned the WRONG WAY (!) I quickly got out my London map guide and followed the new route, so was able to recognize a good place to get off, and grab another (more well behaved) bus. We learned later that it was a planned detour because of road work. London is busy replacing 1000 miles of Victorian water mains.
We took it easy for an hour or so in the flat, then took a bus to to Lion King. We enjoyed the production immensely, gasping at some of the fantastic costumes and sets. Some of the singing was great, but it was a bit uneven and even lackluster towards the end. Overall, though, we really enjoyed ourselves.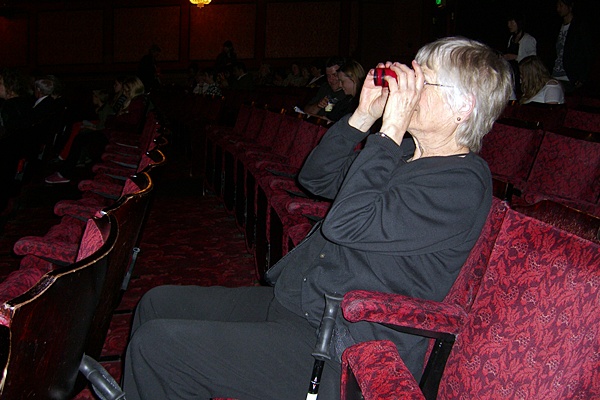 Bussed home, and took a brief (and slightly scary) trek into an alley to Gough Court in the dark, where I wanted to see authentic gaslights in action. So we did it, and here's the proof. Jaffa cakes for a treat at home.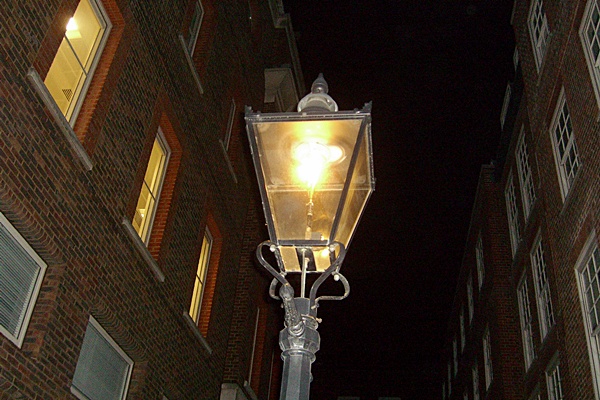 Good night from Becky and Awanna
---
Sunday-May 3, 2009
On tap today, the Royal Mews and Victoria and Albert Museum, followed by an unexpected delight.
We started off by strolling through the sprawling Temple complex again, meandering between the courtyards, residence halls, and law chambers, enjoying the beautiful gardens.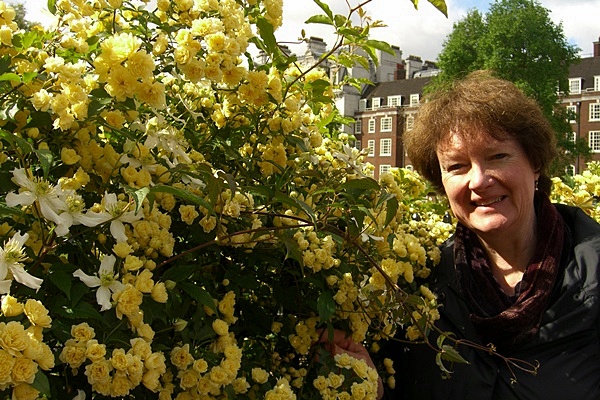 At the Temple tube station, we climbed aboard and journeyed to the Victoria station.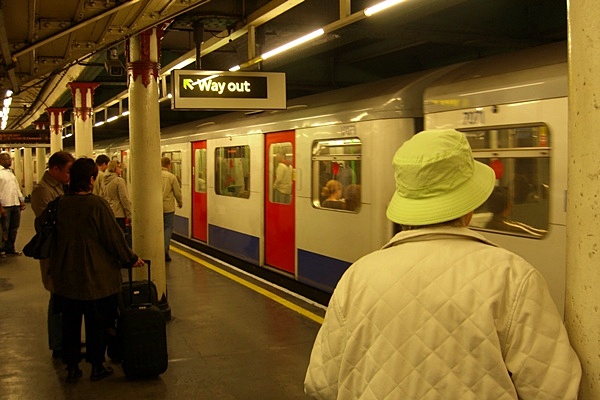 What a change from our peaceful existence in lawyer-land. Hordes of people, many tourists, had to fight our way through the station to emerge, disoriented, into the sunlight again. Where were we? Aha, nice little black signs pointed the way, so we headed out with the teeming masses of people, most of whom were apparently headed further up to Buckingham Palace.
The Royal Mews, next to Buckingham Palace, are where all the coaches and cars of "state" are kept, plus the specially trained coach horses. We had an excellent tour of the facility, which dates back to Georgian times. We learned that the employees actually live on the premises with their families, and that the Queen loves to pop by. Each Christmas, the horses are led to special (smaller) stalls (shown below), each with their personal name plate, horse's heads facing out, for the Queen to approach and give them each "a carrot, some sugar and a caress." The Queen names all of the horses herself, renaming the registered horses if she doesn't care for the original registered name. Many are named after places; I noticed one named "Tolerance" which I rather liked.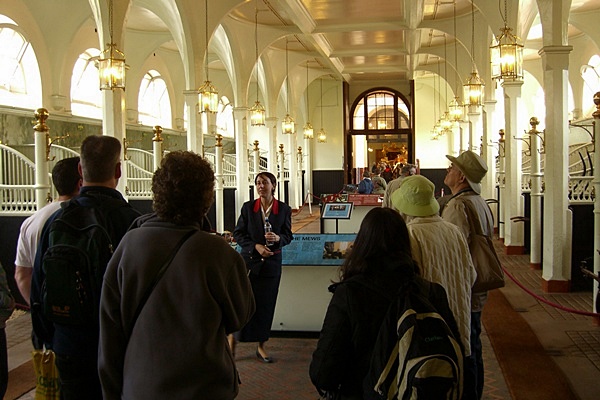 The horses are either Cleveland Bays (below; a distinct breed), or specially selected grey horses of various lineage.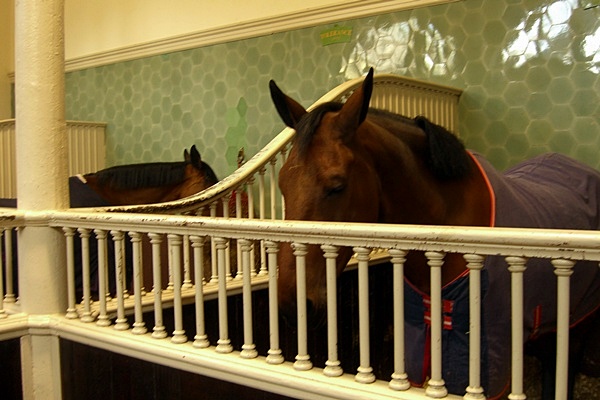 The "school" for the horses is on the premises, too. Most of the carriages are kept sideways in individual bays that are barely wide enough to accommodate the coach. I asked our guide how they were moved in an out. "Note the dings on the walls," she pointed out. Apparently the staff have to manually jostle each coach back and forth and back and forth until they can finally turn it enough to drive out, a la the movie "Austin Powers." (Which made me laugh. But only my "inner voice," and respectfully.) Below is the ornate coach used for coronation ceremonies. It's so heavy it takes 8 horses to pull it, and even then very slowly. These are fake horses and "postillion" riders, who control the horses without a traditional coachman. I believe the harness is 200 years old.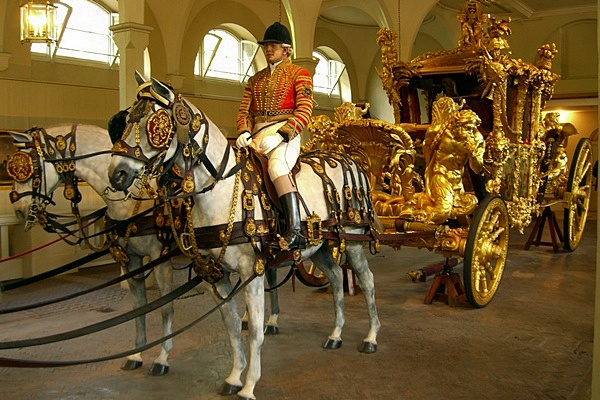 We dawdled a bit in the gift shop (I now have an Elizabeth II pen and a Buckingham Palace shower cap and Mom has a mighty fine butler's apron...), then very cleverly decided to just take a cab to the V&A Museum.
At the museum, which is of an overwhelming size, we started out with Tippoo's Tiger (below), from the room devoted to Indian culture and artifacts. This late 1700's mechanical contraption depicts a tiger mauling a British soldier, with clockwork mechanism to make the tiger's mouth and soldier's arm move. It even makes sounds, courtesy of an organ keyboard tucked inside the tiger. We would love to see (and hear) it in action, but did not.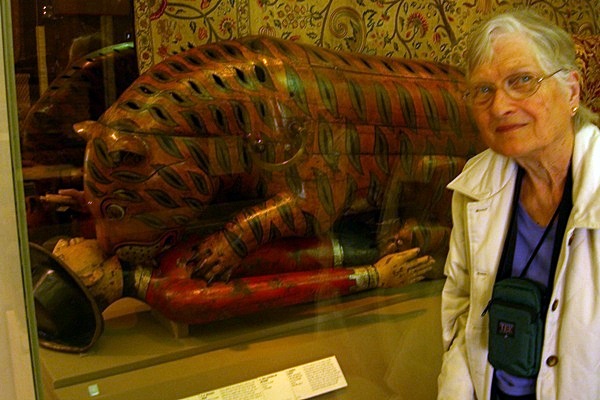 We also saw the Great Bed of Ware (huge; mentioned in Shakespeare's "Twelfth Night"), statues, textiles, British fancy rooms, etc. You could spend years here and still not see everything. Exhausted, we retreated to the inner (outdoor) courtyard for tea and relaxation, and were pleasantly surprised by a phone call from brother Daniel, who said, "Hey, you are in the inner courtyard at the Victoria and Albert Museum, aren't you?" No, he's not wonderfully psychic, he's just monitoring the progress of his SPOT positioning device, which Mom had set on the table and sent an "OK" message from just a few minutes earlier.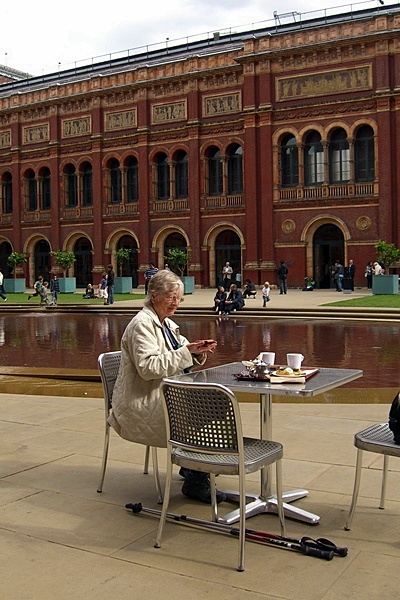 To get home, we decided to skip returning on the tube. We'd take a bus north, then change at Marble Arch to one of our very own "Fleet Street" buses. When we alighted at Marble Arch, we saw crowds of people in Hyde Park...
Surprise! - it's Sunday and we're at the famous "Speakers' Corner." This was something I've always wanted to see/hear, and now here we were! We wandered around from speaker to speaker to catch their topics. Instead of the old soapboxes, the speakers now favor those folding step stools commonly used in kitchens. Dating from the 1850/60's, Speakers' Corner is a bastion of free speech. Got a topic? Just want to hear yourself blather on? You can just go and start talking. But expect to be heckled and to keep your cool! We saw some heated exchanges, but the whole atmosphere seems to be one of tolerance and no one getting angry. Lots of smiles all around. The fellow below is, indeed, wearing an elephant head. And a fine plastic lobster necklace, but you can't see it, alas. Can't remember what he was talking about, but he seemed sane enough.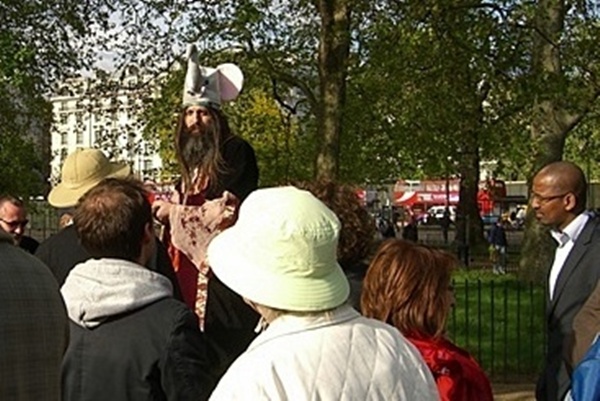 Cheers, Becky and Awanna
---
Click HERE to continue on with Becky and Awanna's adventure!
Click HERE to return to Gil and Becky's homepage