---
Travel through time and space by choosing from below:
Tuesday-Sunday, April 28th-May 3rd / Monday-Wednesday, May 4th-6th / Thurday-Friday, May 7th-8th / Saturday-Sunday, May 9th-10th / Monday-Thursday, May 11th-14th
---
Saturday-May 9, 2009
Today we had to say good-bye to Salisbury. We began our day by finishing our packing, then enjoying 3 vegetarian sausages EACH for breakfast. (Which turns out to be a lot of sausages.)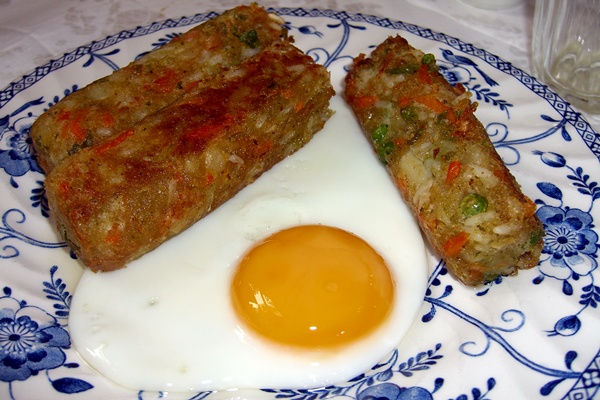 Then we took a walk to Sarum St Martin's church nearby, where Daniel and Gil and I first joined Barbara and Dennis at their Thursday bellringing practice way back in 1998.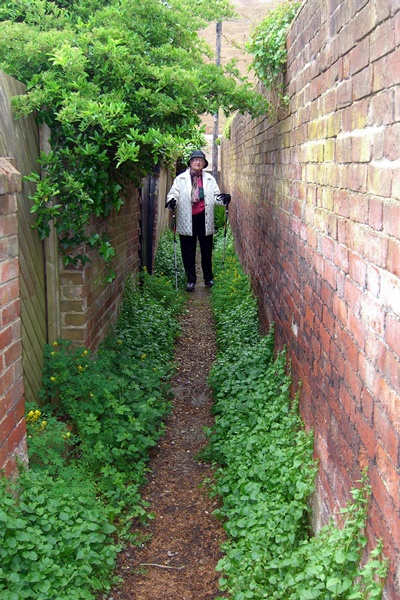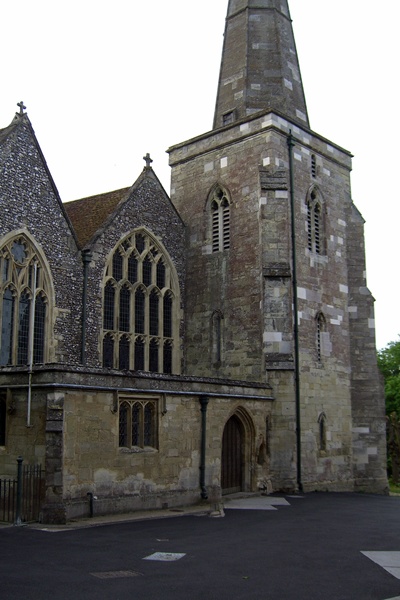 Then the Martins picked us and our luggage up to take us for coffee in a lovely ancient place downtown, where Den gave us lovely chocolates and Barbara and I played with our cameras...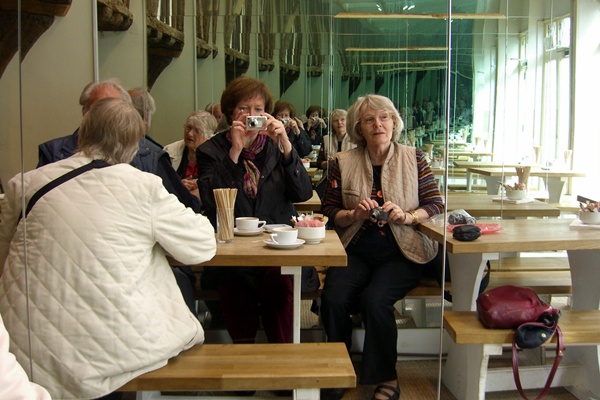 Look, it's Barbara Clones! The world is now a better place with TWO Barbaras.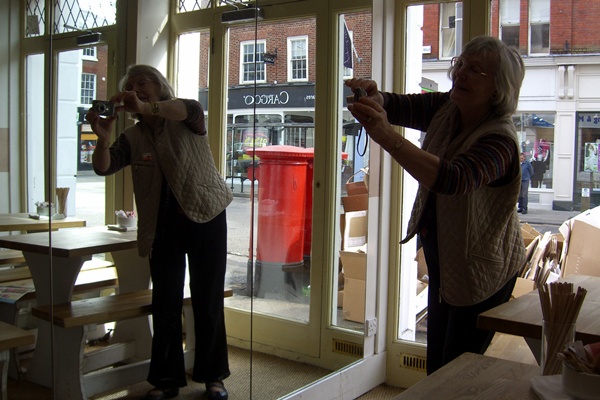 ... and then to the Car Hire place, where we picked up our black Hyundai i30. It's a very nice car. We set up the GPS (which Mom has named "Joe") and took aboard a temporary (and useful) passenger, Barbara, who guided us as we followed Den out of Salisbury, to help me out as a nervous driver. Actually, driving wasn't that bad, thanks to their help.
We said our goodbye's at the side of a road - here are Den and Barbara giving me some last minute (much needed) advice...
...then drove ourselves to Stockbridge, where we walked around a bit, and were suddenly accosted by the pattering footsteps of...Barbara! She and Den had also come to Stockbridge, for a bit of lunch (they had warned us in advance, in case you thought they were "lurking" around). So we made our good-byes again, and walked down a footpath along a stream.
We met a couple and their female West Highland White Terrier (whose name may have been Becky, or perhaps Bucky, or perhaps not), who was very friendly and danced for me just like Duffy. While I talked dogs with the lady, Mom chatted with the gentlemen about her walking poles., He was very interested in them, as he is rather gimpy. He even took Mom's poles for a trial run up and down the path.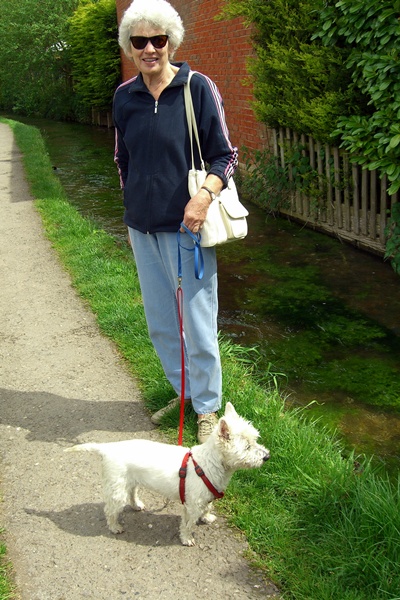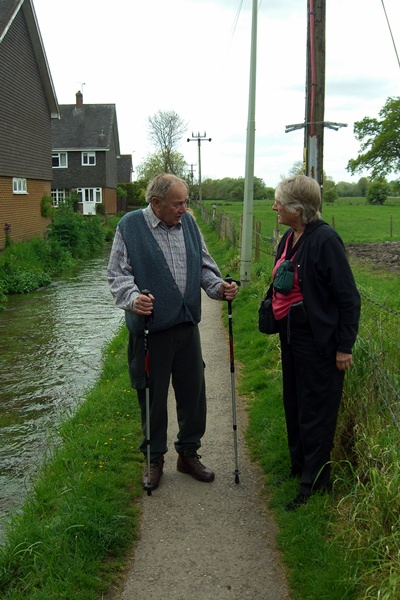 Back to town, one more good-bye to Barbara and Dennis, then we found our car and headed out, now using "Joe" for navigation exclusively.
We had lunch in a country pub called Hinton Arms near Cheritan, I believe..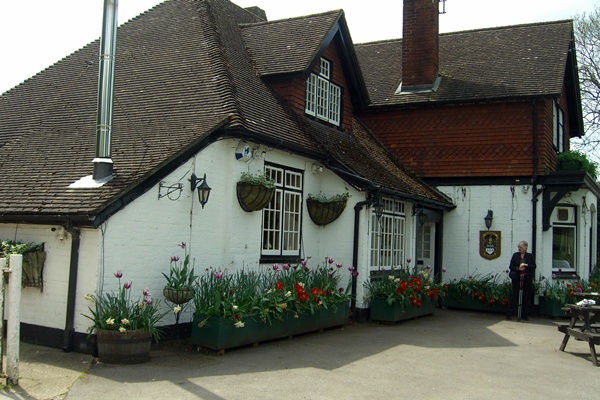 We both had Bacon, Lettuce and Tomato baguettes, with chips and salad. Huge portions. (And yes, that was real bacon for Mom, who is mostly vegetarian but does enjoy a bit of bacon from time to time and this was one of those times.) We took half our sandwiches with us, wrapped in foil.
We finally arrived at our destination, Wisborough Green, outside of Petworth.
We tried one B and B, from Barbara's Little Green book, but it was already booked. The helpful landlady there called a friend for us, which led us to our beautiful room at Old Pond Bed and Breakfast, right in the middle of town next to the Three Crowns pub. (By the way, there are motorcycles whizzing around everywhere on this gorgeous spring day, mostly sportbikes but some cruisers, too.)
Wisborough Green is a lovely village, with a huge green area, where we were able to watch a bit of cricket sitting on a bench in the sun (and understood not one jot, except that they looked quite snazzy in their whites and that pitching looked awfully energetic). We called Gil, who was just checking our position. Since I couldn't remember offhand the name of the village, it was quite handy (not to mention bizarre) that Gil could tell us where we were, according to Spot. He could even zoom in Google Maps and find the cricket pitch (?).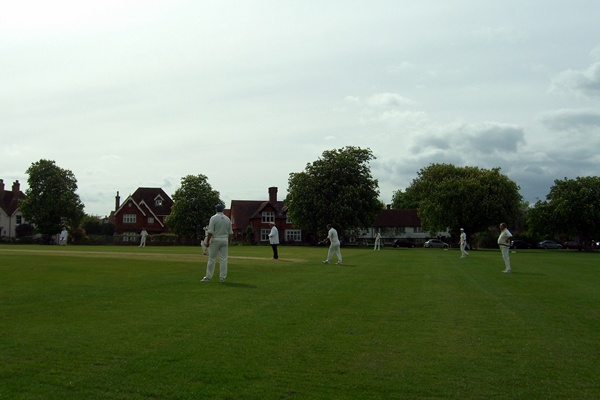 Spot likes cricket greens...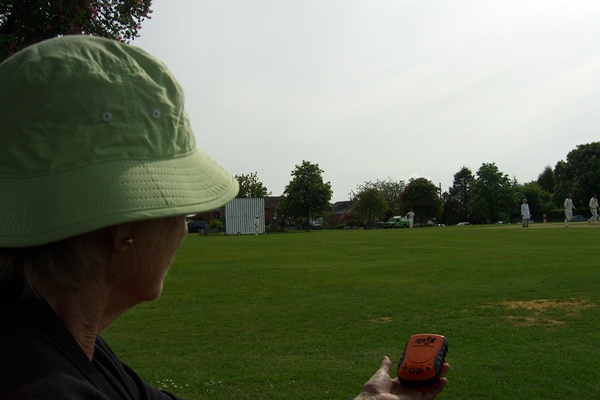 We followed our landlady's suggestion and took a couple of walks, up to the ancient (Norman) church...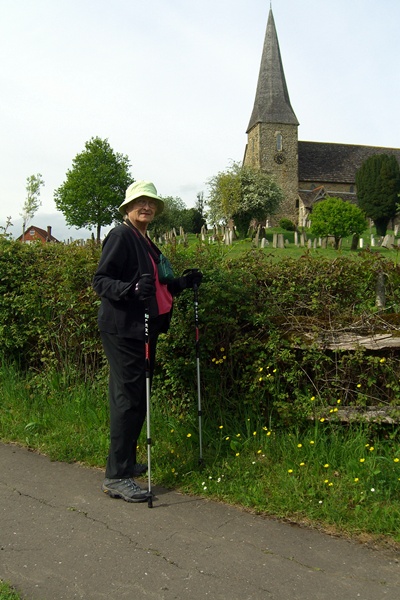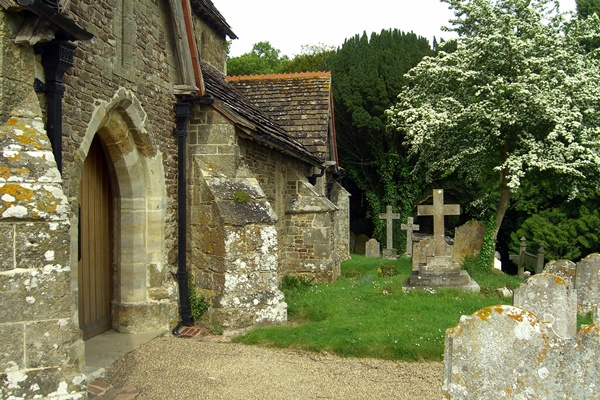 I opened up Den's beautiful gift of fine chocolates here, and enjoyed one...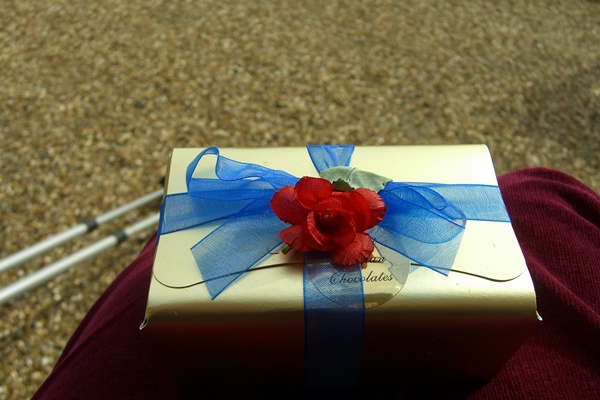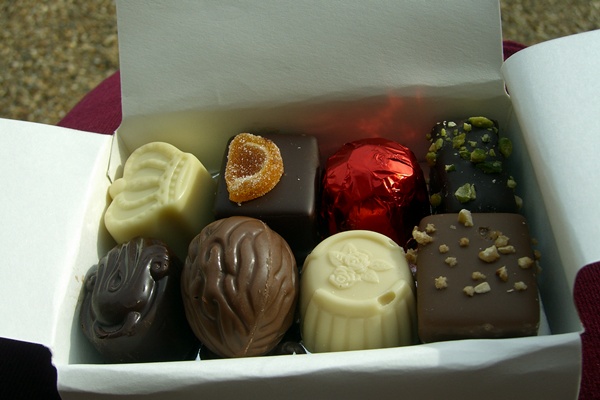 Our path led us to some lovely homes....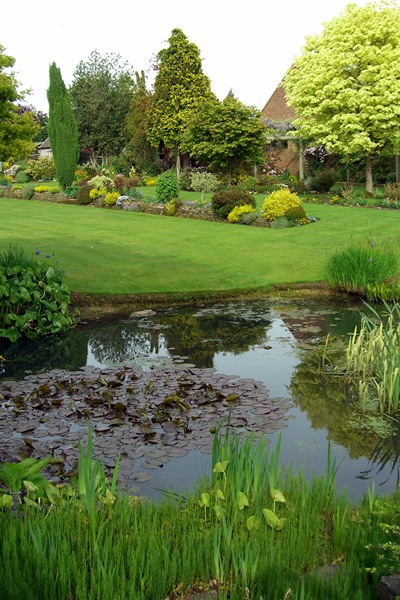 ...and then to a public bridlepath and then public footpaths across green pastures filled with wild bunnies hopping into hedgerows.
Mom negotiated the two stiles quite well.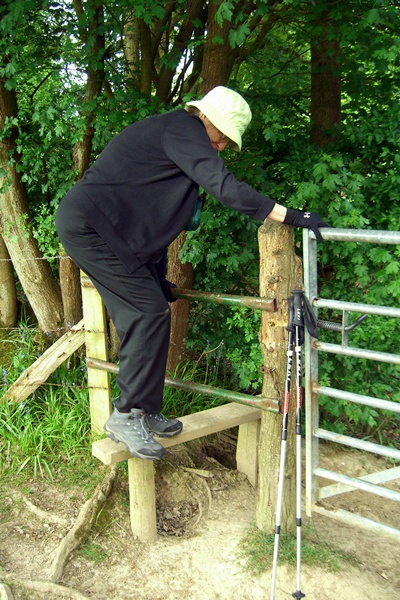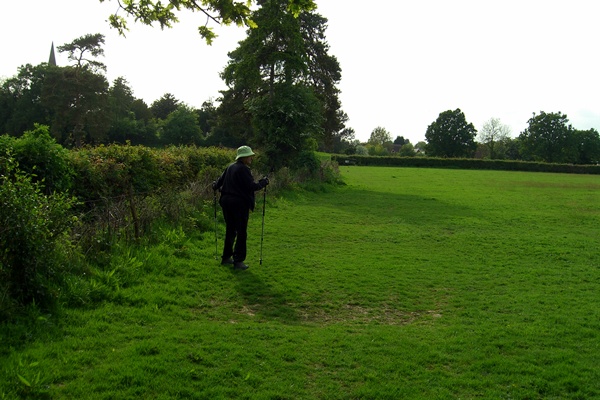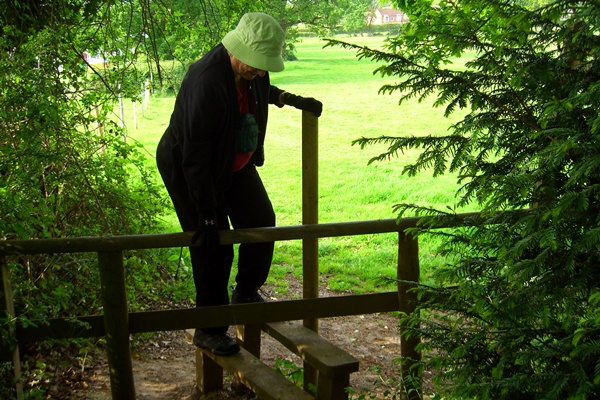 The second stile took us back to the church, where we entered and explored, while the young vicar (?) sat up front and did Evening Prayers (Don't worry; he had invited us in). Sadly, he had no congregation, but we hope that is due to signs outside the church indicating the church is CLOSED for services, except Sunday, due to lighting renovations. Two of the doors are especially tall, and we learned that some people think this indicates the original building was intended for defensive use because the extra height was to enable one to ride in on a horse. Photo below courtesy of Awanna.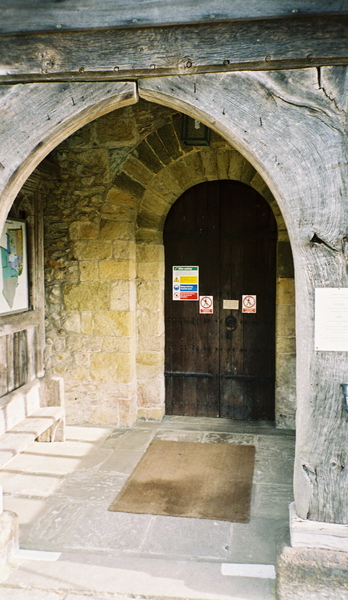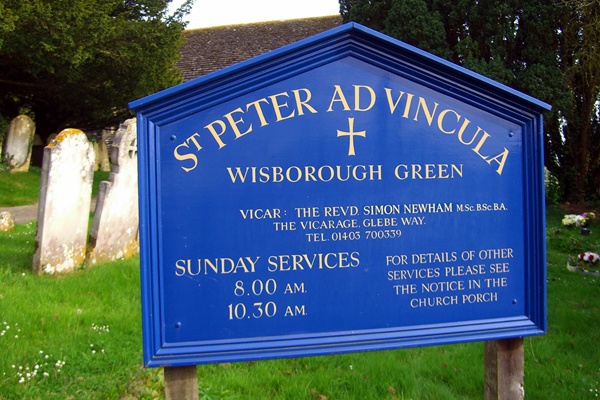 We ate our leftover "second lunch" on a bench by the Old Pond, across from our B and B, where we watched the ducks and called Daniel.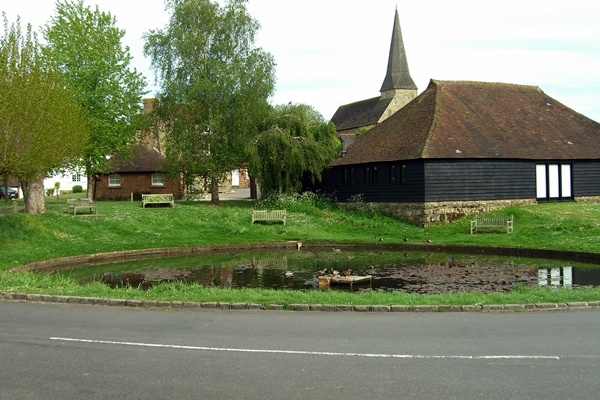 After a brief bit of relaxation, we continued our walk, looking for the "real" village. Turns out there is very little in the way of business here. It's just darned pretty. Nearly all the houses are incredibly lovely, as are their gardens.
...As are the playground and their Post Office / Lottery Office / Coal Sales / Grocery / Newstand (Which had just closed).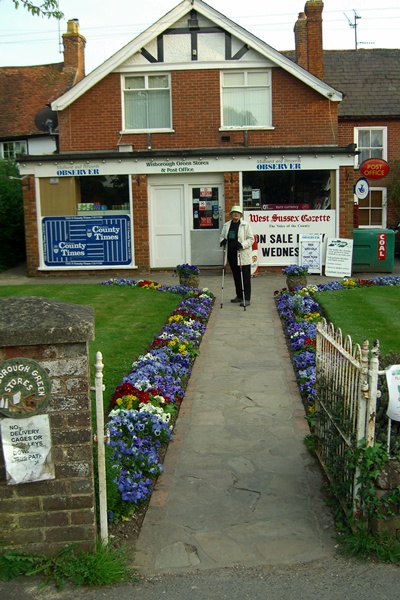 We saw two dads teaching their two young sons how to handle a cricket bat...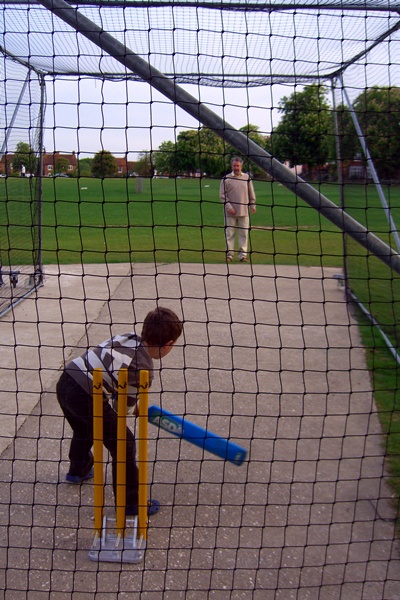 And so ends another day in England...We hope all is as lovely where you are!
Cheers!
Becky and Awanna
---
Sunday-May 10, 2009
Well. This was not the best of days. Actually, it was the worst day of the trip.
It began pleasantly enough at The Old Pond B&B in Wisborough Green, with a tasty breakfast of porridge. Which was all I was going to have until the landlady mentioned her excellent scrambled eggs. Which made me order an egg. And then she had to mention the local sausage. Sigh. So I had a sausage. And I had already tried her homemade muesli and her homemade granola. Needless to say, I was NOT hungry when we left the table.
Off we went for a walk up a nearby country lane.
Weeping willow (below)...Two seconds after Mom took this photo, something - perhaps a nettle? - stung me so suddenly and painfully I had to take off my shoe and sock. Nothing was there. Just the pain. It did, however, subside quickly.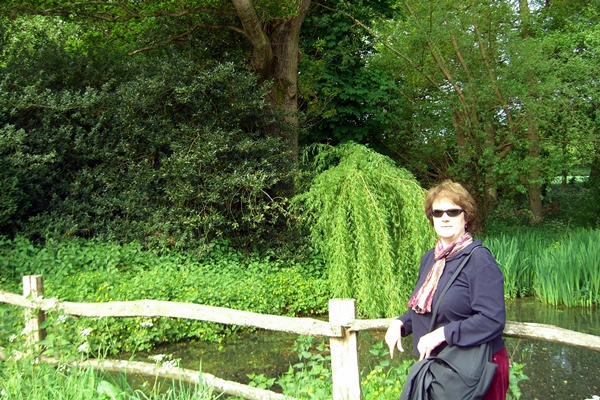 A most friendly black cat. Hmmmm...a portent of the day yet to come...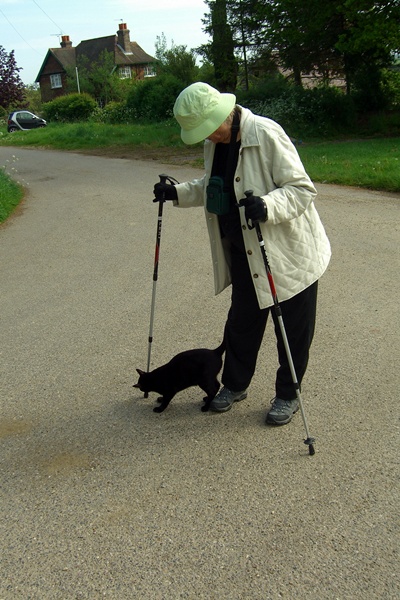 Back to The Old Pond, here is the Horse Chestnut tree in front of it,. These are in bloom everywhere.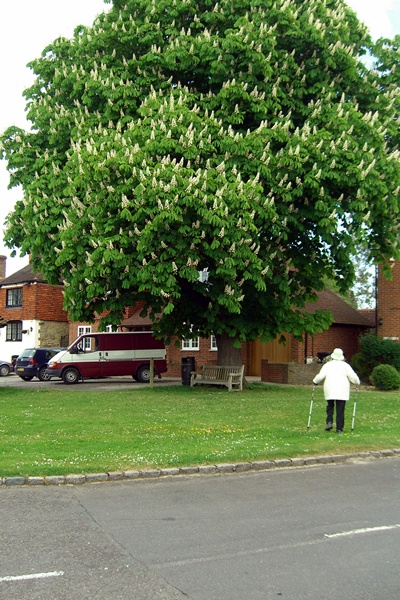 The Old Pond Bed and Breakfast, next to the Three Crowns Pub. Highly recommended!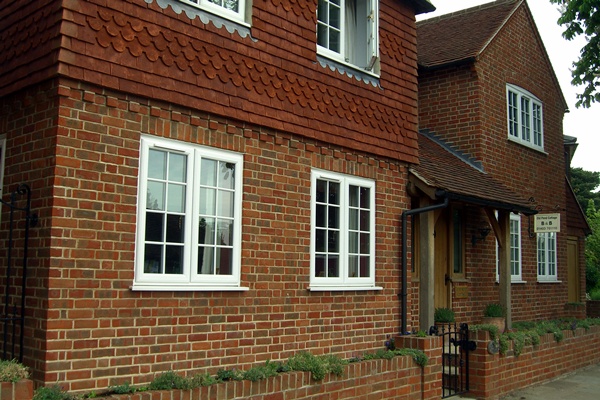 Back in the car, we started off by turning the wrong way, due to a misinterpretation of the GPS. But the single track detour it led us on did take us to this picturesque old church (below) near Bedham Petworth, which looked to be in good shape, other than having no roof. Wish we knew the story.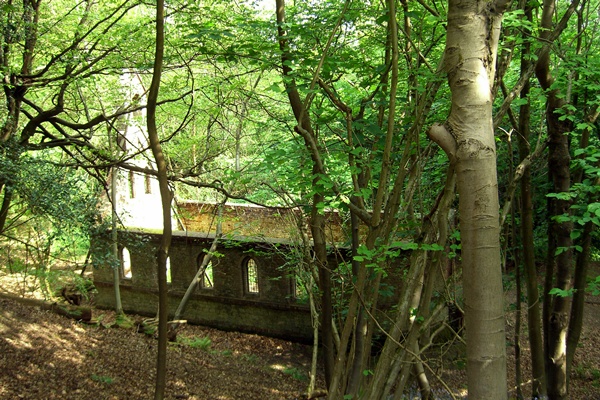 And now begins at least 6 hours of driving, and missing turns, and odd routes through residential communities, and back tracking, and endless large roundabouts, and not knowing where we were or even where we were going.....and then we came to Copthorne, where we remained, trapped seemingly forever, for a good 2 1/2 hours (well, that did include a stop for lunch, and just an excuse to get off the bloody roads). A particular road, evidently MUCH favored by the GPS, was closed due to construction, and the GPS kept taking us back there, much as we tried to escape its clutches by giving it new destinations. All roads seemed to lead to that same construction site. And then there was this roundabout the GPS led us to at least 4 times. I swear, I felt like just giving up and crazy thoughts ran through my head. "Let's call Daniel or Gil and have him drive us out of here." Or... "I'll bet Dennis and Barbara would come rescue us."
And when we stopped for that desperation lunch at the Duke's Head, when I parked, the car lurched forward a bit and the rude git who was sitting at a table 10 feet away started telling me off, and going on and on and on, even coming up to the car window to yell at me....this did not help. But - Mom certainly came through. Before we got out of the car, she leaned over and said to me "Should I limp really badly as we walk by that man?" Of course I replied, "Oh, yes, you certainly should." And inside the waitress was sweet to us.
After lunch, on we went again, forced once again by the GPS to go hither and yon, and back to hither. I'm afraid I began swearing now. I was not having a good time, and neither was poor Mom, although she was gamely helping out when she could, calling out the displayed GPS instructions and trying to figure out where we were.
OK. That's enough. Calm down. Suffice to say that we eventually found ourselves quite by chance in a lovely village called Lindfield, complete with its own village pond, at least two West Highland White Terriers and cricket field? pitch? green? Dennis, help me out here! No one yelled at me, and we found a room at a 400 year old inn called The Bent Arms. The room was spacious - a bit funky, but hey, it's 400 years old and it's just fine.
Here's the lovely back garden of The Bent Arms (much more picturesque than the front)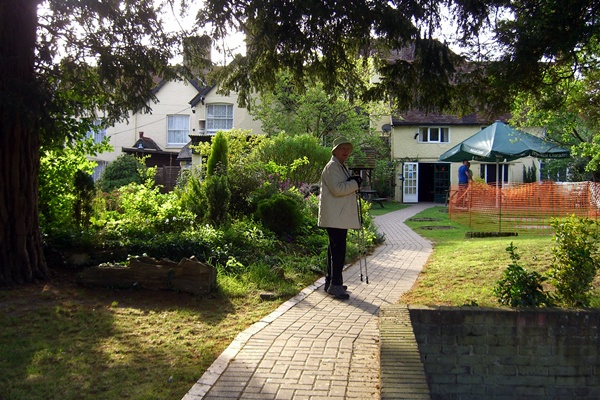 Some fabulous old beams in the bar (photo courtesy of Awanna).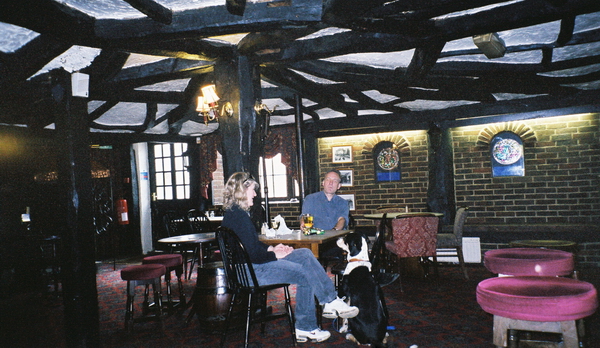 Wonder how long this fellow's been in the bar?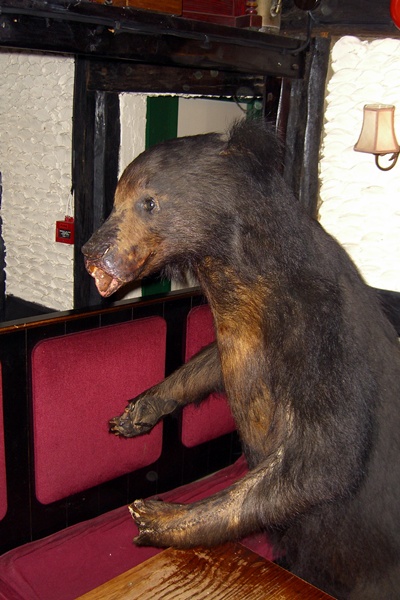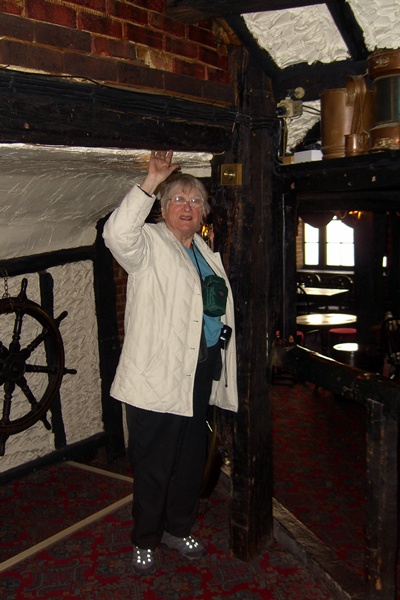 Our room: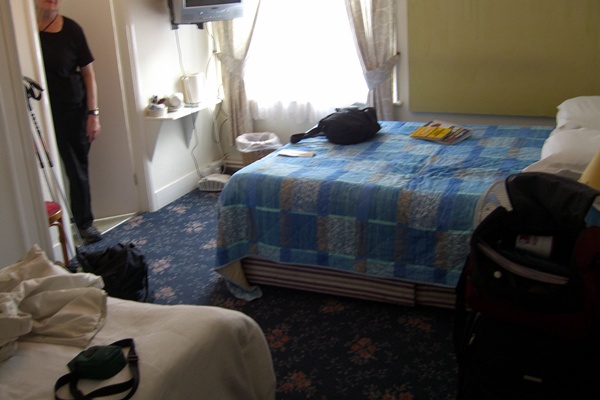 Once settled, we went for a walk down the hill on the High Street, down to the pond and back.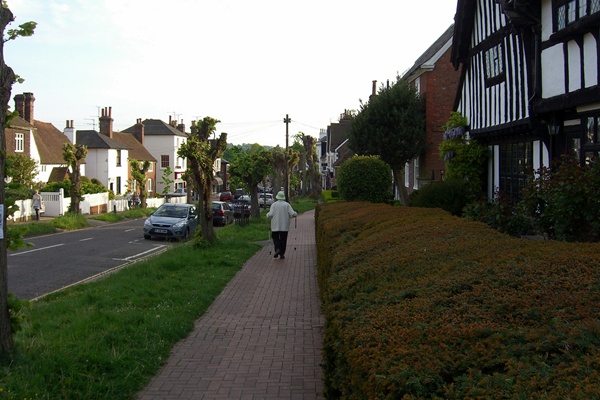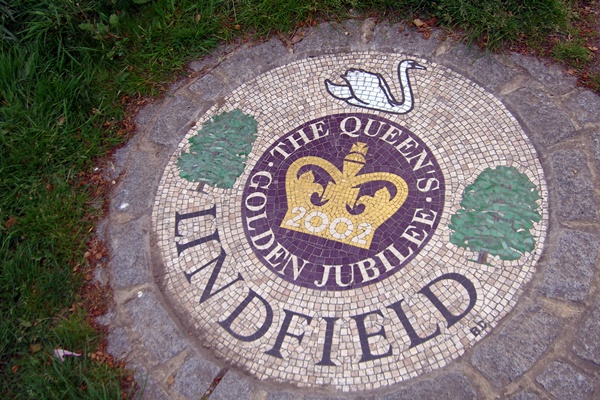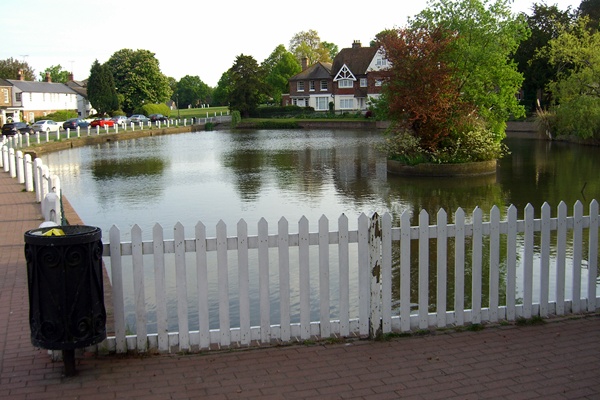 We ate a very good dinner at The Red Lion.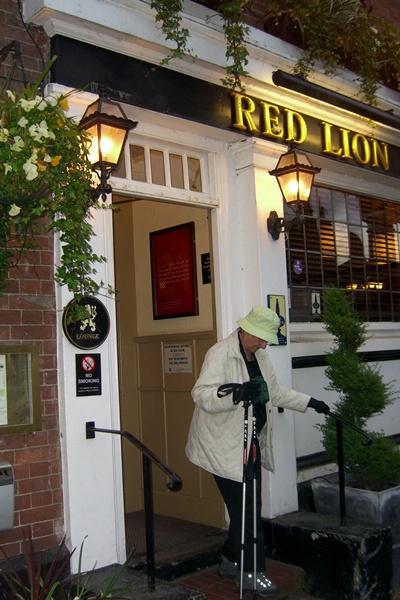 Mom had excellent soup and I had a fabulous Angus beef burger with Scottish Angus and homemade bun. Definitely a superior burger! (Oh, with mature cheddar and bacon. And a pint of Guinness. This pic's for Gil.)
Gil here: How incredibly cruel...I want!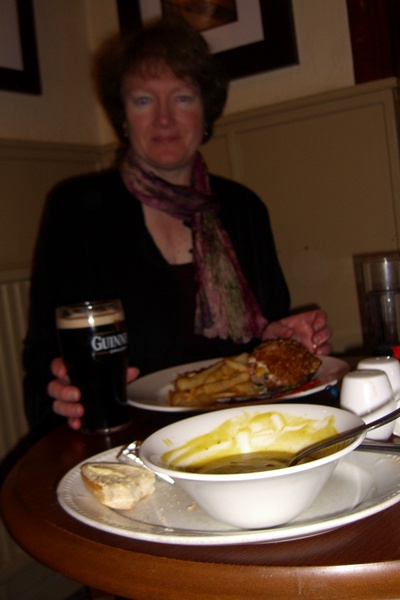 Then we waddled home. I had no wifi connection, so couldn't work on the nightly trip report. I actually relaxed and read a bit about Darwin. We'll be going to his house soon.
And so ends this day, on a pleasantly relaxed note.
Becky and Awanna
---
Click HERE to continue on with Becky and Awanna's adventure!
Click HERE to return to Gil and Becky's homepage