The 2005 San Jose International Motorcycle Show

( the highway to hell continues )

---
DAY TWO-
We managed to drag ourselves out of our beds well before the sun came up. We got showered, got the bike loaded and then Chris and I (Liz was catching a plane to visit relatives and couldn't join us) took off for the 1/2 hour ride down the peninsula to San Jose for breakfast at "Just Breakfast."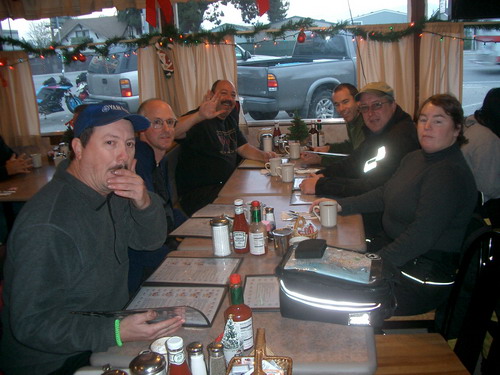 "Much of the ST.N gang had already arrived...how early did these guys get up anyway?"
It was here that I first came ever face-to-face with a member of another online motorcycle forum I belong to...the Moto Guzzi V11 Le Mans site. I was tapped on the shoulder and told, "you must be Dr. Gil" by some complete stranger...turns out it was Tom (tomsp) and his "significant other" (there's that term, again)! I almost bought a motorcycle from Tom last year (I do actually now own "parts" of it but that's another story) and we have emailed back and forth quite a lot. It was lovely to finally meet him and we all chatted over breakfast. The online Moto Guzzi people in general and the people from the V11 site especially have helped me out SO much with the rebuilding of my poor wrecked Le Mans. I simply could not be doing it without them!
Part of the reason for picking "Just Breakfast" (besides good old-fashioned American breakfast at a reasonable cost) was that it was right next door to the "Road Rider" motorcycle store. This was by far and away the grandest and most complete motorcycle accessory shop this country boy has ever been in. It was pretty amazing...but I managed to keep my money in my pocket knowing I was headed to the mother-of-all-motorcycle-shows and would have PLENTY of opportunity to get all the goodies a guy could want.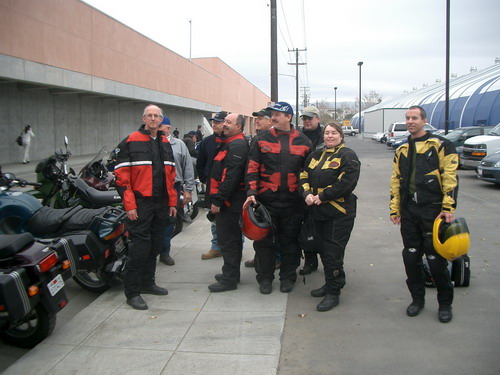 "A short ride down the boulevard took us all to the San Jose Convention center and to the Cycle World International Motorcycle Show"
"Shoving their way past the paparazzi and adoring crowds ST.N arrives at the free, 'in Jesus's name' gear check in. Very nice indeed."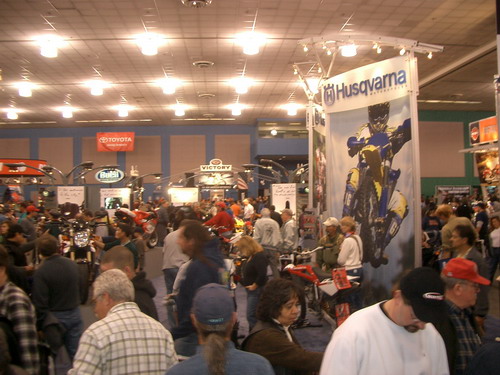 "...the show was well attended!"
My immediate plan is to try to avoid all the brightly colored distractions in the main hall and head directly to the Moto Guzzi display area. I've been dying to throw a leg over that new Griso that they exibited at last year's show but that we weren't allowed to sit on. So much for plans, we were distracted by the first shiny thing we saw...the scooter display at the Yamaha booth.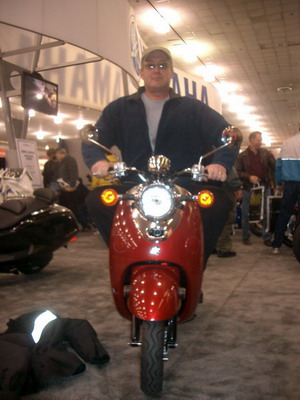 "Jeff (Jeff_N) showing the "correct" the form for riding a scooter"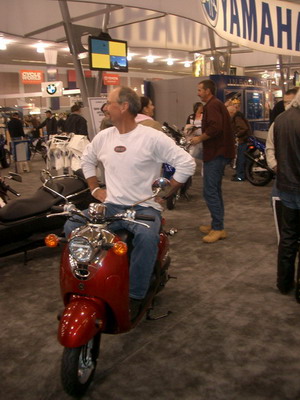 "Me (Dr. Gil), showing the "incorrect" form on a scooter"
Ahhh, I've made it to "Gootsie-Land"...at last! Moto-Guzzi and Aprilia motorcycles were recently purchased by Piaggio (the scooter people). It's a move that not all Guzzi owners are happy about. Moto Guzzi owners tend to be traditionalists and not all that fond of what they deem "needless" change...understandable. With Piaggio's financial backing Moto Guzzi has been able to introduce several new models of bikes and has even more slated for the upcoming year (mmmm, Norge...my pronunciation was politely corrected by the exhibitor...Nor'-gay) and has greatly increased their promotion of this time honored marque...me, I kinda like it (increased interest in Guzzi = increased parts and service availability). I think their display at this event shows their committment to Guzzi and to Aprilia.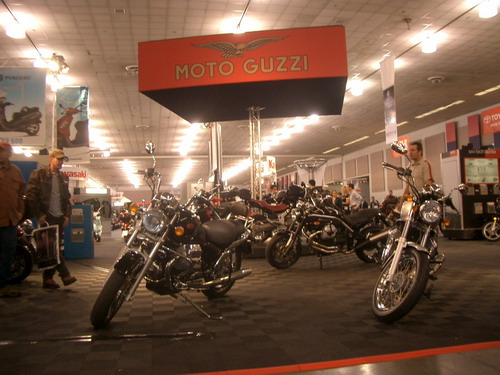 The size and quality of the display, the location, everything was MUCH better than at last year's show...except I must admit that I do kinda miss those trashy "Guzzi Girls" from last year's show. Respectability comes with a price I guess.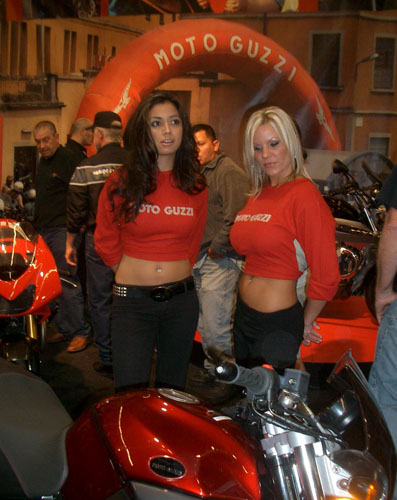 Mmmm, last year's "Gootsie-Girls!"
Somewhat unexpectedly I found I was attracted by the Moto Guzzi cruisers. I am so fickle, show me a pretty face...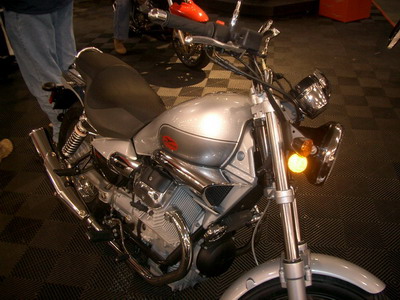 "the Nevada 750 was lovely!"
"the one I really lusted after though was the black California EV...what a babe!"
But it was the Griso that was the star of the show...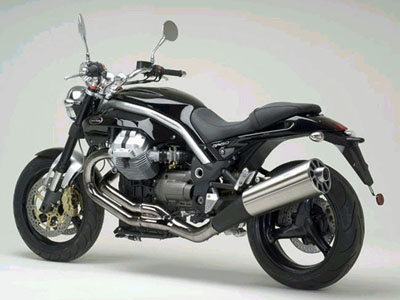 There was always a crowd around it and there was always a line to get to set on it. What was surprising to me was that after I had taken my turn that I didn't love it. I thought I would. I think it simply comes down to that it's not designed for my style of riding. I like sport-touring and the Griso has too wide of bars, not enough wind protection and far too little fuel capacity (4.5 gal). I was surprised that I liked the fit and feel of the new 1100 c.c. Breva much more with its windscreen options, larger fuel tank, after-market hard luggage, etc. All in all, I think I'll just continue on with the repair of my Le Mans...the old girl still suits me best.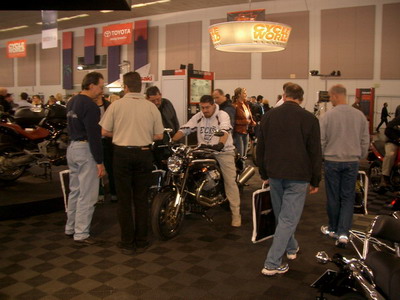 "the Griso was the star of the show!"
Elsewhere, other ST.Netter's were having their own epiphanies...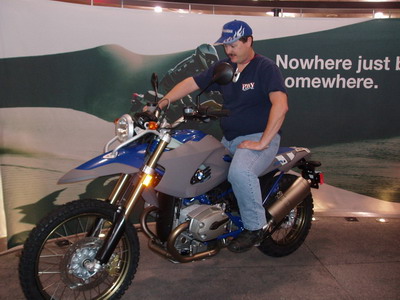 "Jim (the-Explorer) on the new BMW dual sport (photo by Kitkite)"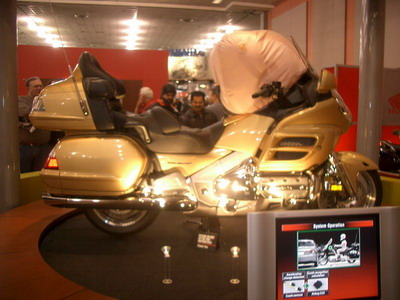 "the new Honda Goldwing w/airbag was weird"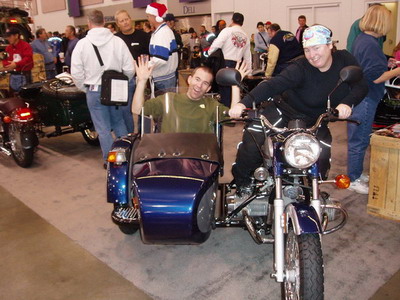 "we all loved the Urals...here Cynthia (Kitkite) and Chris enjoy a stimulated spin (photo by me on Kitkite's camera)"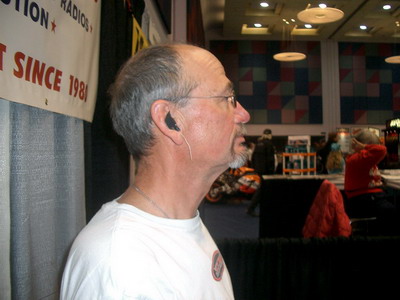 "my 'big' purchase for the show, custom earplugs...but in black??? What was I thinking? (photo by naked_sv)"
Fellow ST.Netter, Carolyn (bluepoof) was working the AMA booth so several of us stopped by to see her...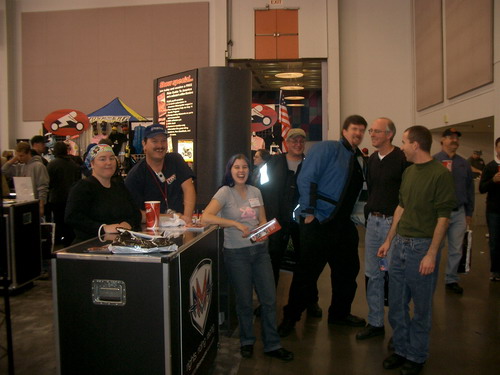 "left to right: Kitkite (Cynthia), the Explorer (Jim), bluepoof (Carolyn), Jeff_N (Jeff), B12_Bill (Bill), xs400 (Frank) and naked_sv (Chris)"
Even though Triumph motorcycles (hey, I've got one of those) deemed NOT to make an appearance at this year's show at least a couple of local dealerships were there to "show the flag." I'm a long time Triumph fan and even though my main "ride" is now a Moto Guzzi I find it somewhat sad that a local Italian dealership has to carry on for Triumph.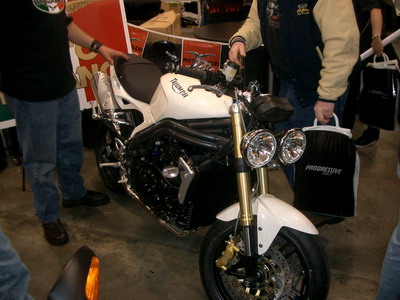 "let's give it up for...

Moto Italiano!

"
One of our beloved moderators on ST.N, USA MEDIC has recently decided to go over to the "dark side." He bought a Victory 8-Ball cruiser! I'm not sure what that's all about but we found one at the show and several of us had to try it out.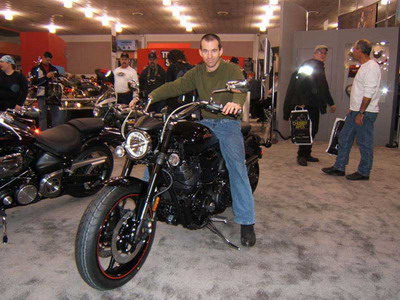 "Chris onboard the cruise-mobile. Sure it's good lookin' but...(photo by xs400)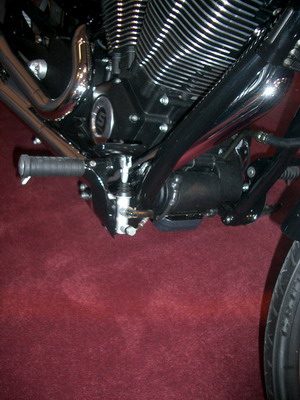 "...what's with this? First thing scraping in a right-handed curve seems to be the MASTER BRAKE CYLINDER!!!"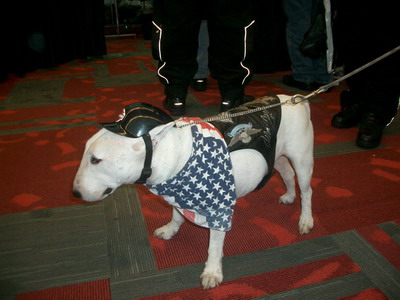 "Oh yeah, the Harley crowd was out in force too..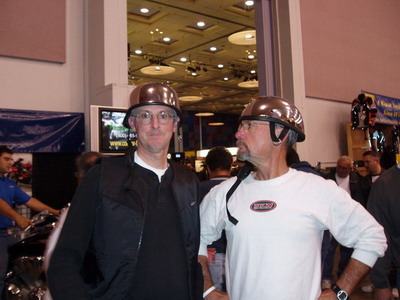 "So Frank and I tried on some of their helmets (photo by Kitkite)"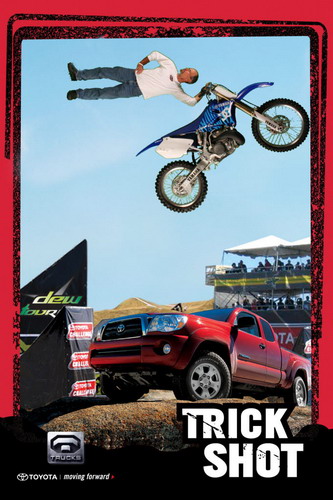 "Then I wowed the crowd with some of my motocross moves...I call this "the Air-Zarly"
Enough of this fun. I had planned to be on the road and headed home by noon and if not make it all the way home by that evening at least to get as far as Willits (about 180 miles north). It was now 2:30 and I was suffering from that same sort of burn-out I get a museums. I was having a GREAT time but my energy levels were seriously flagging. I needed food (the lines were simply too long to deal with at the show) and to sit down (what better place than on my motorcycle on the ride home?). It was time to leave. From the glazed expressions on several other's faces I could see they agreed.
We suited up, thanked Jesus for taking care of our gear, headed out out the door and onto the streets. We found our bikes (amongst the literally thousands there), then said our goodbye's to one another. Chris and I rode out together heading north on Hwy. 280. I waved and tooted my horn to Chris exited the highway and headed off to his home as I continued north. Then it started to rain.
Hwy 280 takes you directly through the east side of San Francisco and what with the driving rain, grid-locked traffic and road spray I was blind and soaking wet in no time. The "Fog City" anti-fog insert on my visor totally failed. My Aerostitch Roadcrafter suit (two-piece, black on black...no bling) was holding up okay but my Tourmaster Cold Front Carbon gloves and Alpinestar Effex boots were soaked through (note to self: time to replace those old boots). With the low visibility and chaotic traffic I didn't feel comfortable lane-splitting (legal in California). So there I was wet, miserable and getting nowhere fast.
The Golden Gate Bridge was a nightmare. The wind howled, I had the bike totally laid into it. I couldn't see. The rain was a deluge and the traffic relentless. I imagined people in their SUV's laughing at the foolish motocyclist out there in this mess and then turning their heaters up another notch.
It soon became obvious that Willits was out of the question for that evening. Even now that I was on Hwy 101 and out of the worse of the Bay Area traffic the cold, dark and rain were going to cut my day short. Then it started hailing. I really hate hail...and it is especially painful and dangerous on a motorcycle. I slowed down to a crawl again...and no, I didn't stop to take any pictures. Fortunately it quit as quickly as it had started and before the pavement became ice covered.
I exited in Rohnert Park (I'd made it only 100 miles in the 3 hours since leaving San Jose) just south of Santa Rosa and sought shelter at the first motel I found. Even with the fire alarm going off and people running in all directions didn't dissuade me. Hell, I figured even if there was a fire the driving rain would soon put it out...just gimme a room would ya? I got a minimalist room, ground floor, with Burger King and Taco Bell just out front and was happy. I turned the heater on "high," pulled the table over to it and proceeded to start methodically drying out my gear.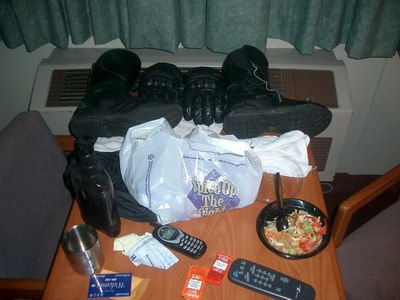 "Quite a comedown from the food I'd grown used to eating...crappy Taco Bell take out and a nice Scotch I'd brought along"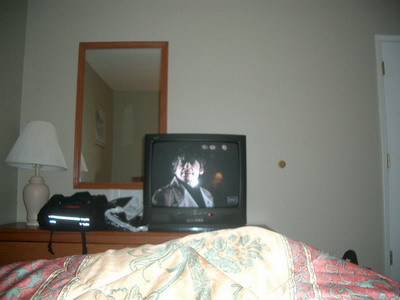 "Mmm, a Charles Bronson 'Death Wish' telethon on the TV...things are starting to look up!"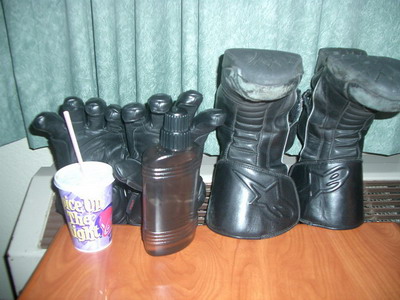 "Gear drying, Scotch consumed, TV in the background on 'sleep mode'...I drifted off"
---
Still with me? Then click HERE for Day 3 and the trip home!