The 2005 San Jose International Motorcycle Show

( the highway to hell continues )

---
DAY THREE-
Nothing like a raging storm outside, a buncha Taco Bell food, a bit o'Scotch and a VERY long day of perusing motorcycles to make for a lovely night's sleep. I awoke to some weather-babe on commercial TV (I really can't abide a motel that doesn't carry the Weather Channel), seemingly clutching her breasts and telling me how evil it was outside.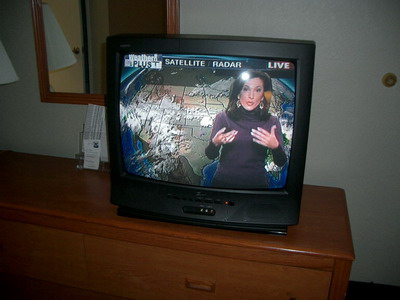 "Oooh, these clouds make me SOOOO excited!"
Nothing to do but to gear up and deal with it. On second thought, let's delay that...perhaps we can take a few extra moments and make a instructional set of photographs showing "the layers of gear necessary to ride in the wind, rain and cold" sequence (please, oh please...don't make me go out into that storm!).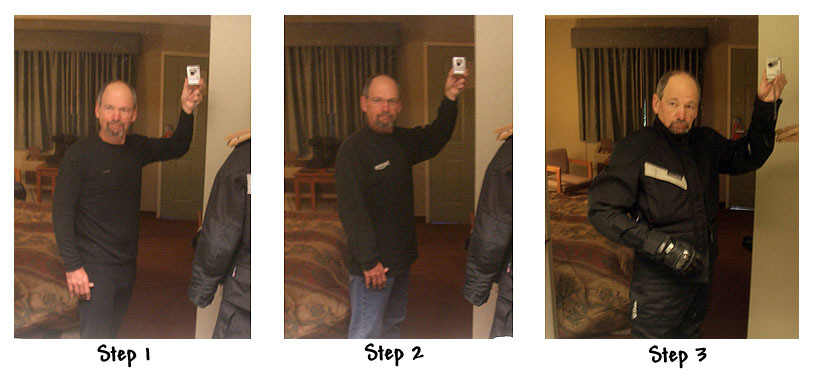 Step #1: Long Johns Step #2: Long sleeved, cotton shirt and jeans Step #3: Waterproof outer gear, waterproof boots, waterproof (?) gloves (optional balaclava) Step #4 (not shown): Helmet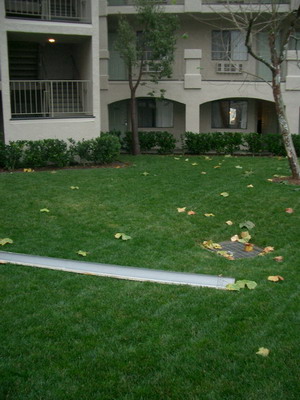 "Outside the wind had blown some of the gutters off the motel...not necessarily a good portent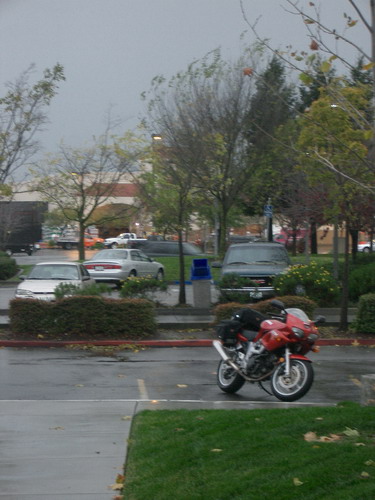 "Destiny Awaits!"
The road and weather proved to be as ugly as anticipated. I had hoped to grab a breakfast at Ardella's a couple of hours north up Hwy 101 in Willits but as ugly as the road and riding was reality was setting in and I decided to go for for my back-up plan of dining at the Bluebird Cafe in Hopland.
The Bluebird is a longtime favorite of mine. They have the best pie ever (always important to one who is on the road). And they saved my life once (or at least it felt like it). It was several years ago and I was on my way to the Superbike races at Sears Point. It was yet another cold and rainy ride down Hwy 101 and I had reached the end of my tether. I rolled into Hopland and stopped at the Bluebird. My first time there. In full, dripping, Power Ranger gear with my helmet on, I burst through the door bringing a bit of the storm with me. I strode in to the shocked expressions of the other patrons. A waitress sized the situation up, took me in hand and led me over to the counter and sat me down. After I had stripped off the outermost layer of wet gear, she handed me a cup of steaming coffee and said, "Honey, what you need is today's special of 1/2 a BLT sandwich and a cup of chowder." I shall never forget those words, they were perfect. I thought I'd break into tears.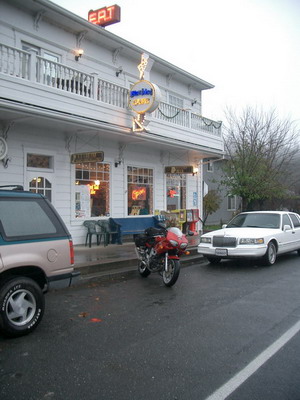 "A truly welcome sight...I'M GOING TO LIVE AFTERALL!"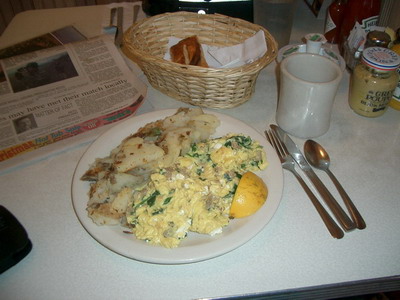 "Eggs, sausage, feta cheese and spinach (and cute waitresses)"
From here to home: around 200 miles. Weather: Fricken' awful...HIGH, GUSTY winds at times, rain...so HEAVY at times that I could feel the individual drops hitting me though the ballistic nylon of the "Stitch" and more HAIL!...I REALLY, REALLY HATE hail...and yes, LIGHTNING!...scary! There were times when it was raining SO HARD that the water was driven through the vents of my top-o'-the-line, X-11 Shoei helmet and there was a mini-rainstorm INSIDE the helmet! It sucked!
By the time I made it home (and yes, I did eventually make it the 200 miles home to my sweet Rebecca and my foolish Basset Hounds) I was bone weary and was TOTALLY soaked and frozen once again. A kiss, a hug (from both Becky and the dogs) and a HOT shower and the world was right again. Then I proceeded to start methodically drying out my gear...
Foolish me, I'm already to head out again already.
---
Still here? Then click HERE to return to my homepage!