The 2005 San Jose International Motorcycle Show

( the highway to hell )

---
DAY ONE-
I hadn't been on a motorcycle road trip since I crashed my Moto Guzzi back in August...it's now the middle of December.
As fortune would have it, a good friend of Becky's and mine from the Sport-Touring.Net, Chris (naked_sv) was buying a KTM 640 LC4 Adventure motorcycle that was located in Fortuna (a town just 20 miles south of our home here in Eureka). After purchasing it Chris was planning to ride his new bike back to his home in the southern San Francisco bay area. Happy-happenstance is that the timing of all of this corresponded exactly with an upcoming date for the International Motorcycle Show in San Jose that I'd been hoping to attend now for months! It seemed the perfect opportunity for me to get in a road trip and tag along with Chris for the ride.
My only problem is that I don't have a motorcycle to ride...sigh. The Guzzi is in a million pieces in the garage and I just don't trust my Triumph to make this long of a trip (around 320 miles each way).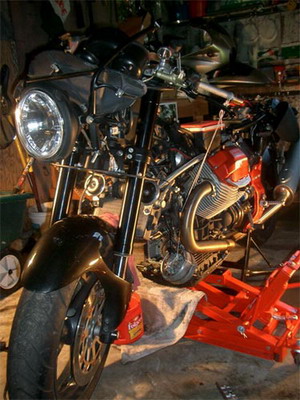 "still under construction"
Coming to my rescue was the delightful and lovely Beck-zuki (a crackin' good ST.N name btw). She generously offered me the use of her Suzuki SV650S for the weekend! She has decided to skip the motorcycle show and has offered to guard the home front while I'm away. The plan was that Chris would come up on Thursday, buy the bike, stay the night in our guest room and then he and I would head on down to Chris's house to stay that Friday night. Saturday morning we'd get up bright and early and meet a bunch of other ST.Netters for breakfast in San Jose then on to the motorcycle show in mass! That should be a glorious site and it's a glorious plan...in theory.
What we'd forgotten to take into consideration was that it was the middle of December and deep into WINTER!.
So Chris showed up with his new bike late Thursday afternoon according to plan. We went out to our favorite local brew pub, the Lost Coast Brewery and then watched a few episodes of the recently released Ewan McGregor and Charley Boorman motorcycle trip around the world, the "Long Way Round" and then retired early. The next morning we awake to...sub-fricken'-freezing temperatures and a TOTALLY WHITE, FROZEN LANDSCAPE!
No problem, we decide to simply hang around until it thawed a bit. After all we are hardened, experienced, Sport-Touring adventurers and this 300 mile day would be baby stuff. So we waited. And then waited some more...and then waited even more. Finally we couldn't stand it any longer. At around 9:00 or so, we loaded up the bikes and took off into the still frozen morning. The pavement had thawed but the air wasn't. We stopped OFTEN and for every conceivable reason (must have coffee, need to pee, let's get some more pictures of that new bike, eh?). Of course the REAL reason for all the stops was so that we could try to restore some circulation to our frozen hands and feet and to get our teeth to quit chattering. It was pretty ugly stuff.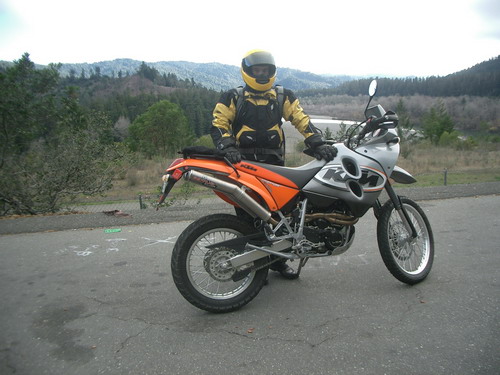 "our first stop, Chris and his new KTM about 30 miles into the ride"
After MANY stops we finally made it to Willit's where we dropped in at Ardella's restaurant for some of the best grub on the planet. Lori (one of the owners) was in fine form and visiting was a treat as always.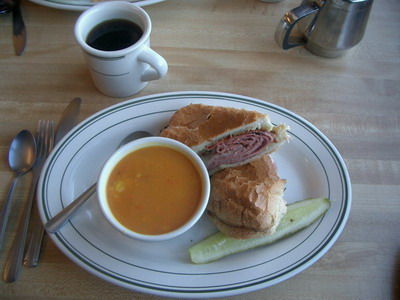 "I had the pastrami and provolone cheese on a dutch crunch roll with a carrot/curry/rice soup that was to die for"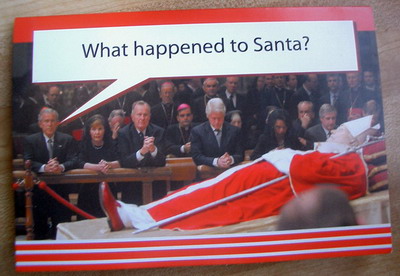 "Lori shared this Christmas card she had received from a local Catholic priest"
So after eight, excruciatingly long, FREEZING hours in the saddle we finally arrived at Chris's home in Santa Clara where we were warmly welcomed by Chris's "significant other" (the term has never really appealed to me, but for lack of anything better...) Liz. After settling in and doing a bit of catching up with each other's lives we headed out to a Mediterranean food restaurant that we had gone to on my last visit and that I'm quite fond of. The food is great, the prices reasonable and the staff wonderfully friendly. Chris had the Falafel wrap, I had a "lamb and stuff" wrap...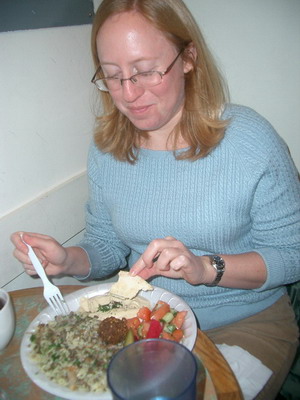 " and Liz had something that looked yummy but was basically unpronounceable"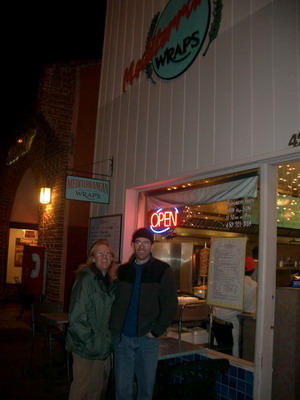 "Chris and Liz outside Mediterranean Wraps"
After chatting back at the apartment for awhile I excused myself and went to bed early to "read." I of course fell immediatly asleep and slept like the living dead.
---
Still with me? Then click HERE for Day 2 and the show!