"But you are clearly to understand that at sea nothing whatsoever can be guaranteed."
- Capt. Jack Aubrey in "The Ionian Mission"
Ahoy there, ya Pirates...
Now that I've kicked my scopolamine habit and am back in my right mind...gather round me mateys whilst I spin yer the yarn of sweet Rebecca and me's high seas adventure way back in late April of '99 aboard the lively brig...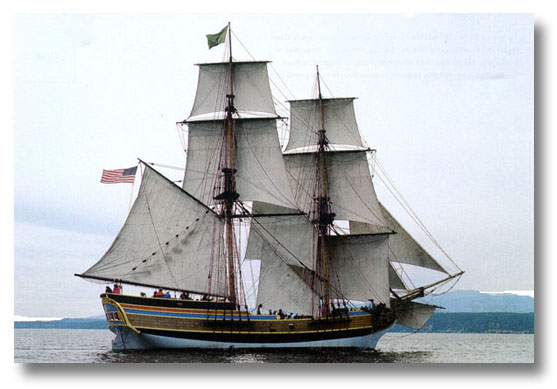 ---
...actually there are no two bigger land lubbers around than Becky and I. This whole thing got started because the Beckster would just not leave me alone about reading the "Horatio Hornblower Saga" by C.S. Forester (click here). I mean, this has been going on for like seven or eight YEARS! So finally I read one...you got it, I'm hooked. I read all 12 books in about 4 weeks! From there I jumped into the Patrick O'Brian Aubrey/Maturin stories (another 20 books) (click here)...I'm eating it up...I can't get enough...I mean, I'm walking around the house setting sail by raising and lowering the mini blinds...We simply must find a square rigger and hit the high seas...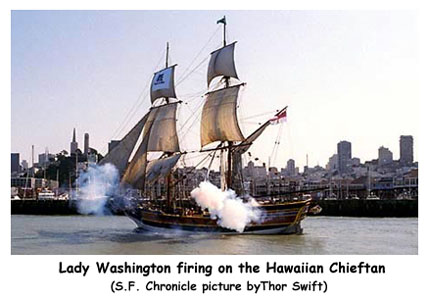 So in the midst of my frenzy Becky hears from a co-worker that two tallships were actually exchanging cannon fire in San Francisco bay as part of a promotion for the new "Horatio Hornblower" series on the A&E television channel (click here). By doing a quick check on the S.F. Chronicle's website (click here) she finds the names of the ships and gets the website for the Lady Washington (really do click here!)...the rest is seafaring history!
It turns out that the Lady was traveling back up the Pacific coast from San Francisco to her homeport in Aberdeen, WA. Her next port of call was Eureka, CA...OUR HOMETOWN!!! With many, many e-mails back and forth to Operations Director James "Flagg" Locke in Grays Harbor (ghhsa@techline.com) Becky managed to sign up herself, a good friend Robert Ehrhardt and me, Capt. Blood, for a 3-hour sail around Humboldt Bay and then to leave with her as she sails north, up the Pacific coast to Coos Bay, OR.
So, dust off your cocked hats (worn amidships not fore and aft natch) and put on your eye patches, prepare to hopefully get a bit of a feel for what it's like to sail for 2 1/2 days in a two-masted, square sailed, gaff-rigged replica of a 18th century brig up the coasts of California and Oregon!...WE SAIL WITH THE TIDE!!!
---
...click the anchor to "SAIL ON!"

---
(Return to Gil & Becky's homepage by clicking HERE)