New York, New York
(a city so nice they actually named it twice!)

What we have here are a series of "daily dispatches" that Becky and I made during our trip to New York City and "Ground Zero" (just a few months after the attacks on the New York City, World Trade Center). The trip took place over the year end holidays, arriving on Christmas Day 2001 and leaving on New Year's Day of 2002. Some were written by me, some by Becky (both with MUCH imput from the other), so they are truly a "joint venture."
The "Dispatches" are presented here straight, with no corrections or "cleaning up" of the material (which might help explain SOME of the grammatical errors, misspellings, weird formatting and fuzzy pictures). Any amendments or comments will be in red and I'll try to clearly label them.
---
Day 1...
Hello all, from New York City. We (Gil and Becky) made it here safely. No incidents on the flight, although arriving the requisite 2 hours early (4:15 a.m.!!!) at the Arcata Airport, only to find that not a single employee was there for another 40 minutes was a bit irritating (see photo # 1). Ah the joys of arising at 3:15 am....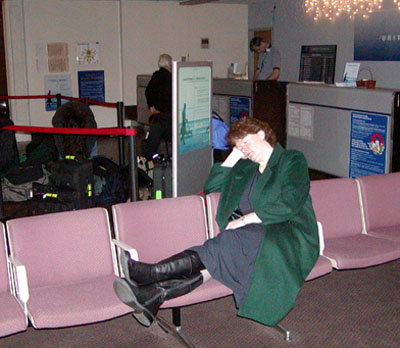 We had heard rumors that in the aftermath of the Sept. 11 attacks that all knives (plastic and otherwise) were banned from airliners...meaning NO FOOD WOULD BE SERVED ONBOARD! Yes, we did get fed. Twice. Unfortunately, Gil got up extra early to make himself a quick breakfast and we had just purchased large breakfasts at the San Francisco Airport, moments before boarding the plane and hearing the announcement "We will be serving breakfast....."
(5 long hours later)
Landing at JFK International Airport (we're talking about New York City here..."the big apple" and all that), we rolled off the plane and were flabbergasted to find but one, SINGLE (one) baggage carousel and that was crowded into a VERY smallish room...our luggage was the very last to appear, after a 40 minute wait. The airport is under heavy construction (aren't they always), doors hanging off their hinges, exposed rebar hanging out of walls, 1/2 the ceilings were missing with just wiring and misc. pipes hanging out...looked like some slop over from "Ground Zero."
We simply took a NYC taxi from JFK to our hotel - The Carlton - at E 29th and Madison Avenue. Very quiet cab driver, but he brought us right to our door. Our room is just as advertised on the Web - newly decorated, down comforter, marble bathroom fixtures, mahogany furniture, and all for $99 a night. Unheard of!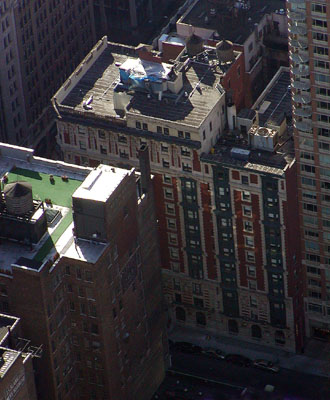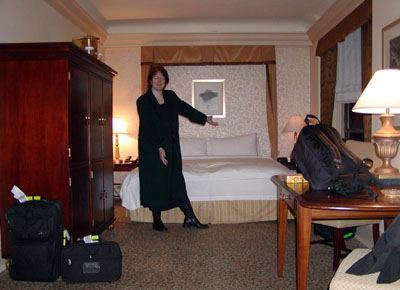 We've made just one brief foray outside so far. Right across the street from our hotel is The Church of the Transfiguation, an Anglican Church long noted for its relationship with the world of Broadway actors.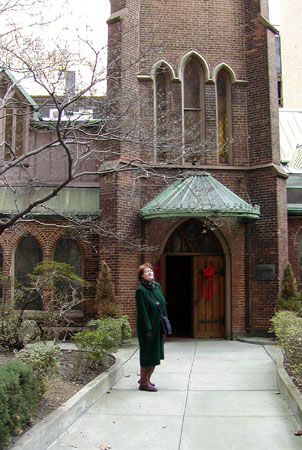 We wandered a couple of blocks looking for dinner, and found some ok meatball sandwiches at a local (our hood's) deli/grocery. The Empire State Building is just 5 blocks away, all decked out in red and green lights for the holidays.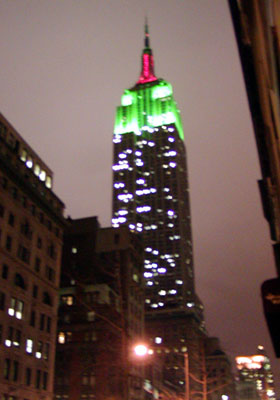 Tomorrow we plan to revel in our tourist-ness and go on a Gray Line tour, helping us get oriented. In the meantime, we're here in our room (very quiet outside) taking it easy.
(Note - We're using our temporary AOL account to send these dispatches. Feel free to respond to us here for the next week.) (Another note - we'll send the three photos separately, since AOL can do weird things to non-AOL recipients)
That's all for now - Hope all is well with all of you,
Becky and Gil
---
Please click HERE to continue on the Day 2!
---
(Return to Gil & Becky's homepage by clicking HERE)