BIKIN' THE BINARIES (2005)
(Riding California Highways 1 and 101)
---
Day One:
Suddenly it was SPRING here on the California northcoast and happily I found myself with a couple of weeks of nothing-much-better-to-do than to ride my motorcycle. But spring-like weather gives me that uneasy feeling I get when I'm staring yet another demanding (in an endless string of) "logging-seasons" directly in the face. There is only one cure...hit the road with the mighty Triumph, grab whatever gusto I can and turn my life over to the Fates.
Over the past Winter I've tried to talk Becky into joining me on a multi-day motorcycle adventure. Alas, she was totally buried with work in her job at the local universtity and she just could NOT get away. No amount of pleading, reasoning or whining on my part could change her mind. I came to terms with the fact that if I was to wait for her to squeeze more than a couple of days off that any opportunity for a multi-day motorcycle ride would be lost.
So, my admittedly somewhat vague plan was to "do" the California (binary numbered) coastal highways...I'd take Highway 1 south and then return home heading northward via Highway 101. But mostly my plan was to keep it simple and to be "the wind"...blown in whatever direction the weather and road conditions took me.
I presented my glorious (lack of) "plan" to the members of Sports-Touring.Net (people who, like Becky and I, enjoy touring on "sport" style motorcycles) and received back lots of suggestions of "you REALLY can't miss this one" roads to ride and also several generous offers of beds and floor space for overnighter stays. I'm ready, the bike's ready...we have a (sort of) plan...we're loaded and ready to roll.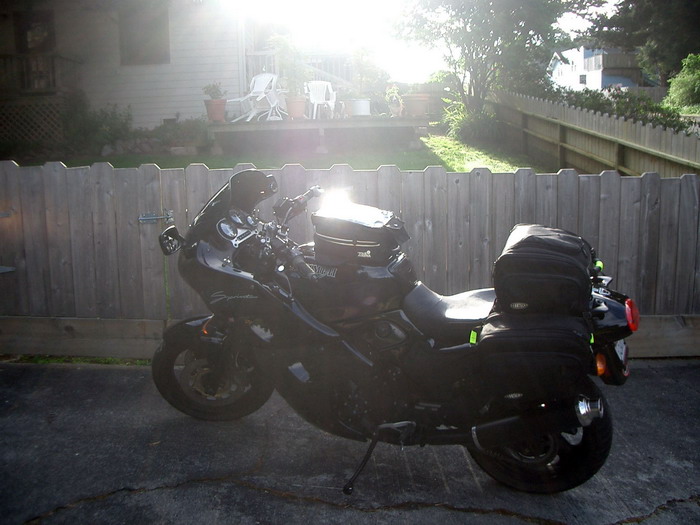 early morning light...the mighty Triumph is loaded up and ready to hit the road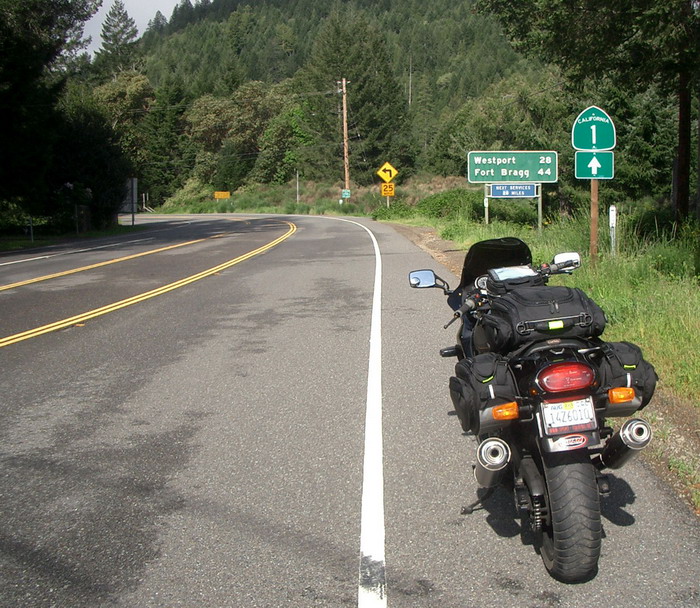 I made the "all-too-familiar" journey south down Hwy 101 to Leggett as planned and then headed west/south-west over Hwy 1 to the coast. I've made this journey several times on 4 wheels and a couple of times on 2 and have always found that this road that transports you from the inland coastal mountains to the rugged California coast to be challenging and can be a bit over-the-top for my tastes. This was the first time I'd ridden it on the Triumph. For whatever reasons this time around I found the trip exhilarating, a total delight and the ride was over far too quickly. A good start.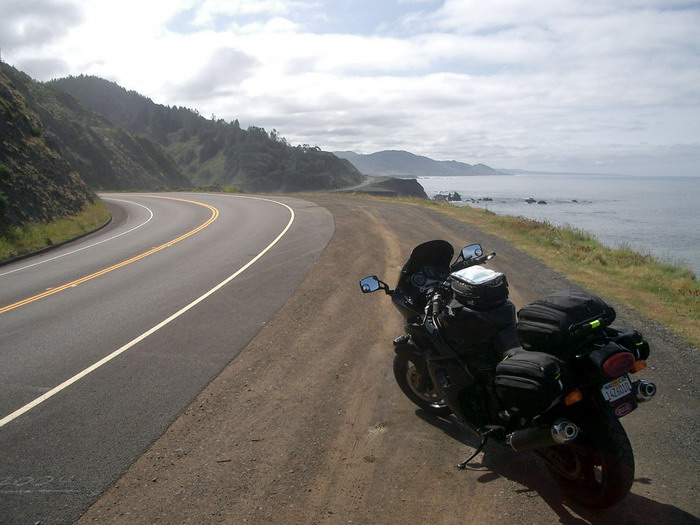 Under fleecy clouds the glorious California coastline could not be believed. To me the problem to me with traveling down Hwy 1 on a bike is that both the twisting road and gorgeous views DEMAND your attention. I find it hard to ride Hwy 1 with any great speed...and yet the roads cry out for it!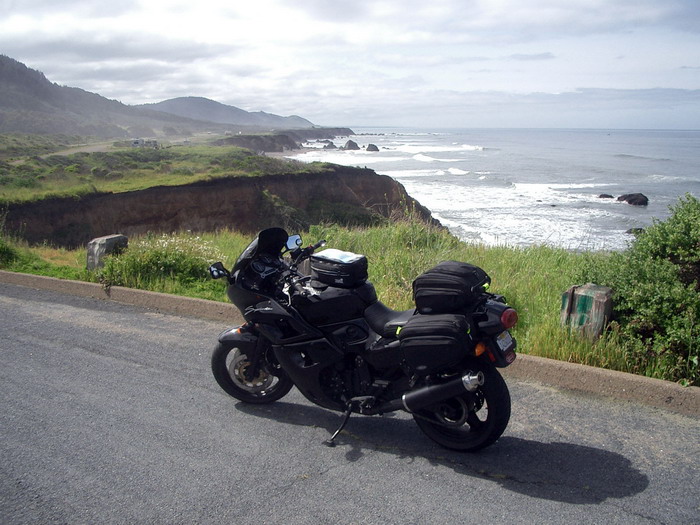 remember: "eyes on the road!"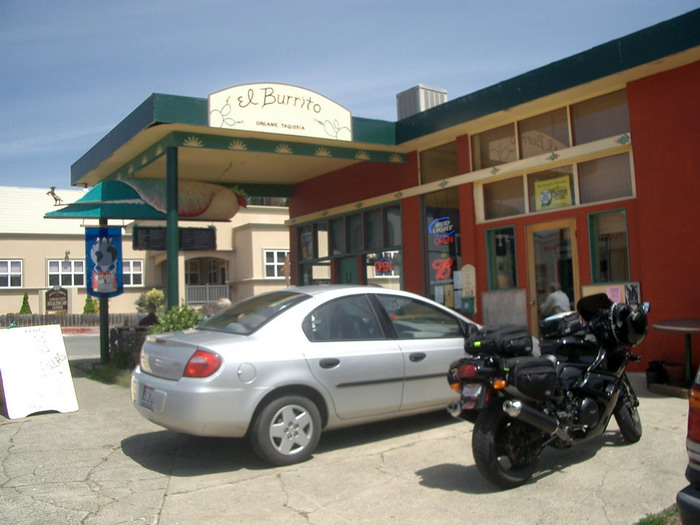 I was having so much fun riding that I almost missed lunch. Fortunately the "El Burrito Organic Taqueria" in Point Arena showed up just in the nick of time. Mexican food is one of my favorite things and this small, roadside restaurant only strengthened my opinion of it...mmmm, organic homemade corn tortillas.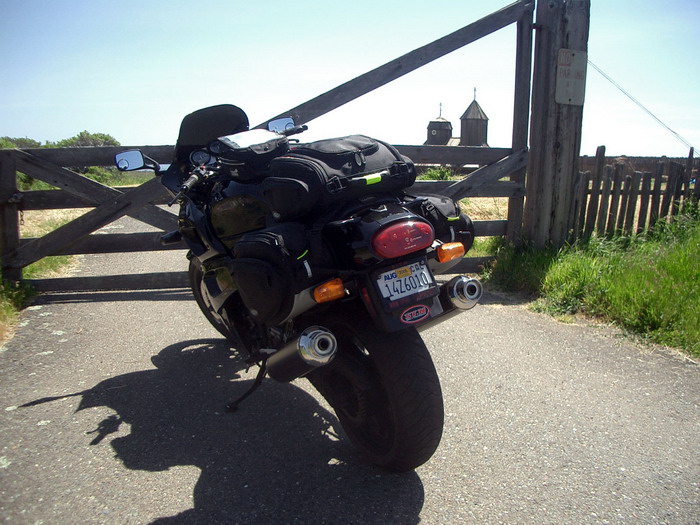 Taking a break from the "twisties" around Fort Ross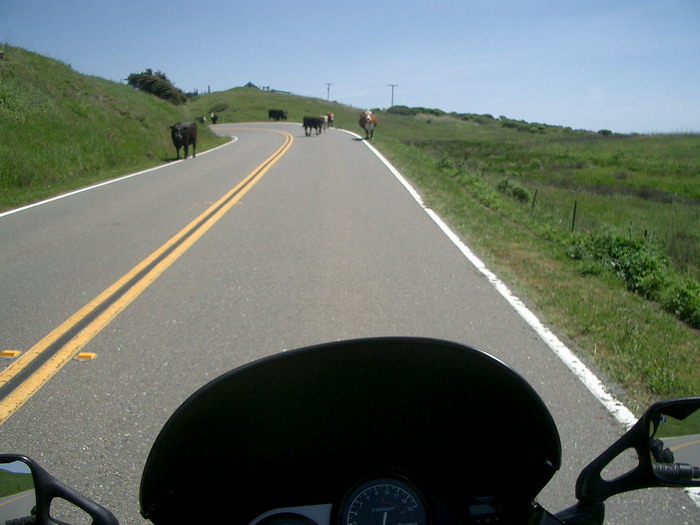 as I came around a combination diving-corner backed by a steep rise I immediatly jumped hard on the brakes...WTF, COWS!?
a portent of things to come...the road ahead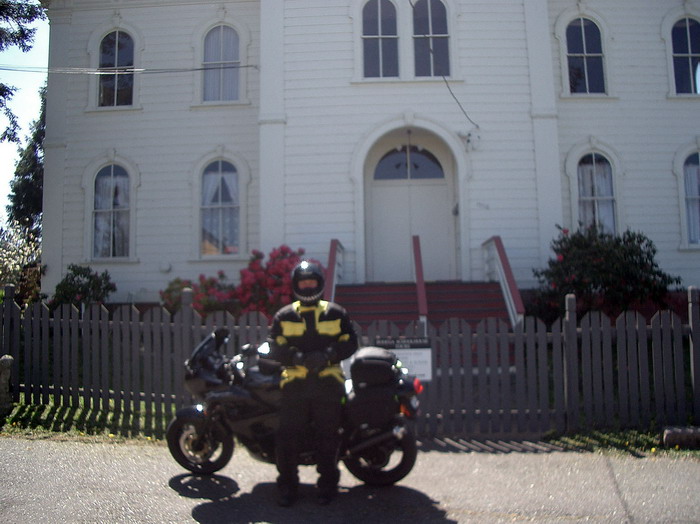 a fuzzy picture of me (taken by a kind stranger) in front of the schoolhouse used in Hitchcock's "The Birds" in Bodega
Jeff_N from ST.Net had suggested I cut inland at Stinson's Beach and ride the "Panorama Highway" across the slopes of Mount Tamalpais. Interestingly when people feel free to make these sorts of suggestions to me about the roads they like and that they think I may also enjoy it gives one a peek into their "true natures" and how they perceive me. On this trip I found I gained great deal of insight into all the people who suggested roads to as to what they are really all about. Take Jeff here as an example. I've met Jeff before and at first blush he comes across as an intelligent, sensible, unassuming guy with a delightful sense of humor...now I feel I know him for what he truly is. Some sort of twistie-obsessed, crazed speed freak...but hey, you make the call. The road Jeff suggested to me is a road of seemingly ENDLESS corners, incredibly tight, 10 to 15 m.p.h curves that you are forced into sharing with agressive, wild eyed, sportbikers careening around you at (what I consider) unsafe speeds (ack, squids)! No worries about me though, I lived through it. It's Jeff I'm worried about ;-) I must admit I saw (although somewhat quickly) some wonderful vistas of the north Bay area.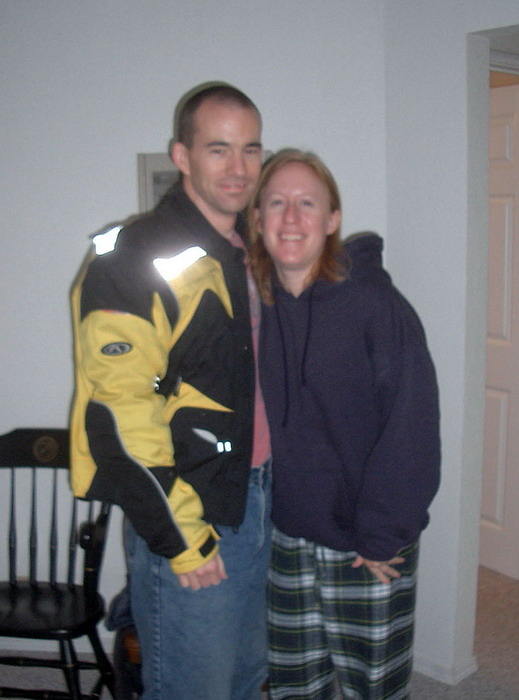 Around 6 o'clock I rolled into Palo Alto, just south of San Francisco to stay with my friends and fellow members of ST.N, Chris (naked_SV) and Liz who had kindly offered up an airmattress and blankets in their spare room. We walked a few blocks in the mild evening air down in the old part of town to a modest cafe specializing in Mediterranean cuisine. There we indulged in exotic (to me anyway) food too tasty to be believed and then headed back to the apartment to watch Chris's newest passion, his aquatic plants, growing in his fishtank. Perfect.
350 challenging miles today...I slept like a baby.
---
To continue on to Day 2 simply click on the palm trees