Shakespeare/Kick-in-the-Rear
(which finds our intrepid heros riding out for some culture and having an unexpected adventure on the return trip)
---
Day I:
It's April Fools Day (April 1st) and I've been badgering Becky for weeks to take some time off to take a motorcycle trip with me. Becky has been swamped at work (as usual) and was having a hard time finding time to get away. I started out by suggesting we take two weeks and ride up to visit her aunt in Canada. Then it was two weeks and we'd cut the mileage back to just travel the Pacific Northwest and just hitting maybe 3 states or so. Then it was just one week and we'd maybe simply ride up the Oregon coast and back. Then it was...well, you get the idea. We ended up with being able to take a long 3-day weekend together in which we'd be riding the motorcycles up to Ashland, Oregon. There we would be taking in Shakespeare's "Richard III" which was playing as part of the legendary Oregon Shakespeare Festival. Both Becky and I have lived in northern California most of our lives and we've both been meaning to attend a performance at this famous festival forever but for one reason or another have NEVER, EVER ATTENDED a single performance! The closest I've ever come was passing by Ashland on Interstate 5 on my way to somewhere else. Becky had actually been into the town. She arranged and paid for tickets via our computer online for the Saturday matinee performance and for 2 nights lodging at a modest motel in the town. Now it was Friday morning, the bikes were packed and we were ready to go...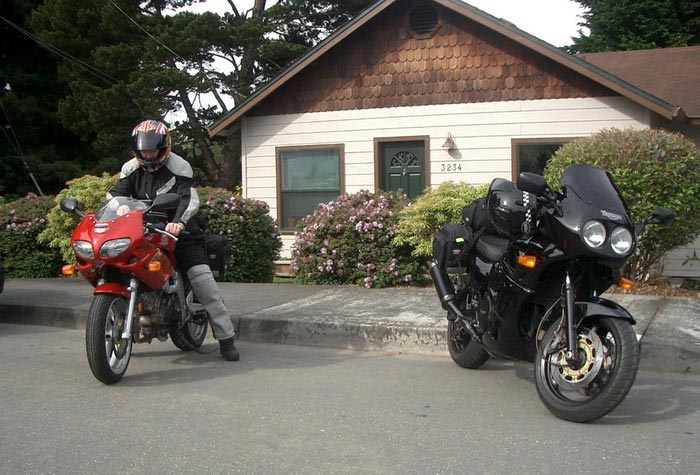 -Becky and her red Suzuki SV650S on the left and my nasty-black Triumph Sprint Sport on the right
...well, ready to go down to the gas station a few miles away. MANY dollars later (gas was hitting $2.85/gal. at this point) we hit the road again, this time making it another 3 miles when we had to stop and adjust our gear. This seems to be a pattern with us...lot's of false starts while we get everything settled and adjusted. We were expecting some rain showers and possible cold in the mountains so we had loaded ourselves and the bikes trying to anticipate every sort of weather contingency. Besides the regular safety gear (padded and armored boots, gloves, pants, jackets and helmets) we had opted to wear full long-johns, a heated electric vest and a head warmer. It must be what the Pillsbury Doughboy feels like. Getting everything adjusted takes time and patience. Finally we were on our way and with just a quick stop in Willow Creek on Hwy 299 to top off the fuel tanks we headed north up what was to be our main road for the day, Hwy 96 and up along the beautiful Klamath River.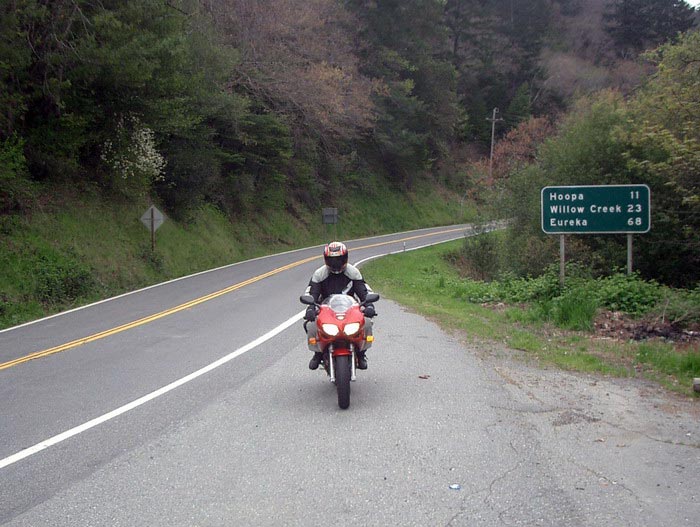 -Becky finishing up an especially twisty bit of road through the Wichepec Canyon
We stopped for lunch at the Orleans Cafe in the town of Orleans (natch). We've eaten here several times now on different trips and find we enjoy it. I don't really recommend the food but the rural ambience really can't be beat...and besides it's the only place that has any food for miles around.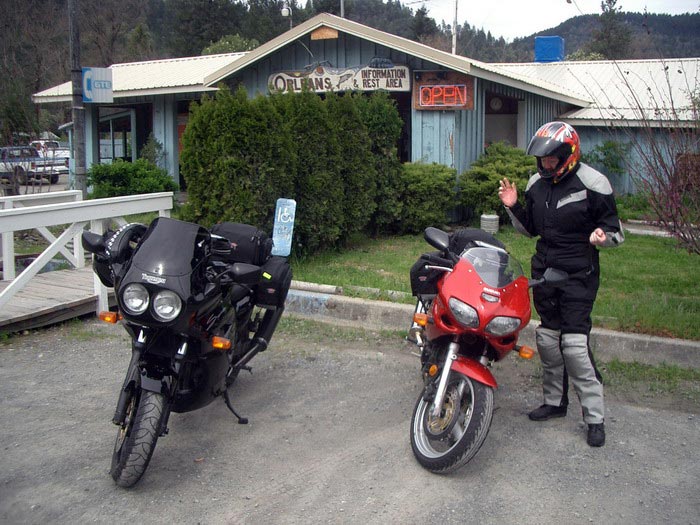 -"oh here's my bike...and it's sooo lovely!"
The entire inside of the restaurant is lined with cast iron frying pans that have been painted (for a price) with whatever people want. The one that intrigues us most is this one: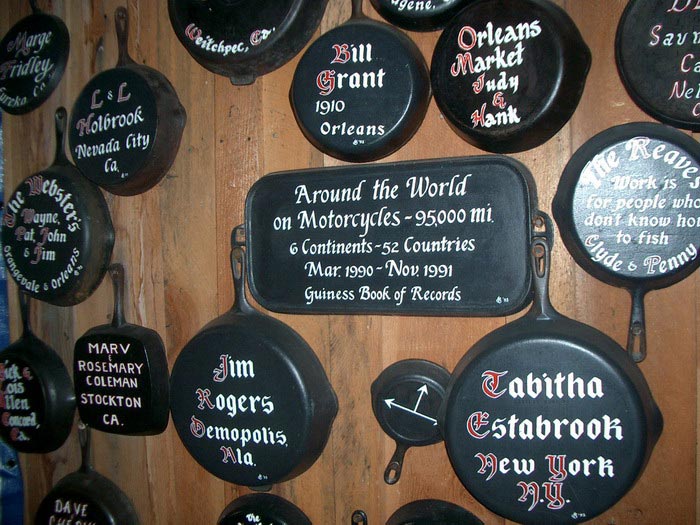 -Who are those guys?
Finished with our meal and driven out of the cafe by some fool who insisted on bragging about HIS motorcycle days and HIS amazing feats of derring-do on HIS bike that HE built from scratch and trying to tell me how I SHOULD be riding my bike and what I SHOULD do to be more like him...sigh. Anyway, a quick photo of our two helmeted heads and we're back on the road heading north on Hwy 96 and past what the local Native Americans refer to as the "Center of the World," the confluence of the Salmon and Klamath Rivers.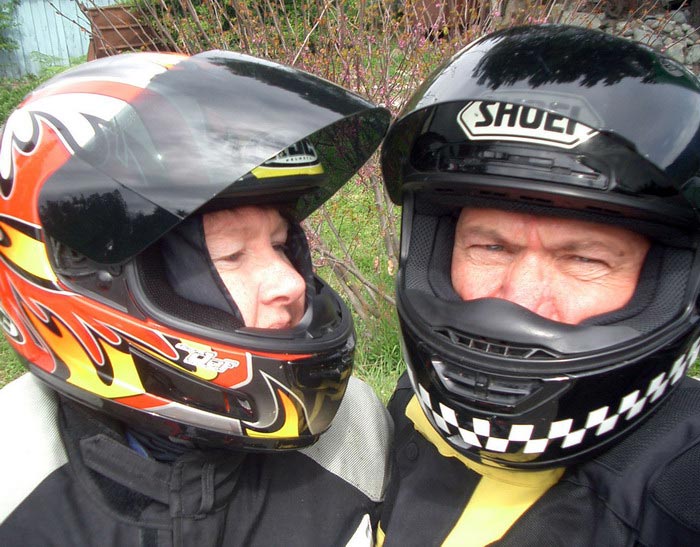 -Me: "Whachu you lookin' at fool?" Becky: "Nothing"
The next stop was in Happy Camp for more fuel. This part of California is VERY remote and one tends to top off the gas tank whenever one has the opportunity. On the east end of town on the south side of the road (I mention this because it's hard to spot) is a card lock that takes credit cards.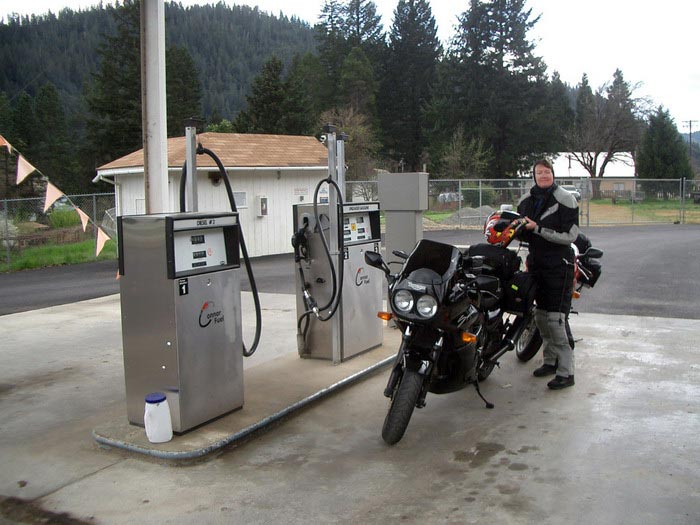 -talk about your "helmet hair," whoa!
The weather was unexpectedly fair with just enough clouds to make the sky interesting. It was cool but really delightful. Quite different than what we had been warned about by the National Weather Service what with its "overcast w/showers, heavy at times" doom and gloom...HAH! The bugs were apparently loving it to because they were out in force! Here's Becky at one of several stops made to scrape their squished bodies from our face shields.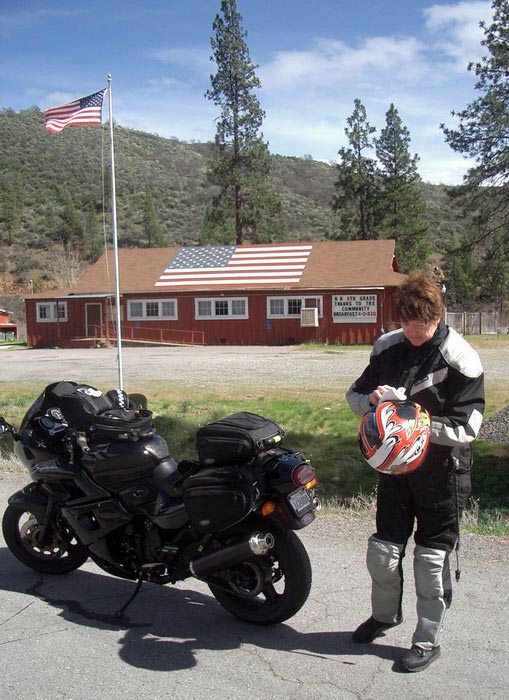 -Out, out damn spot!
We finally arrived the junction of Hwy 96 and Interstate 5 where we pulled into the LARGE roadside rest and err, well, rested. From here we would be traveling north for a short distance up to Ashland.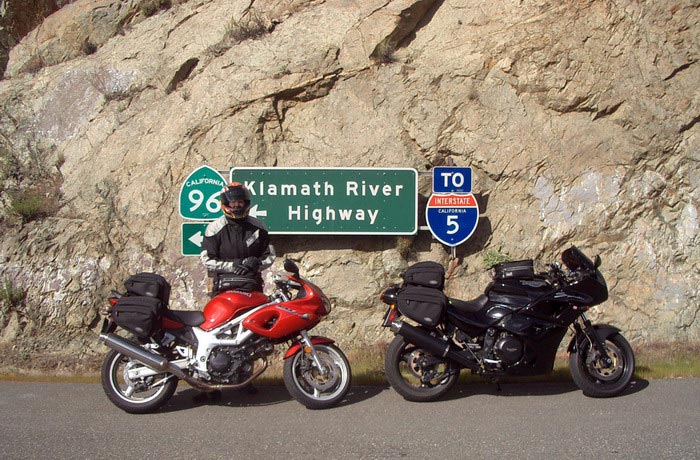 -the junction of Hwy 96 and Hwy 263, just a couple of miles from Interstate 5
Becky was enjoying the sunshine, the grass and all the blooming flowers too much at the rest stop and I had to almost threaten her to get her back on her bike. We headed north on Interstate 5 and across the California/Oregon border where the speed limit abruptly dropped from 65 to 55 m.p.h. I really hate that. This road was built for 70 mph and that even that seems a bit slow on a motorcycle. Since my ticket last year (that's another story) I've been trying to keep my record clean and my speeds down...but 55 mph!!! It also got VERY cold as we passed up and over Siskiyou Summit (a sign proudly announces that it is the highest point on Interstate 5 at 4310 feet elevation) and we were fighting large trucks on the 10 miles of 6%+ grades. We finally made it into Ashland safe and sound and found our motel, the Manor Motel, on the north end of town.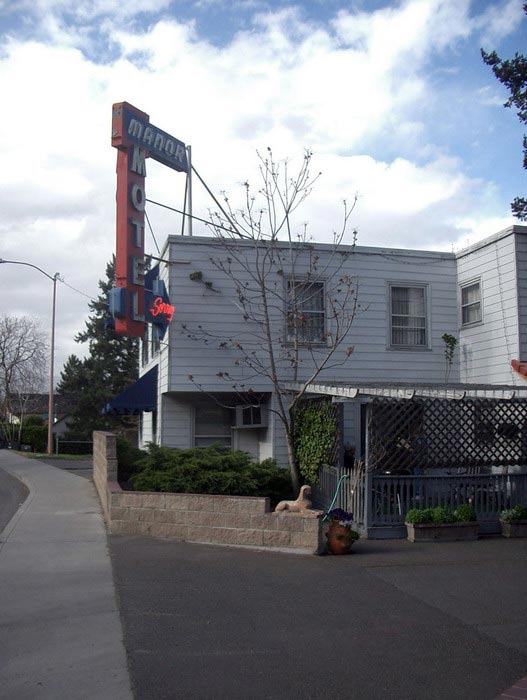 -a nice place to visit but...
The Manor is a good place to stay. It's a somewhat refurbished motor court style, mom and pop motel and the price was right ($48/night for queen bed). Motor court rooms are by their very nature quiet. They generally have garages or carports between the rooms and being courtyards the rooms are mostly away from the roadways. It's also nice that all the rooms are ground floor and you can park right in front of your room (motorcyclists generally like to keep an eye on their bikes at night because they're so easily stolen).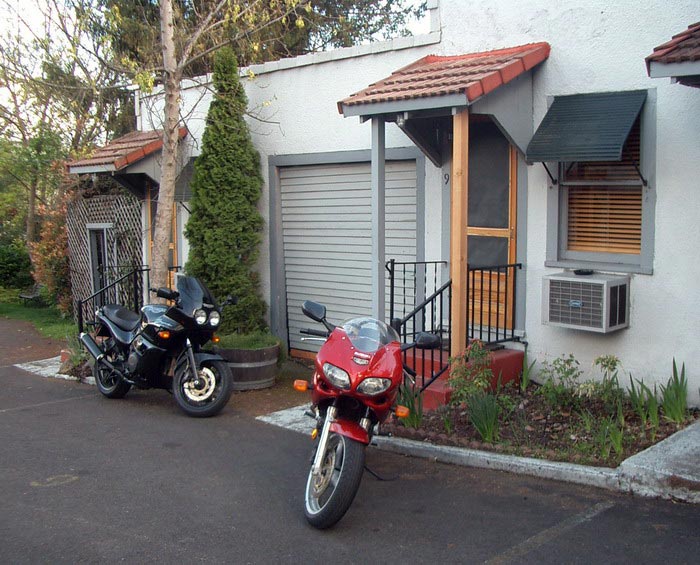 -our room...number nine, number nine, nuh-nuh-nuh-ber nine
The main drawbacks to the Manor was that the room was quite small,with a tiny bathroom and an eensy-weensy 13" television.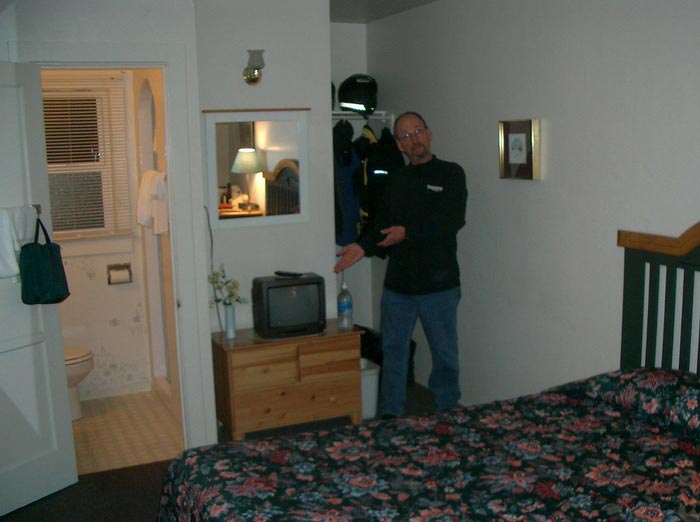 -at least it's a COLOR telly
Another drawback was that we were quite a long ways from the center area of town where all the "cool stuff" was. Like most motorcyclists once Becky and I arrive at our day's destination we are loathe to put on all that gear, get back on the bikes and ride around town. Generally we like to find a motel room that's close to food and entertainment. Not the case here...so we walked.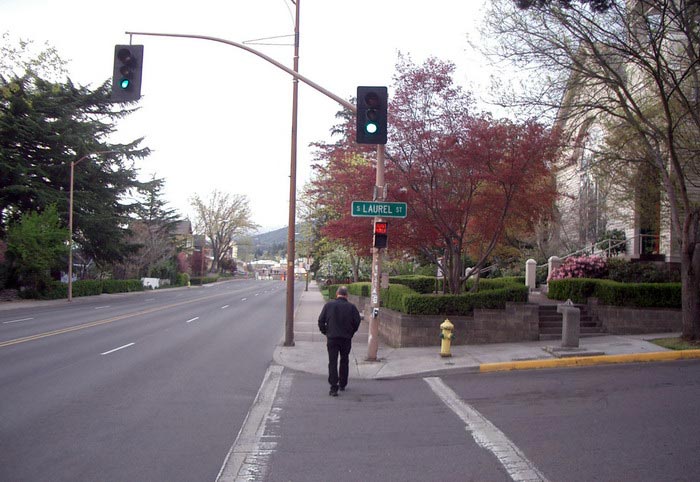 -holy cow, how far away can that darned town be?
The long walk was worth it in the end. A friend of Becky's had recommended a British style pub, The Black Sheep which we were able to find right away and was less than a mile from our motel.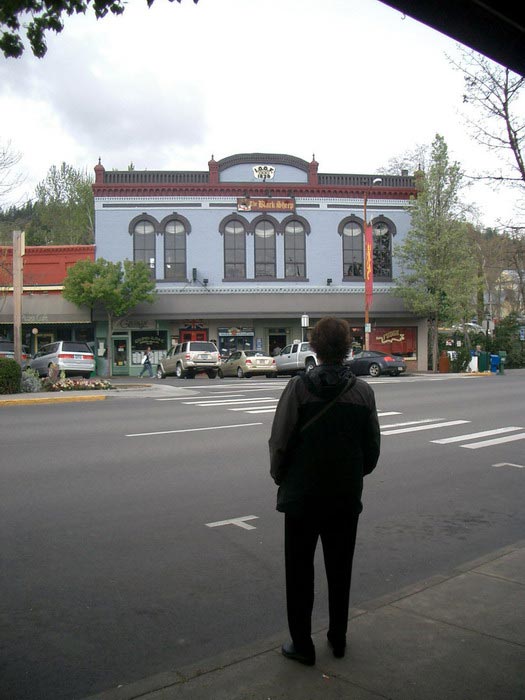 -standing and staring in homage to The Black Sheep and the wonderful food and ale known to reside within
Mmmm, fish & chips and cold pork pie! I like to think of myself as a connoisseur of fish & chips and I'm here to say that this rates right up with the best I've eaten.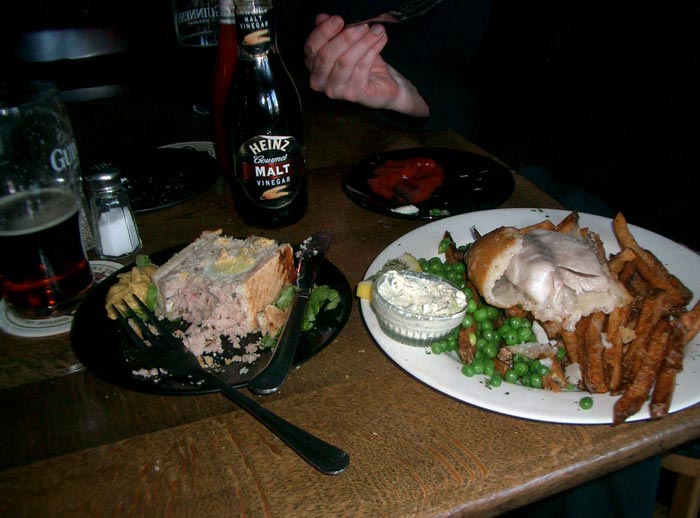 ...and Guinness on tap!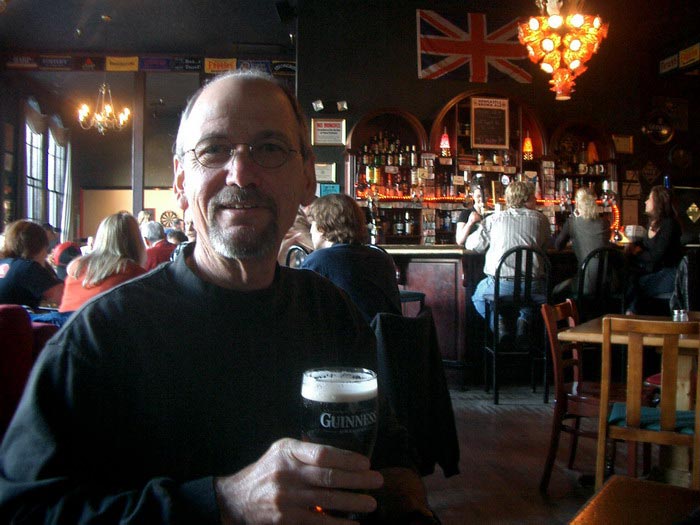 -a couple more of these bad boys and I'll be staggering home
Well, that was it for us. It was getting near dark, the wind had come up and the temperature had dropped (Ashland is at about 2,500 feet in elevation). Beings as we were travelling on the bikes we really can't carry a lot of bulky things like coats so we only had only light jackets to protect us from the weather. We timed ourselves on the walk back and in reality it only took about 15 minutes to get back to the room. We watched a "little" television, read and spoke together about our mutual excitement at seeing Richard III the following day.
---
Day II HERE