---
I'd like to start off this report by dedicating this most excellent trip to my lovely wife, Rebecca. I wouldn't/couldn't have done it without her help and support. I'd also like to publically thank Daniel Kalal for contributing many pictures and videos to this report, thanks Daniel.
---
Somewhere during the month of February my brother-in-law, Daniel Kalal emailed my wife Becky and I that he was planning on spending a few days in and around Daytona, Florida watching some of the motorcycle racing taking place during its "Bike Week."
Bike Week marks the unofficial beginning of the motorcycling season and has become that "ray of hope" all motorcyclists long for. Maybe winter really will end someday. Maybe there will actually be a spring again. Maybe we'll really all be able to ride our motorcycles in the glorious sunshine once more! But alas, Bike Week has come to be associated with literally tens of thousands of Harley Davidson riders descending on the Daytona area. It's beer drinking, wet t-shirt contests, black leather, nazi helmets, cruising and all the other craziness that has come to symbolize the "biker crowd." But Bike Week at Daytona is more, much more. Bike Week was origionally about and continues to be for some of us about...motorcycle racing! The first sanctioned races here started clear back in 1903 racing on a track built on the beach in the sand. They've been racing here ever since (although now there is a grand stadium and the track is paved).
Well as you can imagine I'm jealous as can be that Daniel (who lives in Wichita, Kansas) was going to get to attend. And here's where it starts to get good. Beloved wife Becky suggests to me that since I have lots of time off this time of the year and since she has enough frequent-flyer miles built up from her work travel so that I can fly free why not tag along with Daniel. You can clearly see why I love this woman so. We were on the phone talking to Daniel and making arrangements immediatly. It gets even better. Daniel has been corresponding with Chris Galardi on a Moto Guzzi online board (Wildgoose) and Chris has not only offered us both guest rooms in his house just outside of Daytona but has also offer us the use of his car while we're there. There ya have it. No plane fare. No motel rentals. No vehicle rentals. My only expense was to be food and gate fees.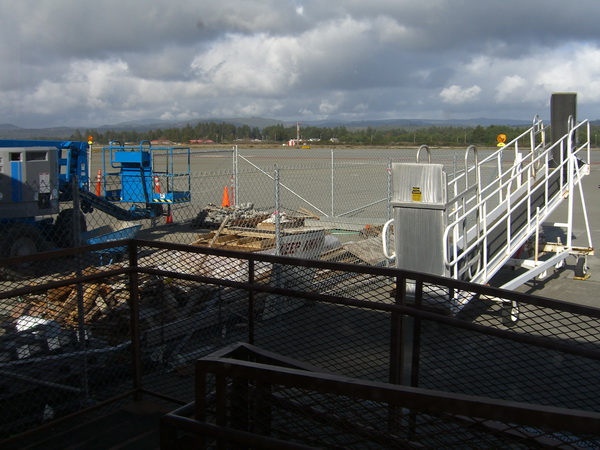 Becky took me to the Arcata airport just north of our home in Eureka, California at around 2 o'clock on Saturday, April 1st after grilling me on the security precautions (no more than 3 oz. bottles of fluids in a quart ziplock, remove shoes, etc.). I managed to fail the security thing anyway...I had a small bottle of lens cleaner in my camera bag that I completely forgot about. Being a small airport they all (Becky and airport security) got a good laugh at my fumbling around and let me board anyway. The airport is undergoing heavy construction to come up to current "security" levels and is a complete mess.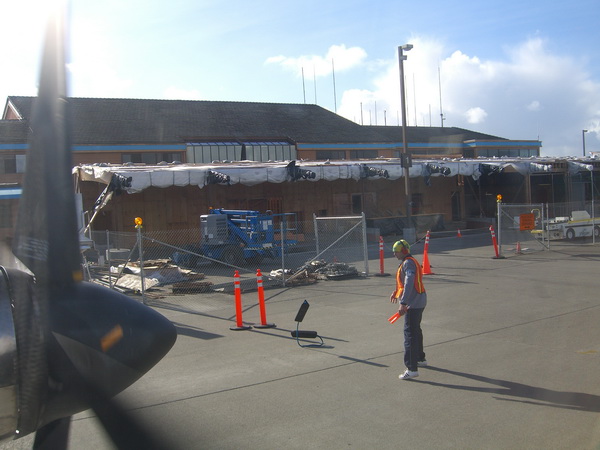 The flight was only 1/2 full so I had no one sitting next to me. With a tailwind we made it down to San Francisco in under an hour.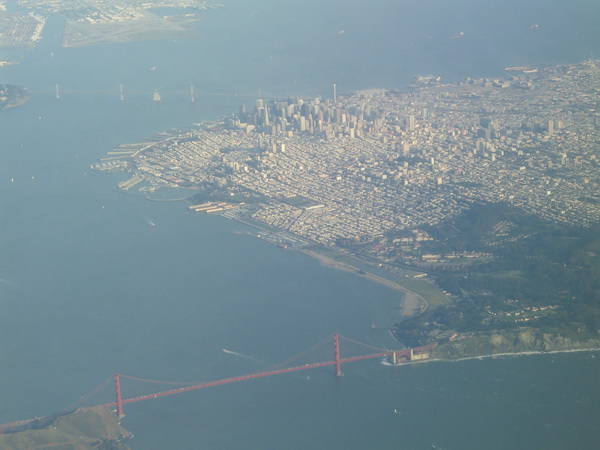 I killed the next couple of hours until my next flight (to Denver) by prowling around SFO, buying some reading material ("Be Cool" by Elmore Leonard) and eating the biggest plate of Carne Nachos I've ever run across at one of the cafe court diners.
The plane to Denver left right on time and once again it was only about 1/2 full so I had lots of room.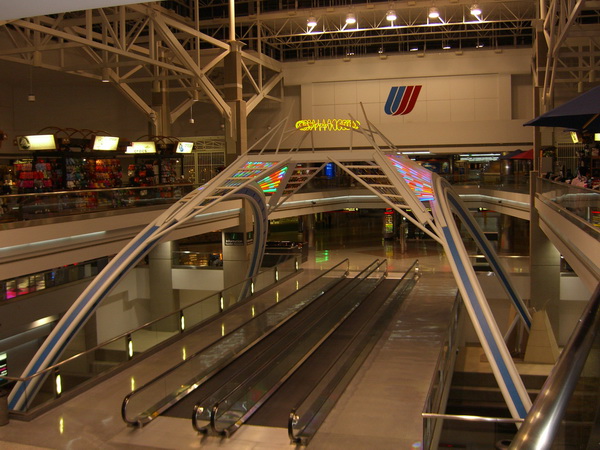 We arrived in Denver sometime around midnight. I was tired and thirsty. Much to my surprise ALL the airports shops and cafes are closed. I hadn't even considered this. I mean Denver's a major international airpost! How can it be "closed?" With the help of a security guy I finally found a vending machine that would sell me a bottle of water. I headed back to my gate and watched the CNN feed (endless election nonsense) until time to board.
Just as I'm walking down the aisle on my next plane looking for my seat I get a call on my cell phone. It's now the middle of the night and I'm very, very tired. I'm struggling with my carry on baggage and rummaging through my pockets frantically trying to find my damn phone. It's Daniel. He's checked into the motel in Orlando and gives me the room number. He's going to bed (lucky dog) and will see me in the morning. I try very hard to remember the room number. Of course by the time I find my seat, some paper and a pen I have completely forgotten it.
Once again (it's starting to get a bit eerie) the plane was practically empty. I had 3 seats to myself so I raised the arms and spread myself out over all 3. I generally am unable to sleep on planes but I did manage to catch a couple of fitful hours of on the flight.
We landed in Orlando just as the first rays of dawn were appearing. The airport looked like there had been a terrorist attack just before I arrived. I braced for action. Ah, no worries it's just more construction to bring it up to our current "national security" levels (sigh).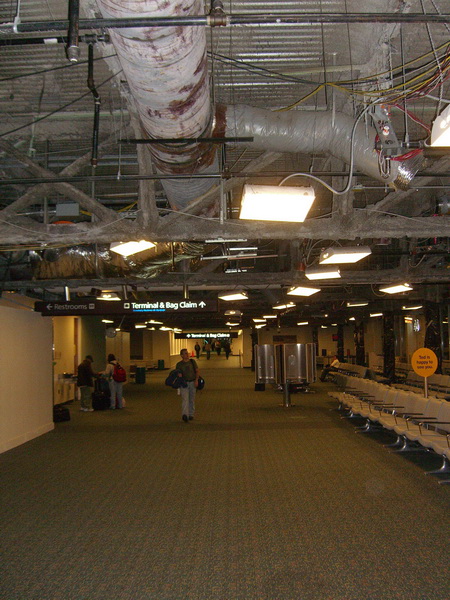 My plan was to find the motel's shuttle and even though I'm not technically staying there catch a ride to the motel. Well, that didn't work. I couldn't find the shuttles anywhere and I was much too exhausted to give it much of a go. I grabbed the first taxicab I came across...mistake. First off the driver speaks very little English. Second off the drivers door doesn't open so he has to enter on the passenger side and scoot across. Third off he doesn't set the meter when we take off. Fourth he becomes helplessly lost (3 times). Eventually he calls in to dispatch (2 times) and they get him in the right area but we still didn't find the motel. Finally I spotted the motel down the street and he dumps me off. Cost? $20. Tip? Don't make me laugh, I'm too tired. We later learn from the man behind the motel desk that the fare should have been no more than $15.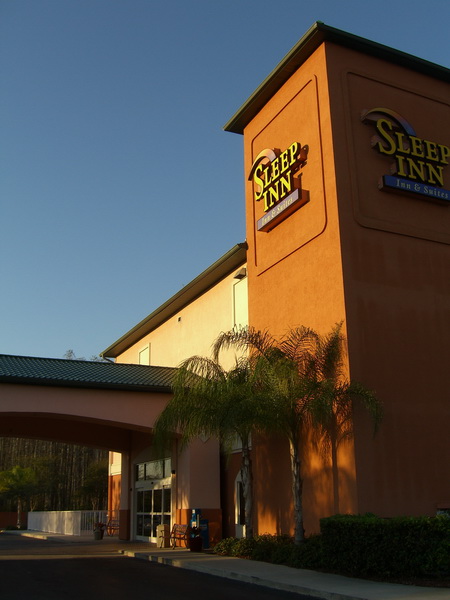 Fortunately Daniel had called my cell again and left a message with the correct room number. I found the room just as Daniel's heading downstairs for breakfast. With the hope that it would make me feel a bit more human I took a shower and headed down to "steal" a bit of the free continental breakfast the motel was offering its guests.
Chris met us in his Subaru promptly at 8 o'clock exactly as planned. We hadn't met Chris face to face before (only exchanging emails) but by the time we arrived at his home an hour later we were getting along like old friends. I love Guzzi people. Chris's home is in the lovely old town of Deland which is 20 minutes outside of Daytona. Perfect.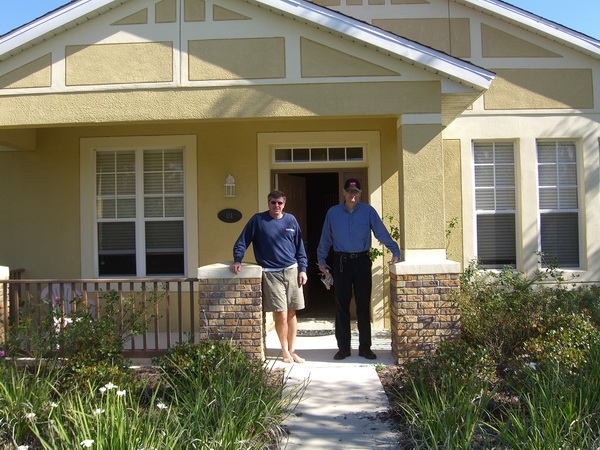 This was my first trip to Florida and I was amazed at how different it is compared to my home on California's north coast. The first thing that hit me was that it was warm. 8 o'clock in the morning and I'm in a t-shirt. Secondly, there is no dirt in Florida. It's all sand. Hard sand, soft sand, coarse sand and fine sand...sand, sand, sand. And swamps. And very flat. The trees are all pines and palms. The place is just different enough to let you know that you're not home any longer.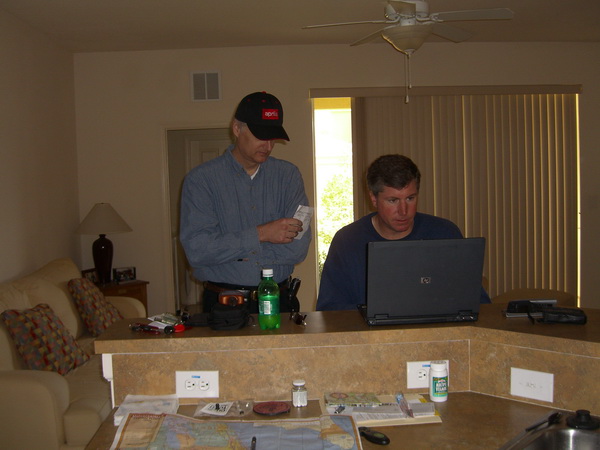 After getting settled in and going over the maps of where everything is that we were hoping to see, we got down to the important stuff. Looking at and talking about motorcycles. Specifically Moto Guzzi motorcycles.
Chris owns two of Guzzi's newer models (I also own one, a V11 Le Mans and Daniel owns two, a California II and a Daytona 1000). This one is the bike he uses for traveling, a lovely Breva 1100.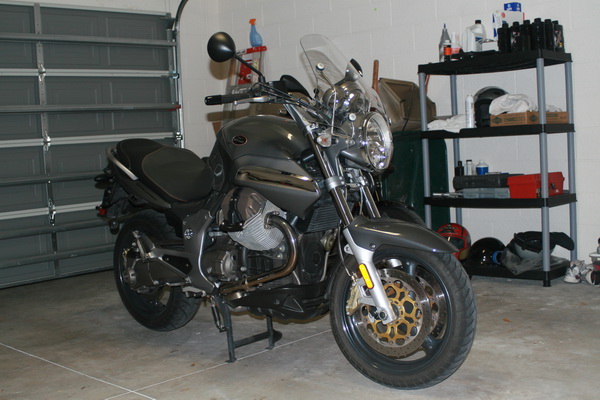 ...and this one is just for fun, his beautiful, very black Griso.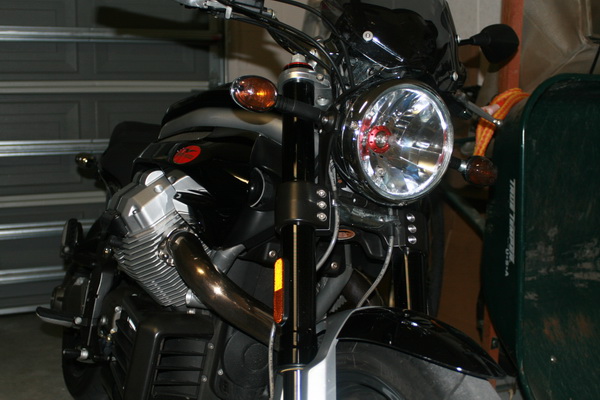 Chris then tossed Daniel the keys to his car (Daniel's our wheel man for the trip) and we head off looking for high adventure (after we quit snickering about Chris's "Grnd Fnk" front license plate).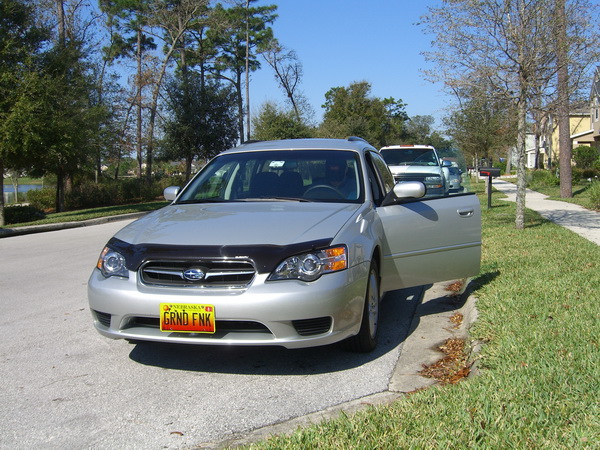 First stop is the Volusia County Fairgrounds (Daytona is in Volusia county) to watch the tech inspections for the AHRMA (American Historical Racing Motorcycle Association, a wonderful group) vintage bike races the next day at Daytona Speedway.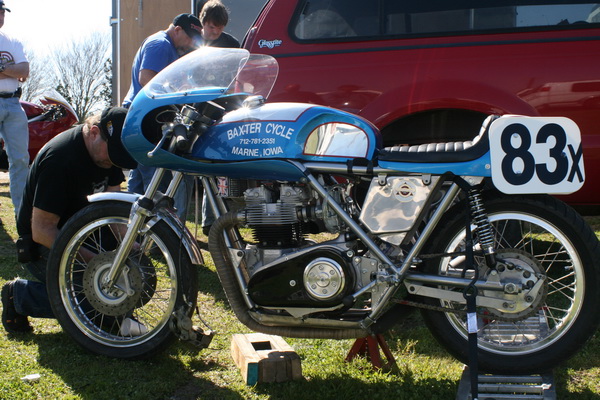 The place is packed with old, interesting and historic motorcycles like this one, Raceco Guzzi's wildly modified race bike.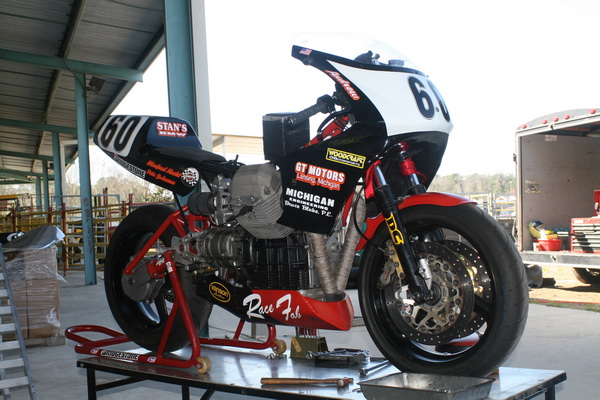 Here the inspectors are going over one of the race bikes. It was eventually disqualified for not having a pan under the engine. It was a little sobering noticing the number of wheelchair bound people in the crowd. Motorcycle racing is NOT for wimps!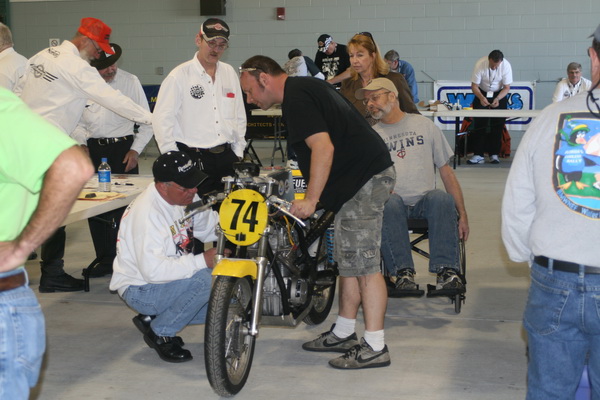 A few of the old Indian hand-shifters. You actually have to take your left (or sometimes the right) hand off the bars and shift an actual gear-shifter arm to change gears...challenging to say the least.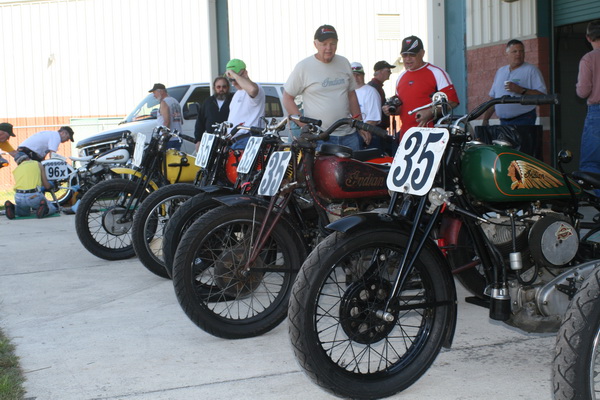 There is quite a mixed bags of brands and sizes of bikes...and they all seem beautiful.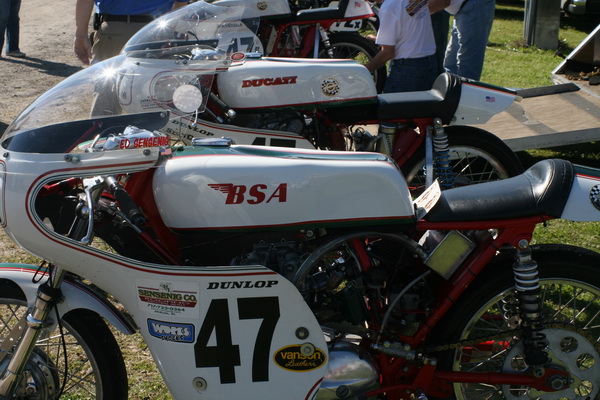 Even some newer motorcycles like this Triumph Thruxton. There is a class dedicated to Thruxton's running over the next few days.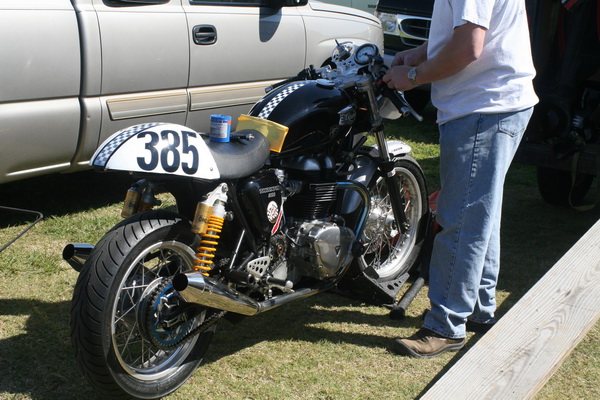 We could have stayed here all day but there's racing to be watched! Back into the Suburu and on to Daytona Beach.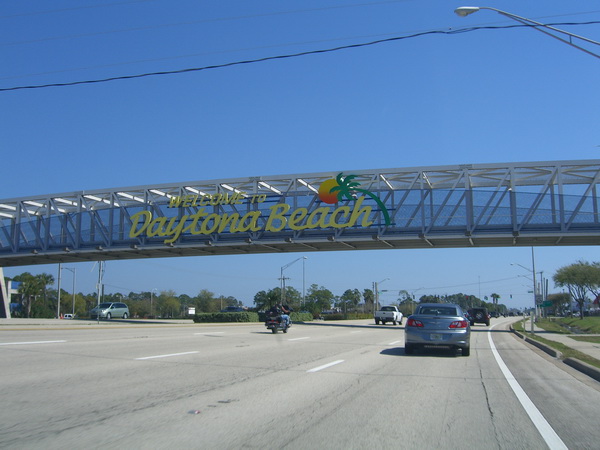 Daytona International Speedway.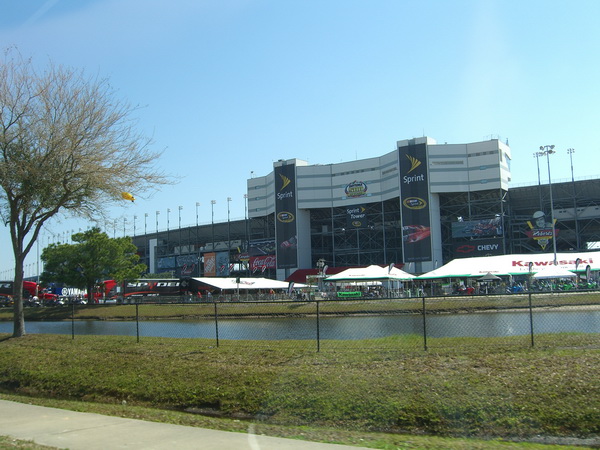 The roads are packed with motorcycles. We are finally confronted with "Bike Week." Fortunately 99% of the bikers attending Bike Week have no idea that there is any racing going on. They are content to ride up and down the streets and cruise. Or park and drink. There are no helmet laws in Florida so most of these people were wearing little or no motorcycle gear something that is shocking for this All-The-Gear-All-The-Time (ATGATT) California boy.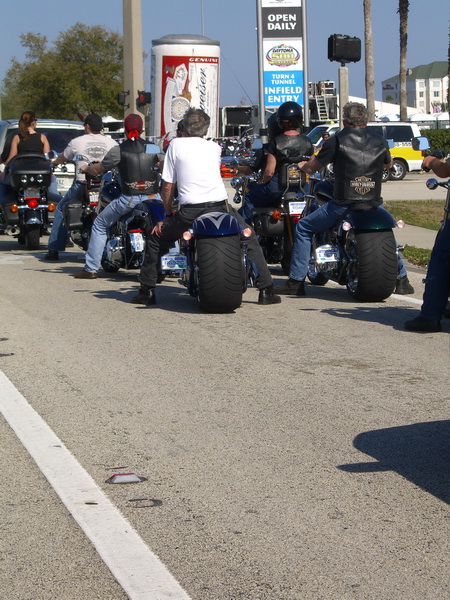 To view a short video of the motorcycle congestion simply click the icon to the right.

We headed over to the pit area (after sorting out the routine on how to get passes, $20 to an unmarked official in an undisclosed location) to check out the action. We first stopped by the Hooters Aprilia Team's pit to see if they know where the other Aprilia team was located. No help from these corporate lackeys (lovely buxom, spandex clad "pit girls" though). Daniel helps sponsor the "other" Aprilia team by buying their tires for them when they race at the Springfield Mile.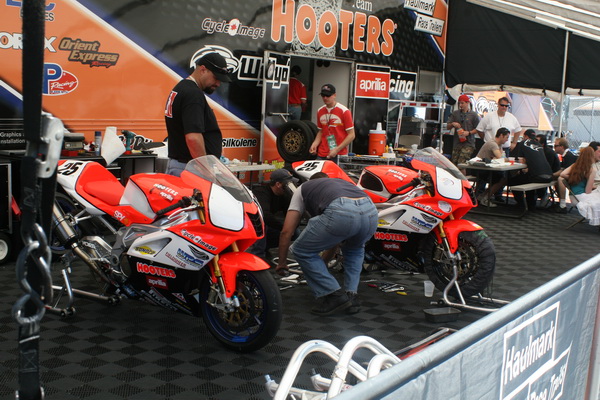 The pits for the rest of the masses...no "pit girls" here I'm afraid.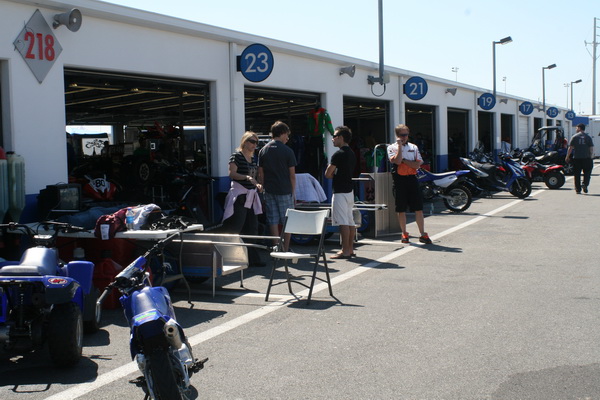 We ran across the legendary racer Gary Nixon in our strolls. Gary won the AMA Grand National Championship in 1967 and 1968 and the Daytona 200 in 1967.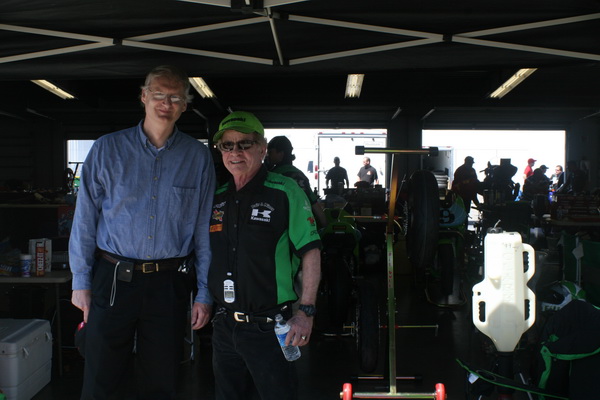 I think we were much more excited to see him than he was us.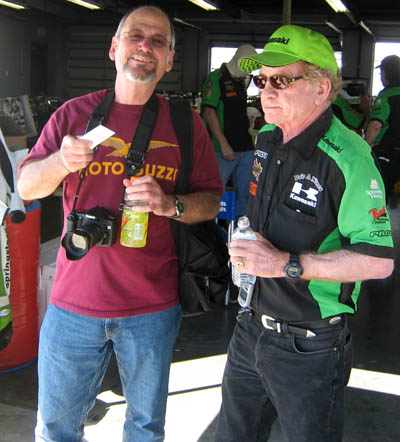 Ah, now you're talking. A racing Moto Guzzi, a true thing of beauty (Daniel is always much quicker than I at spotting these Guzzi's than I am...I like to think it's just because he's taller). This one is owned and raced by the gentleman in the picture, Shigeru Honda (yes, yes it's very funny, a guy named "Honda" is racing a Moto Guzzi...now can we move on?).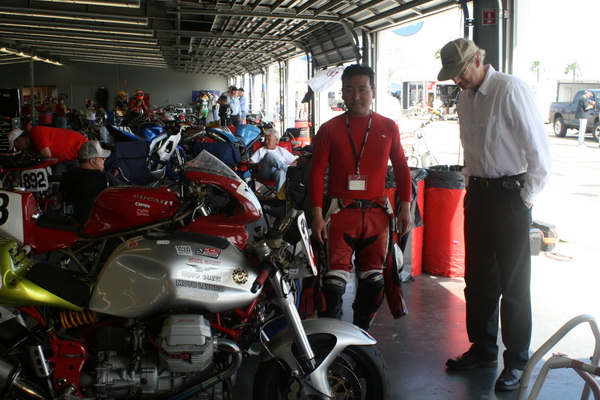 Shigeru and his bike raced well despite having had his fairing damaged in transit and having to race with just his number plate to break the wind. He brought respect and much glory to the name of both Moto Guzzi and Honda.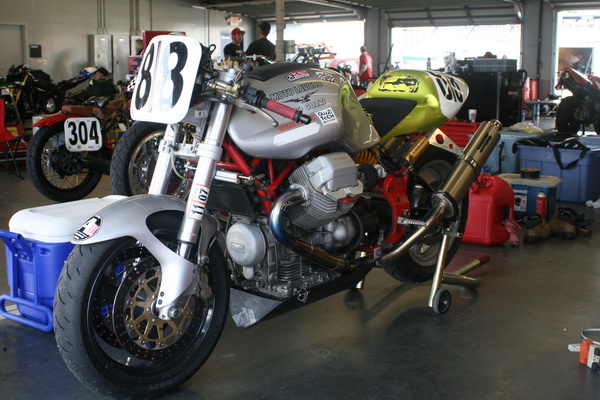 To get a feel for the pits click on the icon on the right for a short video.

A six-cylinder Honda CBX racing bike? Unheard of...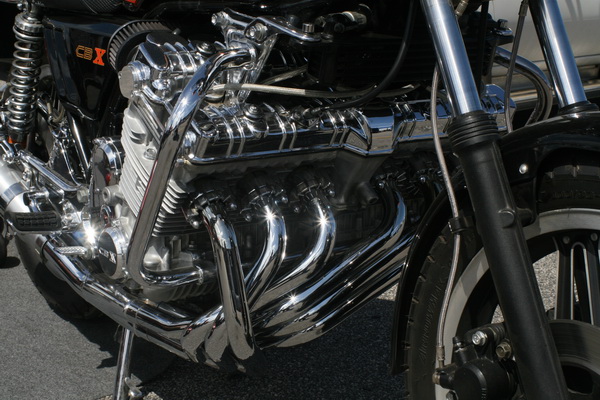 ...but my oh my, how delightfully gorgeous!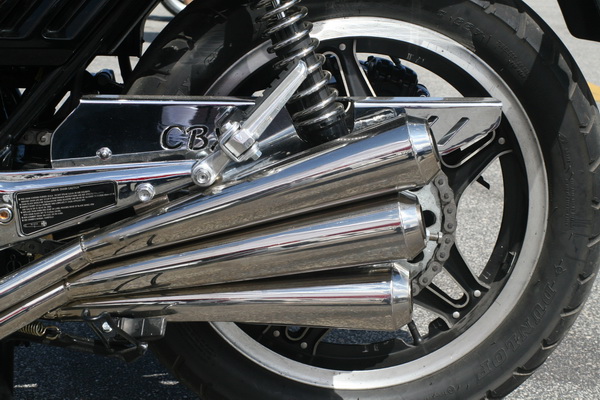 This is Bankara Racing's 1972 Moto Guzzi, 850 c.c. V7 Sport. It was brought over for the AHARMA races at Dayton Beach from Japan by a Japanese bike club. They brought a full support crew that busied itself ruffing up tires and picking them spotlessly clean among their other duties. They ended up on the podium TWICE during the course of the races and made us all proud to be "Guzzista" (Moto Guzzi owners)!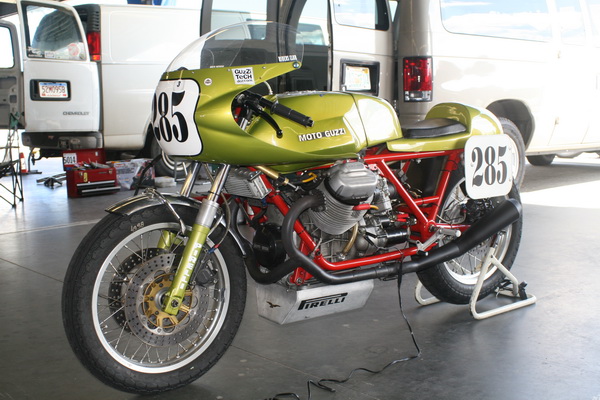 The bike was so lovely I purchased a poster of it for the guest room (this is taken from a thumbnail of race photos available for sale).
Parked next to Bankara's Guzzi was this bad boy. A Vincent replica. This bike was amazingly popular and did quite well racing. Every time the crew would fire it up a crowd would gather to watch...but mostly to listen to the sweet roar of that engine.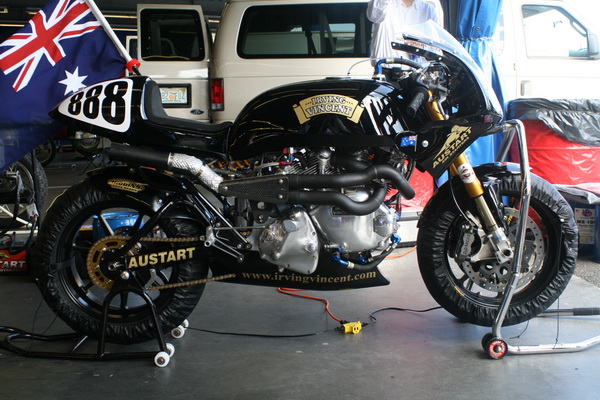 To view the Vincent in action click on the icon to the right.

We did eventually find Daniel's Aprilia team. They were delighted to see him here in Daytona. That's Daniel on the left, then rider Henry Wiles and David Lloyd (mgr) on the right (notice that Daniel wore his very appropriate "Aprilia hat" for this occasion).
We'd been hanging around in the mid-day sun (80+ degree Florida sun, something which neither Daniel nor I was used to) for awhile now and Daniel was starting to feel the consequences of the bad meal he ate earlier the previous evening at "The Waffle House" and we're both reeling from the heat. We found a place in the shade and cooled our heels for a bit. Nice and I'll be better in a minute.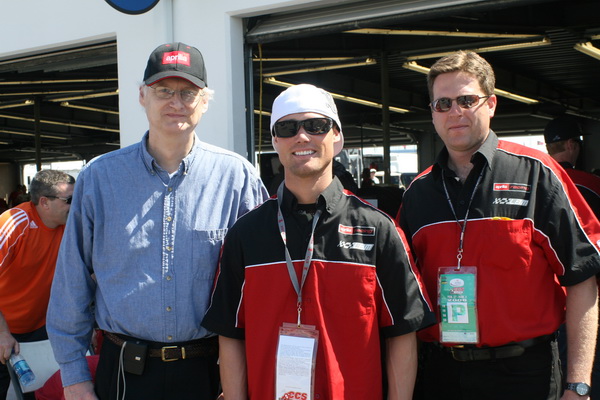 Finally we get out of the pits and out to the track to watch the action.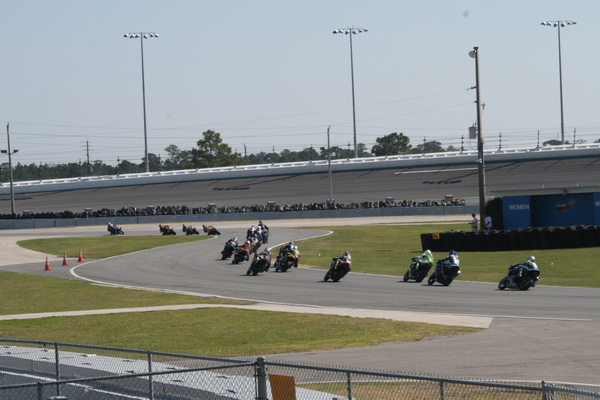 To see live track action click on the icon to the right.

After a couple of hours of racing we're both in need of fluids. I had foolishly decided not to bring a hat on this trip figuring I'd just get one here. The (cooked) chickens were coming home to roost now and I was totally baked and sunburnt. We staggered over to a Harley Owners (HOG) area (something we'd been avoiding) and there amongst the beer tents, Crown Royal whiskey tents, Jagermeister tents and loud bands (sing: "I'm a teenage dirt bag" over and over and over again...seriously) we found fluids and finally a hat for me.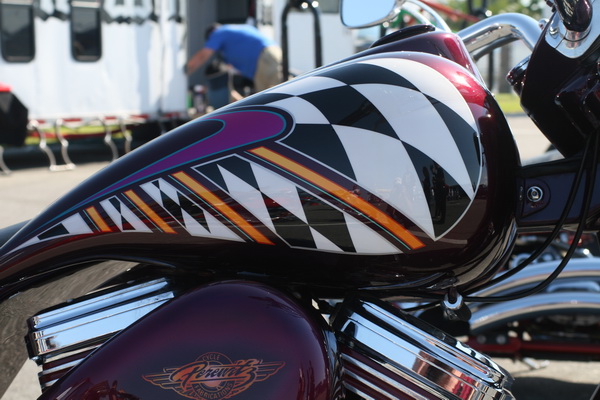 ...and some admittedly beautiful bikes.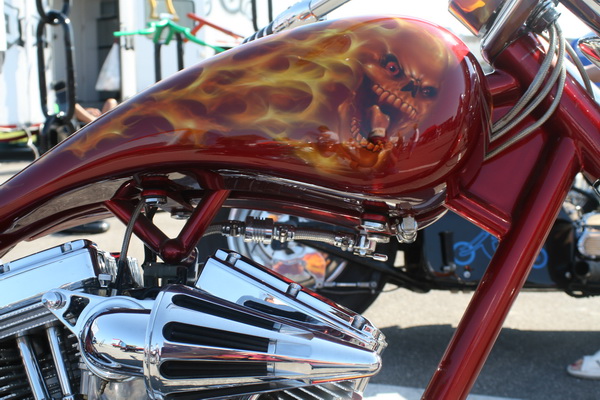 Time to blow this popstand. Back outside the speedway, after two unsuccessful attempts to access the vendor area we decided to "screw that" (neither of us really needs a new bike nor any new gear and we'd heard that Guzzi hadn't even bothered to show up...what's up with that?) and headed down to Daytona Beach to take a peek at the Atlantic Ocean.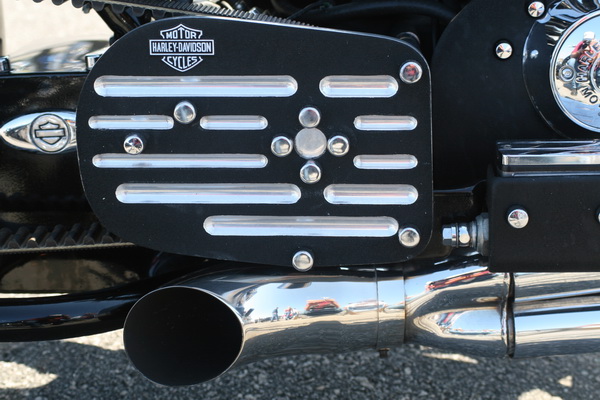 But first, still more fluids.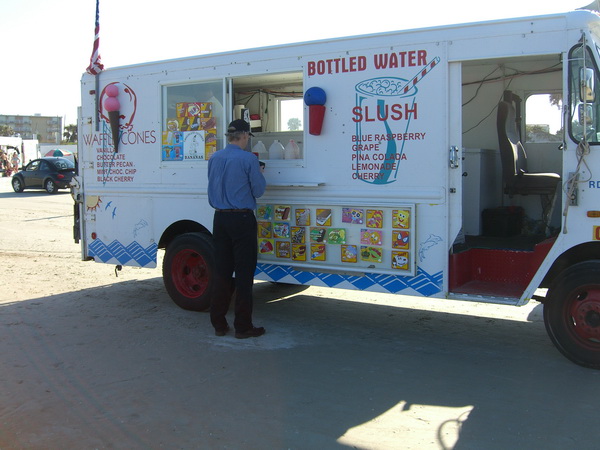 The beach was quite a scene...sunbathers and swimmers sharing it with quad runners, pickup trucks and cars.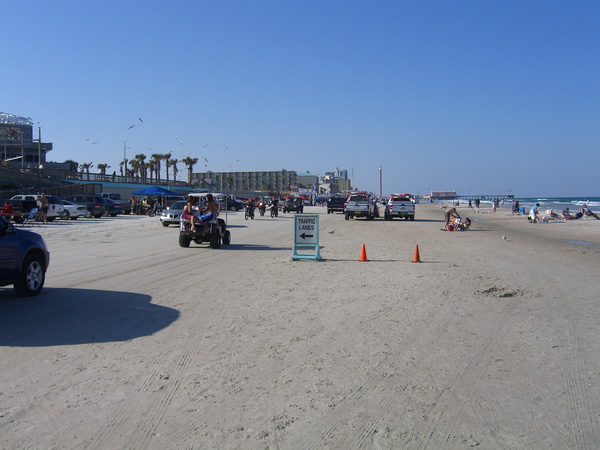 We hiked a couple of miles up the beach and then turned into the town proper. We were confronted with this circus..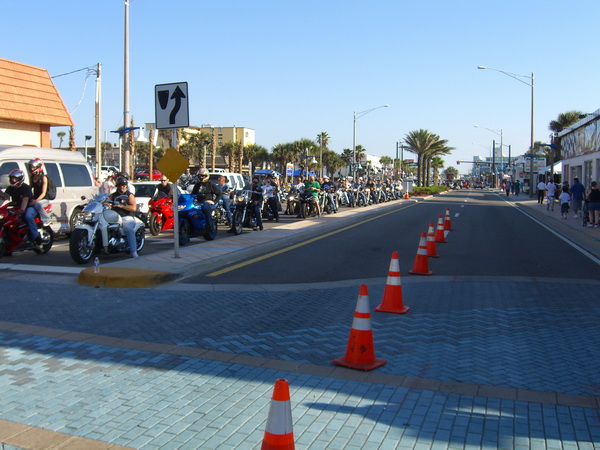 ...and this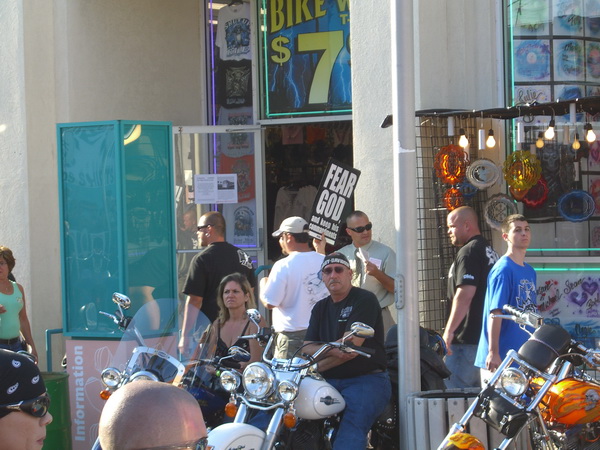 ...and this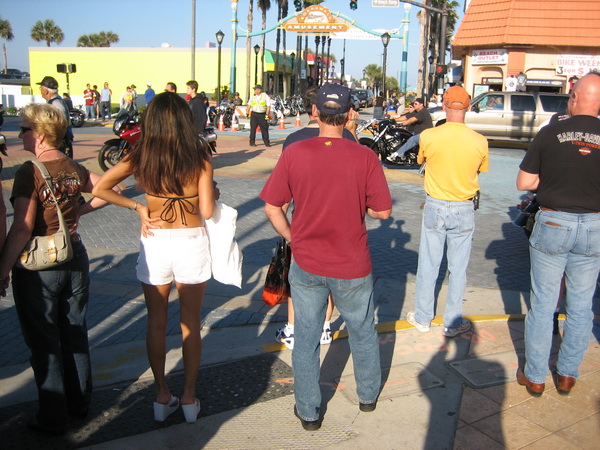 ...and lots of this. A seemingly endless string of tasteless t-shirts, hats, beer gardens and underwear.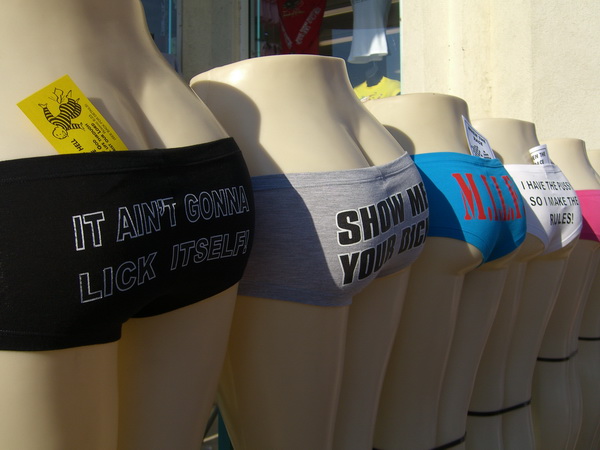 There were literally 10's of thousands of motorcycles on the streets. 95% of those were Harley Davidsons and a full 80% of those were running with what sounded like straight pipes!
To go "live" to the craziness that is mainstreet click on the icon to the right.

The day was winding down so we headed back to where we'd left the car (completing a nice 6 mile forced march, much of it on sand...I'm sooo tired) and headed back to Chris's house (hooray for Daniel's GPS).
Shortly after we arrived home the two other people who were staying with Chris arrived from a long day's work installing motorcycle tires for Metzler during Bike Week. Ace lives in Missouri and Rob comes from Wisconsin. Both show up at Bike Week each year to make a few $$$ working for Metzler. Ace is also a crackerjack Moto Guzzi mechanic (HERE) and I wasted no time getting him to diagnose some electrical problems I've been having with my Le Mans (which currently was in pieces in my garage). Once back home I took his advice (and that of Rob, Chris and Daniel...thank you all) and did his fixes and I'll be damned if they hadn't nailed it (relays). Have I mentioned that I love Guzzi people.
Chris generously offered to cook us all up some hamburgers and brats with french fries. It is so good, so perfect. We haven't been eating regularly or well and the food is delicious and much appreciated.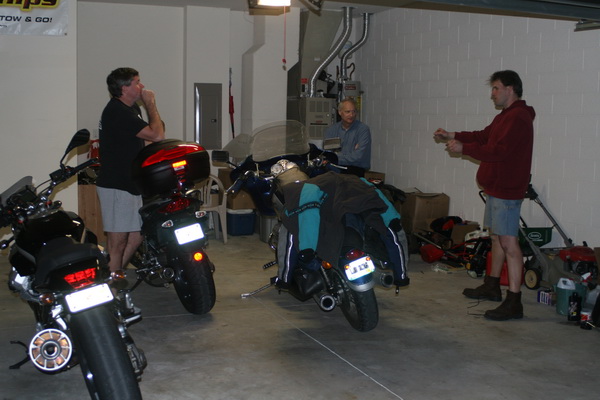 After supper we retire to the garage and partake in what has become one of my favorite things. Sitting around on bikes and talking/lying to each other about our skills and our bikes. I valiantly try to hold up my end of the conversation but am by far and away the least knowledgeable person there. It's the perfect end to a very long day. I'm all in.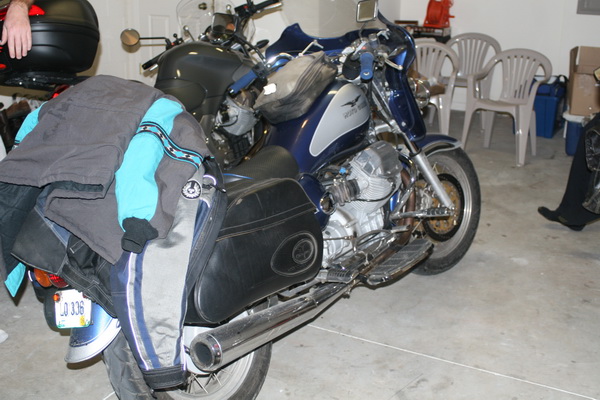 "No wait," the day's not over yet!" Ace gets a call on his cell phone that a Guzzi owner has been struck by a car while he was out walking around. Ace and Rob jump into a truck and rush off to and bring him back here (I'm a bit confused by these events...sleep deprivation + jet lag = "dazed & confused").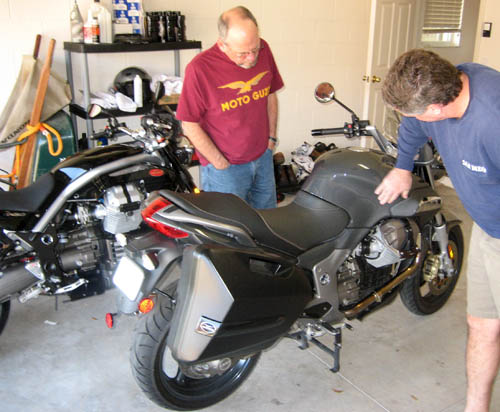 After hanging around watching some NASCAR races on the television and drinking some excellent beers (ah, that helps) we finally heard a motorcycle pull up into the garage. It's another Guzzi but this one with a sidecar. It was being ridden by a friend of Rob's introduced as Ralph. Ralph is Ace's mechanic buddy and also hails from Missoui and the sidecar rig actually belongs to Chris Collins (a friend of Rob's also from back in Wisconsin and the Wisconsin MGNOC [Moto Guzzi National Owners Club] rep), the fellow who had just been hit.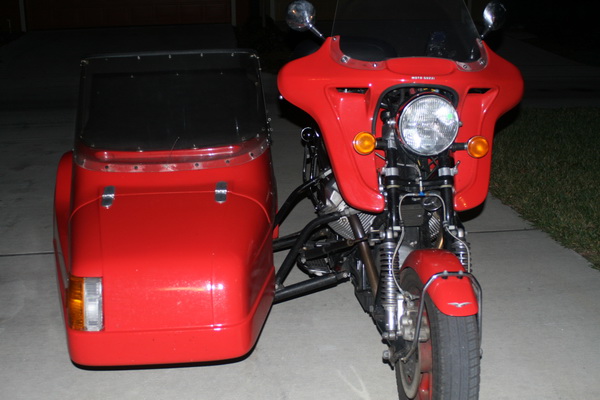 After a little bit more of a wait the boys show up with Chris in tow. They had just sprung him from the hospital (against doctor's orders...apparently there had been some sort of "disagreement"). Chris is a bit rummy from being recently smacked by a car, is sporting some lovely stitches on his head and is covered in his own blood.
Uh-huh, the day has taken a quick turn to the surreal for me and as much as I hate to miss the fun I decide it might just be best to turn in. It's now 9:30 or so (Florida time) and I've been up for about 48 hours. I've flown crossed an entire continent and am probably still a bit jet-lagged. I'm 4 time zones away from home and have no idea what time it really is. I've been fried by the hot Florida sun, cooked in the heat, watched a bunch of motorcycle racing, looked at literally thousands of motorcycles, hiked for miles, had a couple of beers and now guys covered in blood are showing up. I'm still having fun but...
"Stick a fork in me man, because I'm about done!"
(a note: a month later I heard from Chris and he's doing well. "Still got a dent in my noggin and a sore shoulder" but fine. I thought you'd want to know)
---
Click HERE to continue on with the trip!
Click HERE to return to our homepage