Becky & Gil's - Italy/Britain Trip Continues:
---
April 5, 2006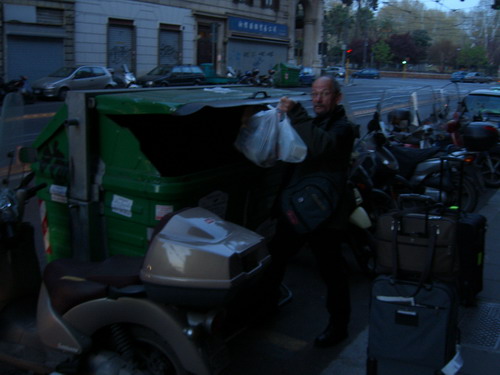 (Taking out the trash one last time, in the early morning light.)
We rose at 5:30 and walked to Termini station, trundling our suitcases. We had previously worked out exactly how to catch the special express train. That particular train terminates right at the Mamiama street entrance to Termini, which is just a few blocks from our apartment, and there are self-service ticket machines.
So…when the machine would not take our credit or debit cards, I was a little disturbed. Now we had to run all the way up to the front of Termini (a significant distance) to buy our E9.50 tickets, then back. (Of course, had we considered further, we would have realized - duh - that we could have bought our tickets at those same self-serve machines with cash, which we did have.) So huffing and puffing, we arrive back at the train, now taking one a half hour later than planned. But all is well. It's a 30 minute train ride to the airport, then just a ten minute walk to get all the way to our check-in counter at Air Italia, so our 7:22 train was just fine.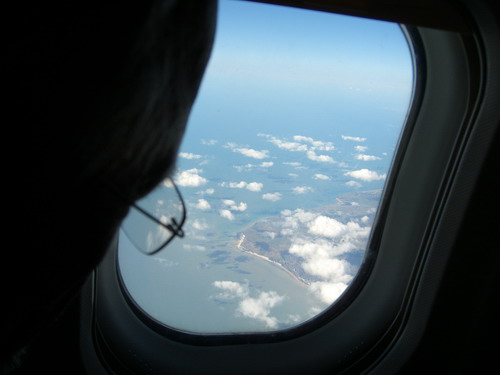 As we flew north, we could see the Alps covered in snow, and the English Channel and some English white cliffs. (By the way, our round-trip flights from London Heathrow to Rome were $150 each, through Expedia.)
Arriving at Heathrow, we were met by our dear friends Barbara and Dennis Martin from Salisbury, who picked us up in their delightful new Renault Scenic. We stopped at a little church of St. Mary the Virgin Abbotts Ann near Andover, Hampshire, where the gloves of deceased virgins (male and female) hang from special hazelwood or oak crowns from the ceiling.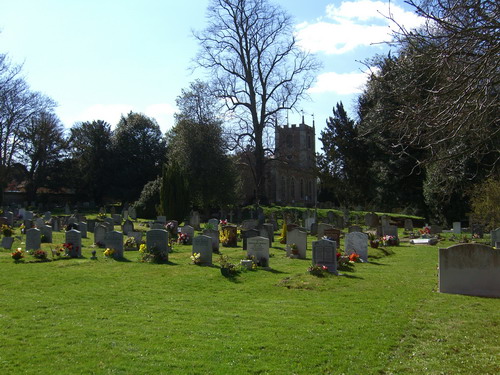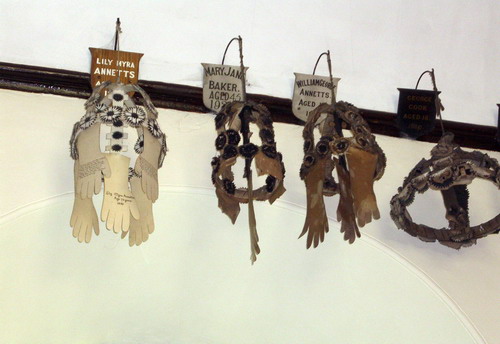 On the same little jog through the charming English countryside, we saw a couple of sights we just hardly ever seen in our home on California's north coast. Thatchers working on a roof...

(roof thatchers).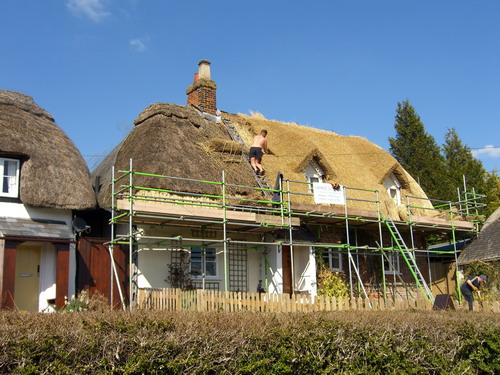 ...and shaggy Scotish Highland cattle.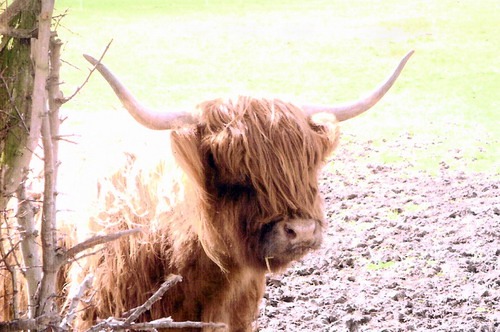 (photo courtesy of Barbara and Dennis Martin)
In no time at all we arrived at the Martin's home in Salisbury...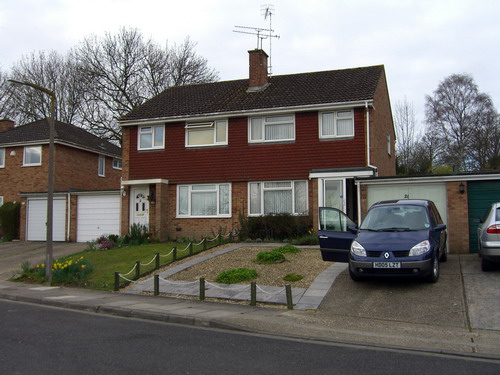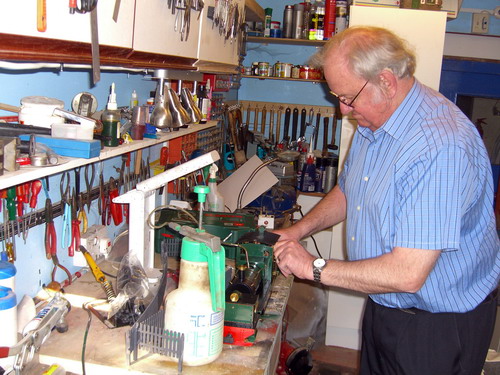 (Dennis working on a steam locomotive in his shop)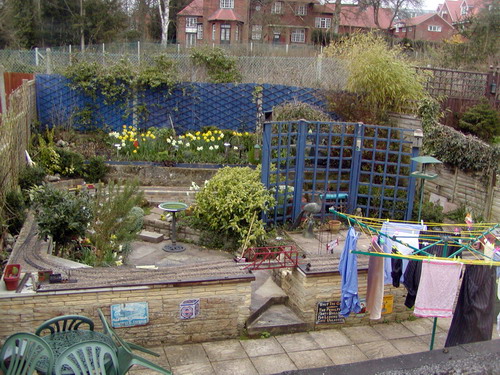 (His train setup in the back garden)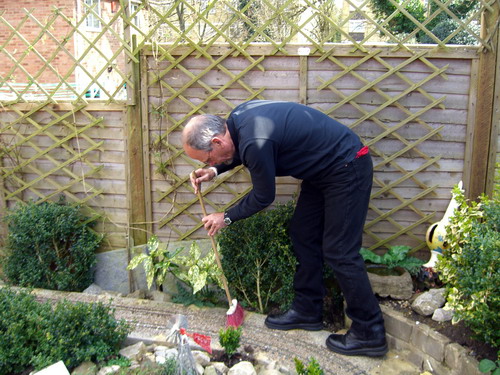 (me, sweeping the tracks preparing for "the first run of the season")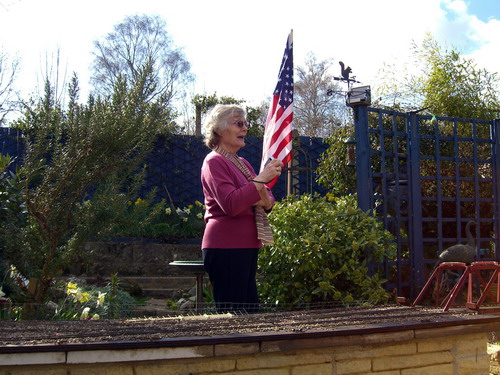 (Barbara had placed an American flag in the backyard for our arrival)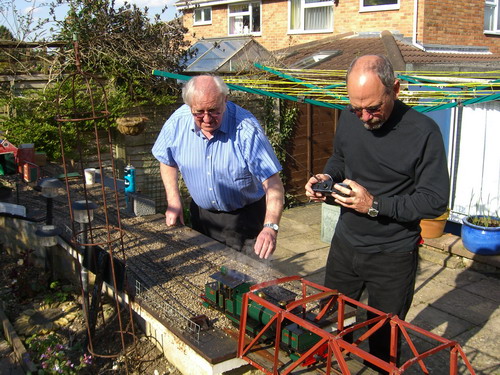 (me at the remote control taking the steam train out for a few laps)
Dennis had prepared a lovely lamb casserole dinner, crowned with a delightful crème brulee. We showed a few of our photos and mini movies that we'd taken on the trip so far (and we hope we did not bore our thoughtful hosts!).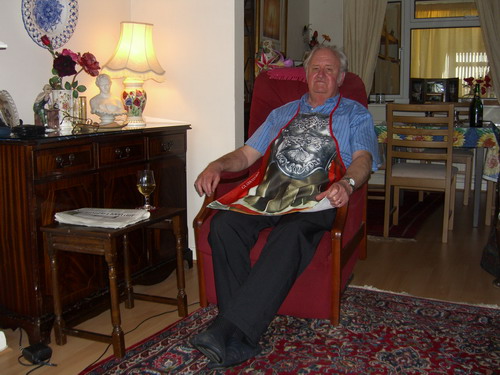 April 6
Barbara drove us all the next morning through little lanes (we think they're trying to find fiendishly narrow roads to scare Gil), wending our way to Stonehenge.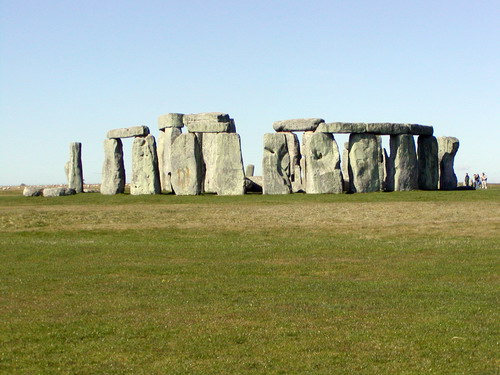 The weather is gorgeous, with blue skies and cool temperatures (if a bit windy). At Stonehenge, we park at the car park across the street from the monument, then walk slowly around the monument, safely behind the low ropes. We may not be able to touch the stones, but this system, in addition to protecting the monument, actually allows everyone to get some good photographs without interference. Around us are green fields, rolling hills, burial mounds, and sheep for miles.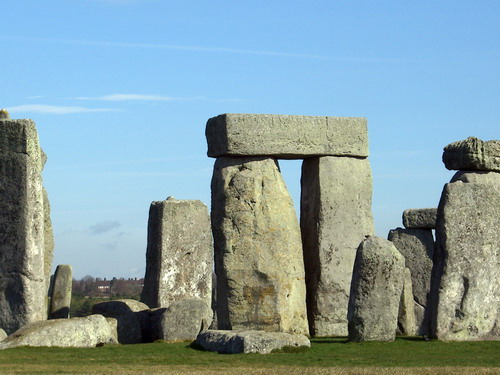 Barbara brought with her a pair of metal divining rods. The idea is to hold them in your hands loosely, and walk slowly forward, seeing if the movement of the rods might indicate the location of the mysterious "ley lines" which run (among many other places) from Stonehenge to Old Sarum to Salisbury Cathedral.

(Gil Here: Ok, so I'm a skeptic. The whole idea that there is an invisible grid made up of electricity, magnetism or magical energy and that for millenia people have been building monuments either knowingly or unknowingly along these "ley lines" is pretty much outside my system of belief. That being said, I realize some do have "faith" in such things, I have seen people actually divine water and can't explain it and I like to think I keep an open mind....so, I tried a hand at it and am still not sure what happened...I will admit that everyone who tried it had the same results in approximately the same location. Kind of eerie.)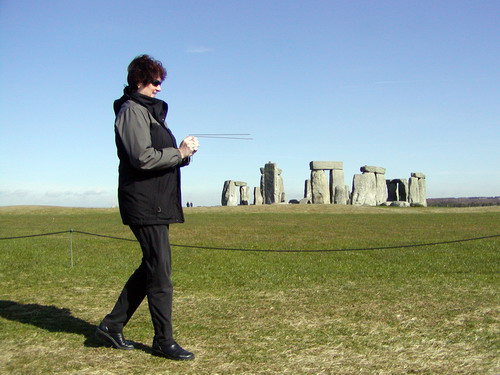 In our hands, the rods were somewhat buffeted by the wind, which was rather brisk at times, but yes, for both Gil and I, there was a definite "turning" of the rods

(a "divine" experience).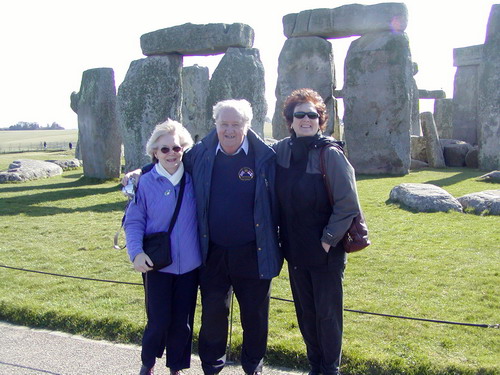 Our next stop was the hill top fort, castle and original cathedral of Old Sarum.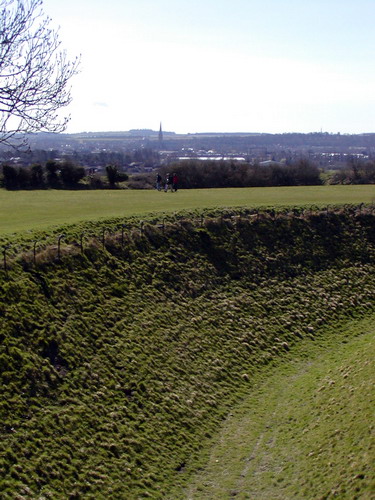 The original large circle ditch/hill dates from the Iron Age.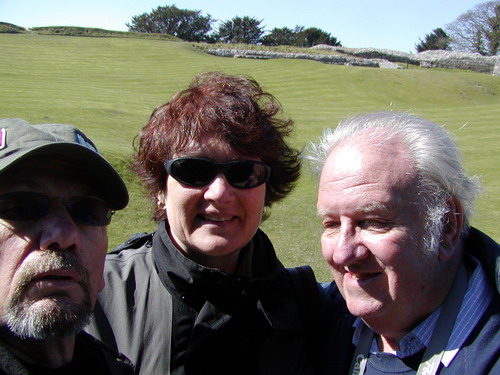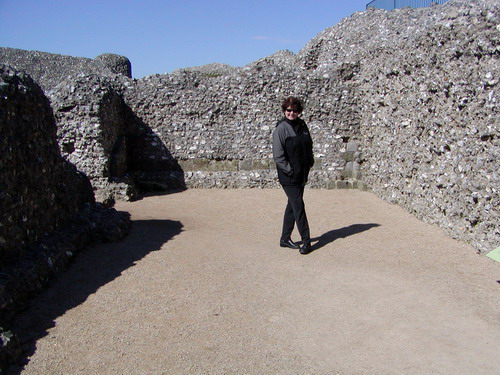 Romans also settled in this area, and several Roman roads led here. William the Conqueror built the first castle here. Dennis, Gil and I wander around the green grass and flint/stone rubble. Great views from the castle area, atop the inner circle of earth, looking all around and down to the site of the old cathedral.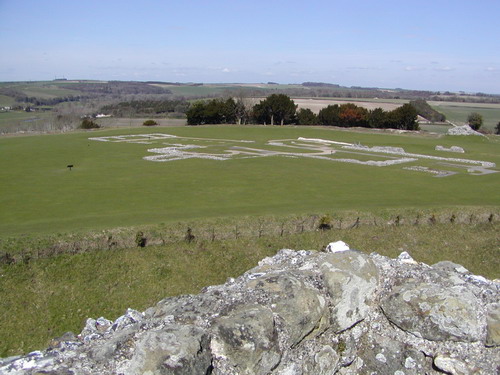 Then we're off to Salisbury for a tasty lunch at Fisherton Mill. Then Dennis and Barbara drive home, while Gil and I spend a little time wandering through the streets of Salisbury. We have visited Salisbury every time we come to England and this is the first time we've actually taken the time to roam the streets of the town. We saw the Church of St Thomas, with its medieval doom painting, which was fascinating.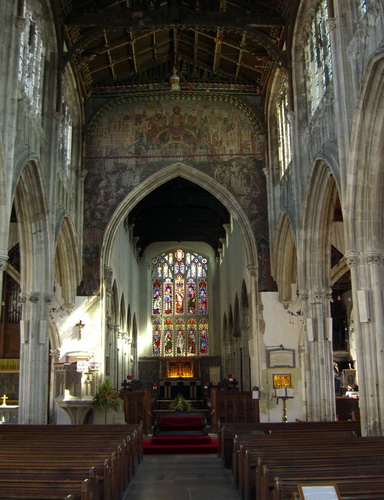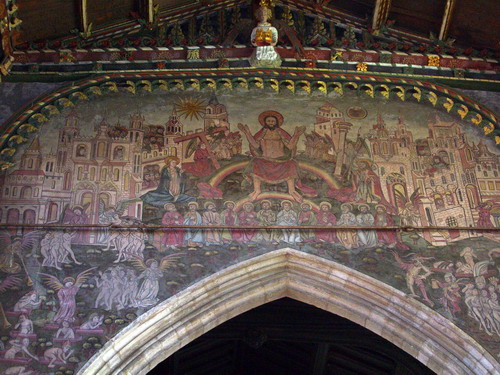 (Gil Here: Some might not know about "doom paintings" so a word of explanation. "Doom paintings" generally tell the story of Christian judgement and are placed generally on the arch between the Nave and Chancel. They typically show people being judged and then either ascending into heaven or being dragged down into the fires of hell. For me it's cool to see the depictions of what heaven looks like but I find the depiction of hell especially amazing. The one at St. Thomas's was full of monsters!)
We also followed the riverside walks, then stopped in at "Poundland," which is much like our own "Dollar Stores" in America. "Everything is just one pound." We loaded up.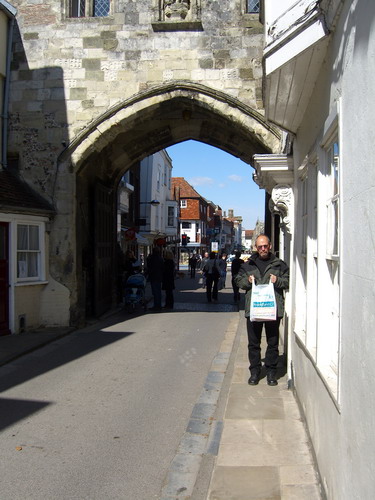 After this scintillating interval, we found ourselves in the Cathedral Close. I want to go to Mompesson House, but alas it is closed. The houses nearby are lovely, however. Through the gates of one of them, I spy an odd statue of a 4-foot tall rabbit hugging a shorter woodland creature. Curious. The Medieval Hall is also closed, so I nip into the Salisbury Wiltshire Museum briefly, while Gil wandered down to St Anne's Gate.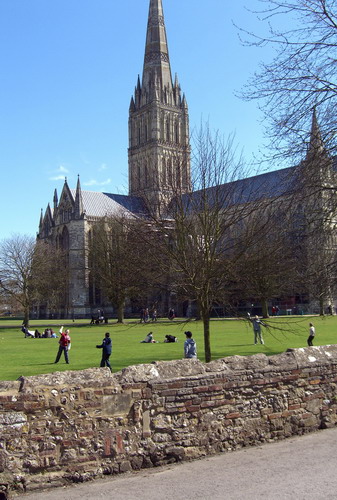 We successfully found our way home, along Milford, then Milford Hill, then Milford Hollow. We did a bit of laundry and hung it to dry.
Tonight is Theatre Night! Dennis and Barbara are treating us to Sheridan's "School for Scandal," which was George Washington's favorite play. First, however, we have a lovely supper at a restaurant on the Market Square. Great food, and a very nice view of the square and a most pleasant waitress. Then we walked to the Salisbury Playhouse, where we found the play to be quite lively. I especially enjoyed the characters of Snake, Mrs. Candour, and the more dashing brother (Charles?) in long leather boots. Barbara popped out during the interval for ice creams for all of us.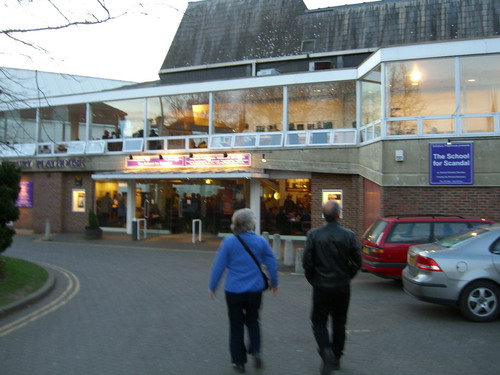 April 7
We're up early...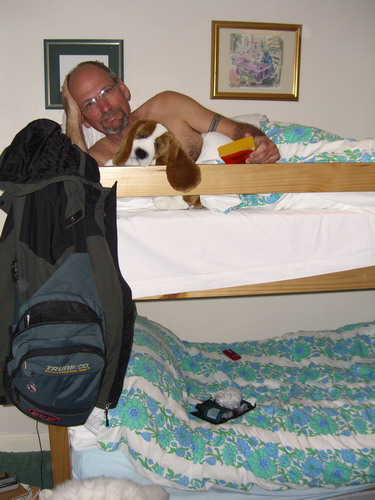 (the Martins thoughtfully furnished us with a stuffed Basset to help make us feel at home)
...had a quick breakfast, stuffed all of our combined gear into the Renault and are on the road by 9:30, traveling up north...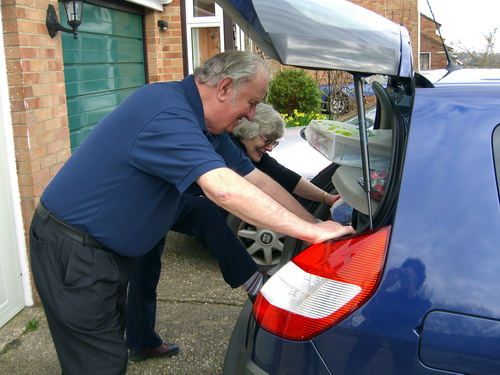 ...to near Welshpool, in Wales where we stay at a lovely farmhouse Bed and Breakfast called Tynllwyn Farm (pronounced approximately "tin thl win," according to Barbara). Everywhere are green hills, sheep and gamboling lambs and the incomparable Welsh scenery. The Farmhouse overlooks a wide, green valley.

(sheep and gamboling lambs)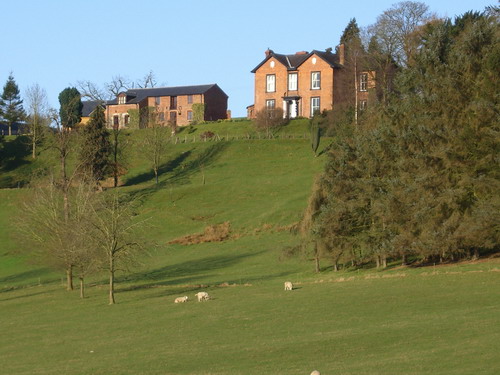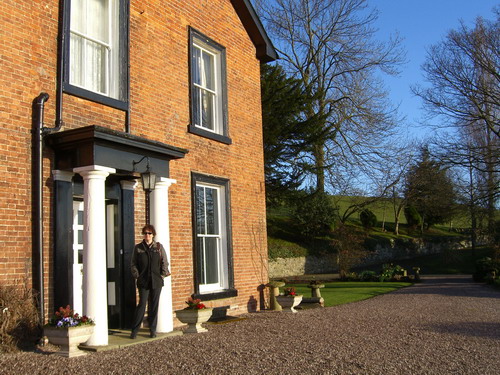 Shortly after we pull up our future shipmates, Den's cousin David and his wife Jean, arrive. They have driven up from their home in South Darenth in Kent (southeastern England).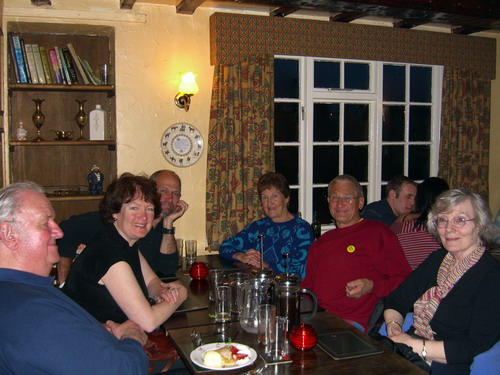 (from left, clockwise-Dennis, Becky, Gil, Jean, David and Barbara)
That evening, we have a lovely dinner in a local pub, where we first learn about David's love of vegetables and baked beans. Then we retire to our beautiful rooms, with a few minutes downstairs reading in the sitting room, nice and cozy with a wood fire and manly leather chairs. The weather outside is quite nippy!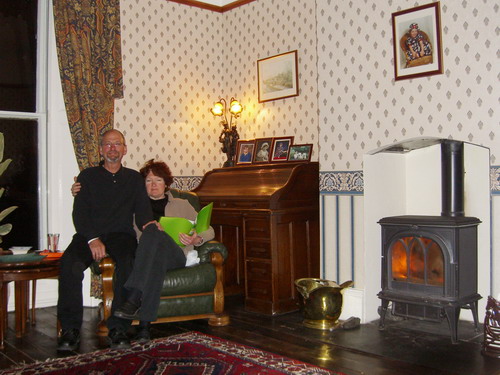 (...or did we sit in the reading room?)
April 8
We woke to light clear blue skies and light streaming through our east facing bedroom windows. We decided to talk a walk before breakfast.
(streaming light)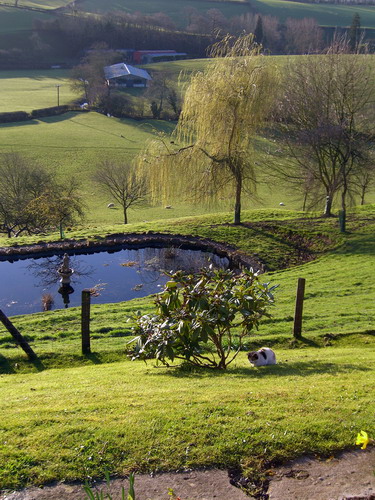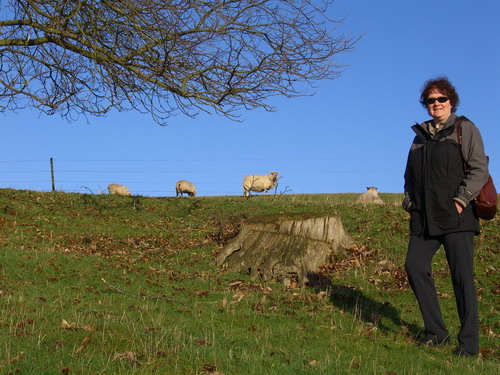 (more sheep)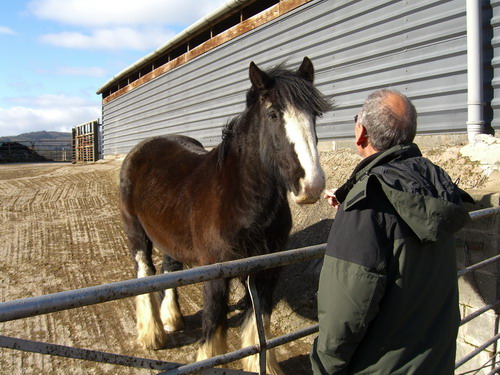 (friendly draft horse we met on our walk)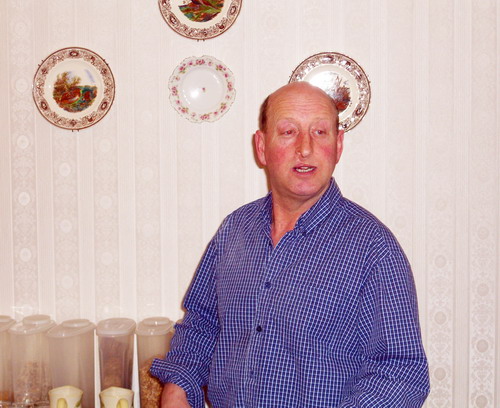 (our host)
After a magnificent Welsh farmhouse breakfast, we say good bye to our hosts, pay our very reasonable lodging of only L55, and drive to the delightful river-side village of Llangollen, where we spend a few minutes wandering the town, admiring the steam train and the surrounding mountains. (Gil Here: and find some essentials we would need on the boat...Welsh farmhouse cheddar, Irish Poteen, and a Welsh single malt whisky known as Penderyn...you know, survival stuff) The town looks quite charming, and is filled with B & B's, no doubt in anticipation of hosting the yearly International Musical Eisteddfod, but it is ill equipped for the many cars trying to drive through it!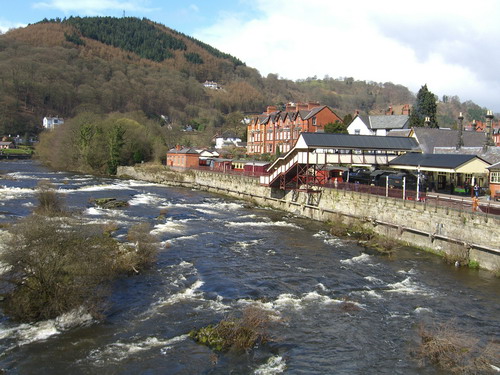 While walking around, we spy a strange site - what appears to be a stuffed West Highland White Terrier, posed, "looking out" a Llangollen window. I point it out to Gil, who crosses the street to investigate. Suddenly the "dead" dog moves - just a bit. It's most peculiar, since the dog is basically rigid and doesn't even acknowledge Gil's approach. (Gil Here: I got a very "Stephen Kingish" vibe from the incident)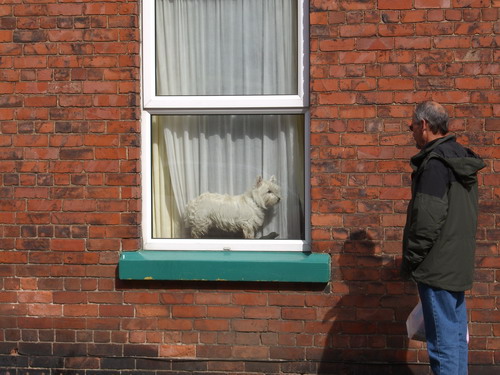 We partake of an interesting public bathroom interlude: you must pay to get in, by putting 20 p coins in a turnstile, but it's not as automated as it sounds, since there is an employee in a wee office to give you change to put in the automatic turnstile…huh? And I am vaguely amused by the sign in the office: "If you sprinkle when you tinkle, Be a sweetie and Wipe the seatie."
Anyway…next stop is Chirk, where we will find the Marina where the Black Prince Narrowboat company resides. But first - a visit to the castle. David, Jean, Gil and I tour Chirk castle, which is fairly unique in that it has been continuously inhabited for the past 700 years or so. Charles I slept here a couple of times. The family sided with the Royalists during the Civil War. Outside, it's rainy and cold, with occasional patches of sun.
(now that's what a castle should look like!)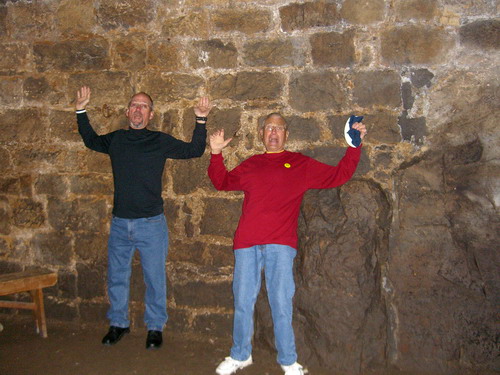 (David and I chained in the dungeon...just kidding)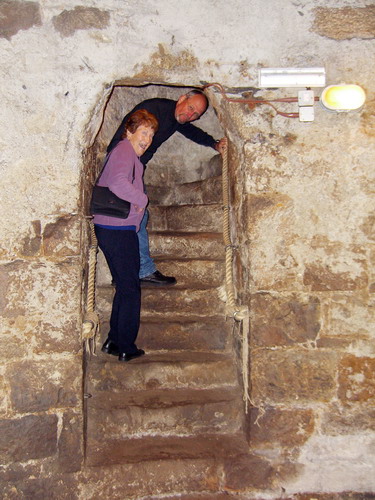 (Jean and I exiting the dungeon)
Now to Chirk Marina, where the Martin's have reserved a canal boat for the next 4 days. It's "The Jenny," 7 feet wide and 69 feet long. After a spot of lunch at the nearby Golf Club (where a sometimes raucous wedding reception is happening, complete with kilted groomsmen and lots of cigarette smoke, and Gil demonstrates to our English friends the joy of "chips (french fries) with brown gravy"), we load up the boat, get some brief instructions, and head north-ish up the Llangollen Canal.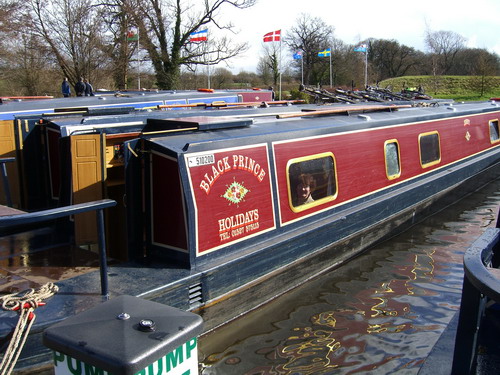 (ahhh, The Jenny! Our home for the next few days)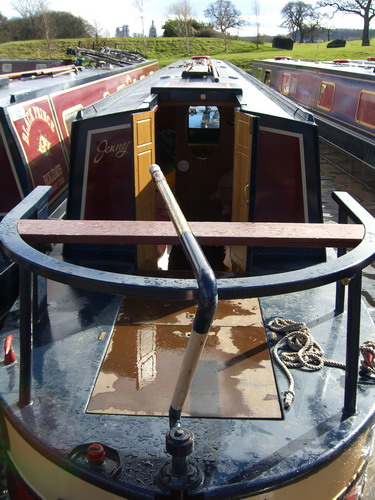 We glide through the Whitehouses Tunnel (191 yards long), then pass the former mining town of Froncysyllte, which boasts a little "lift bridge" which we don't need to open because there are eager volunteers to take care of the task for us.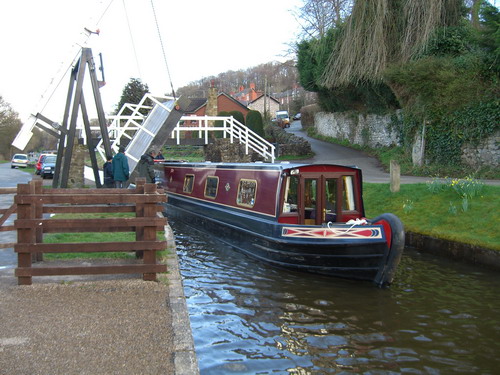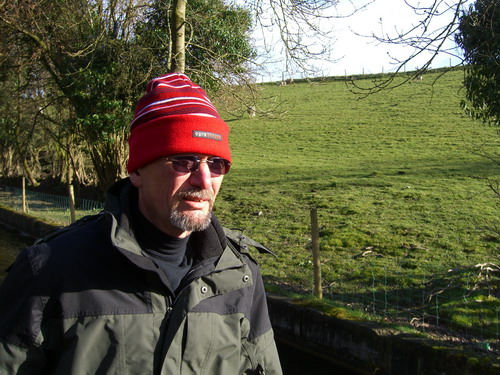 Then - oh my - it's already time for the infamous Pontcysyllte aqueduct. Designed by Telford and built in 1805 (that's right; it's 201 years old), it's purpose built to carry canal boats, is over 1000 feet long and 127 feet over the valley floor. (And it's pronounced "pont ker sulth tee.) It's very windy. There's the inevitable tow path on the right side, with a short railing (try to imagine what the horses of yesteryear thought about this task). On the other side; the "trough" has no railing at all. From the boat, you look right over the side, all the way down to the valley below. Gil's at the tiller, grinding his way across (between the strong wind and the canal's entire current funneling down into the 8 foot trough, it's impossible to keep Jenny on a straight line. We have to run the engine close to wide open just to make headway!). Just past the aqueduct is a sharp left turn at Trevor.

(the horror of the pontcycsyllte aqueduct!)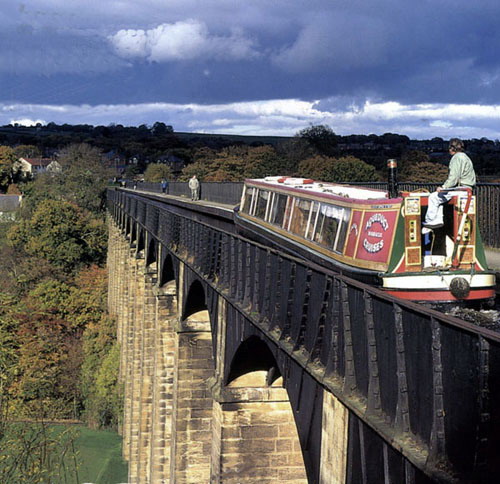 (photo "borrowed" from an undisclosed but hopefully understanding website)
Note: Although Barbara had anticipated for months "cowering in the bottom of the boat" while making the crossing, she showed herself to be extremely brave, and, in fact, ambled nonchalantly across the aqueduct, video camera in hand.
We tie up for the night just past bridge 33. We have a simple supper of vegetable soup, rolls, Welsh cheese and crackers, plus a lovely Pinot Noir (Robert Goodman) that we'd brought from our home in Humboldt County and the Penderyn Welsh whisky, which all 3 "boys" find mighty tasty.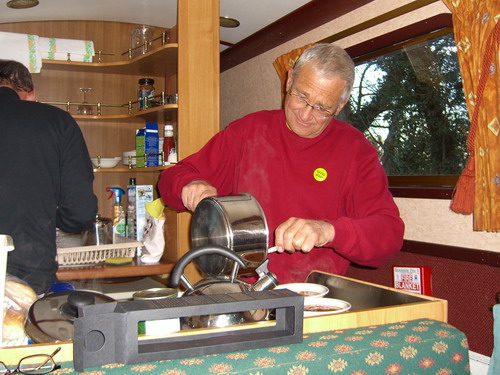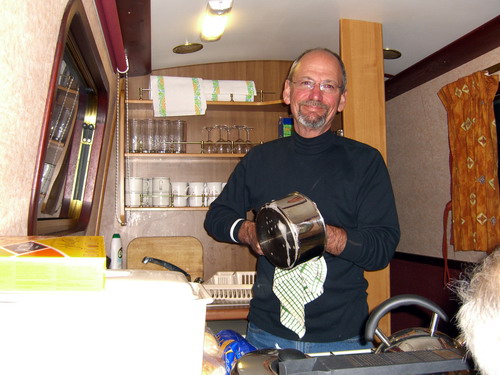 Gil and I are enthralled with the tales spun by our four "shipmates," who tell us about their experiences as children during World War II in England. The gas masks, Anderson shelters, blackouts, and all were accepted by them as rather normal, since they were so young.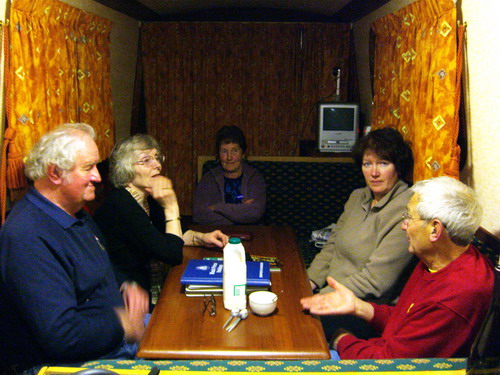 It's cold and night and we are all sleeping on narrow single beds (about 20 inches wide), so it's quite chilly.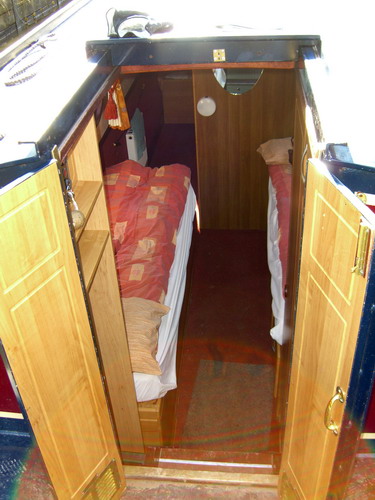 (the view from the aft deck down into the back bedroom of the boat)
April 9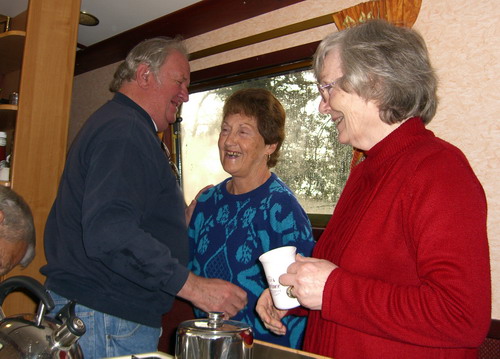 (the crew requires LOTS of hot tea and coffee in the morning)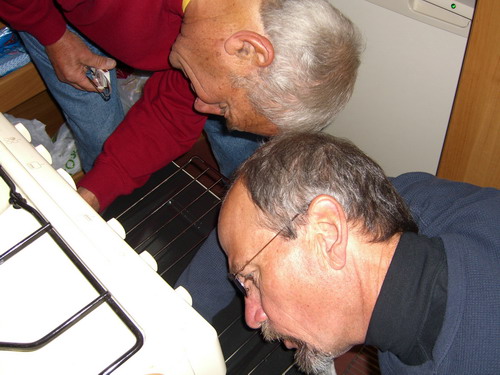 (and of course we must have toast! David and I try to light the oven.)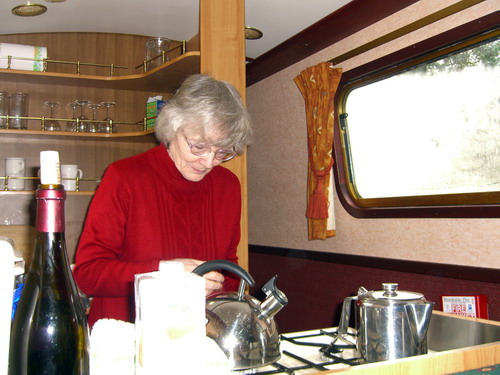 Cereal, toast and English apple juice for breakfast. We decide to go north just as far as the next "turning basin" (between bridges 37 and 38) and not go into Llangollen again.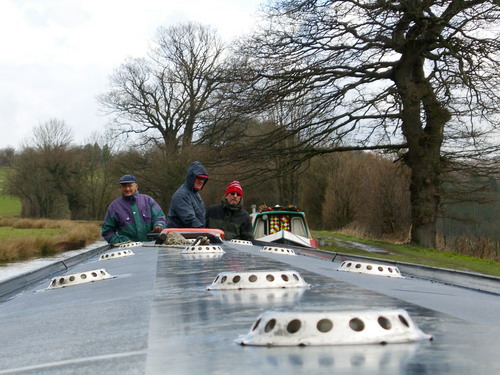 And so we do. This stretch of the canal is very curvy and treacherous, so it's difficult getting by fellow canal boaters heading the other way. We beach ourselves several times in the shallow, eroded banks, and Gil has to resort to using the barge pole.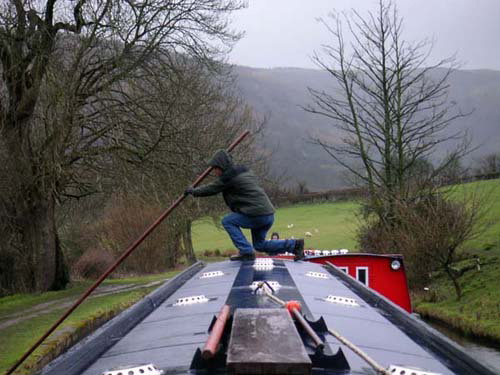 (photo courtesy of Barbara Martin)
It rains…then hails…then actually snows. Not nearly so many ducks as on the Kennet and Avon canal two years ago.
We finally get to the turning basin, and, using lots of rope and manpower, we head back south, and over the great aqueduct again.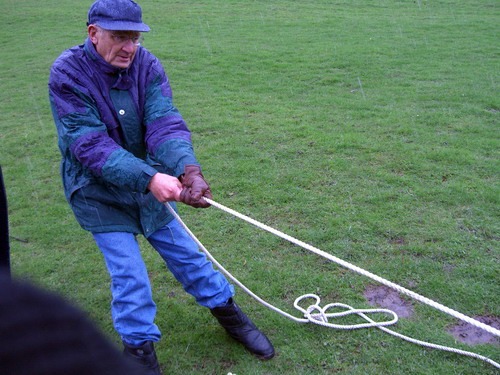 We return to the Chirk Marina, where we stop to retrieve a few items from our cars, like sneakers, camera cords, etc. Back to the boat, we go downstream to the public mooring just north of the BIG "Chirk Tunnel," all 459 yards long!
We moor, then it's a 5 minutes walk into the Welsh town of Chirk. We find an open COOP store, where we buy more supplies, including a California merlot, then we meet up by chance in a café with Jean and David. We have hot dogs and egg and sausage sandwiches. (Actually, they are quite good.) We chat with an older local chap who is sitting in the café having a smoke. He's quite friendly, and talks to David about rugby (we think - while the accents are delightful, sometimes we miss the important bits!).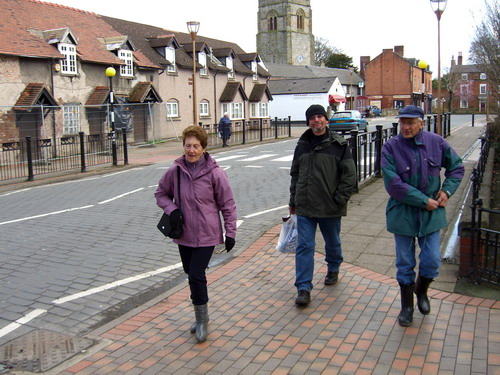 Walking back to the boat on Station Road, we smell the unmistakable scent of chocolate, which is coming from a local factory. A local Cadbury Chocolates factory, to be exact. Too bad there aren't tours and samples!
On through the Mighty Tunnel. It seems to go on forever. Since it's dead straight, you can see the proverbial light at the end of the tunnel (good thing - the tunnel is just barely wide enough for one canal boat and one horse on the towpath)

(the Chirk tunnel).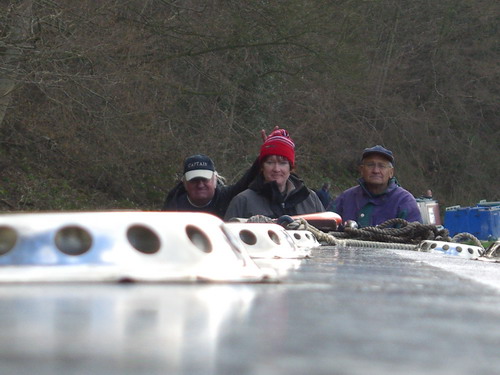 (it seems that giving someone the "bunny ears" in photos is international)
There's a pretty little park at the end, and a right/left jog, then we're going over the Chirk Aqueduct (built in 1801, it predates the Pontcysyllte Aqueduct). 70 feet long, it was joined a few years later by the equally handsome Railway Viaduct.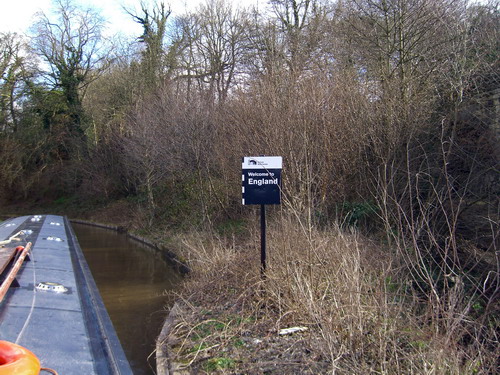 (since our canal is right next to the Enland/Wales border we crossed over it many times)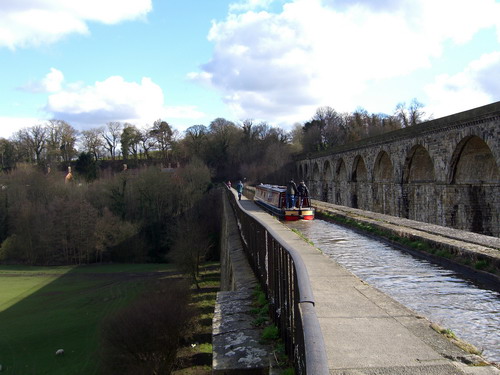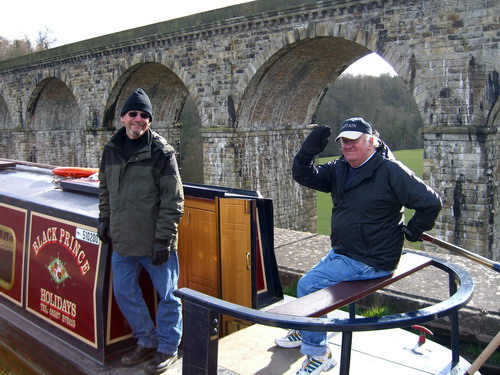 Just before Bridge 21, we moor for the night. We walk up the embankment and down the road to The Bridge Inn, where we are treated quite well and have a few pints of bitter and hard cider (Den's favorite is Strongbow) and fruit juices (Jean and Barbara). We ladies have light-ish meals (I have soup) because we are sorely tempted by the "sweets" board. I have some sort of blackcurrant gateau with cream, which is lovely.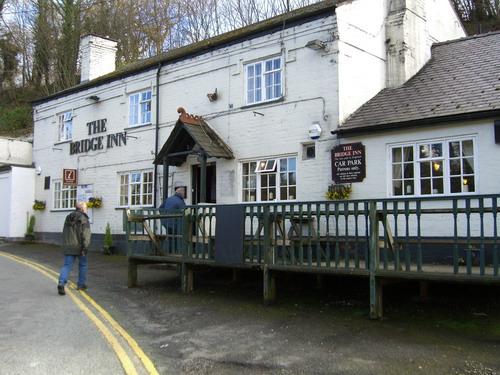 After we return up the 1/4 mile up the hill to our home on the canal, I realize I've left my gloves at the pub, but suddenly a young man from the pub runs up with them in hand. Now that's good service!
A better night's sleep for all of us. Wearing socks certainly helps keep one warmer, as does David's trick of securely tucking in the comforter between the mattress and the wall.
Before bed, however, we all gather round the table. There's easily room for all six of us. We chat, drink tea and whisky. We are all feeling very relaxed and having fun. My attempt at making tea is heartily derided. We learn many strange (to us) expressions, like "I was creased up" which means something like "I laughed so hard my stomach creased over."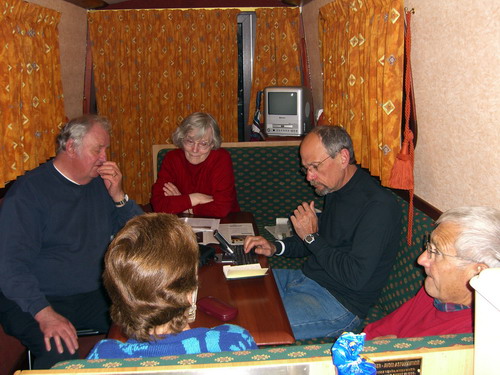 ---
Ready for more? Click HERE!