Becky & Gil's - Italy/Britain Trip Continues:
---
March 31, 2006
Just cereal for breakfast this time. We decide today's the day to explore the old Jewish Ghetto and Trastevere area down by the Tiber River, using the walking tours described in Rick Steves' Rome guide. No big crowds, just ourselves walking in the sunlight. We take the Express H bus from the front of Termini, validating our CIS cards for the first time. (Well actually, a nice man does the validation in the little yellow machine on the bus for us.) The bus is packed, but clean and new and we feel perfectly safe. The H goes all the way to Trastevere. We start our walking tour of the Jewish Ghetto by crossing the Ponte Cestio bridge, rebuilt in 370 AD when it was already over 400 years old(!), to the island in the middle of the Tiber. We then cross the "Strangers Bridge," used for centuries for non-citizens such as the Jews to cross from Trastevere to the 4 block square area on the "downtown" side of the river known as the Jewish Ghetto. Security was tight. Everything is gated and men with full automatic weapons were prominently displayed.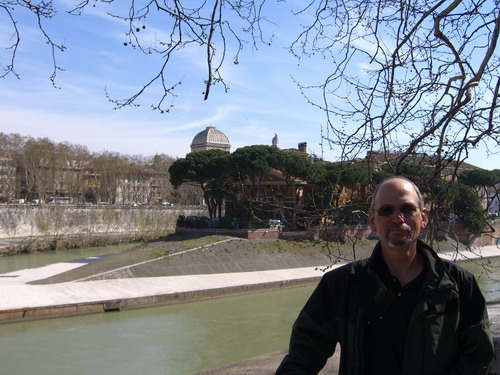 (Tiber Island with the Temple behind it...ancient Rome started on this island)
We go through the Jewish museum in the basement of the 1904 Synagogue, then take a brief tour of the Synagogue itself.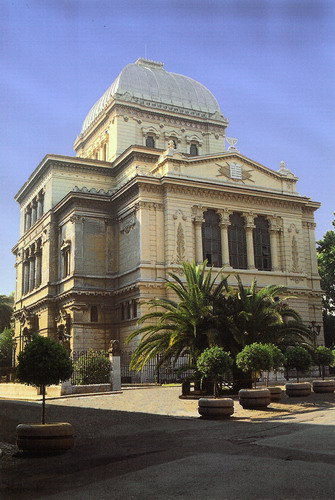 (this picture was scanned from a postcard)
It has a square dome made of aluminum, painted in rainbow hues, and decorative details worked in "Babylonian" style. It's quite gorgeous.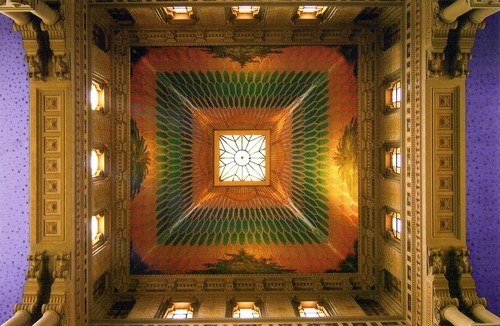 (this picture was also scanned from a postcard...no photography allowed)
We must have the traditional favorites of this area for lunch - at a small kosher café we sit outside in the sun and enjoy carciofi (fried artichokes) and fried baccala (salt cod - yum!) and fried balls of rice cooked in beef broth.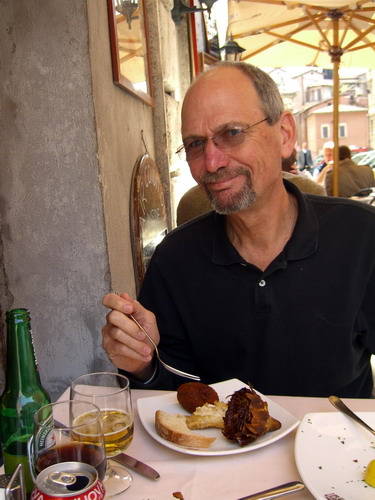 We wander the crooked streets and byways of the old ghetto area, then cross the river back to the Trastevere side. We wander through the twists and turns of the narrow lanes, marveling at the ancient buildings and then the sunny expanse of Piazza Santa Maria in Trastevere. We sit on the fountain steps and just soak in the sun and the Roman vibe. There are musicians, artists, kids, tourists, hanging bits of laundry, and the wonderful church itself,. the first church dedicated to the Virgin Mary, built in the 4th century, on a site used in earlier times to worship the then-illegal cult of Christianity. The mosaics and cosmati floor (13th century) are amazing.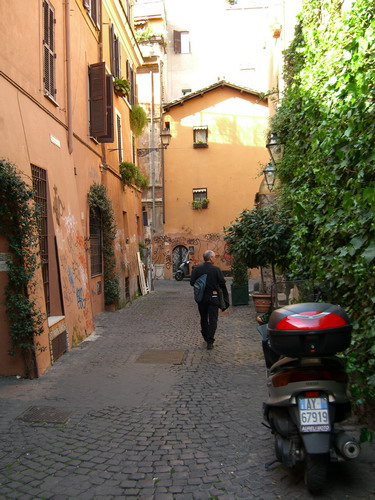 We walk south and find the Moto Guzzi dealer. They have a total of 7 bikes in the small space, and the lady there speaks very little English. We take a few photos and thank her but somehow leave without buying another Guzzi.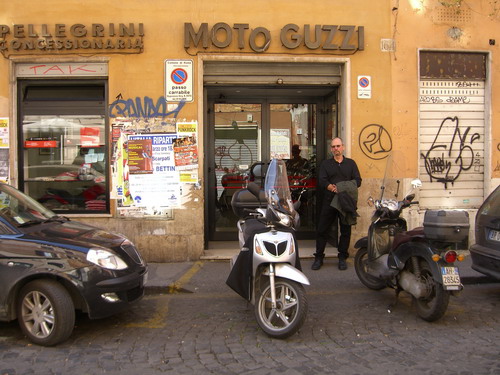 (Gil Here: Ok, here's the deal. I own a Moto Guzzi. Moto Guzzi's are made in Italy. In the U.S. my nearest Moto Guzzi dealership is 250 miles away from our home. Guzzi's are quite rare in the U.S. I was looking forward on this trip to visiting the "Motherland" of all things Guzzi. I brought my Moto Guzzi t-shirt to wear (figuring I would get homage from the natives). I brought pictures of my bike back home to share with "my people." I expected to see beautiful Moto Guzzis rumbling down every street. In my mind I had even imagined having long conversations with the local Guzzisti about "bello Moto Guzzi!" Boy, was I deluded. No one cared. Guzzi's are rare everywhere. I saw no Guzzis on the roads (I saw 5 parked along the streets in the 7 days we were in Italy). And then when I actually managed to find one of only two Moto Guzzi dealerships in Rome...well, you can see it in the picture above. 6 new bikes (same as the ones offered in the U.S.) and one used Eldorado in average condition) and no swag. Needless to say I was quite disappointed. But I recovered quickly and the experience has not dimmed my enthusiasm for my beloved marque one bit. Hey, no one rides a Guzzi to be popular.)

Time for coffee at an outdoor café, then we hoist ourselves back on our feet, to trudge back across the river. Our quest is to find Campo di Fiori. More sinuous streets and ancient churches tucked into secret places. We finally find it, but it's late in the day and most of the flower and fruit/veg stalls the piazza is famous for have closed up, and people are sweeping up the stray lettuce leaves and crumbs, assisted by resident pigeons.

Time to catch an express bus (40) back to Termini. At the station, we try to find an information kiosk that might dispense bus maps, but no luck. We walk home and on the way discover the remains of an ancient aqueduct just blocks from our apartment.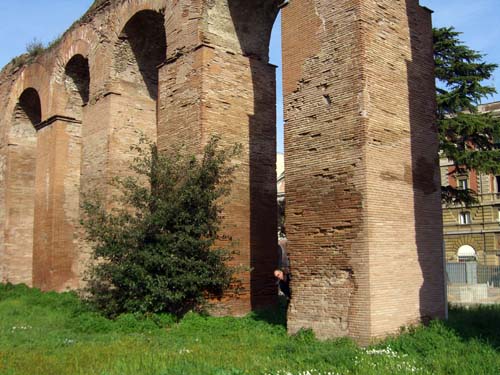 (hey, "where's Gil?")
I'm exhausted. I fall asleep; Gil ventures out alone and comes back with a Roma style salami pizza. Somewhat tasty, with the thinnest crust imaginable. We spend the evening watching a bit of TV, me typing this, and Gil preparing sandwiches. Tomorrow we are off to Pompeii!
April 1
Oops, our alarm did not get set properly, so our planned 5:30 wake up did not happen. We decide to go to Termini and check out the train situation, then decide if we should still attempt our trip to Pompeii.
As we rushed to Termini we discovered the new location of the produce/meat market which used to be located on Piazza Vittoria. It's indoors, called Esquilino Mercato, now on Principe Amadeo and Mamiamo-just a block or two from our apartment.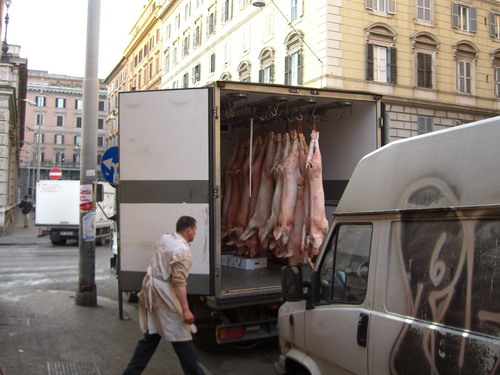 We take the advice of a traveler who posted on Rick Steves website that he took the Eurostar train directly to Pompeii. That sounds easier than the directions Rick gives in his guidebook, which includes changing trains at Napoli to a special "commuter train."

(Naples from the train...at 120 mph)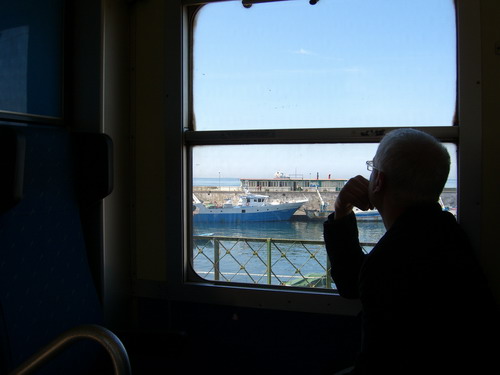 Well, it turns out that the Eurostar version still involves changing trains at Napoli, then goes to a different station at Pompeiii, and we ended up taking a taxi for another ten euros. At least our driver "Pepito" was quite entertaining; not that we could understood much of his jovial chatter.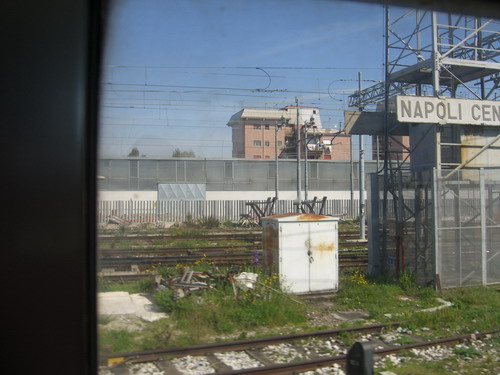 He took us a mile or so up to the main gate at Porta Marina. We had a spot of lunch at an outdoor café festooned with hundreds of oranges and gigantic lemons.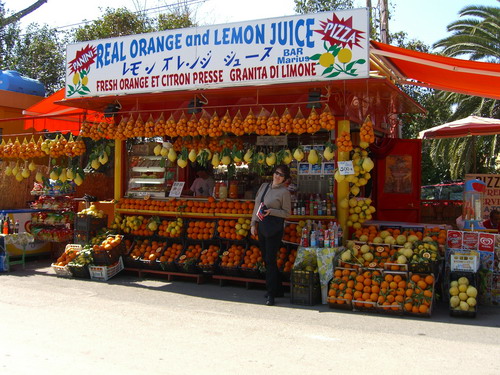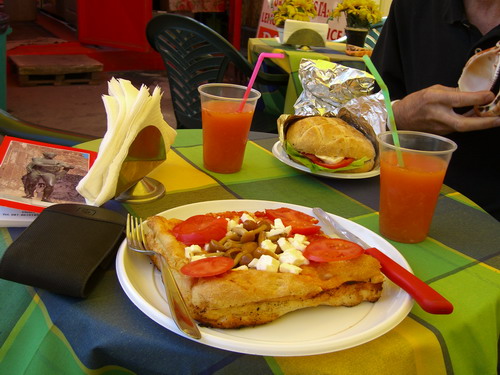 Then it was time to turn our attentions to Pompeiii. We opted to buy a guidebook rather than rent an audioguide or hire a personal guide. (Turns out our guidebook is out of date and difficult to use.)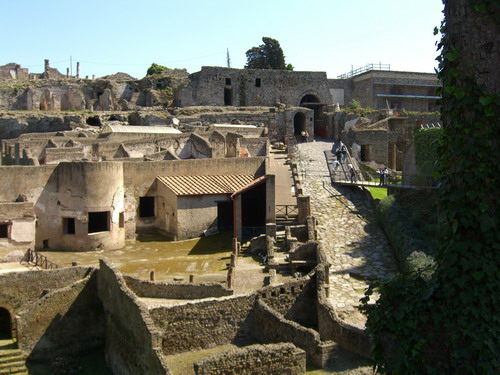 In brief, we were dazzled by the whole experience. Pompeii is much larger than expected, and more complete.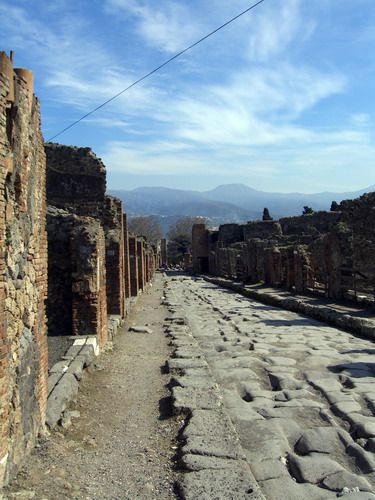 We felt we were walking the lanes of a real town. The plaster casts made from the bodies of those 2000 people who perished almost 2000 years ago were unexpectedly poignant and brought tears to my eyes

.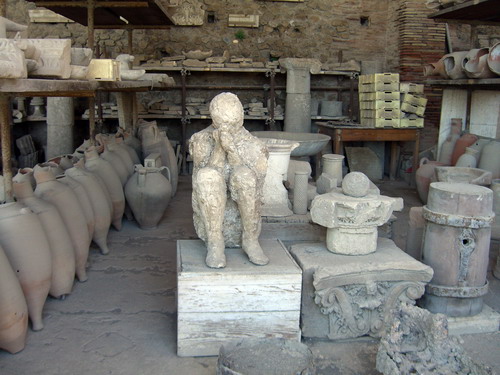 House of the Faun was one of our favorites, especially its inner courtyards and exquisite mosaics. I bought a watercolor reproduction of part of a decorative border fresco from the House of Vetti, which was unfortunately closed for renovations, and is quite well known for its rather provocative frescos. We quite enjoyed talking to one of the members of an artists' collective. We learn that the fresco style with a black background that we would see at the House of Vetti is fairly rare - "It's done by Egyptian eunuchs, who were very expensive."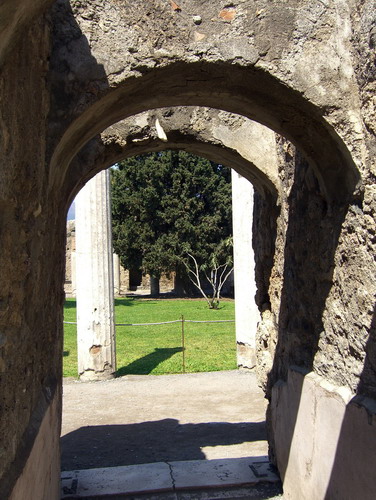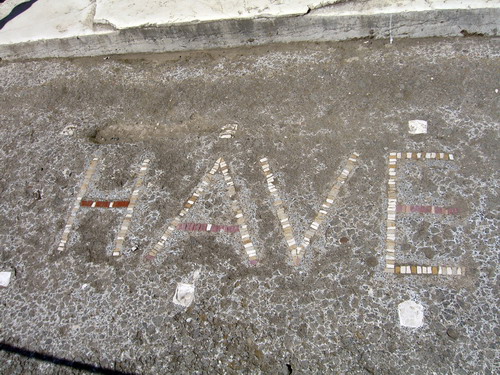 (at the entrance to a house, "HAVE" meaning "Hail To You")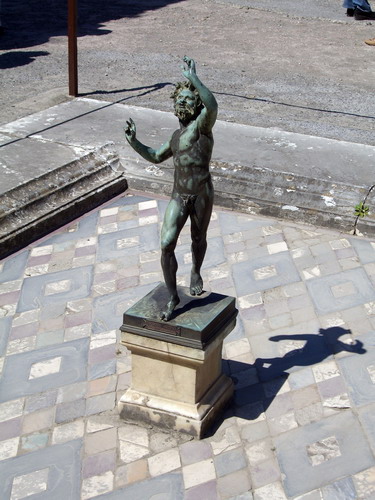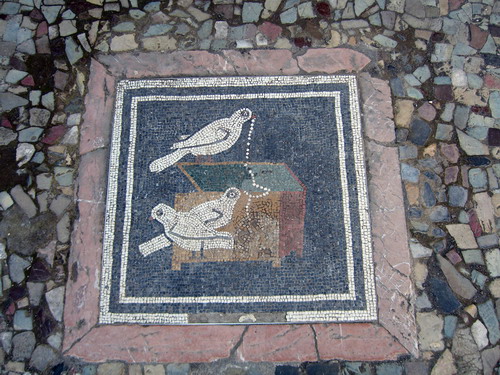 The painting I purchased is hardly racy - it's of little cherubs doing chores related to laundry and making cloth. I learned from the artist that they used urine in the process, and ancient businesses used to provide free toilet facilities so they could collect the urine.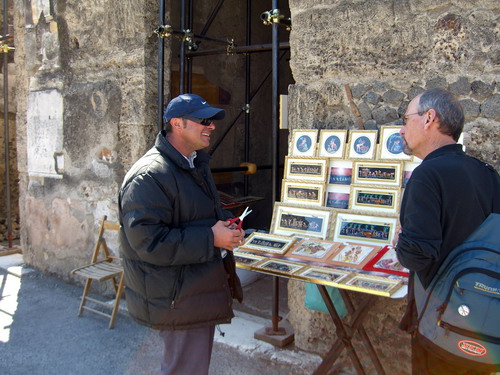 I wander in a ruined house which now hosts lots of plants in the atrium and courtyard, much as it would have in its heyday. Various civic groups are endeavoring to authenticate and bring back the plants of the day, including using cases of long decomposed root systems to determine species. In the lovely courtyard, I sample several unguents and perfumes, and end up buying an alarmingly large glass vial of almond-oil based "galbano" scent.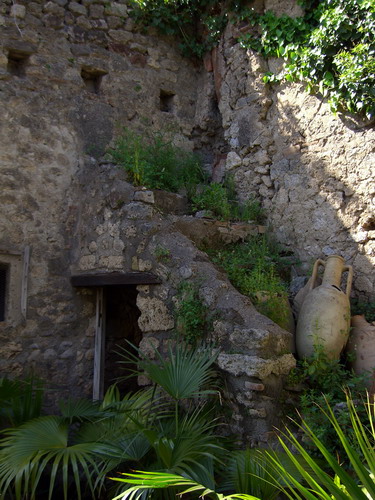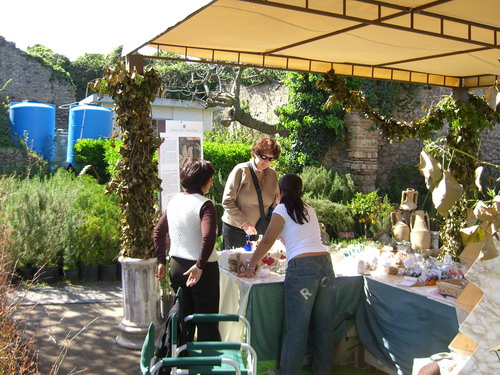 In addition to the houses, stores, forum and bakeries/breweries, we visited the theatre and gladiators' quarters. We walked to the huge "House of the Mysteries," outside the city walls, along an ancient road lined with graves of the Pompeii-ians. On our way to the large farmhouse we enjoyed a sweeping view of the Mediterranean Sea. Many frescoes and odd rooms - you could get lost here, as a first time guest.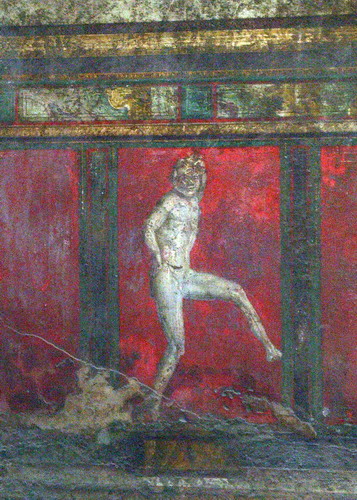 (a badly done panorama by me of an interior room in the "House of Mysteries")
We finally walked back to the 'right' train station-Pompeiii Scavi-where we caught the "Circumvesuviana" train (E2.30) back to Naples. We tried to buy tickets from a machine at Napoli Centrale for the next train back to Rome, but the tickets it finally gave us were for the train that left...right before our eyes! We were able to trade in the tickets for a later train, thank goodness, after standing in another line and paying 2 more euros. Alas, we had no time to visit Napoli itself, so we were not able to see the incredible treasures and everyday items taken from the site of Pompeii.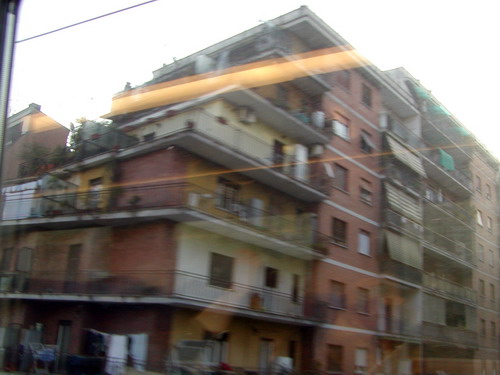 (Gil Here: We took literally hundreds of pictures this day. We had planned to spend a couple of hours touring the city. We spent over seven hours there and could have spent more. I have been told that about 80% of what we know of ancient Roman life comes from the ruins of Pompeii and Herculaneum. The ruins are so complete that I had a real sense of what living there was like and even figured I could have lived there and found it quite comfortable. Visiting Pompeii was a real highlight of this trip for me.)
Finishing up with our day in Pompeii we'll leave you with a few more of our impressions.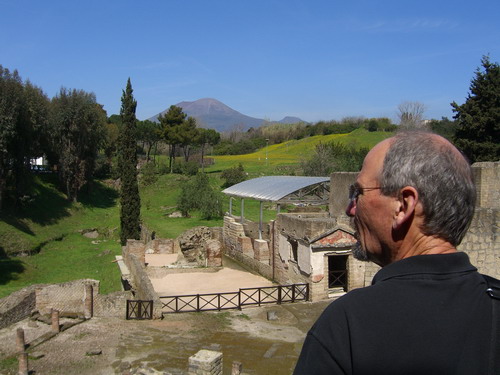 (the mountain looming in the background of this picture is the bad-boy itself, Vesuvius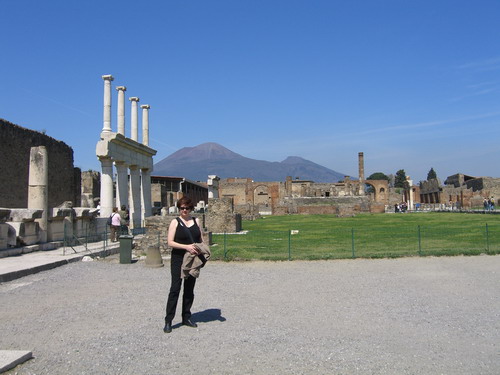 (the forum area, again with Vesuvius in the background)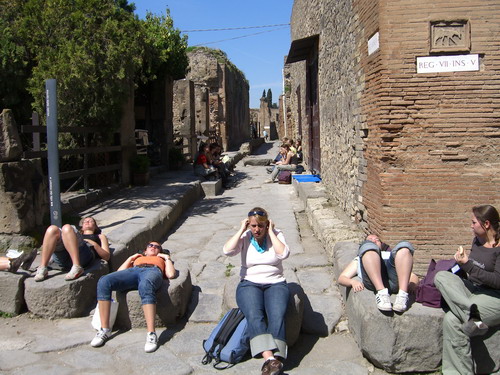 (some lovely female tourists grooving on the sunshine and heat)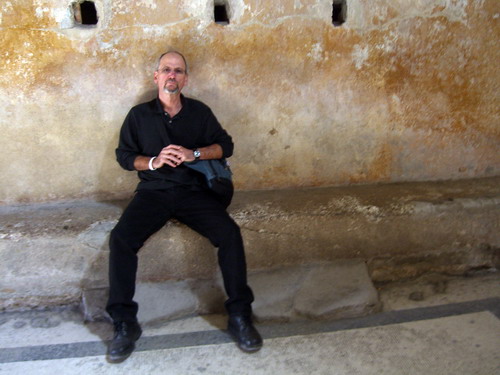 (inside of the baths and sitting on the same benches as people did 2,000 years ago)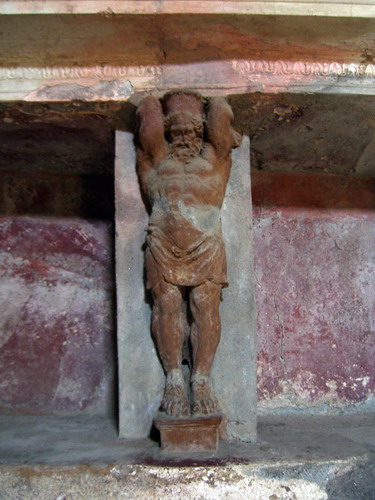 (a detail of a Hercules statue holding up the roof in the baths)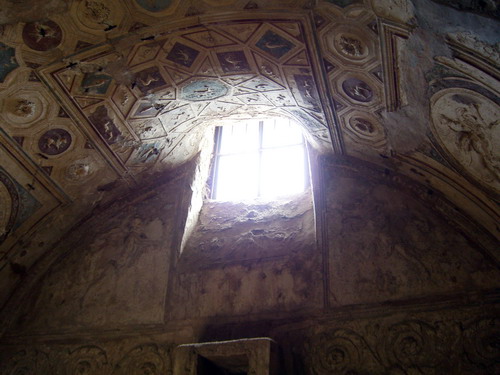 (the roof and overhead windows in the baths)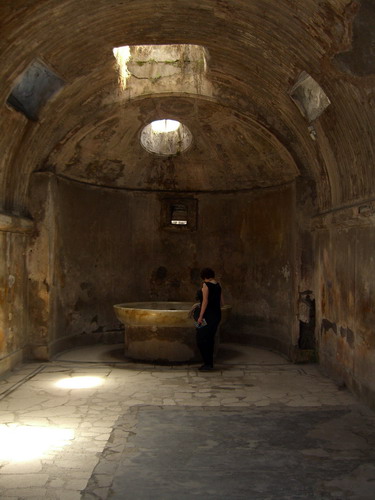 (a large, alabaster basin in the bathes)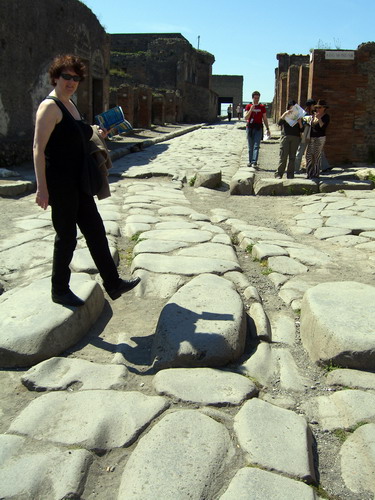 (worn, rutted roadway with stepping stones to cross...very common)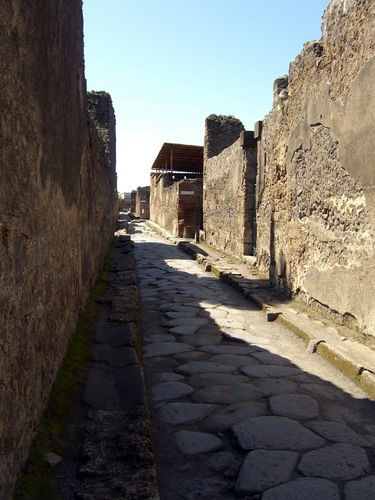 (a typical street...one of thousands)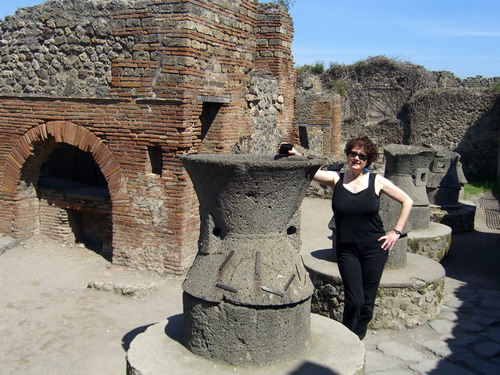 (a bakery with grinding stones and ovens)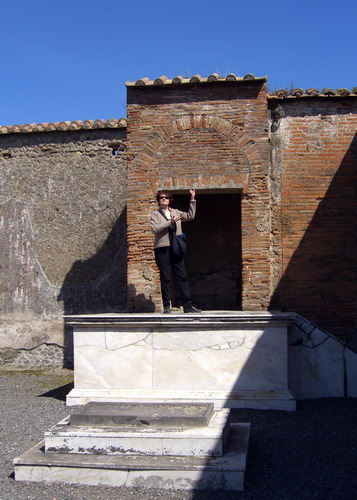 (Becky orating and gesturing from a speaking platform near the forum)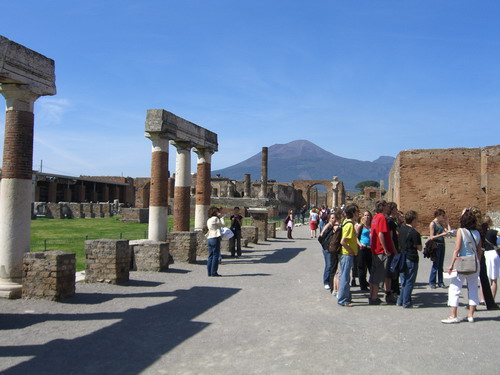 (crowds at the forum with Vesuvius in the background)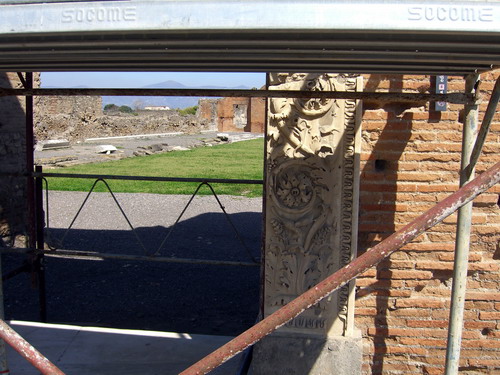 (a guild hall off the forum...the Pompeii site is constantly being repaired)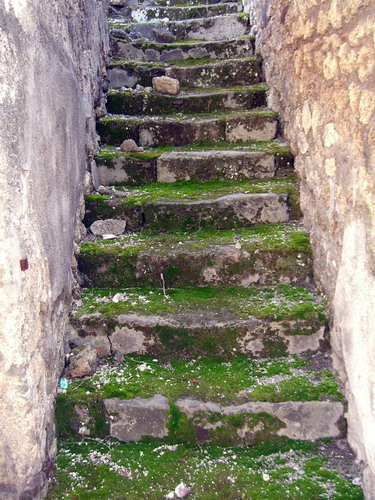 (steps that now lead to nowhere)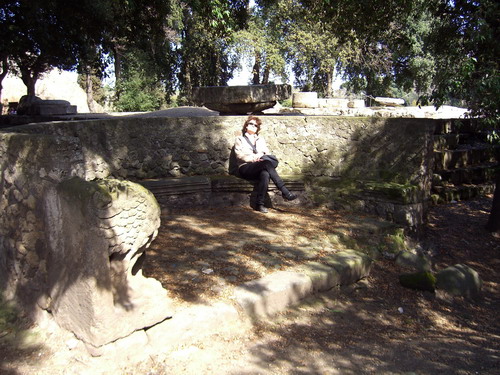 (a woodland nymph relaxing in the shade)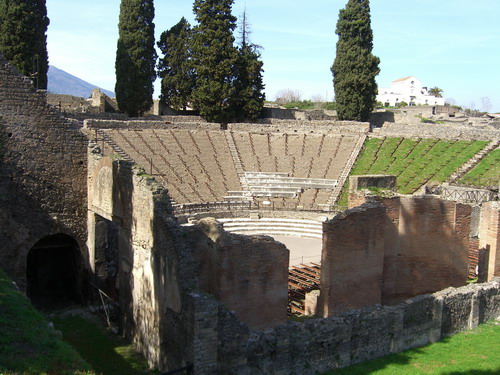 (the large amphitheather in the sports/arts complex)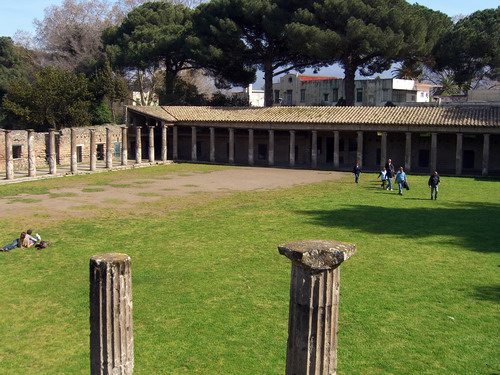 (part of the gladiator training and living area attached to the complex)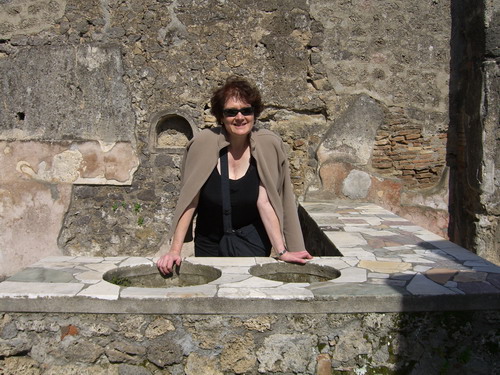 (an open, street side "fast food" shop. The holes held pots filled with foodstuffs)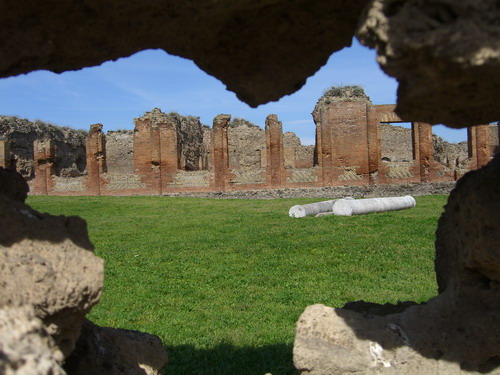 (more ruined stuff)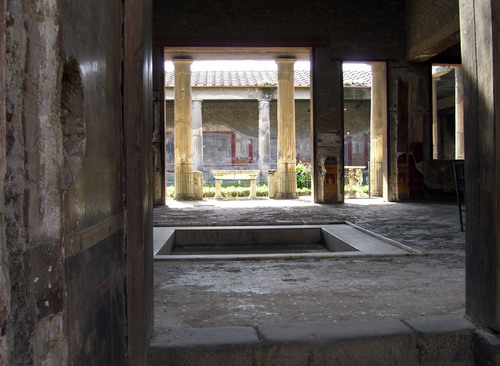 (inner courtyards of a large house...VERY livable)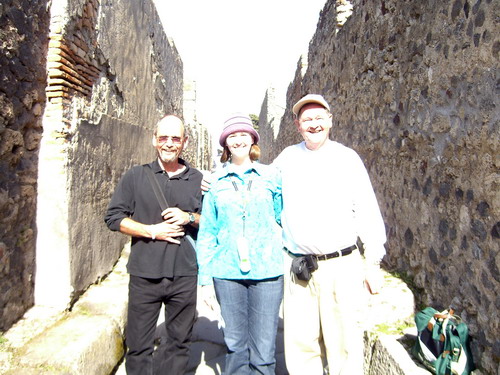 (a father and daughter from North Carolina we first met in Rome and now again here)
---
Ready for more? Click HERE!